Ash in Rochester, NY. PC Thaler Photography by Arleen and Daryl Thaler for the Swan Dreams Project
Growing up in inner city Rochester, NY, Aesha Ash was just one of the neighborhood kids. She'd imagine people driving by, judging her by her black skin.
"They'd never know that I was dreaming of becoming a professional ballet dancer. No one would think, Some day she's going to make it into New York City Ballet," says Ash.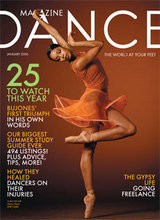 After an inspiring career at NYCB, Béjart's Ballet Lausanne and LINES, the January 2006 Dance Magazine cover star—one of our 25 to Watch that year—is no longer performing. But she's determined to use her dance background to change the stereotypes and misconceptions that people—including black people—have about women of color. "I want to show it's okay to embrace our softer side, and let the world know we're multidimensional," says Ash.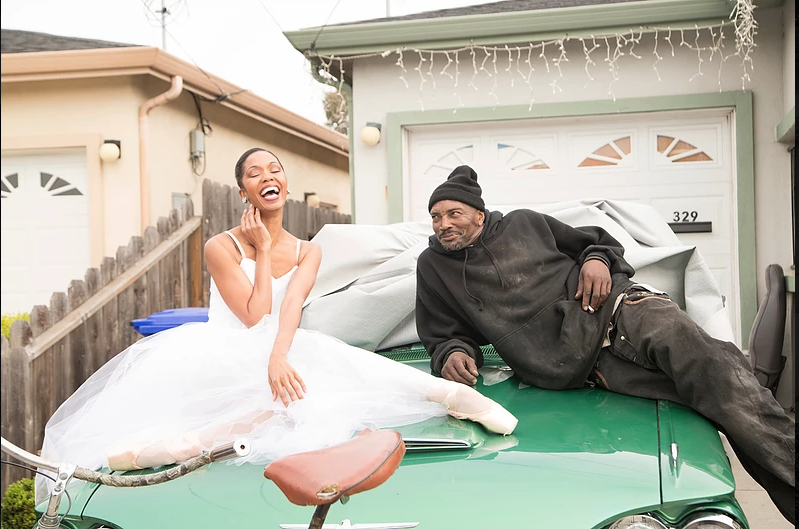 Aesha Ash in Richmond, CA. PC Renee Scott via swandreamsproject.org
In 2011, she launched the Swan Dreams Project to inspire kids in the community she grew up in. The original idea was to post images of herself in a tutu all over Rochester. "I remember growing up and in the bodega you'd see images of girls in bikinis on motorbikes," says Ash. "I wanted to replace those with photos that show women of color in a different light."
She knew the power imagery can have: She still remembers what it felt like as a student at the School of American Ballet to see a photo of black ballet dancer Andrea Long. "That image was everything on days when I was feeling disenchanted. I'd see that picture of her, and know that the struggles I was going through, she went through them, too."
Ash soon realized she didn't have the budget to fund her original plan ("I never realized how expensive a bus stop advertisement is!"). But she's made the images available through an online store, and often simply gives away prints at her own expense to schools and students in need of some inspiration.
Any proceeds she makes from the sales go directly to other organizations that are working to expand ballet in diverse communities. One large donation even led to a pointe shoe fund at dancer Robyn Gardenhire's City Ballet of Los Angeles school—and it helped one dancer who had quit ballet because of the expense come back to class.
Now a mother of two in San Jose, CA, Ash will also start teaching a free after-school ballet class at her daughter's public school next month. "I recently taught at Girls Inc. in Oakland, and one of the little black girls said, 'Are you the ballet teacher?' She just stood there, staring at me with her mouth open, like a unicorn had just walked into the room," Ash says. "You never know the impact you can have just by being a presence."
If you're interested in supporting the project, check out the online shop, or donate directly at swandreamsproject.org.
Sylvie Guillem, via 1843magazine.com
Ever find yourself lusting after that six o'clock penché, or a développé that will reach your nose? You're not alone. The eye is naturally drawn to the end points of a movement, and, in dance, that often translates to the highest extension.
But what if you're born without extreme, Instagram-worthy lines? It's a matter of developing a laser focus on alignment as well as strengthening and stretching with better body mechanics in mind.
Keep reading...
Show less
Abraham.In.Motion performing "Drive." Photo by Ian Douglas.
The ever-so-busy Kyle Abraham is back in New York City for a brief visit with his company Abraham.In.Motion as they prepare for an exciting spring season of new endeavors with some surprising guests. The company will be debuting a new program at The Joyce Theater on May 1, that will include two new pieces from Abraham, restaged works by Doug Varone and Bebe Miller, and a world premiere from Andrea Miller. Talk about an exciting line-up!
We caught up with Abraham during a recent rehearsal where he revealed what he is tired of hearing in the dance community.
Keep reading...
Show less
News
Jan. 17, 2018 04:21PM EST
Tero Saarinen's Morphed. Photo by Darya Popova, Courtesy Helene Davis Public Relations
Choreographer Tero Saarinen has a proclivity for the peculiar—and for epic orchestral music. That he should be commissioned by the Los Angeles Philharmonic to create a new dance work to accompany the U.S. premiere of Bernd Alois Zimmermann's Cello Concerto en forme de pas de trois only makes sense. Zimmermann's eerie, difficult-to-classify composition falls squarely in Saarinen's wheelhouse. Walt Disney Concert Hall, Jan. 19–21. laphil.com.
PC Break the Floor
Two competition routines are equal in technical proficiency, artistry and choreography. One consists of all girls, the other includes a boy. Guess which takes home first prize?
If you guessed the one with the boy, you may be privy to an unspoken and much-debated phenomenon in the competition dance world: The Boy Factor. According to The Boy Factor, a competitive piece is more likely to win if there's a boy in it.
"If it's all technically equal and one group is all girls and the other group has a boy, the one with the boy will win," says Rysa Childress, owner of All Star Studios in Forest Hills, New York. "Boy soloists are sometimes scored higher than more technically proficient girls because if a boy has good stage presence, we let him slide," says an anonymous competition judge. "And most of the feedback will be for the boy."
Keep reading...
Show less
Roberto Bolle and Kenall Jenner on set. Photo via tods.com
I'll never forget something Roberto Bolle once told me when I was interviewing him about his workout regimen: Talking about how much he loved to swim, he said, "I would love to go in the Italian sea, but I am too well-known there to show up in my suit."
It always amused and kinda shocked me that a ballet dancer could reach that level of fame. But it's true: In his native Italy, Bolle is a bonafide celerity.
Keep reading...
Show less