A Mid-Show Fire Alarm? How to Prep for Onstage Mishaps
Kun-Yang Lin/Dancers in Santuario. Photo by Robli Photography via kyld.org
Just as the Kun-Yang Lin/Dancers reached an emotional moment in an April performance of Santuario, inspired by the Pulse Nightclub shooting in Orlando, the fire alarm began blaring. Timed as it was with the actual reenactment of the shooting within the piece, most of the audience remained in their seats expectantly, thinking this was part of the show. But the onstage fog effects had combined somehow with the humidity in the theater so that there was a real need to evacuate until the fire department could give the all-clear.
An actual break in the action like this—where the lights come up and you're forced to file out into a parking lot—is probably one of the most extreme distractions dancers could encounter during a performance. But thinking about how to refocus can help you prepare for any wardrobe malfunctions, prop flubs, lighting miscues or other onstage stumbles that could happen in the middle of a show.
---
Plan for Distractions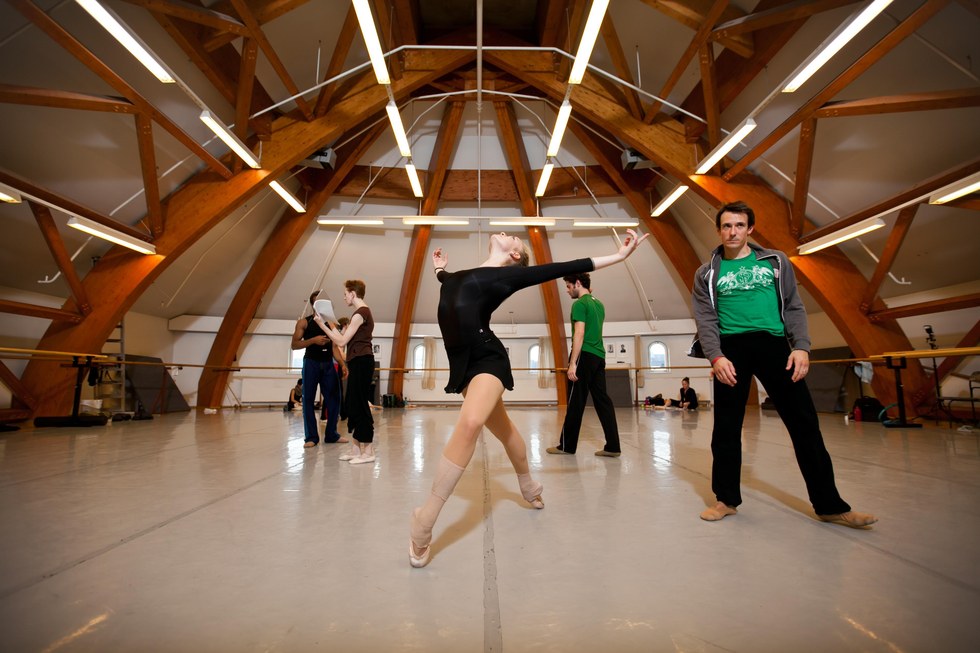 Quinn Wharton
Practice for the unexpected just as you'd practice for a challenging solo. "The most successful performers aren't more perfect; they know how to visualize performance success and mentally prep for when things go wrong," says Dr. Charlie Brown, a retired performance psychologist who has worked with dancers from Charlotte Ballet.
Make a list of every distraction you've ever experienced onstage—how did you react? Could you have handled it better? Armed with this information, come up with a refocusing routine. "Get to where you can say, 'If something goes wrong, these are the stretches I'll do to get back into my rhythm again,'" says Brown. Some athletes even have drills or distraction days—one Olympic swimming coach would throw things in the pool during practice for the London games.
"Your abilities are enhanced by thinking through the scenario and identifying how you'll react," says Brown. "Uncertainty is the stress factor, so just by bringing additional awareness to what could go wrong, you'll have the confidence to regain balance."
Find Your Way Back into the Piece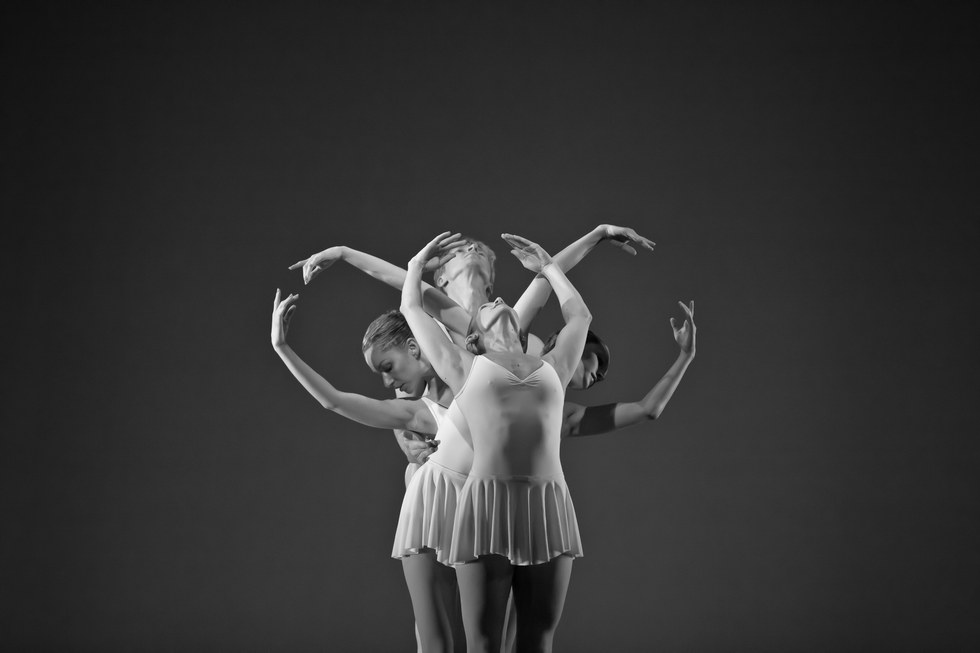 Quinn Wharton
No matter what mishaps occur, calm your mind and tell yourself that the rehearsal process has prepared you to start from any section of the piece. "Breathe deeply to relax your body and then try connecting with imagery—the kinesthetic sensations, pictures, and music that help you relate to the story of the work—to drop into the part of the brain that doesn't use words," says Brown.
Keep Safe and Warm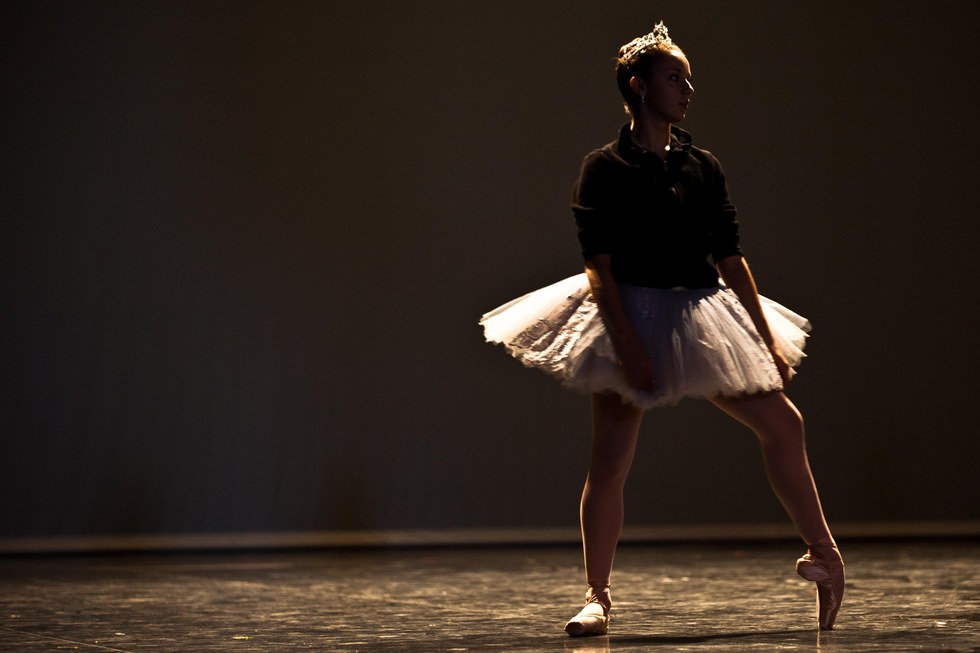 Quinn Wharton
If a performance actually stops mid show for something like a fire alarm or power outage, remain ready to perform. Do what you can to stay warm and mentally sharp, but if you're inactive for more than 10 minutes, start at the top of an abbreviated warm-up routine.
And spend the time you need to get back into it: If the audience has stuck with you this far, they'll wait. KYLD choreographer Lin says that very few ticket-holders left during the commotion, and the experience may have even enhanced the performance. "The audience had so much compassion for the dancers," he says. "So they didn't give up. They were patient, came back in, and brought a very different chi into the theater. I think they were even more engaged in the dance itself, with its messages of compassion and love."
Photo via Unsplash
Never did I think I'd see the day when I'd outgrow dance. Sure, I knew my life would have to evolve. In fact, my dance career had already taken me through seasons of being a performer, a choreographer, a business owner and even a dance professor. Evolution was a given. Evolving past dancing for a living, however, was not.
Transitioning from a dance career involved just as much of a process as building one did. But after I overcame the initial identity crisis, I realized that my dance career had helped me develop strengths that could be put to use in other careers. For instance, my work as a dance professor allowed me to discover my knack for connecting with students and helping them with their careers, skills that ultimately opened the door for a pivot into college career services.
Here's how five dance skills can land you a new job—and help you thrive in it:
Keep reading...
Show less
When you spend as much time on the road as The Royal Ballet's Steven McRae, getting access to a proper gym can be a hassle. To stay fit, the Australian-born principal turns to calisthenics—the old-school art of developing aerobic ability and strength with little to no equipment.
"It's basically just using your own body weight," McRae explains. "In terms of partnering, I'm not going to dance with a ballerina who is bigger than me, so if I can sustain my own body weight, then in my head I should be fine."
Keep reading...
Show less
Dancer Voices
Mar. 13, 2018 09:15AM EST
Emily Ramirez as "Meg Giry" in The Phantom of the Opera. Photo by Matthew Murphy.
I always knew my ballet career would eventually end. It was implied from the very start that at some point I would be too old and decrepit to take morning ballet class, followed by six hours of intense rehearsals.
What I never imagined was that I would experience a time when I couldn't walk at all.
In rehearsal for Nutcracker in 2013, I slipped while pushing off for a fouetté sauté, instantly rupturing the ACL in my right knee. In that moment my dance life flashed before my eyes.
Keep reading...
Show less
Rant & Rave
Mar. 08, 2018 04:18PM EST
Is this the turning point when we'll finally see an end to dancer mistreatment? Photo by Gez Xavier Mansfield/Unsplash
Last week in a piece I wrote about the drama at English National Ballet, I pointed out that many of the accusations against artistic director Tamara Rojo—screaming at dancers, giving them the silent treatment, taking away roles without explanation—were, unfortunately, pretty standard practice in the ballet world:
If it's a conversation we're going to have, we can't only point the finger at ENB.
The line provoked a pretty strong response. Professional dancers, students and administrators reached out to me, making it clear that it's a conversation they want to have. Several shared their personal stories of experiencing abusive behavior.
Christopher Hampson, artistic director of the Scottish Ballet, wrote his thoughts about the issue on his company's website on Monday:
Keep reading...
Show less
Dancer Voices
Mar. 15, 2018 02:54PM EST
Photo by Rachel Papo for Pointe
We all know that companies too often take dancers for granted. When I wrote last week about a few common ways in which dancers are mistreated—routine screaming, humiliation, being pressured to perform injured and be stick-thin—I knew I was only scratching the surface.
So I put out a call to readers asking for your perspective on the most pressing issues that need to be addressed first, and what positive changes we might be able to make to achieve those goals.
The bottom line: Readers agree it's time to hold directors accountable, particularly to make sure that dancers are being paid fairly. But the good news is that change is already happening. Here are some of the most intriguing ideas you shared via comments, email and social media:
Keep reading...
Show less
Advice for Dancers
Mar. 15, 2018 11:25AM EST
Lee Cherry; Courtesy Tricia Miranda
With dancer and choreographer credits that cover everything from touring with Beyoncé to music videos and even feature films, Tricia Miranda knows more than a thing or two about what it takes to make it. And aspiring dancers are well aware. We caught up with the commercial dance queen last weekend at the Brooklyn Funk convention, where she taught a ballroom full of dancers classes in hip-hop and dancing for film and video.
How To Land An Agency
"At times with the agencies, they already have someone that looks like you or you're just not ready to work. Look has to do with a lot of it, work ethic and also just the type of person you are. Do you have personality? Do people want to work with you? Because you can be the greatest dancer, but if you're not someone that gives off this energy of wanting to get to know you, then it doesn't matter how dope you are because people want to work with who they want to be around. I learned that by later transitioning into a choreographer because now that I'm hiring people, I want to hire the people that I want to be around for 12 or 14 hours a day.
You also have to understand that class dancers are different from working commercial dancers. A lot of class dancers and what you see in these YouTube videos are people who stand out because they're doing what they want and remixing choreography. They're kind of stars in their own right, which is great for class, but when it comes to a job, you have to do the choreography how it's taught."
Keep reading...
Show less


Get Dance Magazine in your inbox