Soledad Barrio
Karen Kain
A soulful flamenco idol, a princely partner, a determined leader, a beloved scholar, a boundary-breaking choreographer. This year, Dance Magazine honors five dance luminaries who have pushed our field forward and made dance an even richer art form. We are delighted to present 2015 Dance Magazine Awards to flamenco star Soledad Barrio, American Ballet Theatre principal Marcelo Gomes, National Ballet of Canada artistic director Karen Kain, dance historian and archivist David Vaughan and Urban Bush Women founder Jawole Willa Jo Zollar.
David Vaughan with Pepper Fajans
Jawole Willa Jo Zollar
The ceremony to celebrate these amazing dance artists will take place December 7 at 7:30 pm at The Ailey Citigroup Theater in New York. As The New York Times has put it, "As far as dance celebrities are concerned, the annual Dance Magazine Awards is as close as they come to a star-studded event." Mikhail Baryshnikov will present the award to Kain; Millicent Johnnie to Zollar, Julie Kent to Gomes, Martín Santangelo to Barrio and Valda Setterfield to Vaughan. Members of Urban Bush Women and ABT will dance in tribute to these honorees, and Barrio will perform along with live flamenco musicians. Tickets are available for $50. To purchase, contact Nicole Buggé at 212-979-4872 or dmawards@dancemedia.com.
Marcelo Gomes
Clockwise from top left: Photo by Chris Bennion, courtesy Noche Flamenca; Karolina Kuras, courtesy NBoC; Crush Boone, courtesy UBW; Gene Schiavone, courtesy ABT; Gilbert Gaytan.
For more great content, don't miss a single issue: dancemagazine.com/digital
Photo by Alyson Edie, Courtesy Elizabeth Earley
Elizabeth Earley's path to the Great White Way was fueled by perseverance. Currently a swing and co-dance captain for Hello, Dolly!, she shared her journey with Dance Magazine.

When I was a freshman at New York University's musical theater studio, I cut class to attend a singers' Equity Chorus Call for The Phantom of the Opera. I had no idea how casting worked. I hoped they might realize I was a ballet dancer and put me into consideration for a ballerina. After waiting in line for hours, I sang "Falling in Love with Love." The team asked, "Is this your first New York audition?" They said, "You are so cute," but there was no callback. Later, I saw the show was holding an open dance call. I went. The line wrapped around the block. We did two pointe combinations. But again, I was cut.
I decided to keep my focus on school instead of auditions with the exception of summer stock, which I worked every season. After graduating, I developed this idea that I wasn't ready to be seen by Broadway casting teams. I only auditioned for stock, theme parks, cruise ships, regional theater and national tours. I eventually booked them all. As I started to gain more experience, auditioning went from being overwhelming to exciting.
After returning from the national tour of Whistle Down the Wind, I started to actively pursue roles. In 2009, I was up for my first principal role in a regional union show, Cassie in A Chorus Line. Having worked nine shows at this particular theater as ensemble, dance captain, minor roles and understudy, I was thrilled to be in the running for a lead. I felt strong as I danced, sang and read. Then someone on the casting team said, "She's not hot enough."
I realized I couldn't control what other people felt, but I could control my mind-set. Keeping positive and being my daily best became vital in moments like that. I actually did end up booking Cassie in that production. I even went on to play her elsewhere and returned to the same theater to play Mary Poppins years down the road.
Earley as Cassie in a regional production of A Chorus Line. Photo by Alicia Donelan, Courtesy Earley
While I auditioned for Broadway regularly starting in 2008, I landed national tours for years. In 2015, I decided to dig my heels into the ground in New York City. That year, I attended an invited call to hire one female swing to cover the miscellaneous dance and singing tracks in a brand-new show. I almost didn't go. I was so tired of pounding the pavement without making headway. On the day of the audition, I saw Eric Giancola, to whom I had taught Mary Poppins on the national tour when I was dance captain. He was leading the audition! He knew my work and work ethic. After passing the test with Phil Reno, the show's musical director, and after approval of the director, I booked a job as swing in the original cast of Something Rotten! I finally cracked the glass ceiling of Broadway. All of the training and relentless work helped make it happen.

After a year in Something Rotten!, I auditioned for Hello, Dolly! by attending the dancers' Equity Chorus Call. I danced and sang the first day after the team made a cut. I was called back to audition with the girls from the agent invited audition. More cuts were made as we danced, two by two. I had to dance with Jessica Lee Goldyn, who played Val in the Broadway revival of A Chorus Line. She is a terrific dancer! Years of auditioning taught me not to get nervous, but to get excited, saying "I get to dance with Jessica!" More days of auditions happened where we danced, sang, read for roles and partnered. I sang a song from Kismet. I was asked to sing and read for the character of Irene. I ended up booking swing/co-dance captain, and am very excited for my next Broadway experience. Though the road has been winding, I've learned not to compare my journey to others'. One of the most wonderful things about theater is that everyone takes their own unique path there. But in the end, we all share the same stage.

Keep reading...
Show less
Despite intense hip pain, Annmaria Mazzini waited until leaving the the Paul Taylor Dance Company to have one hip replaced in 2011, followed by the other in 2016.
But, it turns out, a hip replacement no longer spells an automatic end to a dance career. While the surgery remains a last resort, new technologies work better and last longer, allowing dancers to continue performing for several years after getting a replacement.
Mazzini, for example, has continued to dance. She even performed a duet just three months after her second hip replacement, having rehearsed for four months prior on a deteriorating hip. "It was really a gift to have that dance to do right before and after the surgery, because I had something to compare," she says. "There were parts of the duet where my whole body used to tense up, and now to be able to do them so easily is just euphoric."
1. Will I Need A Hip Replacement?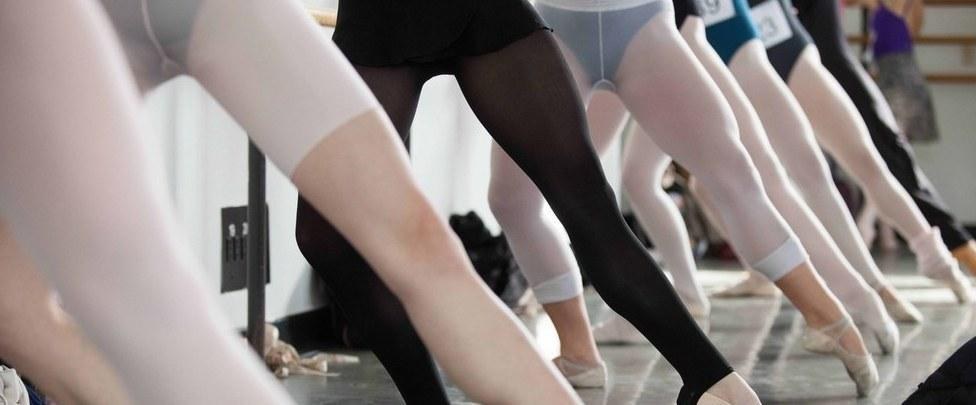 Photo by Matthew Murphy for Pointe
Probably not, although the surgery is common among dancers. Those who end up needing one typically start off with some kind of abnormality of the joint, says Dr. Douglas Padgett, who's performed hip replacements on more than 100 dancers at Hospital for Special Surgery in New York City. "Very often the hip socket is somewhat shallow, which can lead to excessive load and wear."
2. Aren't Hip Replacements Only For Old People?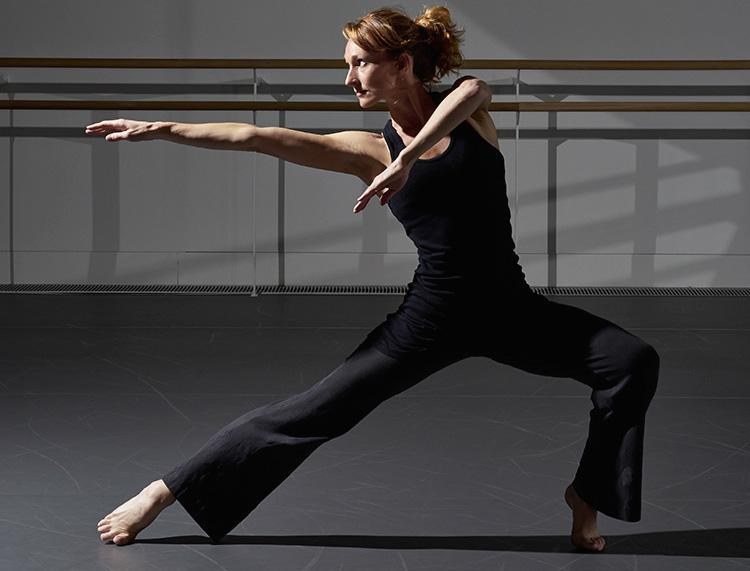 Angela Towler continued performing with Rambert Dance Company after getting a hip replacement in her 30s. Photo by Nick Guttridge
Not any more. Implants used to be made with a plastic that degraded over time, lasting only about 12 to 15 years. But the new gold standard lasts 30 or more years, making hip replacements a reasonable option for a younger age group, says Dr. Roy Davidovitch, a hip surgeon at New York University Langone Medical Center.
3. What Questions Should I Ask?
Ask your surgeon about dual mobility hip replace­ments, a recent advancement that potentially allows for greater range of motion and a lower dislocation rate after surgery. Also inquire about the anterior approach to surgery, in which the surgeon enters the hip from the front without cutting through the large muscles in the back of the hip. Davidovitch, who specializes in the anterior approach, says it can have particular benefits for dancers since dislocation after surgery is less likely, making large ranges of motion safer.
4. What Will Recovery Be Like?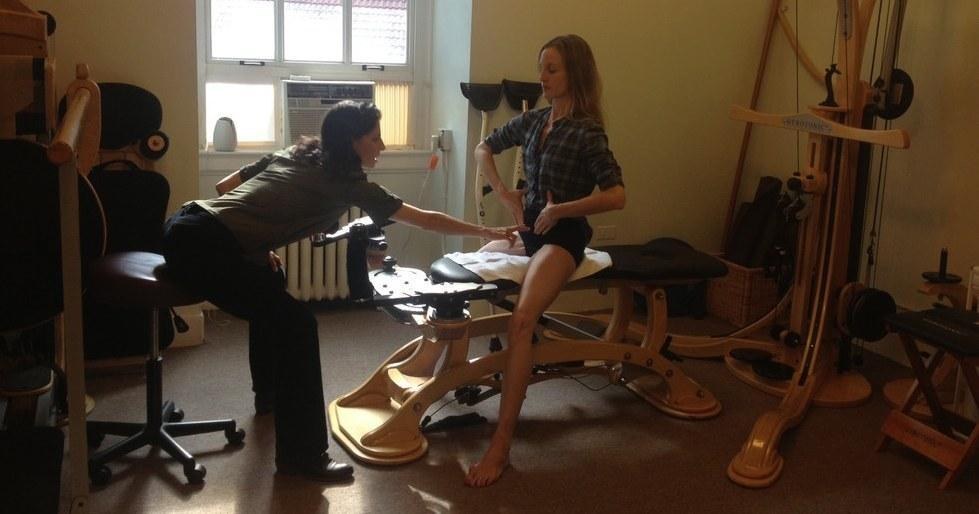 Wendy Whelan in physical therapy after her hip surgery
You'll need physical therapy two to three times per week for about three months after surgery, and once per week for three more months after that. "Usually the leg has gotten stiff, so we look to free up the muscles to allow for the hip to have full range of motion," says Michelle Rodriguez, a physical therapist and founder of Manhattan Physio Group. "There's soft-tissue work, strengthening, conditioning and stabilization of the core." Ninety-five percent of recovery happens within the first 6 to 12 weeks, says Davidovitch. "But I tell my patients it's one year to full recovery because you have to recover from the residual injuries, the compensatory patterns that developed when you were in pain."
5. Will My Dancing Change?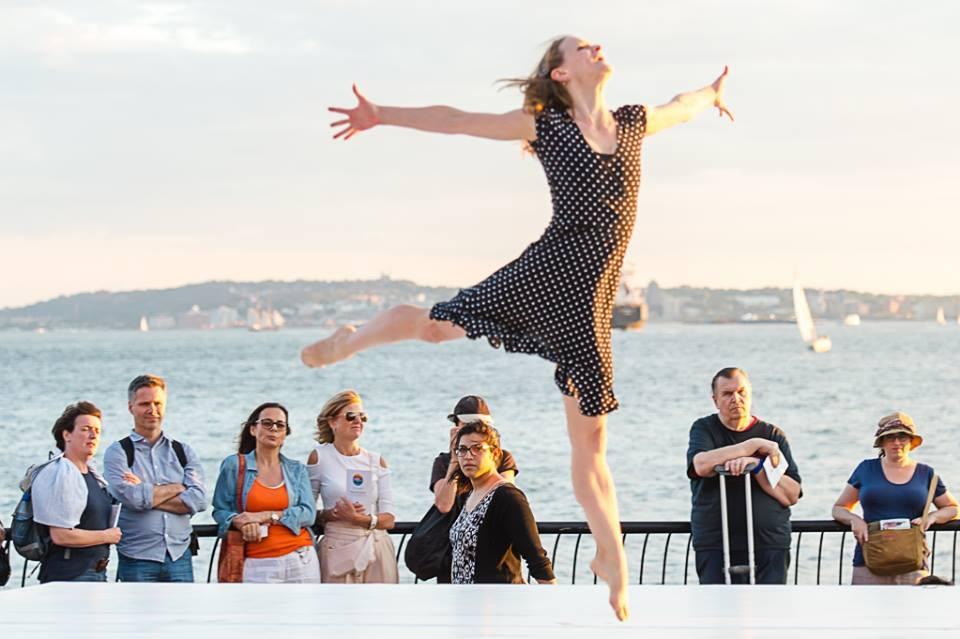 Annmaria Mazzini. Photo by Darial Sneed
After three to six months, most dancers get back almost their full range of motion. Though Rodriguez cautions that dancers are likely to notice a reduction in their turnout. However, dancing on a hip replacement will not feel quite the same as dancing on a natural hip joint. Repetitive, high-impact movements—like lots of jumping—can wear down even the best hip implant. But after years of extreme pain, many dancers are happy to make these trades. "I have a freedom in my body that I didn't have a year ago," says Mazzini.
Keep reading...
Show less
A Ballet West audition. Photo by Jim Lafferty for Pointe
Even if you make it through to the final round of an audition, that doesn't mean that you're guaranteed a spot on the roster. Before handing out contracts, many companies also require prospective dancers to complete an interview with staff. How can you impress your potential employer with your words as much as your dancing? Three artistic directors weigh in on what matters most.
Dorothy Gunther Pugh, Ballet Memphis
Ballet Memphis in Gabrielle Lamb's Manifold. Photo by Andrea Zucker, Courtesy Ballet Memphis
What do you cover in a typical interview?
"In the studio, I'm already watching closely for how well you pay attention, how you handle your nerves, and are you polite to the rest of the dancers. So, by the time you're sitting down with me in my office, I just want us to get to know each other. I want to see you look me in the eye, be curious and listen. (I might have questions about someone who just can't stop talking.) But I also want to know what you like about your hometown, what drew you to our company, and who you are when you're at ease. Remember that you're interesting to me!"
Colin Connor, Limón Dance Company
Photo by Juan José Escalante, Courtesy Limón Dance Company
What kinds of responses are red flags that a dancer wouldn't be a good fit for your company?
"I think a lot of dancers assume it's bad if they're not extroverted, but I'm happy to hire someone quiet. Do show me you can articulate what you love, because that's what you end up drawing from as an artist. I see a red flag when it sounds like someone has a lot of scheduling conflicts and previous commitments but still insists she can commit to us. I understand that working with other choreographers might be the only way you can survive, but being overextended is not a healthy way to function. You really have to be transparent in the interview about the obligations you do have, so I can be up front about whether it's possible to work with you."
Patricia Barker, Grand Rapids Ballet
Photo by Michael Auer, Courtesy Grand Rapids Ballet
How can a prospective dancer prepare?
"I don't want to be asked how many performances we do or which choreographers we work with. A great way to prove you've done your research is to say, 'I see Robyn Mineko Williams is choreographing this season. I was able to work with her in one of my summer programs.' That draws my attention to something I may have missed on your resumé, and now I know that I can touch base with her about that experience."
Keep reading...
Show less
Mena Burnette of xmbphotography, courtesy Okpokwasili
It seems like everyone in New York's experimental dance scene is talking about Okwui Okpokwasili right now. Her multidisciplinary work Poor People's TV Room is in the middle of a much buzzed-about two-week run at New York Live Arts.
But although the dance world loves her, Okpokwasili is hesitant to call herself a dancer. In a story about dance theater in Dance Magazine's May issue, she told this to writer Siobhan Burke:
"I have a deep love and appreciation for dancers. And because of that, sometimes I'll call myself a mover, because I feel like dancers are saints. They work so hard, they take classes, they don't get health insurance. Their ability to come into the unknown and commit to multiple languages without question—I find it so generous and beautiful. I don't know that I'm that generous. People can't just walk around calling themselves a dancer."

Even though she's very humble, many would definitely consider what she's doing bonafide dancing. Check out her intense, otherwordly virtuosity in a section from Poor People's TV Room, shot for The New York Times' #SpeakingInDance series.
Keep reading...
Show less


Get Dance Magazine in your inbox
Featured College Dance Program