Are Dancers' Brains Wired Differently?
Quinn Wharton
Dancers are masters of multi-tasking. Performing a series of steps on stage while portraying a character and making a split-second change from a single to a double pirouette is no problem, but no coincidence either. Dancers' brains appear to be programmed differently from non-dancers' brains.
Studies at the University of Maryland in partnership with the University of Houston during the past three years reveal that dancers use multiple areas of their brains simultaneously while dancing: one part controls movement without expressive intention, another part imagines movement qualities and these parts work to execute movement while also making higher-level decisions.
---
"When you see dancers who are dancing beautifully, their whole brain is being engaged," says Karen Kohn Bradley, associate professor emeritus and director of graduate studies in dance at the University of Maryland. "They are thinking about the sequence, focus, timing and qualities of lightness and strength all at once."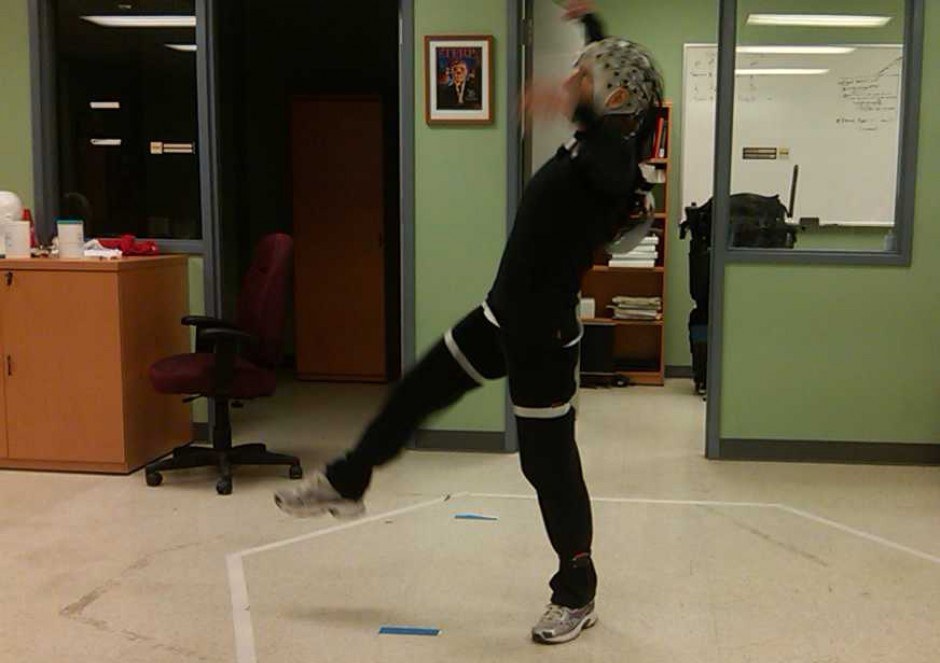 A dancer moving as data was collected from the University of Maryland/University of Houston collaborative study. Photo courtesy Karen Kohn Bradley
This research helps explain why professional dancers can process complex choreography in a split second. Cerebral synchronization makes dancers proficient at "enchainment"—the ability to remember chunks of steps and recognize their patterns. Bradley explains that the brain stores these patterns in lower parts (like the cerebellum), which opens up more room in the frontal lobe for expression and "creative reinventions on stage if something suddenly goes wrong," she says.
But are dancers born with these brain patterns and the ability to multi-task? According to Bradley, it's hard to say. Some dancers are innately wired like this; others have the propensity to develop these abilities over time.
Bradley believes that the information she and her colleagues have acquired is a useful approach to training people to be more expressive and more aware of the impact that this expressiveness can have on others. A trained movement analyst, she says it can be applied to many disciplines where movement and gestures matter in different contexts. Some of these are predictable, like theater or animation, and some are surprising, like diplomacy and deal-making.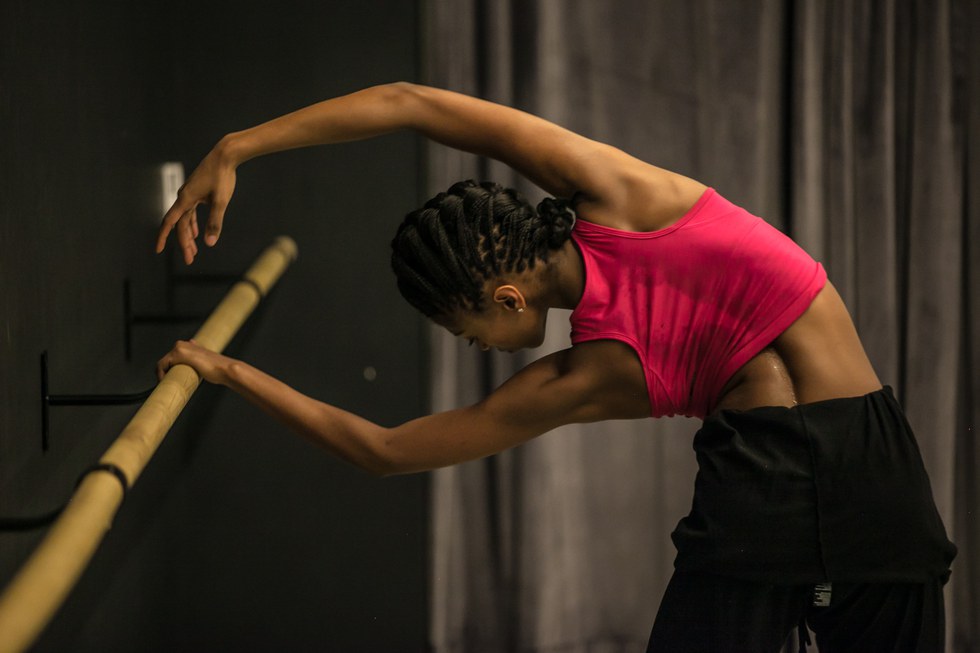 Quinn Wharton
Bradley's work also has huge implications for dance education. In class, dancers typically focus on the sequence or the technique. But this engages only one part of the brain. Bradley believes more studios need to give their dancers images that help them with expressive qualities. "We've all heard of the laser beam shooting out of the leg to improve battement technique," says Bradley. "But we also need imagery that evokes feeling. For example, 'That's honey…I want molasses.' " This training also translates to the idea of musicality: Bradley believes that dancers must be trained in being expressive with or without music, using simple images or pure qualities, such as "rise up," or "be more buoyant."
Examining the power of dancers' brains continues at UM, UH and MIT, as well. University researchers have linked individual brain electrodes on dancers' heads to different sounds, enabling the dancers to signal lighting and music with their brainwaves and the touch of their feet on the floor.
Will all of this technology make better dance? Bradley says it is reassuring to know that, "ultimately, it all still depends on the sophistication and beauty of the dancer."
popular
Aug. 01, 2017 02:37PM EST
Renato Penteado, one of last year's winners. PC Alexandre Dufaur
Have you ever seen a performance and thought, "Wow, this was so good. Dance Magazine should really be writing about this!"? You're in luck.
We're collecting nominations for our annual Readers' Choice feature, and we need your help! We'll compile our favorite nominations, and then you'll vote on what should make it into our December issue. But for now, we want to hear about the most memorable dance you've seen so far in 2017.
Keep reading...
Show less
via Instagram, Courtney Lavine
Throughout the summer, we've been noticing beachside views and scenic waterfalls sprinkled in with all of the usual rehearsal and performance posts we see from ballet's biggest stars. But even while enjoying some sun and relaxation, dancers like Sara Mearns and Michaela DePrince prove that they never really take a break from ballet. Ahead, check out some of the cutest vacay pictures and videos our favorite dancers have been sharing this summer. Not only will they give you some future vacation inspo, they'll also have you itching to get back in the studio.
Keep reading...
Show less
Ballet at University of Utah. Photo by August Miller, Courtesy University of Utah.
This fall, the University of Utah's School of Dance welcomes the first class of candidates to its newly reinstated Master of Fine Arts in Ballet program, currently the only ballet-specific MFA in the country. Geared toward those with professional ballet experience, it requires courses in pedagogy, choreography and scholarly inquiry. Melonie Murray, the director of graduate studies, says, "We want to support students in understanding ballet in a deeper way."
"We Are What We Are" from La Cage aux Folles
The 2017–18 Broadway season is just getting underway! But before we look ahead to new productions, let's recall what came before. Here are a few of the sparkliest shows that opened on the Great White Way in previous Augusts.
42nd Street (1980)
The cast of the 2001 revival of 42nd Street performing at the Tony Awards

If you need an example of traditional Broadway-style tap, this couldn't be any closer. The original production of 42nd Street ran for over eight years. That's a lot of time steps.
Keep reading...
Show less


Get Dance Magazine in your inbox