Are Male Dancers Being "Dismissed"? This New Conference Thinks So
Matthew Murphy for Pointe
When Michael Vadacchino, co-founder of the online dancewear store Boys Dance Too, visited a competition to ask a customer if he would model for the site, he was able to find him easily. This boy was one of only three in the entire competition.
Small numbers like these are why Vadacchino and his business partner, Sarah Singer, have planned their next venture: The Male Dancer Conference.
---
This four-day event will bring together male and male-identifying dance students ages 8 and up from August 18 to 21 in New York City. Featuring ballet and contemporary dance classes along with sessions on special conditioning, anatomy and injury prevention, the conference will also include special workshops led by Sascha Radetsky of American Ballet Theatre and Alex Wong of "So You Think You Can Dance."

With so few male dancers in classes, a sense of alienation, as well as bullying and a lack of recognition are common experiences. "I allowed the boys we were approaching to tell us what they need, what is missing in their dance studios, what they're looking for," Vadacchino says about programming the conference. "There are little to no all-male large group settings in the dance world. With the exception of some major ballet competitions and large ballet conservatories, there is no event designed specifically for male dancers and their needs."
Vadacchino admits that, in a way, male dance students are cherished: "They are spoiled because they are rare. However, the majority of them are still being dismissed."
He points out the lack of facilities for boys in dance studios—often, male dancers have to change in bathroom stalls, janitors' closets or the backseat of their parents' car. When purchasing dancewear, they typically have to shop online because many stores sell little to no male clothing. Even then, they find pictures of girls modeling the clothing listed in the "men and boys" section. This disparity is also seen inside studios, which are frequently painted entirely in shades of pink.
"We want to be able show these boys that they are not alone," adds Singer. "We want them to feel like being a male dancer, in this present time, is really cool. We would like to see them start to feel an excitement about being a male dancer, that their future is a bright one."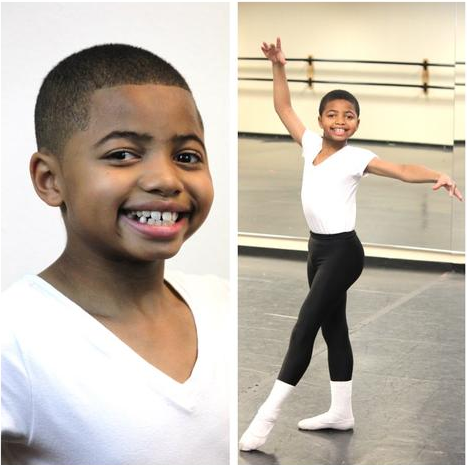 Marquez Perry, photo via Boys Dance Too
The conference will also include a guided conversation led by Vadacchino giving parents the opportunity to talk with each other. "I want to be able to connect the moms with other moms who have no idea what's going on, so they don't feel alone," he says.
Singer and Vadacchino intend to hold the conference annually and organize leaders in the industry to help take action that will spread across the nation.
"Boys should be able to walk into any dance studio, any space, and not only are they accepted and not looked at weirdly, but immediately there are boys," Vadacchino says. "They're not intimidated by aesthetics of the place, with tutus and sparkles everywhere—even though that's totally fine, there's no balance. I think a utopia for me would be that we've created some sort of balance and it's inviting."
Johns' Map
Before too long, dancers and choreographers will get to create on the luxurious 170-acre property in rural Connecticut that is currently home to legendary visual artist Jasper Johns.
If you think that sounds far more glamorous than your average choreographic retreat, you're right. Though there are some seriously generous opportunities out there, this one seems particularly lavish.
Keep reading...
Show less
Ashley Ellis, photo by Albert Ayzenberg, courtesy of Ashley Ellis
Every dancer has learned—probably the hard way—that healthy feet are the foundation of a productive and happy day in the studio. As dancers, our most important asset has to carry the weight (literally) of everything we do. So it's not surprising that most professional dancers have foot care down to an art.
Three dancers shared their foot-care products they can't live without.
Keep reading...
Show less
popular
Sep. 21, 2017 04:49PM EST
via Instagram, Company Cooperative
Dancers trying their hand at designing is nothing new. But they do tend to stick with studio or performance-wear (think Miami City Ballet's Ella Titus and her line of knit warm-ups or former NYCB dancer Janie Taylor and her ballet costumes). But several dancers at American Ballet Theatre—corps members Jamie Kopit, Erica Lall, Katie Boren, Katie Williams, Lauren Post, Zhong-Jing Fang and soloist Cassandra Trenary—are about to launch a fashion line that's built around designs that can be worn outside of the studio. Titled Company Cooperative, the luxe line of women's wear is handmade in New York City's garment district and designed by the dancers themselves.
Keep reading...
Show less
A still from Duet, via CNN Style
Royal Ballet dancers Yasmine Naghdi and Beatriz Stix-Brunell recently got together for a different kind of performance: no decadent costumes, sets, stage makeup or lighting. Instead, the principal and first soloist danced choreography by principal character artist Kristen McNally in a stark studio.
The movement is crystal clear, and at the beginning, Naghdi and Stix-Brunell duck and weave around each other with near vacant stares. Do they even know they have a partner? And how should they interact? The situation raises a much larger question: How often do we see a female duet in ballet?
Keep reading...
Show less


Get Dance Magazine in your inbox