Dance As Activism
Jan. 12, 2018 01:59PM EST
Arthur Mitchell: "You Must Believe in What You're Doing And, Against All Odds...Stick to It."
Arthur Mitchell in class, 1960s. Photo by Milton Oleaga. Arthur Mitchell Collection, Rare Book & Manuscript Collection, Columbia University.
Throughout his remarkable career, the fiercely determined, intelligent and energetic Arthur Mitchell has become accustomed to being called a trailblazer. "Being a typical Aries, I like being the first," he says, laughing. "That's what I've been doing all my life."

This is true, especially when it comes to the discussion at the forefront of today's national dialogue about dance: diversity in ballet.
---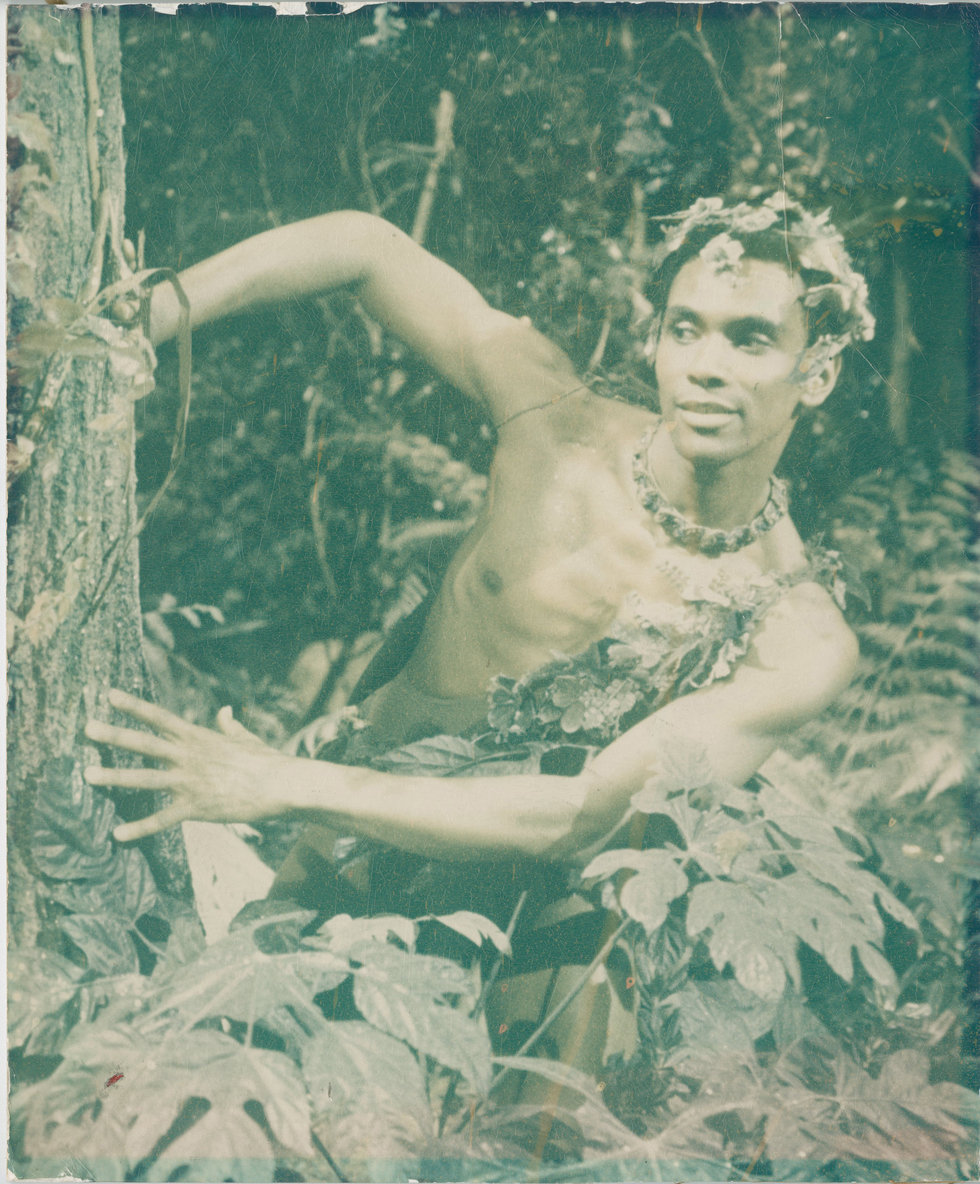 Arthur Mitchell as Puck in A Midsummer Night's Dream, 1962. Arthur Mitchell Collection, Rare Book & Manuscript Collection, Columbia University.
This weekend, "Arthur Mitchell: Harlem's Ballet Trailblazer," an exhibition celebrating the accomplishments of New York City Ballet's first African American principal dancer and co-founder of Dance Theatre of Harlem, opens at Columbia University's Miriam and Ira D. Wallach Art Gallery.
Back in 1975, Mitchell told Dance Magazine, "We have to prove that a black ballet school and a black ballet company are the equal of the best of their kind anywhere in the world." Both his own performing career and the critical response to DTH in the years immediately following its official debut would have been enough for him to say "mission accomplished."
But, clearly, Mitchell says, there is still work to be done. That's where young, up-and-coming trailblazers come in.
Sharing advice he received from George Balanchine and Lincoln Kirstein, Mitchell says, "They said, 'You've got to take the bull by the horns and do what you have to do. You must believe in what you're doing and, against all odds, against anyone else's feeling and vision, you must stick to it. And, eventually, know that the world will catch up with what you're doing and appreciate it."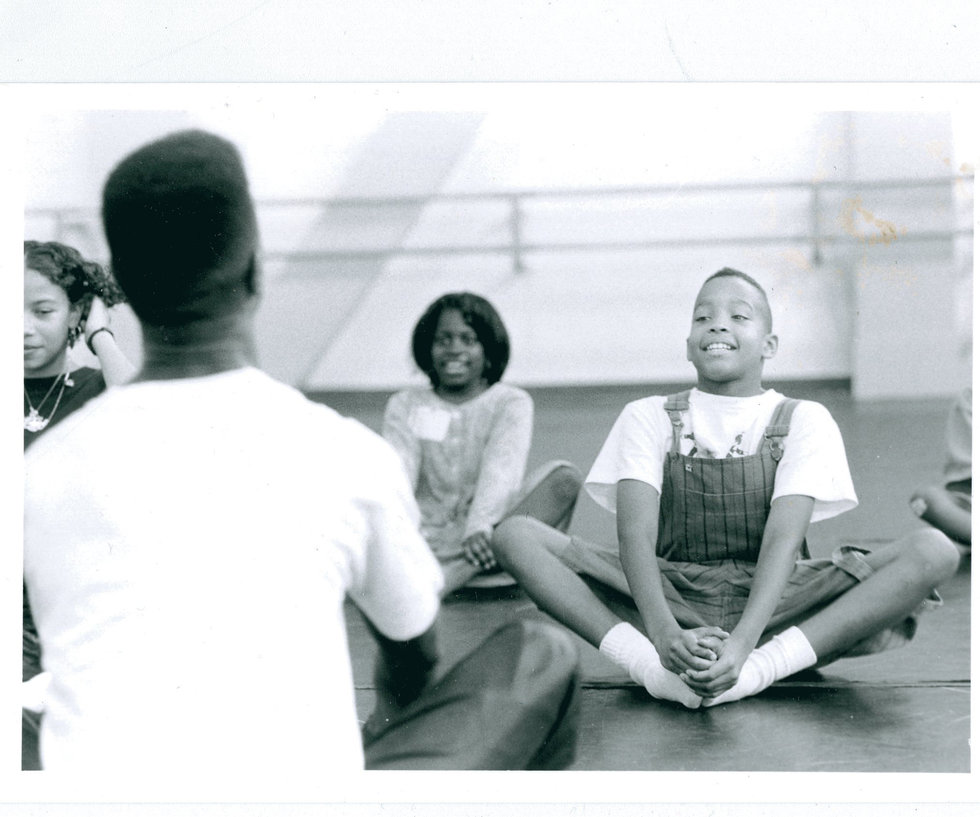 Studio outreach class at the Dance Theatre of Harlem, 1970s. Arthur Mitchell Collection, Rare Book & Manuscript Collection, Columbia University.
Has the world caught up with his own dreams and visions?
"No," says Mitchell. "How many black girls are there now dancing in ballet? Name all the companies in America. How many have a leading African-American ballerina? There's only one in a major company, that's Misty Copeland in American Ballet Theatre. There's still work to be done. There's got to be more training. There's got to be teachers who are working in the black communities that are taking into account what these dancers have to face."
While he is no longer director of Dance Theatre of Harlem, Mitchell, now 83, continues blazing trails under the auspices of the Arthur Mitchell Project, which is funded by the Ford Foundation.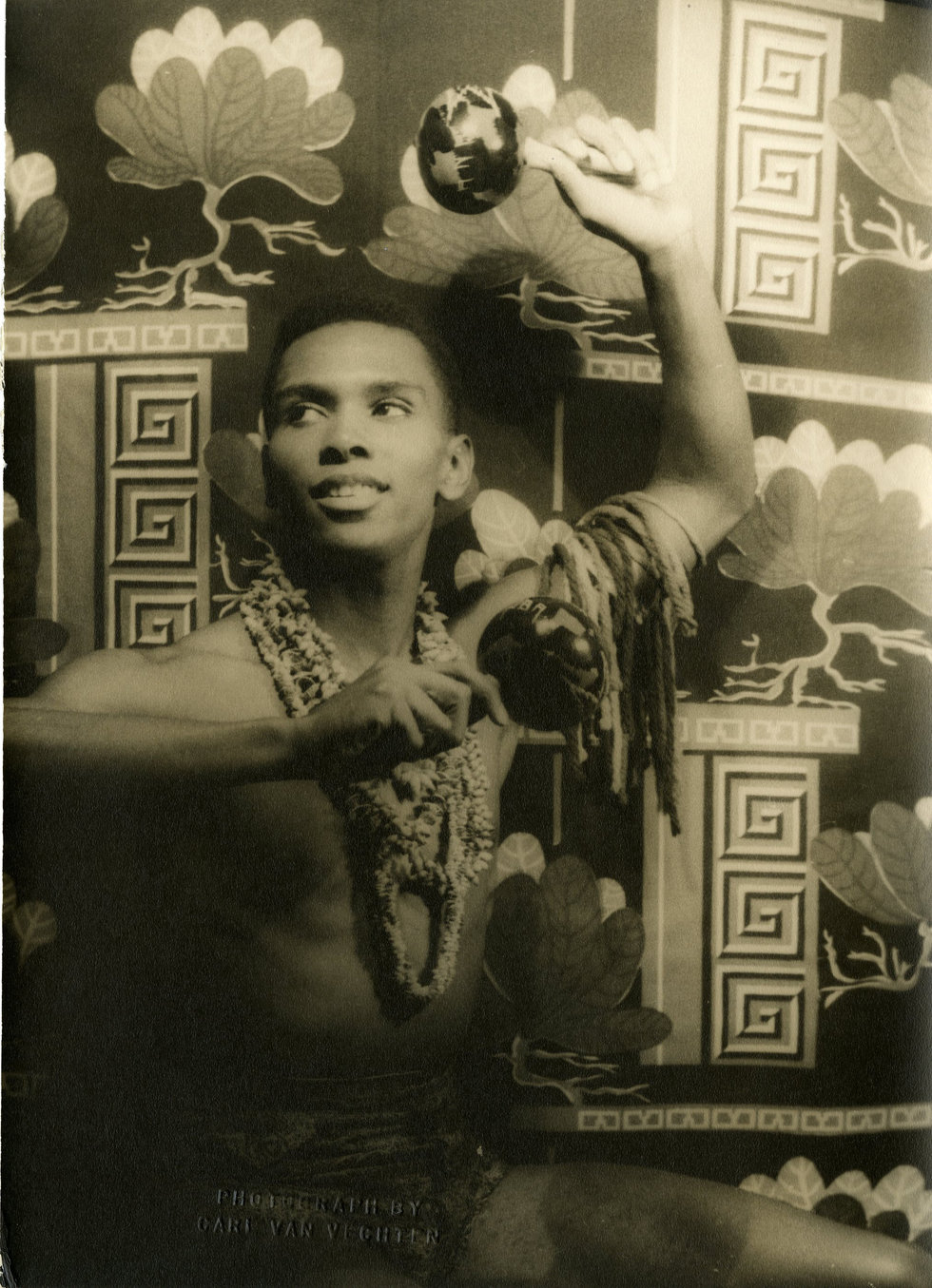 Arthur Mitchell shortly after joining the New York City Ballet in 1955. Photo by Carl Van Vechten. Arthur Mitchell Collection, Rare Book & Manuscript Collection, Columbia University.
The "Harlem's Ballet Trailblazer" exhibit features an amazing array of treasures from a life well-lived, including the telegram from Lincoln Kirstein to Mitchell inviting him to join the New York City Ballet and an eight-foot-long DTH puzzle created by Frank Bara in 1991 that chronicles the first two decades of the company's history with illustrative detail of its artists, heroes and friends.
On view also is dancer Charmaine Hunter's costume and headpiece designed by Geoffrey Holder for Firebird (1982), one of DTH's signature works. There are posters from DTH's innumerable tours, photos, performance footage of Mitchell in Agon, Four Temperaments, Midsummer Nights Dream and more. The exhibit also has an online component that will include a detailed timeline and numerous essays, all open to the public.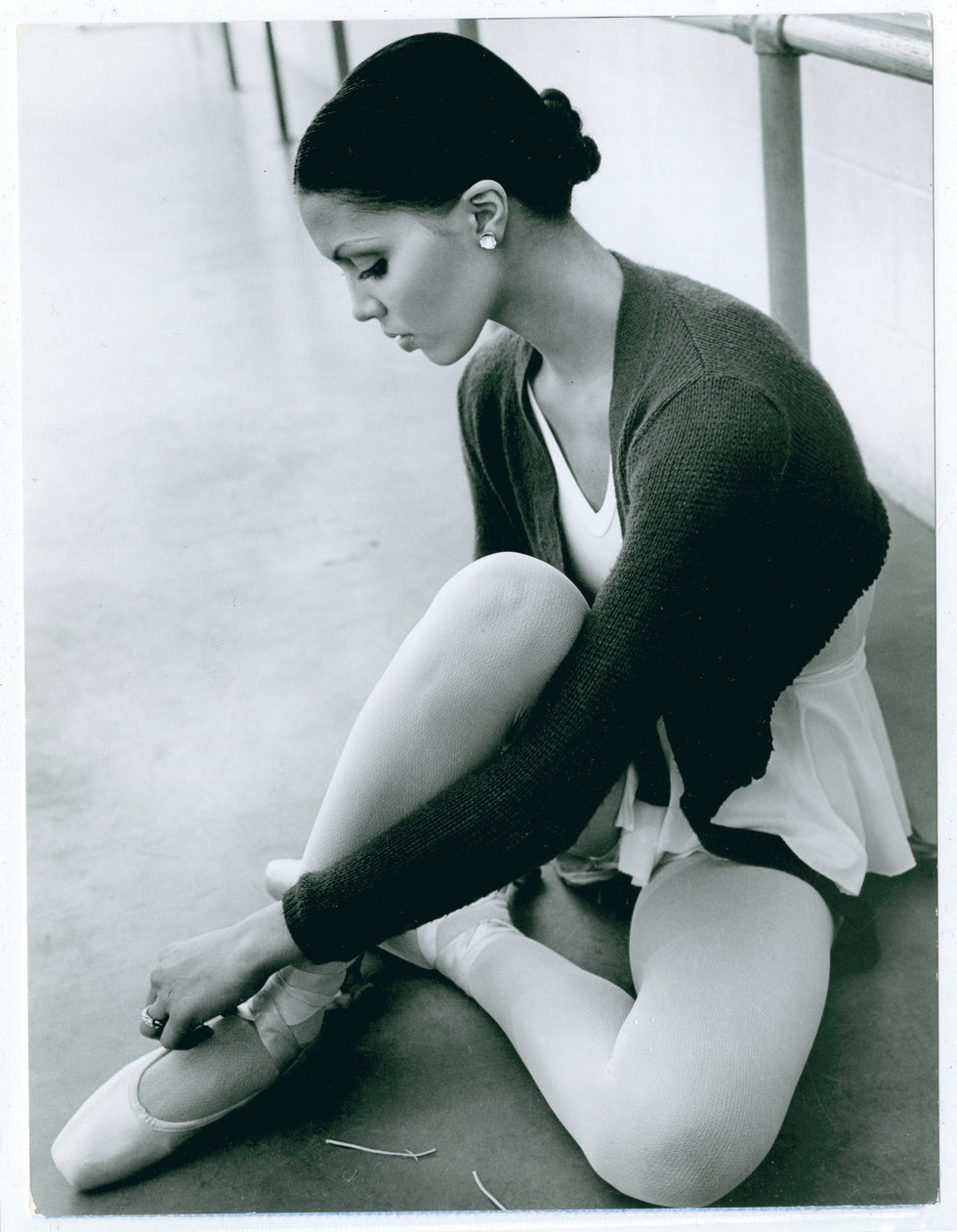 Dance Theatre of Harlem ballerina Lydia Abarca, 1970s. Arthur Mitchell Collection, Rare Book & Manuscript Collection, Columbia University.
"This exhibition pays homage both to Mitchell's creative magic and to his visionary achievements, revealing to those who never saw him dance his charismatic stage presence and the full scope of his career as an artist," says curator Lynn Garafola. "At the same time, it places the Dance Theatre of Harlem, which he co-founded and directed for more than 40 years, at the crossroads of political, artistic and racial change in the United States and beyond."
The show will run through March 11.
Ian Douglas; courtesy Sarah Haarmann. Performing with Pam Tanowitz Dance at The Joyce Theater
Sarah Haarmann stands out without trying to. There is a precision and lack of affectation in her dancing that is very Merce Cunningham. Her movement quality is sharp and clear; her stage presence utterly focused. It's no wonder she caught Mark Morris' eye. Even though she still considers herself "very much the new girl" at Mark Morris Dance Group (she became a full-time member in August 2017), in a recent performance of Layla and Majnun, Haarmann seemed completely in her element.
Company: Mark Morris Dance Group
Age: 27
Hometown: Macungie, Pennsylvania
Training: Lehigh Valley Charter High School for the Performing Arts and Marymount Manhattan College
Keep reading...
Show less
Reframing high-stakes auditions as learning opportunities can make you a better auditioner. Photo by Jim Lafferty.
In 2012, freelance contemporary dancer Adrianne Chu made a major career change: She decided to try out for A Chorus Line. "Even though I didn't get the job, I felt like I was meant to do this," says Chu. So she started going to at least one musical theater audition every weekday, treating each as a learning experience. After several years of building up her resumé, Chu's practice paid off: She booked a starring role as Wendy in the first national tour of Finding Neverland.
Approaching auditions as learning opportunities, especially when you're trying to break into a different style or are new to the profession, can sharpen your skills while helping you avoid burnout. It also builds confidence for the auditions that matter most.
Keep reading...
Show less
How do you warmup? Photo by Jim Lafferty
For many dancers, a "warmup" consists of sitting on the floor stretching their legs in various positions. But this strategy only reduces your muscles' ability to work properly—it negatively affects your strength, endurance, balance and speed for up to an hour.
Save your flexibility training for the end of the day. Instead, follow a warmup that will actually help prevent injury and improve your body's performance.
According to the International Association of Dance Medicine and Science, a smart warmup has four parts: "a gentle pulse-raising section, a joint mobilization section, a muscle lengthening section and a strength/balance building section."
Keep reading...
Show less
Screenshot via YouTube
Keep reading...
Show less
This year, IABD launched a new ballet audition for men of color
Last month, the International Association of Blacks in Dance's third annual ballet audition for women of color was expanded to include a separate audition for men.
The brainchild of Joan Myers Brown (founder of both Philadanco and IABD), the women's audition was created to specifically address the lack of black females in ballet. However, the success and attention that audition drew made the men feel left out, so IABD decided to give the men equal time this year.
Keep reading...
Show less
Students participated in all aspects of Veränderung, from choreography to costumes. Photo by Uwe Stratmann, Courtesy Tanztheater Wuppertal.
Pina Bausch's unique form of German Tanztheater is known for raising questions. Amid water and soil, barstools and balloons, the late choreographer's work contains a distinct tinge of mystery and confrontation. Today, Tanztheater Wuppertal Pina Bausch's dancers use questions as fuel for creativity. The company's most recent project introduced a new group of performers to the stage: local high school ninth-graders from the Gesamtschule Barmen in Wuppertal, Germany, in an original work-in-progress performance called Veränderung (Change).
Keep reading...
Show less


Get Dance Magazine in your inbox