Arthur Pita on His Disco Days & Boredom With Balanchine
Arthur Pita is doing one of his first abstract works with San Francisco Ballet, to premiere in April. Photo by Erik Tomasson
The ballet world can't get enough of Arthur Pita. With his maverick, surreal imagination, the self-styled "David Lynch of dance" brings a welcome theatricality to everything he touches, from his version of Kafka's The Metamorphosis to 2017's Salome for San Francisco Ballet.
The South African–born Pita competed in disco dancing and later performed with Matthew Bourne's New Adventures. Today, he is Bourne's offstage partner, and the pair live together in London. His latest work, which premiered in November, is a one-act adaptation of Dorothy Scarborough's 1925 Texan novel, The Wind, for The Royal Ballet.
---
Here, he shares insight into his creative process (and confesses why Balanchine used to bore him) with Dance Magazine:
For a story ballet like The Wind, I have a complete scenario, set moment by moment. I write cards, not with steps, but just with the narrative: This character arrives, this one does this. There needs to be a duet, a group dance. And then I start to piece it together. Sometimes I put cards up in the room, to see what needs to go where.
When you want the audience to really understand a story, you have to be daringly literal. Just do the image that says: This is what's happening here, these people are getting married—she's wearing a bridal gown, there is a priest. Once you've found that, then you can go on a tangent, go into an absurd place.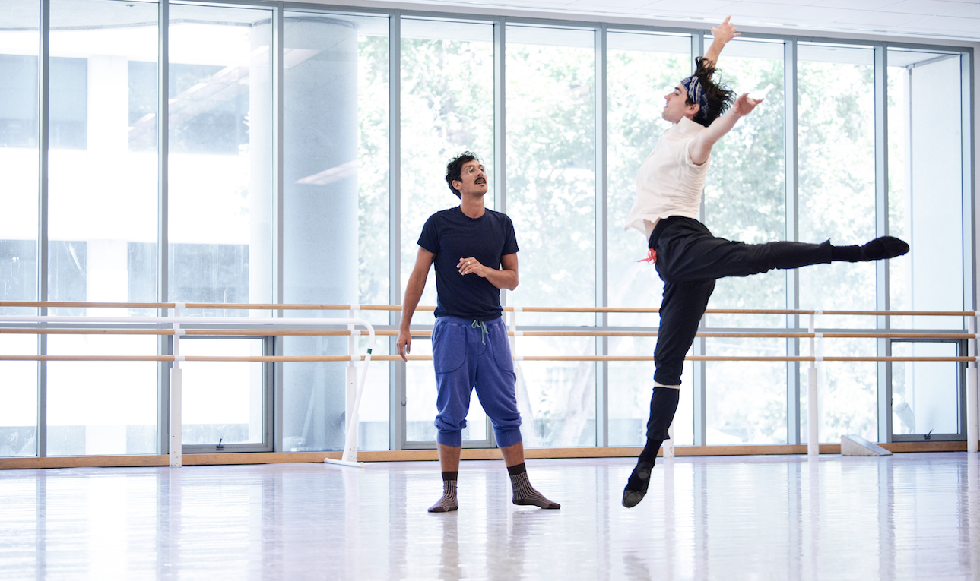 Pita in the studio at San Francisco Ballet. Photo by Erik Tomasson, courtesy SFB.
I love to use all the brains in the room. I give the dancers tasks: word tasks, couples' tasks, a language. If I can get everybody to just throw ingredients in, we can cook it all together.
I did disco dance championships when I was younger. I'd think of different techniques to stand out from the crowd: The music would start and everyone would go nuts straightaway, so I'd do something very slow, the opposite.
I like working with a new score. I have such a trusting relationship with Frank Moon, who composed Salome and The Wind. I call him my music husband. We like to give the performers space in the score, so they don't have to act on the counts. Then you start to get a different kind of timing.
I've been with Matthew Bourne for 21 years. We approach the creative process differently: I love being in the studio, but then I get nervous when we go onto the stage, and that's his favorite bit, because then he's set. There is no whispering in each other's ear. When I watch his work, I'll go: "How did you do it like this?" I'm always impressed, because I would never have done it like that.
Lately I've started to get into some really abstract Balanchine work, which I used to hate. I thought the movement was so dry. I watched Stravinsky Violin Concerto, and it's amazing, outrageous choreography. There are moves in there breaking every rule.
Actually, my next work, for San Francisco Ballet's Unbound festival, will be abstract.
Related Articles Around the Web
Ka'et Contemporary Dance Ensemble in the studio. Still from IFAF documentary.
Mash-ups aren't uncommon in the dance world: Performers of varying styles have been known to share the stage, from ballerina Tiler Peck and famed clown Bill Irwin to Michelle Dorrance, who's mixed tappers and break-dancers. Likewise, collaborations between choreographers and artists from seemingly mismatched disciplines have produced magical creations, such as Alexei Ratmansky's Whipped Cream, featuring Mark Ryden's whimsical and even grotesque designs and costumes.
But the Israeli troupe Ka'et Contemporary Dance Ensemble has found success in one of the most unlikely partnerships: Secular contemporary choreographer Ronen Itzhaki creates movement for a group of rabbis.
Keep reading...
Show less
via Instagram
While undoubtedly best known for her dancing, American Ballet Theatre principal Isabella Boylston has also been getting noticed for her style by Allure and Vogue—and with good reason. Her Instagram feed features a mix of on-trend athleisure wear and detailed dresses from runway designers like Valentino and Anna Sui, none of which would be complete without the makeup and hair to match. With a penchant for skin care and an ever-growing lipstick collection, Boylston talked us through some of her beauty must-haves on and off the stage.
Photo by Jayme Thornton
Keep reading...
Show less
BalletMet in company class onstage before a show. Photo by Jennifer Zmuda, courtesy BalletMet
Before she became the 20th century's most revered ballet pedagogue, Agrippina Vaganova was a frustrated ballerina. "I was not progressing and that was a terrible thing to realize," she wrote in a rough draft of her memoirs.
She retired from the Imperial Ballet stage in 1916, and for the next 30-plus years, devoted herself to creating a "science of ballet." Her new, dynamic teaching method produced stars like Rudolf Nureyev, Alla Osipenko, and Galina Ulanova and later Natalia Makarova and Mikhail Baryshnikov. And her approach continues to influence how we think about ballet training to this day.
But is the ballet class due for an update? Demands and aesthetics have changed. So should the way dancers train change too?
Keep reading...
Show less
How do you warmup? Photo by Jim Lafferty
For many dancers, a "warmup" consists of sitting on the floor stretching their legs in various positions. But this strategy only reduces your muscles' ability to work properly—it negatively affects your strength, endurance, balance and speed for up to an hour.
Save your flexibility training for the end of the day. Instead, follow a warmup that will actually help prevent injury and improve your body's performance.
According to the International Association of Dance Medicine and Science, a smart warmup has four parts: "a gentle pulse-raising section, a joint mobilization section, a muscle lengthening section and a strength/balance building section."
Keep reading...
Show less
Charlie Sutton's "Baby, You Knock Me Out." Photo by Steven Rosen, Courtesy DanceBreak.
DanceBreak came roaring back to life on Monday after seven years on hiatus, and six choreographers now have the opportunity to be the next Andy Blankenbuehler. Or Joshua Bergasse, Kelly Devine, Casey Nicholaw, Josh Prince or Josh Rhodes. These stellar Broadway choreographers all got their first big shows after Melinda Atwood's musical-theater launching pad let them show the industry what they could do.
Since 2002, DanceBreak has been a sort of "So You Think You Can Choreograph" for Broadway. Although not everyone goes straight there—Mandy Moore and Mia Michaels are alumni, too—the program is meant to funnel talented choreographers to the Broadway stage by providing a platform for their work. Prince, who introduced Atwood to the cheering crowd, has paid DanceBreak the ultimate compliment, creating his own non-profit incubator for theater choreographers, Broadway Dance Lab. On Monday, he recalled the story of how he was offered the role of choreographer on Broadway's Shrek just days after its director saw the 2007 edition.
Keep reading...
Show less
Stretching feet the wrong way will only lead to injury. Photo by Thinkstock
When caring for your feet or trying to make them look good, it's tempting to seek shortcuts. Bad ideas—like dangerous stretches that promise perfect lines or ointments that were never meant to go on your toes—catch on all too easily backstage.
We asked podiatrists who've seen their dance clients try it all share the habits they'd like to see gone for good.
Keep reading...
Show less


Get Dance Magazine in your inbox