The Intensive Where You Can Learn Rep By Crystal Pite, Jirí Kylián & More
Arts Umbrella International Summer Dance Intensive. Photo by Michael Slobodian, courtesy Arts Umbrella
In a sunlit studio that looks out on Vancouver's skyline, Kidd Pivot rehearsal director Eric Beauchesne shows how to project shades of despair without sound or words. "Your hands mean so much," he tells the Arts Umbrella International Summer Dance Intensive students, stopping to clamp his own to his face tightly, then opening his fingers around his jaw for a different effect.
Beauchesne, who also stages choreographer Crystal Pite's works at companies around the globe, is teaching a duet from Betroffenheit, Pite and Jonathon Young's Olivier Award–winning dance-theater piece about grief and loss. Marked by Pite's signature quick, detailed moves, the section has one dancer laying her hands on her partner's arched spine, as if she's absorbing an unfathomable pain. "You really care about stopping what's happening to her," Beauchesne says.
---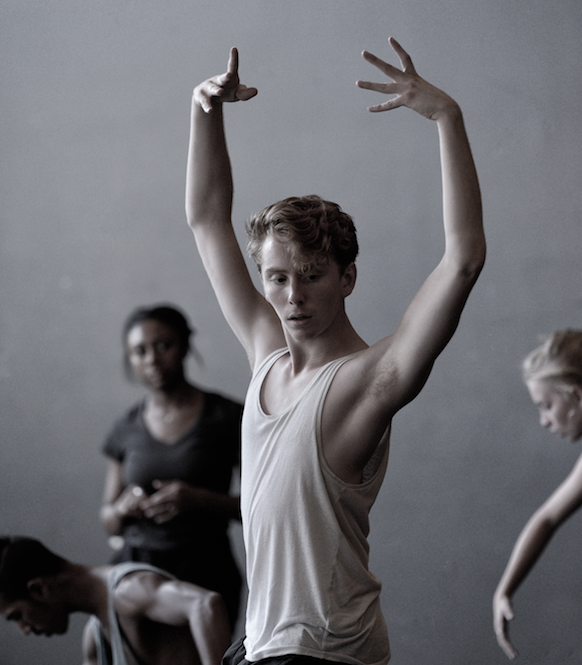 Dancer Zenon Zubyk in advanced repertoire class. Photo by Michael Slobodian, courtesy Arts Umbrella.
Like so many offerings at the highly diversified intensive, Beauchesne's advanced repertoire class is a rare chance for students to immerse themselves in boundary-pushing work with a teacher who seldom instructs outside company settings.
"I want to nurture the joy of what I'm doing, and yet show how challenging and picky it can be," says Beauchesne. His class is just one of many the three-week program packs into the downtown studios of Simon Fraser University Woodward's Goldcorp Centre for the Arts. (A junior version of the program, with participants as young as 12, is hosted at Arts Umbrella's smaller facility on the city's west side.)
Days are intense. Typically a traditional ballet class kicks off the day at 9 am, followed by technique classes like pointework, then repertoire and partnering in the afternoon. The six studios are busy until 6 pm. Often a student will see six different teachers in a single day.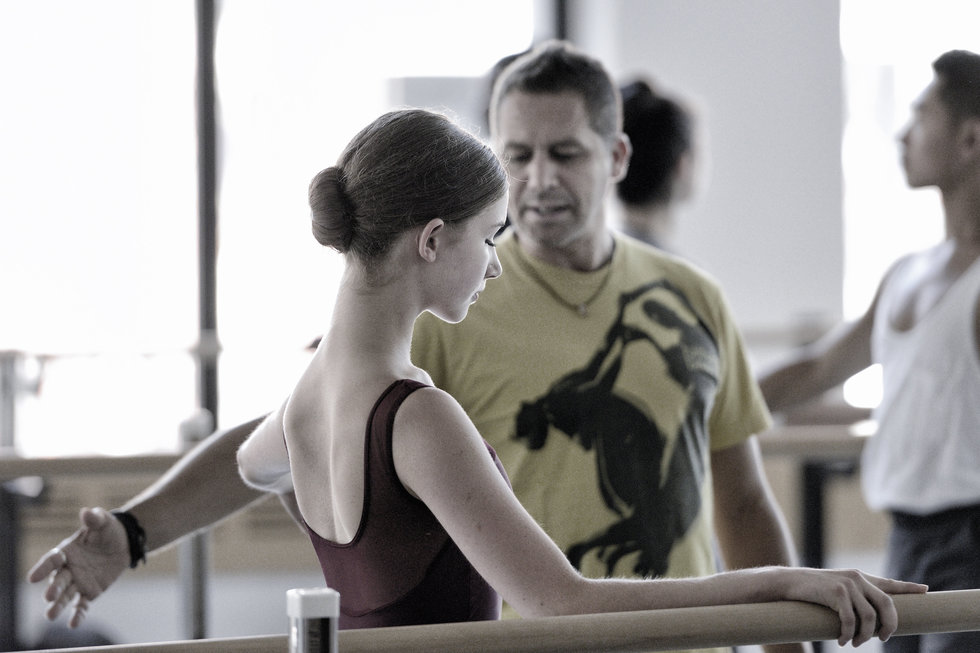 Francisco Martinez teaches advanced ballet. Photo by Michael Slobodian, courtesy Arts Umbrella
"We're dancing eight out of the nine hours we're here, and when you go home, you're tired," says Renee Lee, a contemporary dancer and San Francisco native. "I'm definitely doing more dancing than I ever have."
But she finds the intense schedule worthwhile. "The rep they're teaching is pieces they learned from the choreographers themselves. We're not just talking about movement and timing, but the impetus behind the piece, the inspiration for it, and the creation process."
Lee points to a partnering class led by Juilliard instructor Francisco Martinez earlier in the day, where former Nederlands Dans Theater dancers Lesley Telford and Yvan Dubreuil offered insights on a duet from Jirí Kylián's Symphony of Psalms. Kylián taught the rapturous, Stravinsky-set piece to them at the Dutch company, and they were able to demonstrate ways of finding balance and tension amid its intertwining spirals.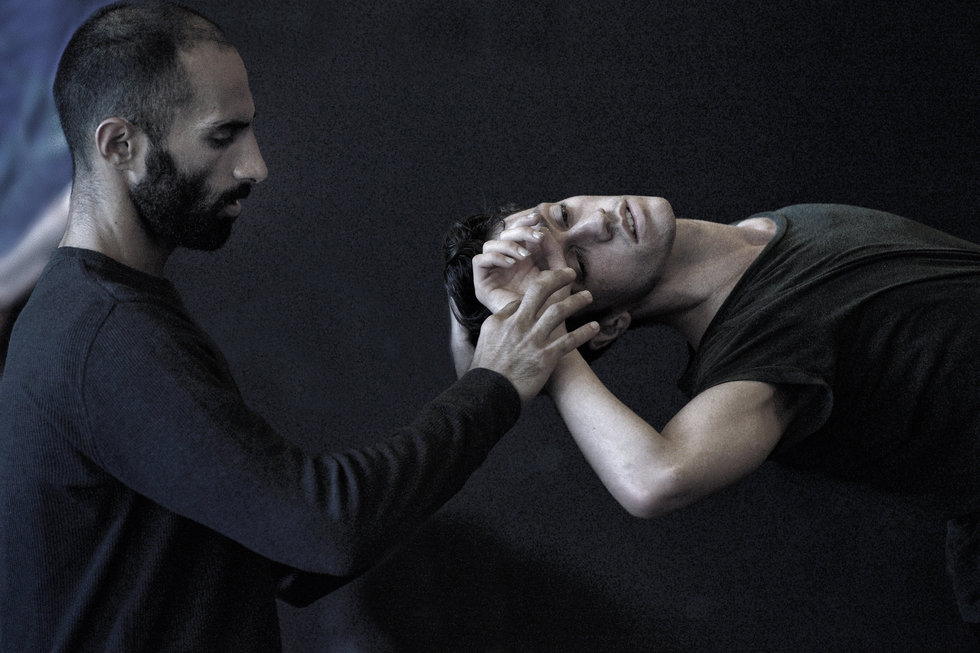 Photo by Michael Slobodian, courtesy Arts Umbrella.
"What this intensive brings together is a lot of different choreographic styles and techniques," says Martinez. "I think it's unique that you could be exposed to, say, five different styles at the same time. A lot of programs are very performance oriented. Here, it's all about process, process, process."
For Toronto student Zenon Zubyk, the program's wide range helps him prepare for the increasingly diverse demands of a contemporary career. "One of the most important things today is to be versatile," says the 20-year-old, who's in his second and final year of Arts Umbrella's professional program. "So many repertoire companies are doing so many styles of dance and you have to be able to accommodate every single one of them in your own body."
The programming is especially appealing to him as a male dancer. "Everything seems more possible," he says. "There are male teachers from all different backgrounds and they're opening these new doors of possibility."
For her part, artistic director Artemis Gordon seeks to give her students as much of a taste of what is going on in the world of dance as she can. The summer program's most recent roster features several people from NDT, former Batsheva Dance Company members and Gaga masters, plus Dubreuil, who now stages the work of Johan Inger.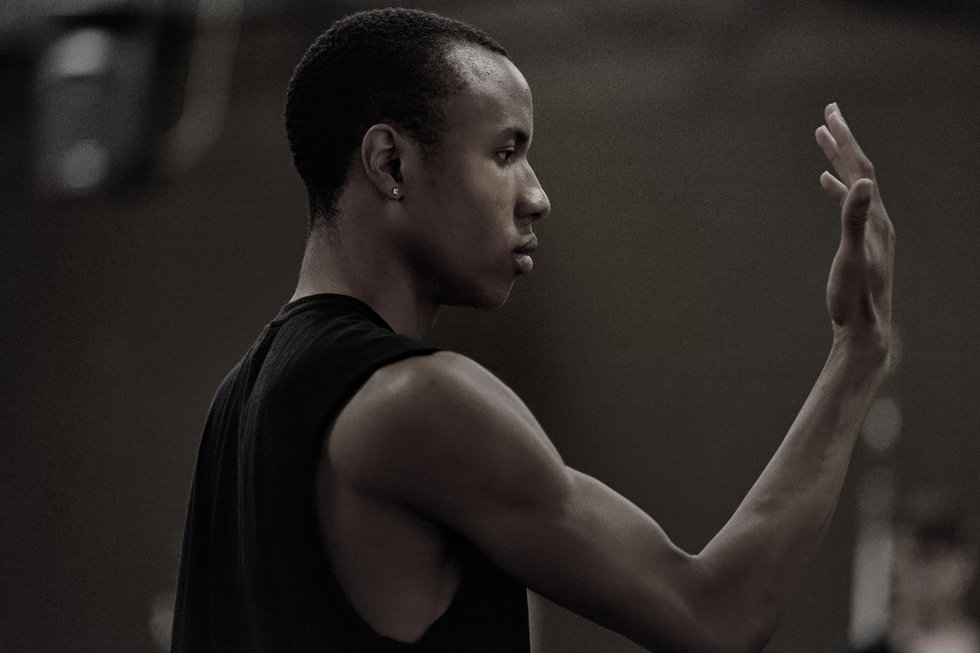 Photo by Michael Slobodian, courtesy Arts Umbrella
She stresses the intensive is not about preparing for specific auditions or performances. "You're not here to show off or to make connections; you're not here to make routines to go off and do them," says Gordon, who only holds an informal showing of work on the last day of the intensive. "It's a life-changing chance to investigate what it means to be you, or it's a reevaluation of where you're at."
Although the intensive may not be geared to a particular audition, Lee feels strongly it's what she needs to prepare for a career in contemporary companies. Students are able to delve deep into innovative work they might not otherwise get the chance to try.
"The repertoire we're learning—you're really only exposed to it if you're in a company already doing that rep, or if you are at a summer intensive like this," explains Lee. "Otherwise there's maybe once a year or so that a company will come by and hold a workshop—but you have to jump into it and learn how to perform it in a short amount of time. You just don't have a chance to dissect it the way we do here."
Related Articles Around the Web
Ian Douglas; courtesy Sarah Haarmann. Performing with Pam Tanowitz Dance at The Joyce Theater
Sarah Haarmann stands out without trying to. There is a precision and lack of affectation in her dancing that is very Merce Cunningham. Her movement quality is sharp and clear; her stage presence utterly focused. It's no wonder she caught Mark Morris' eye. Even though she still considers herself "very much the new girl" at Mark Morris Dance Group (she became a full-time member in August 2017), in a recent performance of Layla and Majnun, Haarmann seemed completely in her element.
Company: Mark Morris Dance Group
Age: 27
Hometown: Macungie, Pennsylvania
Training: Lehigh Valley Charter High School for the Performing Arts and Marymount Manhattan College
Keep reading...
Show less
Reframing high-stakes auditions as learning opportunities can make you a better auditioner. Photo by Jim Lafferty.
In 2012, freelance contemporary dancer Adrianne Chu made a major career change: She decided to try out for A Chorus Line. "Even though I didn't get the job, I felt like I was meant to do this," says Chu. So she started going to at least one musical theater audition every weekday, treating each as a learning experience. After several years of building up her resumé, Chu's practice paid off: She booked a starring role as Wendy in the first national tour of Finding Neverland.
Approaching auditions as learning opportunities, especially when you're trying to break into a different style or are new to the profession, can sharpen your skills while helping you avoid burnout. It also builds confidence for the auditions that matter most.
Keep reading...
Show less
How do you warmup? Photo by Jim Lafferty
For many dancers, a "warmup" consists of sitting on the floor stretching their legs in various positions. But this strategy only reduces your muscles' ability to work properly—it negatively affects your strength, endurance, balance and speed for up to an hour.
Save your flexibility training for the end of the day. Instead, follow a warmup that will actually help prevent injury and improve your body's performance.
According to the International Association of Dance Medicine and Science, a smart warmup has four parts: "a gentle pulse-raising section, a joint mobilization section, a muscle lengthening section and a strength/balance building section."
Keep reading...
Show less
Screenshot via YouTube
Keep reading...
Show less
This year, IABD launched a new ballet audition for men of color
Last month, the International Association of Blacks in Dance's third annual ballet audition for women of color was expanded to include a separate audition for men.
The brainchild of Joan Myers Brown (founder of both Philadanco and IABD), the women's audition was created to specifically address the lack of black females in ballet. However, the success and attention that audition drew made the men feel left out, so IABD decided to give the men equal time this year.
Keep reading...
Show less
Students participated in all aspects of Veränderung, from choreography to costumes. Photo by Uwe Stratmann, Courtesy Tanztheater Wuppertal.
Pina Bausch's unique form of German Tanztheater is known for raising questions. Amid water and soil, barstools and balloons, the late choreographer's work contains a distinct tinge of mystery and confrontation. Today, Tanztheater Wuppertal Pina Bausch's dancers use questions as fuel for creativity. The company's most recent project introduced a new group of performers to the stage: local high school ninth-graders from the Gesamtschule Barmen in Wuppertal, Germany, in an original work-in-progress performance called Veränderung (Change).
Keep reading...
Show less


Get Dance Magazine in your inbox