What It Takes: 7 Tips for New Leaders from BalletX's Christine Cox
Christine Cox and Matthew Neenan with BalletX dancers at Jacob's Pillow. Photo via
Instagram
It takes an excellent leader to run a dance company. But Christine Cox, executive and artistic director of Philadelphia's BalletX, knows that it's not only hard work that distinguishes a leader.
Cox started BalletX with Matthew Neenan in 2005, using fellow Pennsylvania Ballet dancers during their summer layoff to populate a startup contemporary ballet troupe. Fast forward 12 years, and BalletX is opening a new $1 million building next month: The Center for World Premiere Choreography. It will not only serve as a home base for BalletX classes and rehearsals, but will also play host to choreographic residencies and community outreach.
Now the sole director of the company, Cox has learned invaluable lessons along the way. Here are seven tips she shares for new and aspiring directors-to-be.
---
1. Follow before you lead.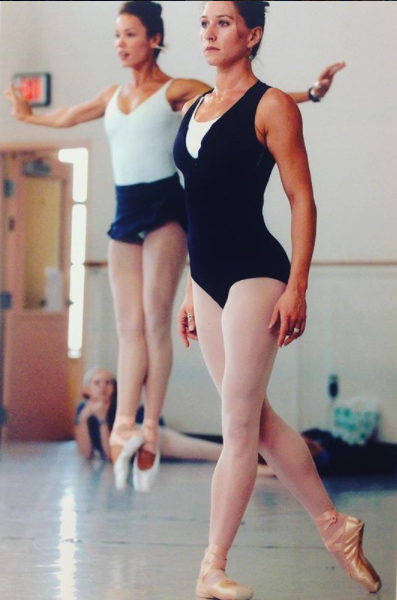 Cox in her performing days. Photo via Instagram
Cox's journey to BalletX was no cake walk—but it made her the leader she is today. As a teenager, she set her sights on joining Pennsylvania Ballet, but it took several auditions and several years dancing for other companies like BalletMet, Ballet Hispanico and American Repertory Ballet before she was ultimately accepted into her dream company.
Cox is thankful for those experiences because they taught her how to be the fearless leader she is today. "I would do nothing differently," she says. Cox attributes a great deal of what she knows as a leader to watching the great directors of the companies she danced for.
2. Be willing to take risks.
BalletX rehearsing Matthew Neenan's Let mortal tongues awake
Cox left Pennsylvania Ballet in 2006 to give BalletX its own identity separate from Pennsylvania Ballet. It was a risk, but she knew that to grow her own troupe, she had to leave the company she'd grown up idolizing.
3. Don't be afraid to diversify.

Dance eXchange students. Photo via BalletX.org
Initially, BalletX's business model focused solely on performances. But Cox felt the need to give back to the community in which the company had flourished. In 2014 she founded the Dance eXchange: an in-school dance program for 200 third and fourth graders at three public schools in Philadelphia. Based on the award-winning methodology of the National Dance Institute in New York City, Dance eXchange takes BalletX teaching artists and live musicians into the classroom to teach students the basics of dance with a focus on achieving personal standards of excellence.
4. Know that you will make mistakes.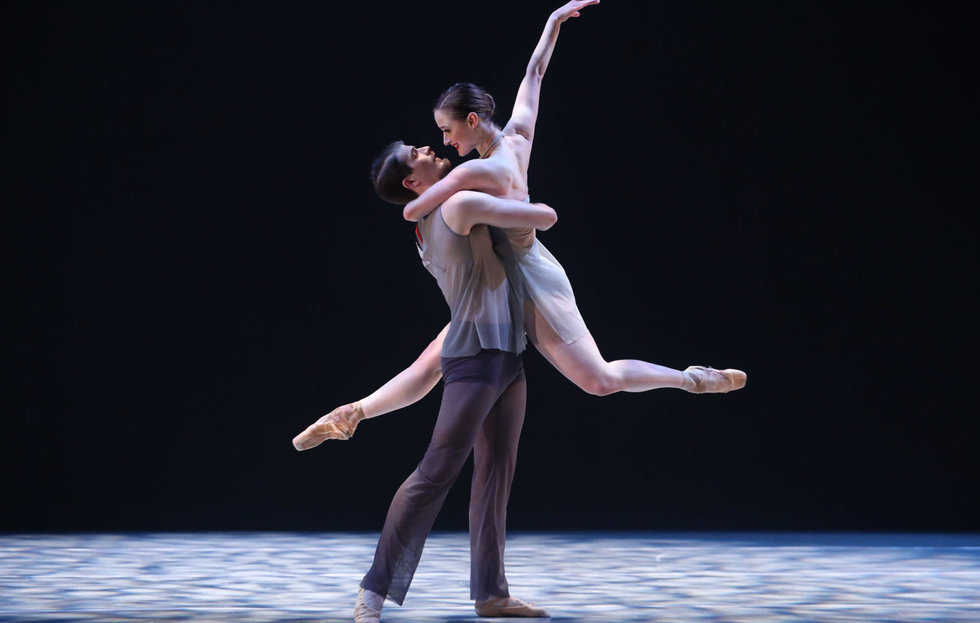 Chloe Perkes, Zachary Kapeluck in Beautiful Once by Jodie Gates. Photo by Bill Hebert.
Cox says that making mistakes is part of learning what it takes to be a successful leader. "If you are afraid to make mistakes, you are afraid to try," she says. When starting the company, some early slipups included missing grant deadlines because they weren't written on the calendar, or being late to important meetings with stakeholders. Small mistakes add up, and Cox realized that she had to be as serious about the business aspects of BalletX as she was the artistic ones.
5. Surround yourself with people who have the skills you don't.
BalletX rehearsing a new Trey McIntyre piece, The Boogeyman
Cox attributes her successes to the great relationships she has with her board and staff members, particularly associate artistic director Tara Keating. However, she admits that she's made the mistake of hiring both dancers and administrators who weren't, at first, the right fit for BalletX. In those instances, she says, "I try to make it a better fit and work with what I have."
6. Learn when to hold back.
Cox is very much aware that people judge men and women in business differently. She naturally wears a lot of feelings on her sleeve, but she knows that each day she has to calculate how much of that side of herself she shares with the dancers and her team.
7. Believe in the work.
Having a great deal of integrity about the work she does has not only given Cox immense pride in her company, but it has brought the organization national exposure. By showcasing BalletX to groups of theaters and presenters, having a strong Philadelphia base of support and touring regularly, the company has gotten 11 write-ups in the New York Times in the last four years, and kept eyes on BalletX across the country.
Related Articles Around the Web
Cover Story
Mar. 19, 2018 09:15AM EST
Jayme Thornton
Camille A. Brown is on an impressive streak: In October, the Ford Foundation named her an Art of Change fellow. In November, she won an AUDELCO ("Viv") Award for her choreography in the musical Bella: An American Tall Tale. On December 1, her Camille A. Brown & Dancers made its debut at the Kennedy Center, and two days later she was back in New York City to see her choreography in the opening of Broadway's Once on This Island. Weeks later, it was announced that she was choreographing NBC's live television musical Jesus Christ Superstar Live in Concert, to air on April 1.
An extraordinarily private person, few knew that during this time Brown was in the midst of a health crisis. It started with an upset stomach while performing with her company on tour last summer.
"I was drinking ginger ale, thinking that I would feel better," she says. Finally, the pain became so acute that she went to the emergency room in Mississippi. Her appendix had burst. "Until then, I didn't know it was serious," she says. "I'm a dancer—aches and pains don't keep you from work."
Keep reading...
Show less
Dance As Activism
Mar. 19, 2018 10:34AM EST
Nathalia Arja as the Novice in Jerome Robbins' The Cage. Photo by Alexander Iziliaev, courtesy Miami City Ballet
The encounter with man-eating female creatures in Jerome Robbins' The Cage never fails to shock audiences. As this tribe of insects initiates the newly-born Novice into their community and prepares her for the attack of the male Intruders, the ballet draws us into a world of survival and instinct.
This year celebrates the 100th anniversary of Jerome Robbins' birth, and a number of Robbins programs are celebrating his timeless repertoire. But it especially feels like a prime moment to experience The Cage again. Several companies are performing it: San Francisco Ballet begins performances on March 20, followed by the English National Ballet in April and New York City Ballet in May.
Why it matters: In this time of female empowerment—as women are supporting one another in vocalizing injustices, demanding fair treatment and pay, and advocating for future generations—The Cage's nest of dominant women have new significance.
Keep reading...
Show less
Rant & Rave
Mar. 08, 2018 04:18PM EST
Is this the turning point when we'll finally see an end to dancer mistreatment? Photo by Gez Xavier Mansfield/Unsplash
Last week in a piece I wrote about the drama at English National Ballet, I pointed out that many of the accusations against artistic director Tamara Rojo—screaming at dancers, giving them the silent treatment, taking away roles without explanation—were, unfortunately, pretty standard practice in the ballet world:
If it's a conversation we're going to have, we can't only point the finger at ENB.
The line provoked a pretty strong response. Professional dancers, students and administrators reached out to me, making it clear that it's a conversation they want to have. Several shared their personal stories of experiencing abusive behavior.
Christopher Hampson, artistic director of the Scottish Ballet, wrote his thoughts about the issue on his company's website on Monday:
Keep reading...
Show less
Dancer Voices
Mar. 13, 2018 09:15AM EST
Emily Ramirez as "Meg Giry" in The Phantom of the Opera. Photo by Matthew Murphy.
I always knew my ballet career would eventually end. It was implied from the very start that at some point I would be too old and decrepit to take morning ballet class, followed by six hours of intense rehearsals.
What I never imagined was that I would experience a time when I couldn't walk at all.
In rehearsal for Nutcracker in 2013, I slipped while pushing off for a fouetté sauté, instantly rupturing the ACL in my right knee. In that moment my dance life flashed before my eyes.
Keep reading...
Show less
What Wendy's Watching
Mar. 19, 2018 10:21AM EST
Jaqlin Medlock rehearsing Signals, with, seated, Rashaun Mitchell, Melissa Toogood and Petronio, PC Paula Court
Stephen Petronio brings a bracing season to New York City's Joyce Theater, where he has performed almost every year for 24 years . His work is exciting to the subscription audience as well as to many dance artists. He delves into movement invention at the same time as creating complex postmodern forms. The new work, Hardness 10, is his third collaboration with composer Nico Muhly. The costumes are by Patricia Field ARTFASHION, hand-painted by Iris Bonner/These Pink Lips. Petronio's work still practically defines the word contemporary.
Stephen Petronio Company also continues with its Bloodlines series. That's where he pays homage to landmark works of the past that have influenced his own edgy aesthetics. This season he's chosen Merce Cunningham's playful trio Signals (1970), which will be performed with live music from Composers Inside Electronics.

Completing the program is an excerpt from Petronio's Underland (2003), with music by Nick Cave. Video footage courtesy of Stephen Petronio Company, filmed by Blake Martin.
Photo via Unsplash
Never did I think I'd see the day when I'd outgrow dance. Sure, I knew my life would have to evolve. In fact, my dance career had already taken me through seasons of being a performer, a choreographer, a business owner and even a dance professor. Evolution was a given. Evolving past dancing for a living, however, was not.
Transitioning from a dance career involved just as much of a process as building one did. But after I overcame the initial identity crisis, I realized that my dance career had helped me develop strengths that could be put to use in other careers. For instance, my work as a dance professor allowed me to discover my knack for connecting with students and helping them with their careers, skills that ultimately opened the door for a pivot into college career services.
Here's how five dance skills can land you a new job—and help you thrive in it:
Keep reading...
Show less


Get Dance Magazine in your inbox