Becoming Isabella Boylston
It takes pluck to grow up with a name like Hildur.
For Isabella Boylston, born Hildur Isabella, it was just a part of her unconventional, free-spirited upbringing. Her parents met on a ski lift in Sun Valley, Idaho. Her father, Mike, was a country/blues drummer and "ski bum"; her mother, Cornelia, a Swedish electrical engineer. They fell in love and got married, raising two kids in a trailer in Sun Valley, with frequent road-trips to her dad's shows in "crappy towns," as Boylston, now 30, puts it. "It was totally Wild West," she adds, with an easy laugh.
She was named after an Icelandic great-grandmother ("a cool lady") and had never thought of changing her name until a company director planted the seed. Isabella Boylston—it does roll off the tongue. "I think growing up with an unusual name shaped my personality in a way," she reflected just days before the start of American Ballet Theatre's fall season.
---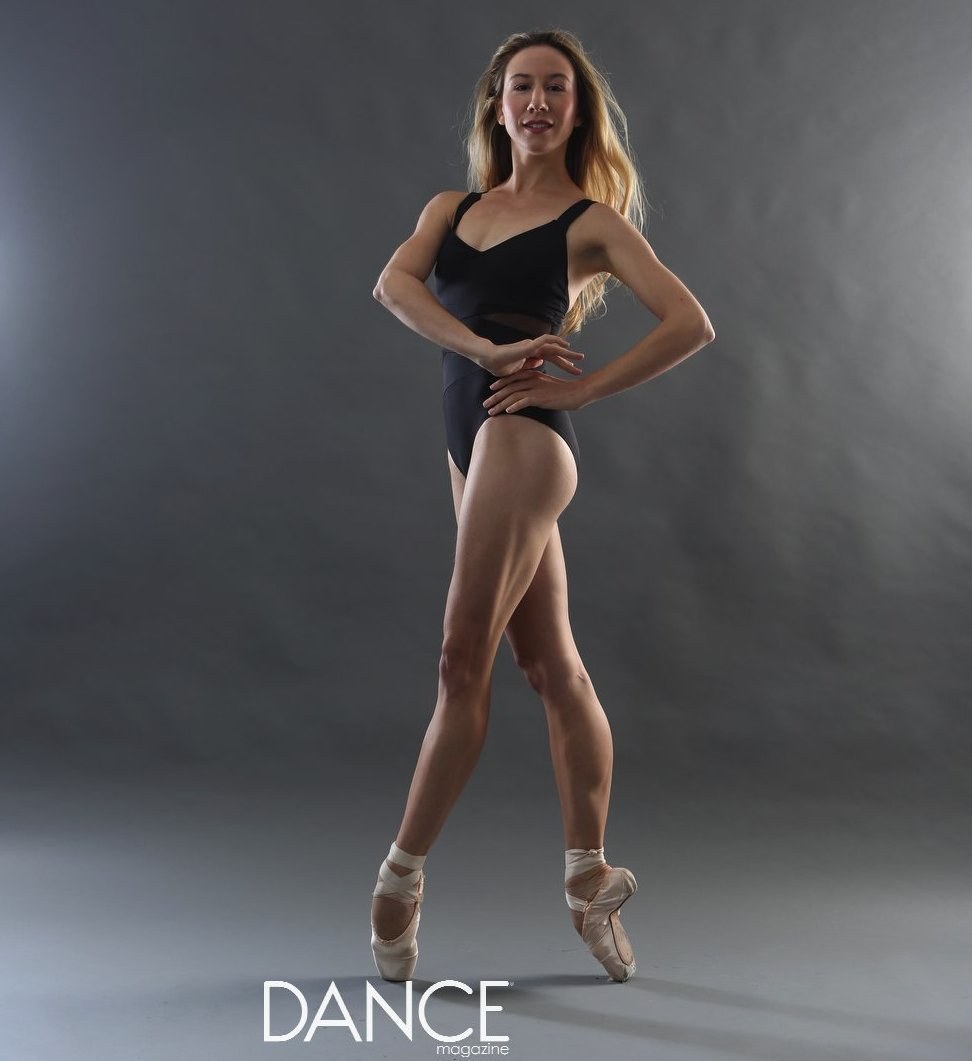 Photo by Jayme Thornton
She may be right. Isabella Boylston—or Bella, as just about everyone now seems to call her—is one of the most strikingly individual dancers in the company, or anywhere. She's musical, she has great facility and strong technique, but, really, what one notices most is the boldness and joy of her dancing.
Three key moments come to mind: first, her debut in Alexei Ratmansky's The Bright Stream, in 2011 when she was still in the corps. In this spoof of Soviet-style ballets, she played a haughty Moscow ballerina who visits a collective farm during a harvest festival. In the midst of a raucous ensemble, Boylston rocketed onstage with the propulsion and elevation of a torpedo. Who is that? everyone wondered, scrambling for the program.
Another was her debut in Giselle, in 2014, as a soloist. She was high-spirited in the first act, emphasizing the character's love of dance. "I don't think she should be half-dead already," Boylston explains. Her mad scene was understated. But in the second act, she did something extraordinary. It was that moment when Giselle—now transformed into a Wili—raises her leg slowly to the side, then shifts her torso into an arabesque: She did it with such deliberateness and control that the movement became disembodied, like that of a ghost.
Finally, there was her Juliet, a role she debuted last spring season (along with Sir Frederick Ashton's La Fille mal gardée and Sylvia). Her dancing was impetuous. But there was this one detail: the way she rested her chin on her forearm in the balcony scene, as she dreamed of Romeo. It was totally natural, slightly gawky, exactly what a teenager might do in an unguarded moment.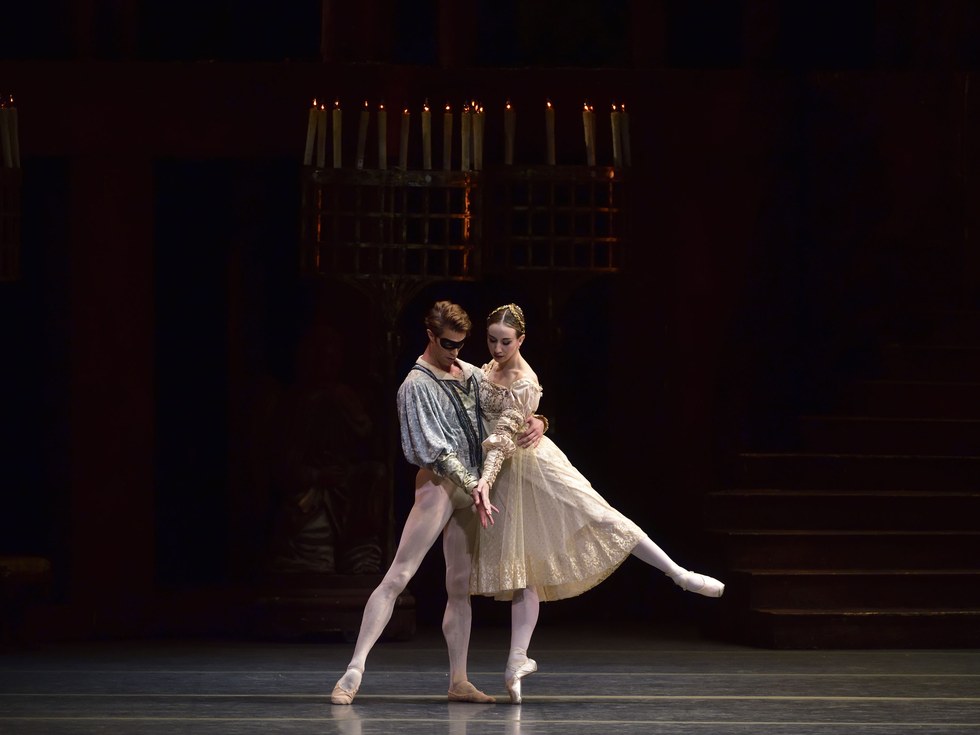 In Romeo and Juliet with James Whiteside. Photo by Gene Schiavone, courtesy ABT.
This freshness is what Damian Woetzel, who made her artist in residence at his Vail International Dance Festival last summer, loves about her dancing: "She's alive in a way that is totally in the moment."
The effect is a combination of her personality—open and relaxed—and her very real physical abilities. "The jump is remarkable," says Woetzel, "and it comes out of nowhere."
"She is very alive person," echoes Irina Kolpakova, the great Soviet ballerina of the 1960s who is now Boylston's coach at ABT. "And her body is very talented. She can do everything: jump, turn, stretch, extensions. She is free onstage, and that's not boring."
Still, she's had to work hard. Because of her facility, and, especially, her loose joints, it has taken her some time to achieve a more composed, classical form. She was a late bloomer, she says: "From the time I joined the studio company to when I was 21 or 22, I grew three inches. I have gangly arms and long, hyperextended legs, so it took me a little longer to get the whole package to gel."
She and Kolpakova, and Boylston's previous coach, Susan Jaffe, have spent endless hours on her arabesque line in Swan Lake. "A lot of it is holding my torso strong, keeping my body together and not ricocheting around." Boylston and Kolpakova often use video of her rehearsals to pinpoint exact details that can be improved.
When it came to acting, she initially lacked confidence. She was self-conscious, in part because she hadn't yet found her way into the stories. As she explains, "a lot of the ballets we do"—especially the 19th-century classics—"the stories are pretty far out." She was more comfortable in new pieces by Christopher Wheeldon and works by Balanchine, where she could just be herself. Boylston is someone who needs to believe in a character in order to fully embody it.
"Classical works of character weren't organic to her," says Kevin McKenzie, ABT's artistic director. "She had to work hard to grasp certain behaviors."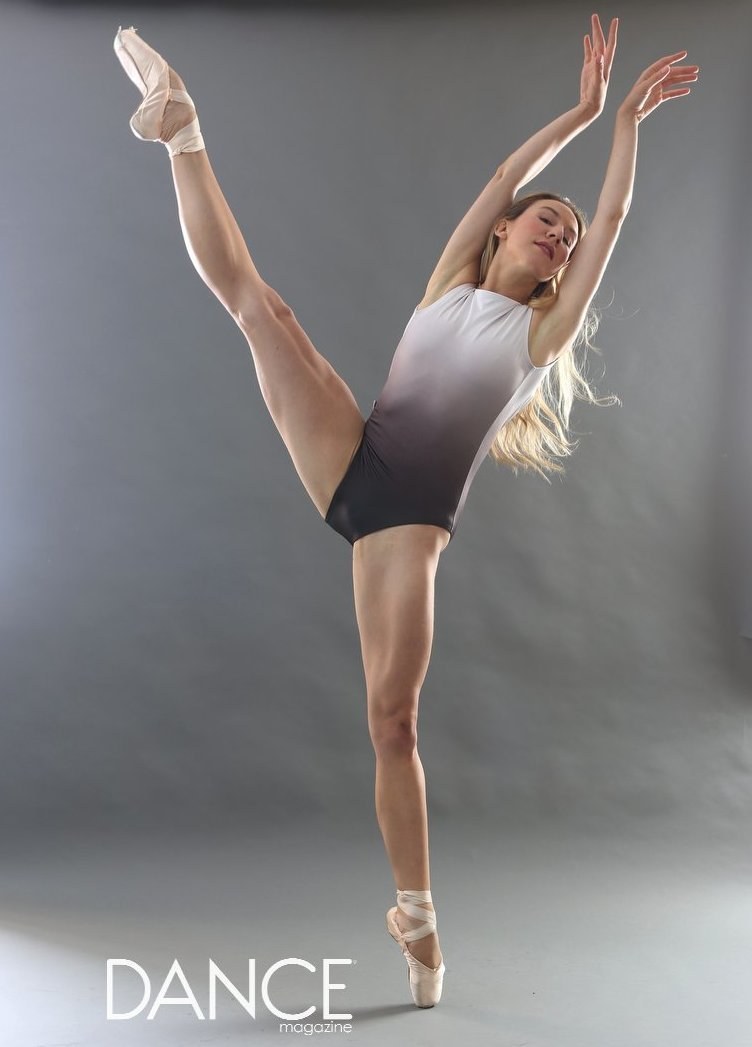 Photo by Jayme Thornton
A few years ago, she enlisted the help of an acting coach, Byam Stevens. The two of them read the scenarios and talk about the stories, analyzing the particulars of her character, moment by moment, scene by scene.
Another important experience has been working with Ratmansky. In addition to The Bright Stream, she has danced lead roles in his Firebird, Sleeping Beauty and Chamber Symphony. He pushed her to dance bigger—"Just, jump!" he told her in Bright Stream rehearsals—but also to find more nuance in the characters.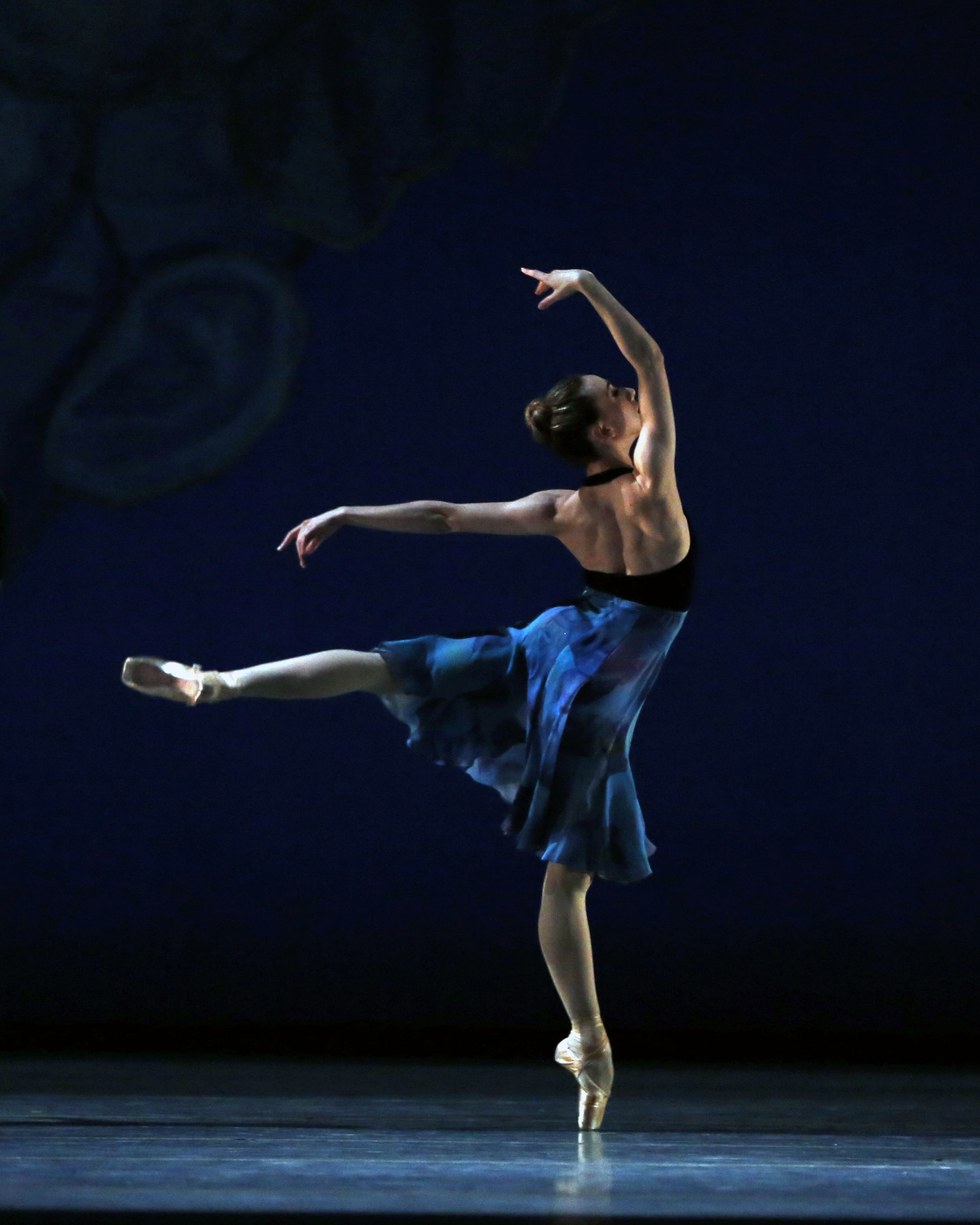 In Chamber Symphony. Photo by Marty Sohl, courtesy ABT.
"He directed me almost like a film director directing an actress," she says. "For every step or facial movement he has about 15 notes."
When approaching a new role, she goes to the New York Public Library to seek out archival recordings, if possible with original casts. When she was preparing for her debut as Princess Aurora in The Sleeping Beauty, she watched tapes of Margot Fonteyn. Before Ashton's La Fille mal gardée, a friend bought her a DVD starring Nadia Nerina, the original Lise.
"With Fonteyn, it was her dynamics that impress me. The way she emphasized each step with such clarity. With Nerina, it was the vivacity of her jumps and energy. Ballerinas today have a more homogenous look."
But she knows that in the end, it's up to her. She has to shape her own interpretations. "At a certain point you realize you can never please everyone."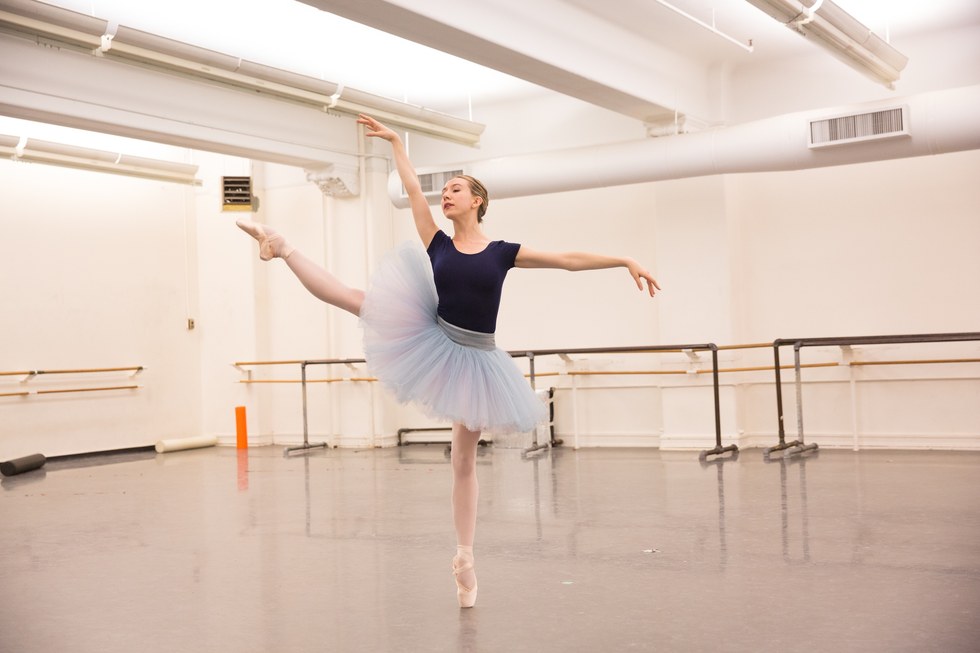 Photo by Rosalie O'Connor, courtesy ABT
She's like that offstage, as well. Her friends speak affectionately of her independence of spirit. "One of the first things that struck me about Bella was her incredible sense of who she was, and her wonderful ability to laugh at herself," says ABT corps member Lauren Post, who's known Boylston since the two were students at Harid Conservatory. (Post is the person responsible for her unevenly pierced ears; she pierced them with a sterilized needle and some ice cubes in the Harid dorm.)

One thing Boylston has lacked so far is a strong onstage partnership. That may soon change. Last fall, she performed in Twyla Tharp's Brahms-Haydn Variations with the company's newest Danish import, Alban Lendorf. This spring, they're scheduled to dance together in Swan Lake (on opening night), Ratmansky's new Whipped Cream and "Aurora's Wedding" (the third act of Sleeping Beauty).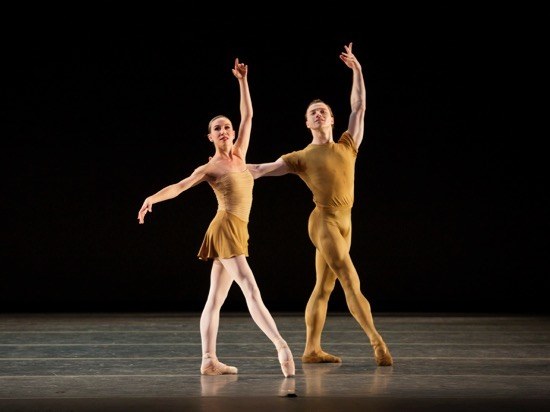 With Lendorf in Brahms-Haydn Variations. Photo by Marty Sohl.
The pairing seems promising; he's strong, with a solid Danish technique and an appealing stage presence. "He is a dream!" gushes Boylston.
This summer, Boylston is planning a show of her own, back home in Sun Valley. She has commissioned a new evening-length work from her colleague, the budding choreographer Gemma Bond. The score, too, is a commission, from the Brooklyn composer Judd Greenstein, whom she discovered on Spotify. Kate Duhamel will contribute video designs. Plans are still in the initial stages, but she's hoping to use a story or theme that relates to Sun Valley.
In 2015, she and fellow ABT principal James Whiteside collaborated with the filmmaker Yoonha Park and choreographer Justin Peck on a short film, Early Sunday Morning, shown at the Tribeca Film Festival. She's currently working on a Hollywood film project, Red Sparrow, also with Peck.
She's branching out. "When I was a kid, I was always directing and making things," she says, "and I feel like now I'm ready to spend a little more of my creative energy. I want to do something creative. I want to make things."
Photo via Unsplash
Never did I think I'd see the day when I'd outgrow dance. Sure, I knew my life would have to evolve. In fact, my dance career had already taken me through seasons of being a performer, a choreographer, a business owner and even a dance professor. Evolution was a given. Evolving past dancing for a living, however, was not.
Transitioning from a dance career involved just as much of a process as building one did. But after I overcame the initial identity crisis, I realized that my dance career had helped me develop strengths that could be put to use in other careers. For instance, my work as a dance professor allowed me to discover my knack for connecting with students and helping them with their careers, skills that ultimately opened the door for a pivot into college career services.
Here's how five dance skills can land you a new job—and help you thrive in it:
Keep reading...
Show less
When you spend as much time on the road as The Royal Ballet's Steven McRae, getting access to a proper gym can be a hassle. To stay fit, the Australian-born principal turns to calisthenics—the old-school art of developing aerobic ability and strength with little to no equipment.
"It's basically just using your own body weight," McRae explains. "In terms of partnering, I'm not going to dance with a ballerina who is bigger than me, so if I can sustain my own body weight, then in my head I should be fine."
Keep reading...
Show less
Dancer Voices
Mar. 13, 2018 09:15AM EST
Emily Ramirez as "Meg Giry" in The Phantom of the Opera. Photo by Matthew Murphy.
I always knew my ballet career would eventually end. It was implied from the very start that at some point I would be too old and decrepit to take morning ballet class, followed by six hours of intense rehearsals.
What I never imagined was that I would experience a time when I couldn't walk at all.
In rehearsal for Nutcracker in 2013, I slipped while pushing off for a fouetté sauté, instantly rupturing the ACL in my right knee. In that moment my dance life flashed before my eyes.
Keep reading...
Show less
Rant & Rave
Mar. 08, 2018 04:18PM EST
Is this the turning point when we'll finally see an end to dancer mistreatment? Photo by Gez Xavier Mansfield/Unsplash
Last week in a piece I wrote about the drama at English National Ballet, I pointed out that many of the accusations against artistic director Tamara Rojo—screaming at dancers, giving them the silent treatment, taking away roles without explanation—were, unfortunately, pretty standard practice in the ballet world:
If it's a conversation we're going to have, we can't only point the finger at ENB.
The line provoked a pretty strong response. Professional dancers, students and administrators reached out to me, making it clear that it's a conversation they want to have. Several shared their personal stories of experiencing abusive behavior.
Christopher Hampson, artistic director of the Scottish Ballet, wrote his thoughts about the issue on his company's website on Monday:
Keep reading...
Show less
Dancer Voices
Mar. 15, 2018 02:54PM EST
Photo by Rachel Papo for Pointe
We all know that companies too often take dancers for granted. When I wrote last week about a few common ways in which dancers are mistreated—routine screaming, humiliation, being pressured to perform injured and be stick-thin—I knew I was only scratching the surface.
So I put out a call to readers asking for your perspective on the most pressing issues that need to be addressed first, and what positive changes we might be able to make to achieve those goals.
The bottom line: Readers agree it's time to hold directors accountable, particularly to make sure that dancers are being paid fairly. But the good news is that change is already happening. Here are some of the most intriguing ideas you shared via comments, email and social media:
Keep reading...
Show less
Advice for Dancers
Mar. 15, 2018 11:25AM EST
Lee Cherry; Courtesy Tricia Miranda
With dancer and choreographer credits that cover everything from touring with Beyoncé to music videos and even feature films, Tricia Miranda knows more than a thing or two about what it takes to make it. And aspiring dancers are well aware. We caught up with the commercial dance queen last weekend at the Brooklyn Funk convention, where she taught a ballroom full of dancers classes in hip-hop and dancing for film and video.
How To Land An Agency
"At times with the agencies, they already have someone that looks like you or you're just not ready to work. Look has to do with a lot of it, work ethic and also just the type of person you are. Do you have personality? Do people want to work with you? Because you can be the greatest dancer, but if you're not someone that gives off this energy of wanting to get to know you, then it doesn't matter how dope you are because people want to work with who they want to be around. I learned that by later transitioning into a choreographer because now that I'm hiring people, I want to hire the people that I want to be around for 12 or 14 hours a day.
You also have to understand that class dancers are different from working commercial dancers. A lot of class dancers and what you see in these YouTube videos are people who stand out because they're doing what they want and remixing choreography. They're kind of stars in their own right, which is great for class, but when it comes to a job, you have to do the choreography how it's taught."
Keep reading...
Show less


Get Dance Magazine in your inbox