Benjamin Millepied's L.A. Dance Project is Becoming a Company Like No Other
LADP rehearsing Millepied's On The Other Side, photo by Joe Toreno
It's fitting that choreographer Benjamin Millepied named a recent work On the Other Side. After a difficult two-year tenure as artistic director of the Paris Opéra Ballet, he is happily settled in Los Angeles and reemerging with big plans for L.A. Dance Project, the contemporary company he founded there in 2012.
Today, his ambitious vision is redefining what an independent dance company can do: grow into an online dance platform and a lifestyle brand, host a building and performance space, and build an international presence.
---
A New Home
"Everything starts with a place where you can actually receive patrons," says the former New York City Ballet principal, who turns 40 next month and lives in L.A. with his wife, the actress Natalie Portman, and their two children.
"Once you have that, you have rehearsals, you have showings, you have education programs, you have exhibitions, you have classes," he says. "Suddenly you are reaching more people, and you become a significant part of the community."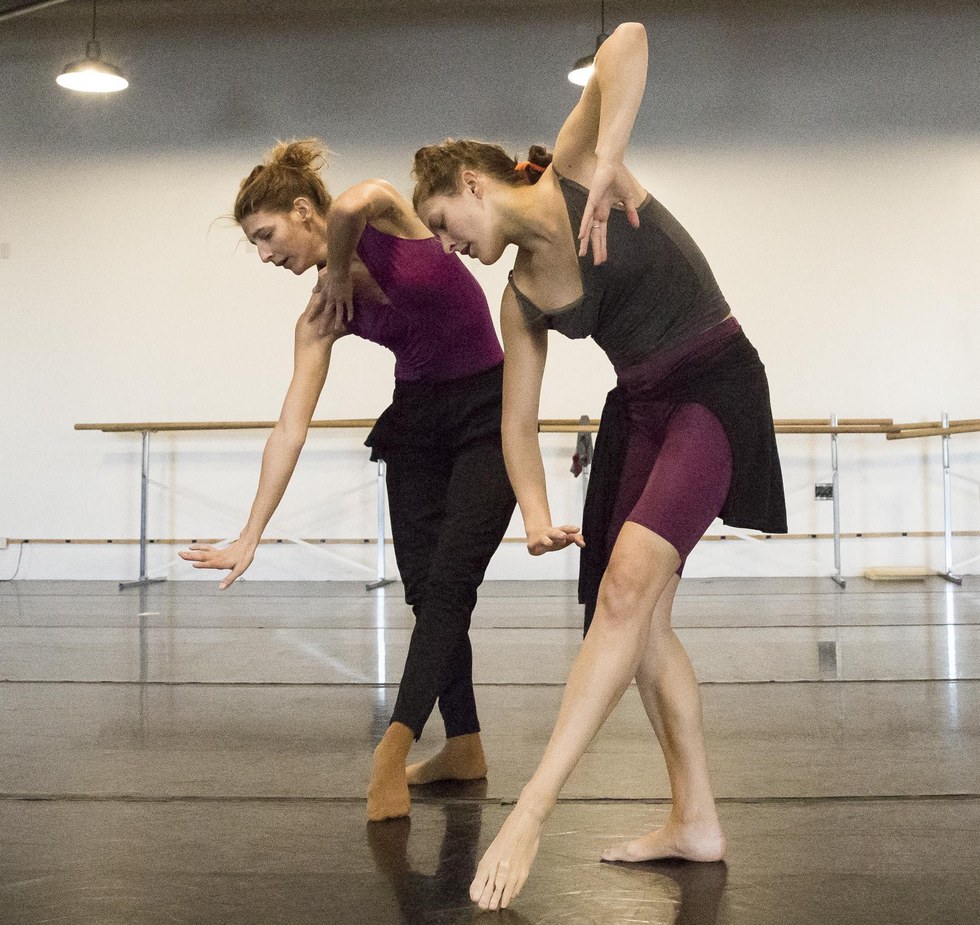 LADP's Rachelle Rafailedes and Julie Eichten. Photo by Joe Toreno
Last winter he signed a lease for a new headquarters in a contemporary art gallery in L.A.'s art district. Along with high ceilings, skylights and exposed-brick walls, it offers 3,000 square feet that will include offices, two studios and a 200-seat performance space. The company plans to move in this October.
The building will be more than a home for LADP. "The problem with the performing arts in L.A. is that there is no infrastructure," he says. "Theaters seldom present the talent that is living and working in L.A."
So in keeping with LADP's collaborative ethos, Millepied plans to cultivate cross-genre work by L.A.-based artists and offer residencies and performance opportunities. (He is seeking funding through his extensive, international network of fiscal sponsors.) Audiences can expect affordable ticket prices, food trucks and a relaxed atmosphere.
"Even when this company started, it was about collaborating with many different types of artists on one project," says former NYCB principal Janie Taylor, who has joined LADP as a dancer. Her husband, Sebastien Marcovici, is ballet master. "That's one of the things Benjamin will be able to do more of, being here."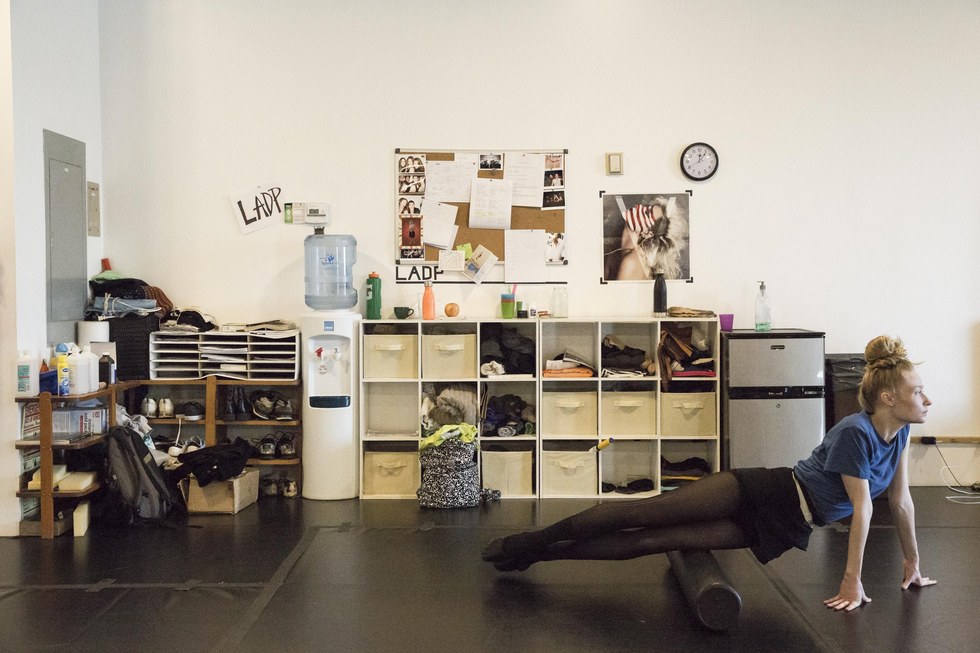 Janie Taylor foam rolling before rehearsal. Photo by Joe Toreno
Building the Brand
Millepied is expanding LADP's digital presence, too, transforming its website into what he describes as a "portal for dance" (similar to his 3e Scène project at POB). One part is a series of workout videos created by Millepied and the dancers, filmed at outdoor locations around L.A. "There's a personal approach to each workout because of the dancer who designed it," he says.
A magazine-style journalism component will evolve over time to encompass current topics, interviews, and essays on dance history. And the existing online store will expand well beyond dancewear. "If we do it right, LADP can also be a lifestyle brand," says Millepied, "where the company can actually make money through licensing of the name."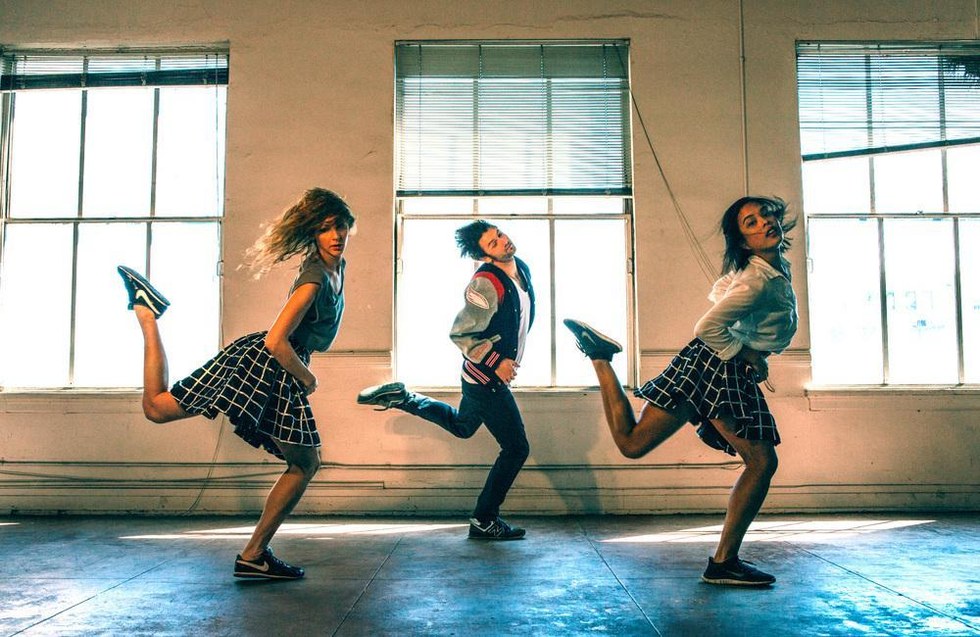 The company's online store: forladp.com
Creating A Global Presence
In the meantime, the company's already far-reaching endeavors will continue at full speed. This year's schedule includes performances in Dubai, Singapore, Shanghai, New York and beyond, plus an annual residency in Arles, France.
Company rep continues to include classic and commissioned works, like Merce Cunningham's 1964 Winterbranch, William Forsythe's 1993 Quintett and Justin Peck's 2013 Murder Ballades. Millepied's new duet for Taylor and associate artist Carla Körbes, a former Pacific Northwest Ballet principal, premieres next month at The Joyce Theater.
A Cinematic Scope
Millepied loves filmmaking and has created and commissioned dance films that are archived on the LADP website (including Academy Award–winning director Alejandro Iñárritu's 2012 Naran Ja). He is currently in development on his own feature-film debut, and seems to have found a new niche. "Film gathers all the things that I love. It's narration, it's emotion, it's photography, it's lighting—it's all the arts in one," he says. Shooting is planned for 2018.
L.A.'s open-mindedness and contemporary point of view, not to mention its movie industry, suit Millepied and accommodate the scope of his vision. "I want to make an impact in my lifetime," Millepied says. L.A. feels like the right place for him to do that.
"We're being embraced by the community," he says. "I feel like there is more room here to really do something new."
Ian Douglas; courtesy Sarah Haarmann. Performing with Pam Tanowitz Dance at The Joyce Theater
Sarah Haarmann stands out without trying to. There is a precision and lack of affectation in her dancing that is very Merce Cunningham. Her movement quality is sharp and clear; her stage presence utterly focused. It's no wonder she caught Mark Morris' eye. Even though she still considers herself "very much the new girl" at Mark Morris Dance Group (she became a full-time member in August 2017), in a recent performance of Layla and Majnun, Haarmann seemed completely in her element.
Company: Mark Morris Dance Group
Age: 27
Hometown: Macungie, Pennsylvania
Training: Lehigh Valley Charter High School for the Performing Arts and Marymount Manhattan College
Keep reading...
Show less
Reframing high-stakes auditions as learning opportunities can make you a better auditioner. Photo by Jim Lafferty.
In 2012, freelance contemporary dancer Adrianne Chu made a major career change: She decided to try out for A Chorus Line. "Even though I didn't get the job, I felt like I was meant to do this," says Chu. So she started going to at least one musical theater audition every weekday, treating each as a learning experience. After several years of building up her resumé, Chu's practice paid off: She booked a starring role as Wendy in the first national tour of Finding Neverland.
Approaching auditions as learning opportunities, especially when you're trying to break into a different style or are new to the profession, can sharpen your skills while helping you avoid burnout. It also builds confidence for the auditions that matter most.
Keep reading...
Show less
How do you warmup? Photo by Jim Lafferty
For many dancers, a "warmup" consists of sitting on the floor stretching their legs in various positions. But this strategy only reduces your muscles' ability to work properly—it negatively affects your strength, endurance, balance and speed for up to an hour.
Save your flexibility training for the end of the day. Instead, follow a warmup that will actually help prevent injury and improve your body's performance.
According to the International Association of Dance Medicine and Science, a smart warmup has four parts: "a gentle pulse-raising section, a joint mobilization section, a muscle lengthening section and a strength/balance building section."
Keep reading...
Show less
Screenshot via YouTube
Keep reading...
Show less
This year, IABD launched a new ballet audition for men of color
Last month, the International Association of Blacks in Dance's third annual ballet audition for women of color was expanded to include a separate audition for men.
The brainchild of Joan Myers Brown (founder of both Philadanco and IABD), the women's audition was created to specifically address the lack of black females in ballet. However, the success and attention that audition drew made the men feel left out, so IABD decided to give the men equal time this year.
Keep reading...
Show less
Students participated in all aspects of Veränderung, from choreography to costumes. Photo by Uwe Stratmann, Courtesy Tanztheater Wuppertal.
Pina Bausch's unique form of German Tanztheater is known for raising questions. Amid water and soil, barstools and balloons, the late choreographer's work contains a distinct tinge of mystery and confrontation. Today, Tanztheater Wuppertal Pina Bausch's dancers use questions as fuel for creativity. The company's most recent project introduced a new group of performers to the stage: local high school ninth-graders from the Gesamtschule Barmen in Wuppertal, Germany, in an original work-in-progress performance called Veränderung (Change).
Keep reading...
Show less


Get Dance Magazine in your inbox