Benjamin Millepied's L.A. Dance Project is Becoming a Company Like No Other
LADP rehearsing Millepied's On The Other Side, photo by Joe Toreno
It's fitting that choreographer Benjamin Millepied named a recent work On the Other Side. After a difficult two-year tenure as artistic director of the Paris Opéra Ballet, he is happily settled in Los Angeles and reemerging with big plans for L.A. Dance Project, the contemporary company he founded there in 2012.
Today, his ambitious vision is redefining what an independent dance company can do: grow into an online dance platform and a lifestyle brand, host a building and performance space, and build an international presence.
---
A New Home
"Everything starts with a place where you can actually receive patrons," says the former New York City Ballet principal, who turns 40 next month and lives in L.A. with his wife, the actress Natalie Portman, and their two children.
"Once you have that, you have rehearsals, you have showings, you have education programs, you have exhibitions, you have classes," he says. "Suddenly you are reaching more people, and you become a significant part of the community."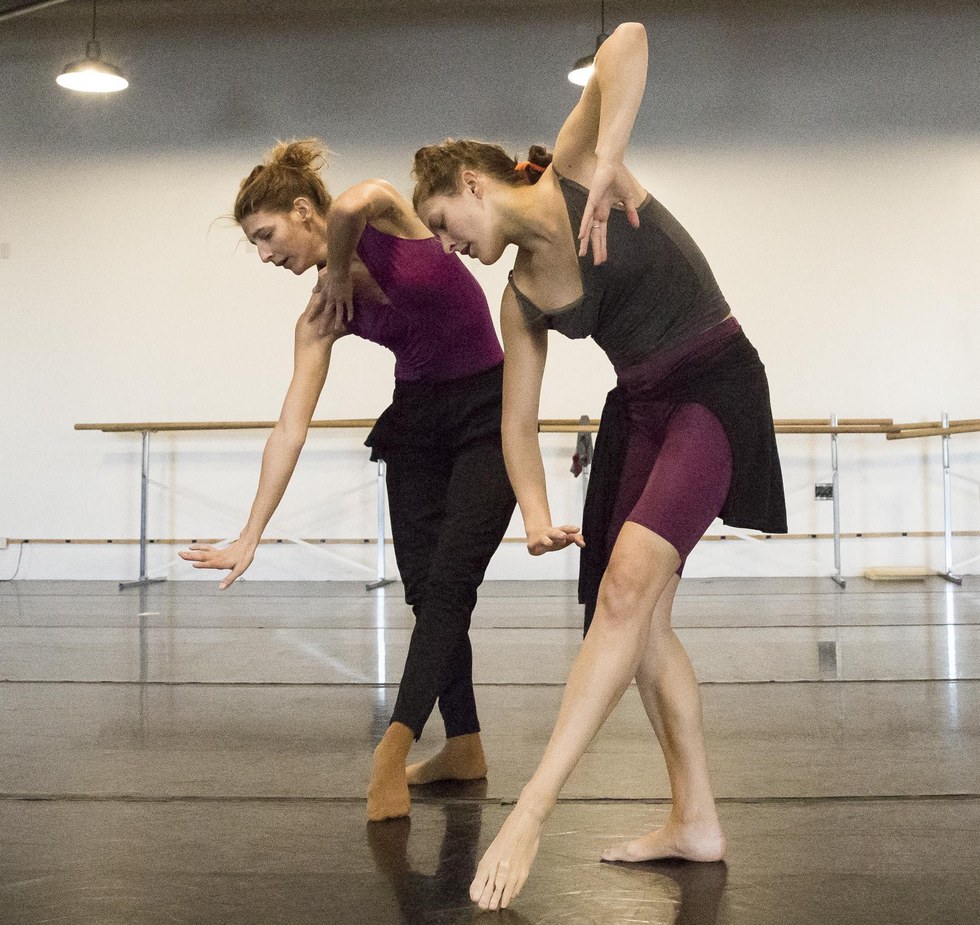 LADP's Rachelle Rafailedes and Julie Eichten. Photo by Joe Toreno
Last winter he signed a lease for a new headquarters in a contemporary art gallery in L.A.'s art district. Along with high ceilings, skylights and exposed-brick walls, it offers 3,000 square feet that will include offices, two studios and a 200-seat performance space. The company plans to move in this October.
The building will be more than a home for LADP. "The problem with the performing arts in L.A. is that there is no infrastructure," he says. "Theaters seldom present the talent that is living and working in L.A."
So in keeping with LADP's collaborative ethos, Millepied plans to cultivate cross-genre work by L.A.-based artists and offer residencies and performance opportunities. (He is seeking funding through his extensive, international network of fiscal sponsors.) Audiences can expect affordable ticket prices, food trucks and a relaxed atmosphere.
"Even when this company started, it was about collaborating with many different types of artists on one project," says former NYCB principal Janie Taylor, who has joined LADP as a dancer. Her husband, Sebastien Marcovici, is ballet master. "That's one of the things Benjamin will be able to do more of, being here."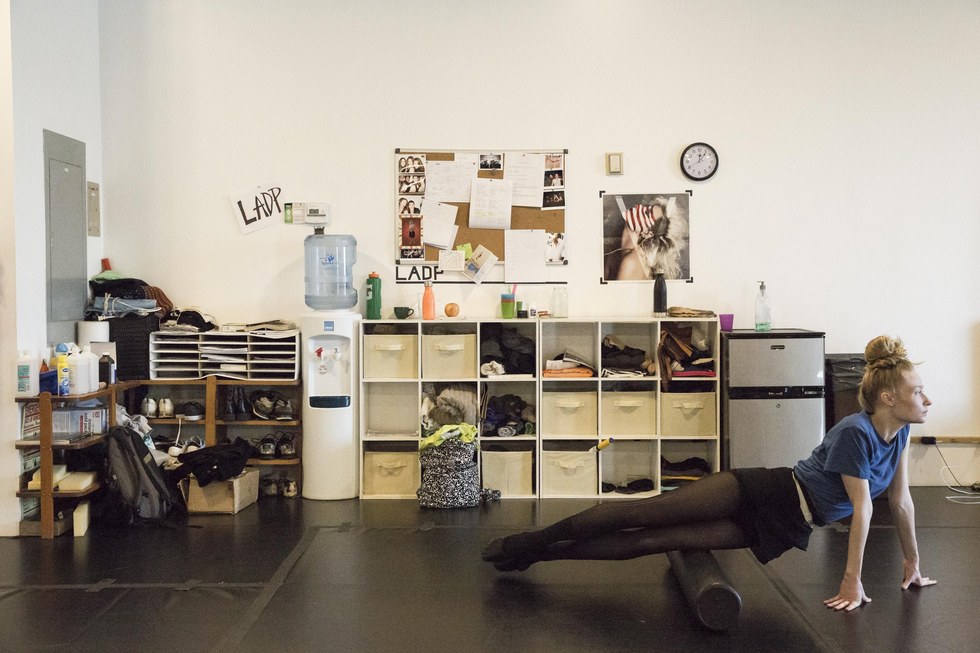 Janie Taylor foam rolling before rehearsal. Photo by Joe Toreno
Building the Brand
Millepied is expanding LADP's digital presence, too, transforming its website into what he describes as a "portal for dance" (similar to his 3e Scène project at POB). One part is a series of workout videos created by Millepied and the dancers, filmed at outdoor locations around L.A. "There's a personal approach to each workout because of the dancer who designed it," he says.
A magazine-style journalism component will evolve over time to encompass current topics, interviews, and essays on dance history. And the existing online store will expand well beyond dancewear. "If we do it right, LADP can also be a lifestyle brand," says Millepied, "where the company can actually make money through licensing of the name."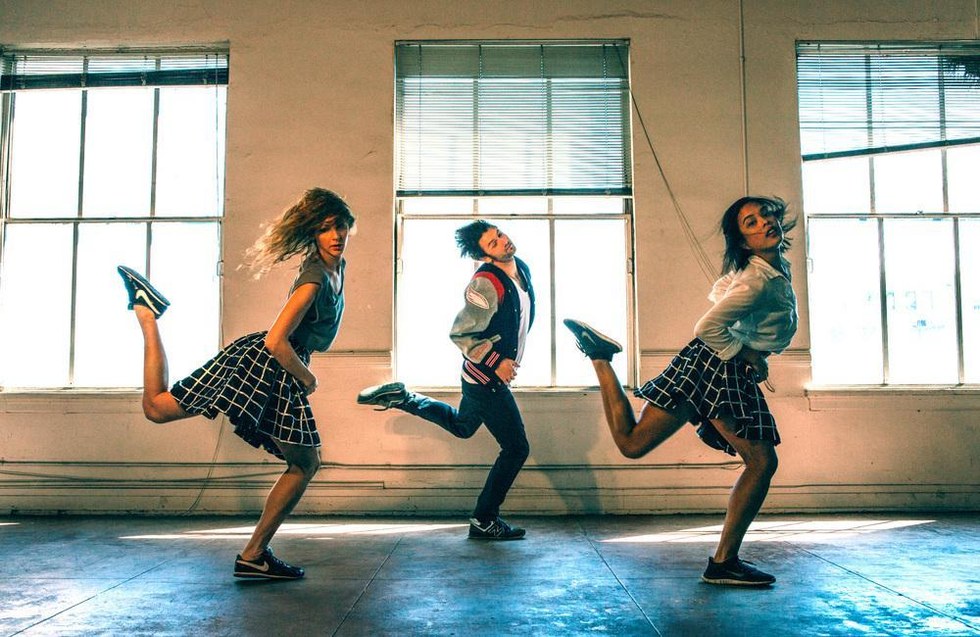 The company's online store: forladp.com
Creating A Global Presence
In the meantime, the company's already far-reaching endeavors will continue at full speed. This year's schedule includes performances in Dubai, Singapore, Shanghai, New York and beyond, plus an annual residency in Arles, France.
Company rep continues to include classic and commissioned works, like Merce Cunningham's 1964 Winterbranch, William Forsythe's 1993 Quintett and Justin Peck's 2013 Murder Ballades. Millepied's new duet for Taylor and associate artist Carla Körbes, a former Pacific Northwest Ballet principal, premieres next month at The Joyce Theater.
A Cinematic Scope
Millepied loves filmmaking and has created and commissioned dance films that are archived on the LADP website (including Academy Award–winning director Alejandro Iñárritu's 2012 Naran Ja). He is currently in development on his own feature-film debut, and seems to have found a new niche. "Film gathers all the things that I love. It's narration, it's emotion, it's photography, it's lighting—it's all the arts in one," he says. Shooting is planned for 2018.
L.A.'s open-mindedness and contemporary point of view, not to mention its movie industry, suit Millepied and accommodate the scope of his vision. "I want to make an impact in my lifetime," Millepied says. L.A. feels like the right place for him to do that.
"We're being embraced by the community," he says. "I feel like there is more room here to really do something new."
Johns' Map
Before too long, dancers and choreographers will get to create on the luxurious 170-acre property in rural Connecticut that is currently home to legendary visual artist Jasper Johns.
If you think that sounds far more glamorous than your average choreographic retreat, you're right. Though there are some seriously generous opportunities out there, this one seems particularly lavish.
Keep reading...
Show less
Ashley Ellis, photo by Albert Ayzenberg, courtesy of Ashley Ellis
Every dancer has learned—probably the hard way—that healthy feet are the foundation of a productive and happy day in the studio. As dancers, our most important asset has to carry the weight (literally) of everything we do. So it's not surprising that most professional dancers have foot care down to an art.
Three dancers shared their foot-care products they can't live without.
Keep reading...
Show less
popular
Sep. 21, 2017 04:49PM EST
via Instagram, Company Cooperative
Dancers trying their hand at designing is nothing new. But they do tend to stick with studio or performance-wear (think Miami City Ballet's Ella Titus and her line of knit warm-ups or former NYCB dancer Janie Taylor and her ballet costumes). But several dancers at American Ballet Theatre—corps members Jamie Kopit, Erica Lall, Katie Boren, Katie Williams, Lauren Post, Zhong-Jing Fang and soloist Cassandra Trenary—are about to launch a fashion line that's built around designs that can be worn outside of the studio. Titled Company Cooperative, the luxe line of women's wear is handmade in New York City's garment district and designed by the dancers themselves.
Keep reading...
Show less
A still from Duet, via CNN Style
Royal Ballet dancers Yasmine Naghdi and Beatriz Stix-Brunell recently got together for a different kind of performance: no decadent costumes, sets, stage makeup or lighting. Instead, the principal and first soloist danced choreography by principal character artist Kristen McNally in a stark studio.
The movement is crystal clear, and at the beginning, Naghdi and Stix-Brunell duck and weave around each other with near vacant stares. Do they even know they have a partner? And how should they interact? The situation raises a much larger question: How often do we see a female duet in ballet?
Keep reading...
Show less


Get Dance Magazine in your inbox