Apr. 28, 2017 07:37PM EST
Atlanta Ballet audition photo by Jim Lafferty for Pointe
In the days and hours before an audition, your to-do list might include researching the company, conditioning your muscles, updating your resumé or taking a long walk to clear your head. But what you don't do before pinning on your number can be just as critical to your success.
1. Don't stray from your feel-good food routine.
Stick to what already works for you. Don't start a new diet less than a month or two before an audition, says registered dietitian nutritionist Sarah Krieger, who has counseled dancers and athletes at Johns Hopkins All Children's Hospital in Florida. "Anyone can develop an allergy or aversion at any time, even the day of a big audition opportunity," she says. "Drastically changing your diet, going on a juice cleanse or adding a new supplement is a bad idea." Steer clear of foods you've never tried for two to three days before the audition, and avoid anything that you know upsets your stomach on the day of. If you want to be sure you—and your belly—will be comfortable during the audition, rehearse your meal plan about a week ahead of time and adjust as needed.
---
2. Stop thinking in terms of all or nothing.
How you think affects tension in your body, says Dr. Kate Hays of The Performing Edge, a sports and performance psychology practice in Toronto. "So allowing messages like 'This is my only shot,' or 'Only perfect will do,' to race through your mind can actually impact your physical performance," she says. Reframe these thoughts by reminding yourself of why you dance and what really matters to you—this is what should get you in the door of the audition, not a high-stakes ultimatum.
3. Auditions aren't the time to unveil a brand-new look.
The trick is simply to be comfortable, says Tiit Helimets. Now a principal dancer with San Francisco Ballet, he has auditioned for companies on both sides of the Atlantic Ocean throughout his career. "Wear your favorite clothes—not a new outfit that could rip, ride up or otherwise be distracting," he says. Don't choose now to test or break in new pointe shoes or character heels, or debut a drastic new haircut or dye job. Fresh bangs or layers might obscure your face or distract you, and it can definitely be a confidence killer if you don't like your new 'do.
4. Don't obsess about messing up.
Picturing a flub or reflecting on a past mistake can predict trouble in your upcoming audition. "It doesn't give you any constructive information, only mental instruction on what to do wrong," says Hays. Helimets agrees: "You have to stop those thoughts in the moment and see yourself doing everything to the best of your ability—not someone else's."
If you feel stuck in an endless loop of negative thoughts or anxiety in the days before an audition, Hays recommends scheduling time to reflect on your concerns so you can shut them down for the moment and move on. The morning of, remind yourself that you took time to file those thoughts away and that they aren't serving you. Then, change your mind-set by listening to music you like or meeting a friend for breakfast. But if you're really wound up that day, drinking more coffee than normal won't do you any favors, says Krieger. "Too much caffeine can make you feel more anxiety than nerves alone."
5. Don't stand out for the wrong reason.
Photo by Jim Lafferty for Pointe
If you're taking a company class as part of your audition, someone from the staff will most likely meet you upon your arrival and show you the facilities, the studio and where you should get changed. But you may need to respectfully ask about where to stand for the beginning of class. "It's kind of rude to park yourself in a spot at the barre before class starts," says Helimets. "Remember that you are entering the daily life of the dancers who work there."
Keep reading...
Show less
Apr. 28, 2017 03:34PM EST
Photo by Alyson Edie, Courtesy Elizabeth Earley
Elizabeth Earley's path to the Great White Way was fueled by perseverance. Currently a swing and co-dance captain for Hello, Dolly!, she shared her journey with Dance Magazine.

When I was a freshman at New York University's musical theater studio, I cut class to attend a singers' Equity Chorus Call for The Phantom of the Opera. I had no idea how casting worked. I hoped they might realize I was a ballet dancer and put me into consideration for a ballerina. After waiting in line for hours, I sang "Falling in Love with Love." The team asked, "Is this your first New York audition?" They said, "You are so cute," but there was no callback. Later, I saw the show was holding an open dance call. I went. The line wrapped around the block. We did two pointe combinations. But again, I was cut.
I decided to keep my focus on school instead of auditions with the exception of summer stock, which I worked every season. After graduating, I developed this idea that I wasn't ready to be seen by Broadway casting teams. I only auditioned for stock, theme parks, cruise ships, regional theater and national tours. I eventually booked them all. As I started to gain more experience, auditioning went from being overwhelming to exciting.
After returning from the national tour of Whistle Down the Wind, I started to actively pursue roles. In 2009, I was up for my first principal role in a regional union show, Cassie in A Chorus Line. Having worked nine shows at this particular theater as ensemble, dance captain, minor roles and understudy, I was thrilled to be in the running for a lead. I felt strong as I danced, sang and read. Then someone on the casting team said, "She's not hot enough."
I realized I couldn't control what other people felt, but I could control my mind-set. Keeping positive and being my daily best became vital in moments like that. I actually did end up booking Cassie in that production. I even went on to play her elsewhere and returned to the same theater to play Mary Poppins years down the road.
Earley as Cassie in a regional production of A Chorus Line. Photo by Alicia Donelan, Courtesy Earley
While I auditioned for Broadway regularly starting in 2008, I landed national tours for years. In 2015, I decided to dig my heels into the ground in New York City. That year, I attended an invited call to hire one female swing to cover the miscellaneous dance and singing tracks in a brand-new show. I almost didn't go. I was so tired of pounding the pavement without making headway. On the day of the audition, I saw Eric Giancola, to whom I had taught Mary Poppins on the national tour when I was dance captain. He was leading the audition! He knew my work and work ethic. After passing the test with Phil Reno, the show's musical director, and after approval of the director, I booked a job as swing in the original cast of Something Rotten! I finally cracked the glass ceiling of Broadway. All of the training and relentless work helped make it happen.

After a year in Something Rotten!, I auditioned for Hello, Dolly! by attending the dancers' Equity Chorus Call. I danced and sang the first day after the team made a cut. I was called back to audition with the girls from the agent invited audition. More cuts were made as we danced, two by two. I had to dance with Jessica Lee Goldyn, who played Val in the Broadway revival of A Chorus Line. She is a terrific dancer! Years of auditioning taught me not to get nervous, but to get excited, saying "I get to dance with Jessica!" More days of auditions happened where we danced, sang, read for roles and partnered. I sang a song from Kismet. I was asked to sing and read for the character of Irene. I ended up booking swing/co-dance captain, and am very excited for my next Broadway experience. Though the road has been winding, I've learned not to compare my journey to others'. One of the most wonderful things about theater is that everyone takes their own unique path there. But in the end, we all share the same stage.

Keep reading...
Show less
Apr. 27, 2017 09:16PM EST
A Ballet West audition. Photo by Jim Lafferty for Pointe
Even if you make it through to the final round of an audition, that doesn't mean that you're guaranteed a spot on the roster. Before handing out contracts, many companies also require prospective dancers to complete an interview with staff. How can you impress your potential employer with your words as much as your dancing? Three artistic directors weigh in on what matters most.
Dorothy Gunther Pugh, Ballet Memphis
Ballet Memphis in Gabrielle Lamb's Manifold. Photo by Andrea Zucker, Courtesy Ballet Memphis
What do you cover in a typical interview?
"In the studio, I'm already watching closely for how well you pay attention, how you handle your nerves, and are you polite to the rest of the dancers. So, by the time you're sitting down with me in my office, I just want us to get to know each other. I want to see you look me in the eye, be curious and listen. (I might have questions about someone who just can't stop talking.) But I also want to know what you like about your hometown, what drew you to our company, and who you are when you're at ease. Remember that you're interesting to me!"
Colin Connor, Limón Dance Company
Photo by Juan José Escalante, Courtesy Limón Dance Company
What kinds of responses are red flags that a dancer wouldn't be a good fit for your company?
"I think a lot of dancers assume it's bad if they're not extroverted, but I'm happy to hire someone quiet. Do show me you can articulate what you love, because that's what you end up drawing from as an artist. I see a red flag when it sounds like someone has a lot of scheduling conflicts and previous commitments but still insists she can commit to us. I understand that working with other choreographers might be the only way you can survive, but being overextended is not a healthy way to function. You really have to be transparent in the interview about the obligations you do have, so I can be up front about whether it's possible to work with you."
Patricia Barker, Grand Rapids Ballet
Photo by Michael Auer, Courtesy Grand Rapids Ballet
How can a prospective dancer prepare?
"I don't want to be asked how many performances we do or which choreographers we work with. A great way to prove you've done your research is to say, 'I see Robyn Mineko Williams is choreographing this season. I was able to work with her in one of my summer programs.' That draws my attention to something I may have missed on your resumé, and now I know that I can touch base with her about that experience."
Keep reading...
Show less
Apr. 24, 2017 04:02PM EST
Alessa Rogers as Juliette. Photo by Charlie McCullers
To The Dancer Who Hates Herself:
I see you. I know who you are. If you think you are hiding your self-loathing, you are deceiving only yourself. It is time to stop. Whatever baggage you are carrying around, whoever told you that you weren't worthy once upon a time or is still telling you that now—let those voices go.
You're not alone in this. On bad days when you look in the mirror and feel insecure and invisible and not enough, remember that other dancers have those days, too.
It's so easy to criticize one's self. Be braver than that. Be brave enough to love yourself. Tiny acts of forgiveness will add up to something beautiful and redemptive. If you don't know how to start, start the way you would start falling in love with anyone: slowly and patiently, with curiosity and infinite tenderness.
Don't be seduced by the feeling that berating yourself makes you a better artist. I know you are trying to protect yourself by saying self-judgmental things so that it won't sting if others do. But putting yourself down will not endear you to the people in the front of the studio. Habitual self-criticism is limiting and distracting and unproductive. It keeps you mired in small thinking.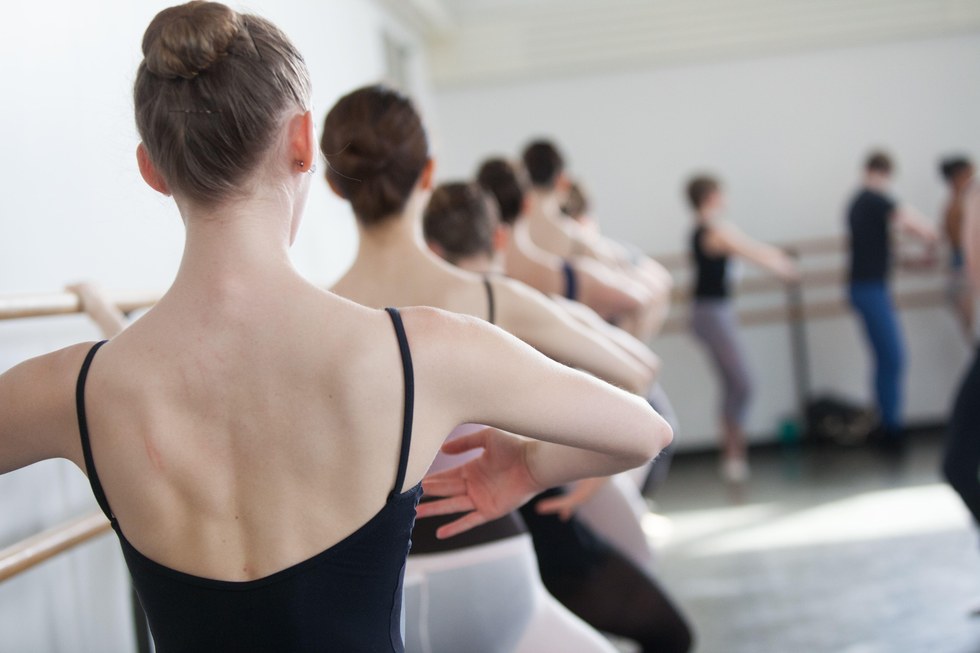 Habitual self-criticism is unproductive. Photo by Matthew Murphy for Pointe
Be mindful of the feelings you choose to cling to. A well-rounded artist who experiences the full spectrum of emotions and transforms them into dance is going to give deeper performances than the one who chooses only to suffer. Yes, feel all your valid varied and true feelings. But don't give greater weight to the bad ones. Happiness is a choice and a practice. The struggling artist trope may seem alluring but it is ultimately a mask that gets in the way of the work. You can make art with joy, too.
Don't define yourself by what you can't do. Yes, work on your weaknesses, but work on your strengths more. Whatever is special about you, grab hold of that thing and own it.
Shine your shine.
Try adopting the aura of confidence that certain special dancers have. Imagine how you think they feel at their best, form a soul memory of that feeling. What people see is what you project, so project who you want to be.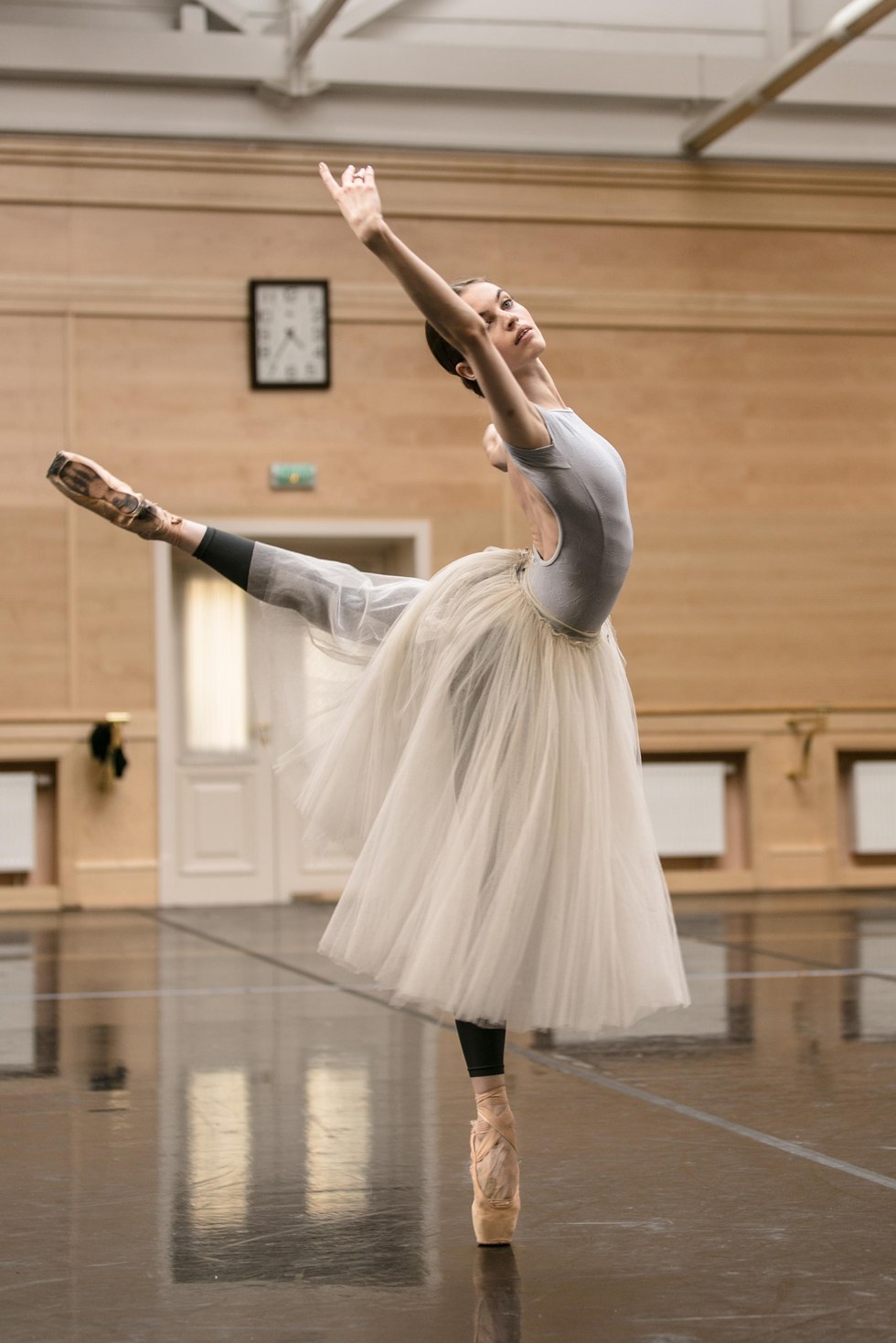 Adopt an aura of confidence: The Bolshoi's Maria Vinogradova, photographed by Quinn Wharton.
And if people want to love you, let them love you! Take that compliment and run and don't look back. Accept that love into your entire being and let that crack in you heal a little bit.
How you should be, want to be, could be—these are illusions and it is not fulfilling to dwell on them. Get out of your head and into your body. Work so hard you don't have time to judge yourself. Do your best then let it go, and don't attach labels to the outcome.
Dance is only ever a process. A big opening night, an injury, a failed audition—these are but moments. You will never fully understand the trajectory of your career until you view it from afar, years down the road, and realize everything was falling into place, maybe not how you expected, but exactly as it beautifully, imperfectly should.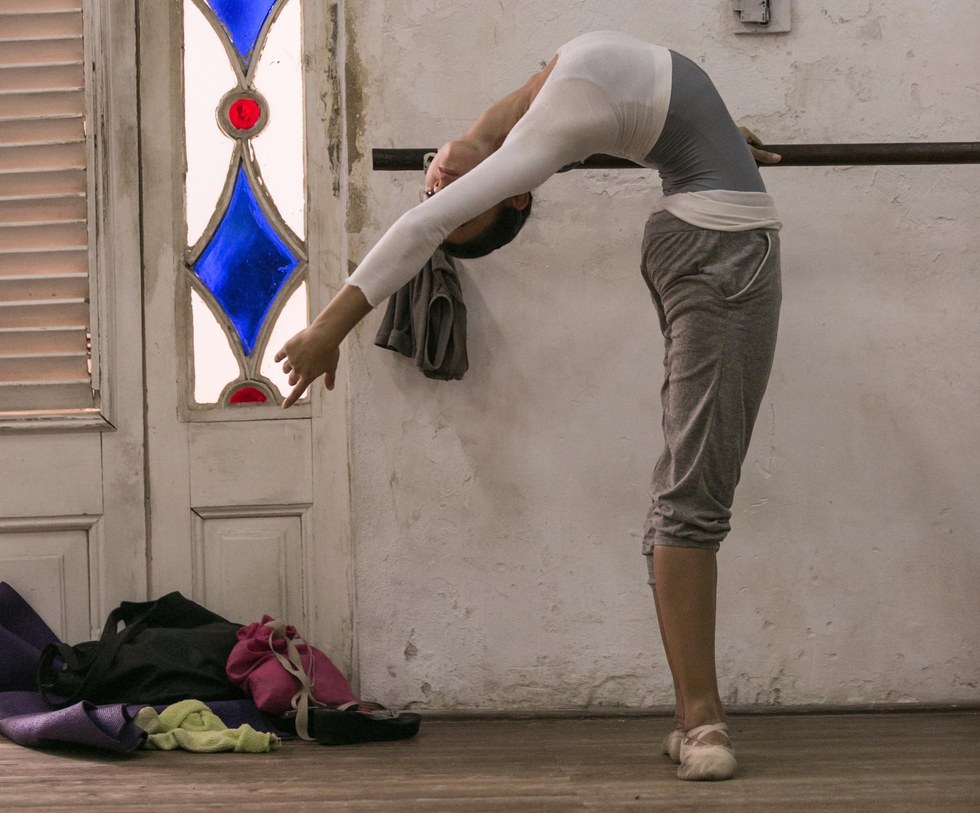 Work so hard you don't have time to judge yourself. Photo by Quinn Wharton
Progress can be achingly slow. But trust me, one day you'll look back on the years of struggle that felt hopeless. The months that you never saw improvement. Improvement is a shadowy friend: You can never see it right in front of your face, it's only looking back that you realize it was there all along.
There won't be a day when we won't let ourselves down in some tiny or profound way. But you have to love and forgive yourself anyway, even when you are all scraped knees and stumbles, messy hair and missed rehearsals. There is nothing shameful about showing up and being vulnerable and falling on your face. Shame is in closing yourself up and trying to be perfect when all you can ever be is you.
You'll never have a different body, or different training, or get to take back the choices you've already made. Your work is to love this fleeting, glorious career fiercely, to value your place in it and cherish the body that lets you do it. There is no one to prove anything to unless you can be content in your own skin.
Here's what I think. Your self-hatred is just an excuse to not be as bright as you are. But you are better than the fear you have grown used to. Loving yourself takes guts. It is revolutionary. It is worth it.
Let yourself shine.
Keep reading...
Show less


Get Dance Magazine in your inbox
Featured College Dance Program