How This STREB Dancer Pulls Off "Impossible" Stunts
Photo by Teresa Wood, Courtesy STREB
When you're performing with a whirling cinderblock or giant hamster wheel as your partner, there is no time for second-guessing your physical fitness. Fortunately, STREB EXTREME ACTION member Cassandre Joseph knows exactly what her body needs to stay safe, even when flying off 30-foot platforms.
What are the five habits that prepare her to tackle anything that director Elizabeth Streb might throw her way?
---
1. Taking Pop Action Classes
All company members take Pop Action technique class once a week to refine their skills and to continue chasing Streb's "impossible moves," or, achieving movement that looks and feels unachievable. "The whole idea is to erase transitions, so we work towards going faster and holding longer while maintaining the integrity of the work."

2. Spinning Consistently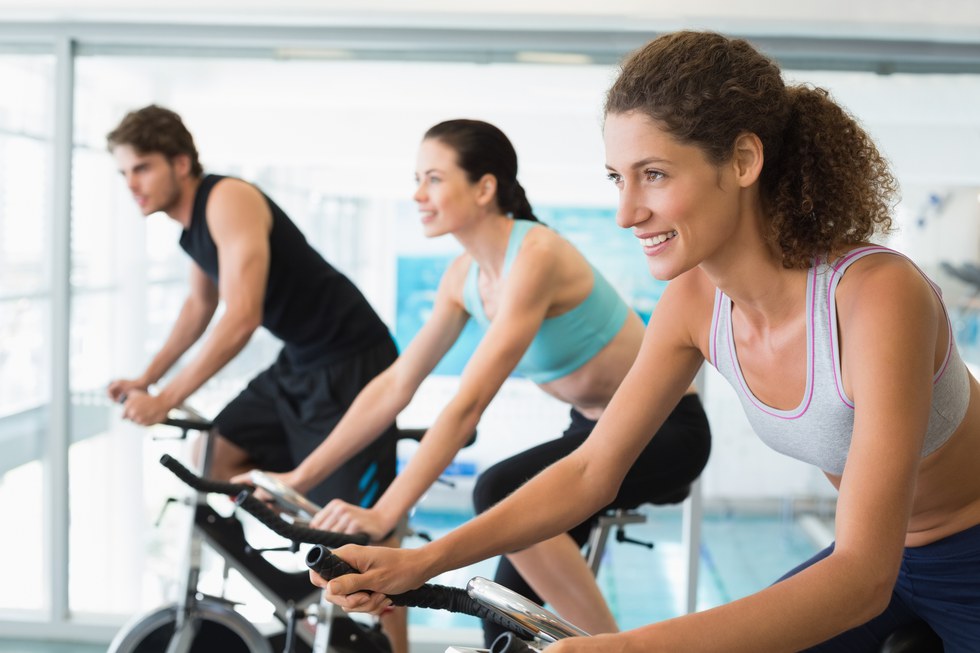 Thinkstock
To preserve her cardio level and get a pre-rehearsal boost, Joseph faithfully attends an hour-long spin class four to five days a week at her local YMCA. "The shows are extremely hard no matter what. Even in the best shape it's challenging," says Joseph. "But consistent cycling makes it easier."
3. Reciting Muhammad Ali Speeches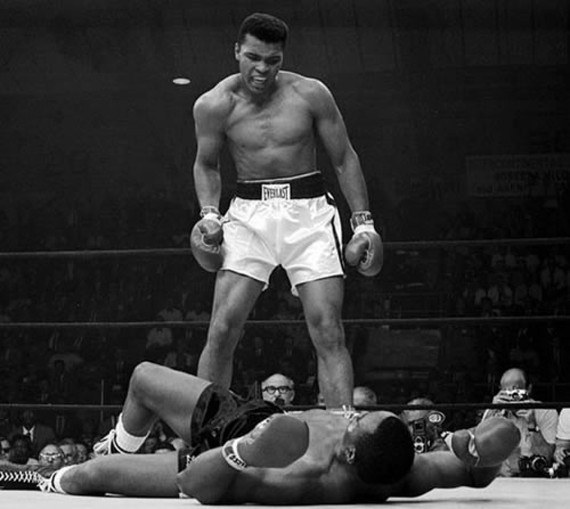 "I silently recite Muhammad Ali speeches before a show," says Joseph, "using them as a mantra that runs over and over until there is no space in my head for anything else: no doubts, no fear. Ali had an extremely confident approach, he went for complete, 100-percent confidence instead of giving in to anxieties."
4. Performing Post-Show Stretches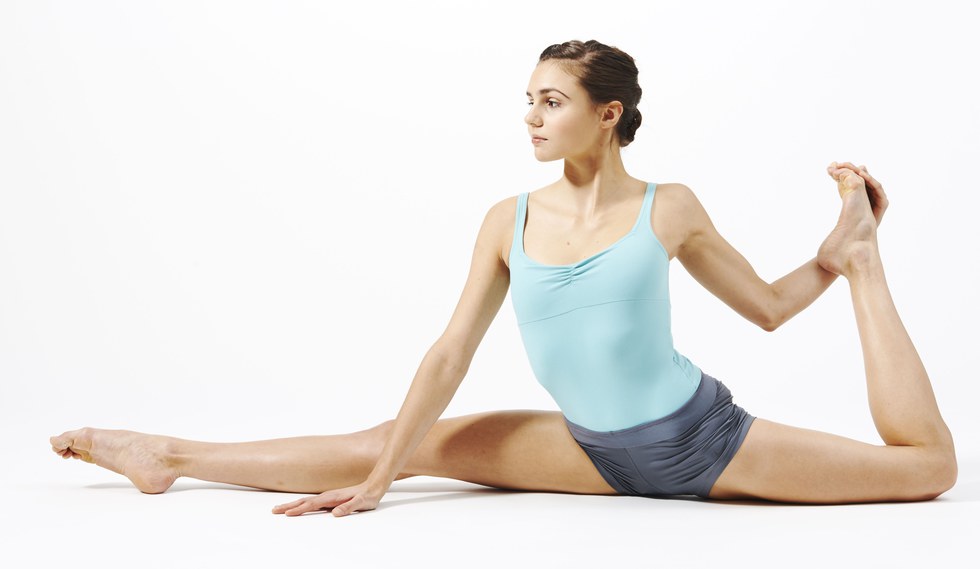 Nathan Sayers
To address post-show tightness, Joseph follows an hour-long routine of static stretches (hips, quadriceps and hamstrings), foam rolling (3 minutes on each leg, hitting the IT bands and calves), constructive rest (from Alexander Technique) and a hot bath.
5. Facing Danger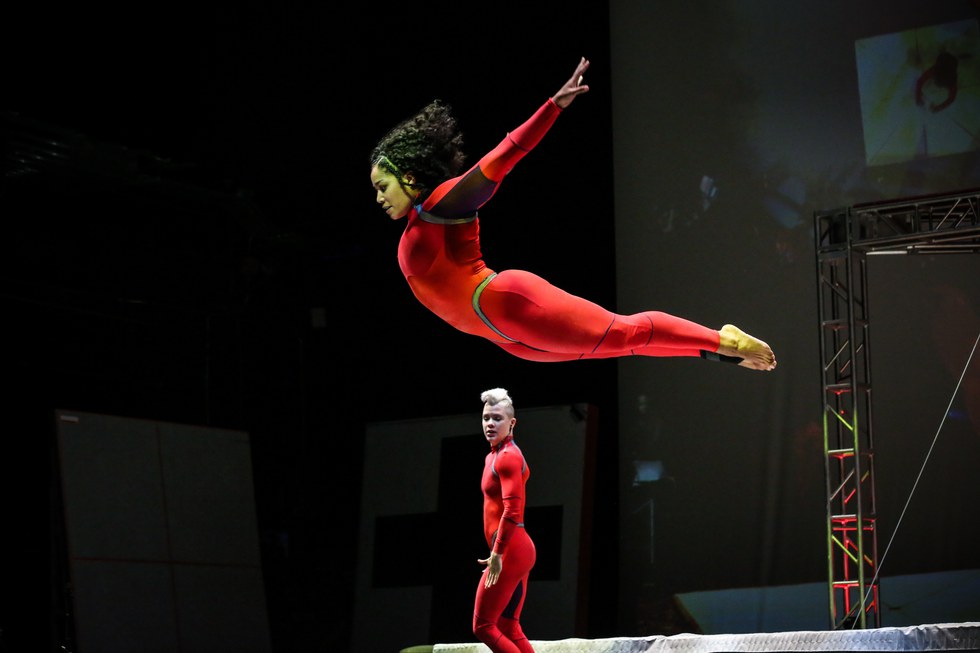 Ralph Alswang, courtesy STREB
"What gets us really in shape is the constant element of danger forcing us to react quicker—it is a unique strength!"
PC Lydia Daniller, Courtesy Dorsey
I love being transgender. It's an important part of the story of why I choreograph. Although I loved dance from a very young age, I grew up never seeing a single person like me in dance. So how could I imagine a future for myself there?
The enormous barriers I had to overcome weren't internal: I didn't struggle with feelings of dysphoria, and I wasn't locked down by shame.
Keep reading...
Show less
News
Feb. 16, 2018 02:45PM EST
via Facebook
The dance community is heartbroken to learn that 14-year-olds Jaime Guttenberg and Cara Loughran were among the 17 people killed during the February 14 shooting at Marjory Stoneman Douglas High School in Parkland, FL.
Guttenberg was a talented competition dancer at Dance Theatre in Coconut Creek, FL, according to a report from Sun Sentinel. Dance Theatre owner Michelle McGrath Gerlick shared the below message on her Facebook page, encouraging dancers across the country to wear orange ribbons this weekend in honor of Guttenberg, whose favorite color was orange.
Keep reading...
Show less
Gaga teacher Amy Morrow says investigative styles can help any dancer. PC Ascaf Avraham
In today's dance world, it seems to go without saying: The more varied the training, the better. But is that always the case? Rhonda Malkin, a New York City–based dance coach who performed with the Radio City Rockettes, thinks trendy contemporary techniques that emphasize improvisation and organic movement quality are detrimental to the precision and strength needed to be a Rockette, in a traditional Broadway show or on a professional dance team. Her view is controversial: "If you really want to work, making $40,000 in three months for the Rockettes or $25,000 in one day filming a commercial, you need ballet, Broadway jazz, tap, hip hop—not contemporary," she says.
On the flip side, techniques that allow dancers more freedom may help them connect more deeply with their body and artistry, while providing release for overused muscles. We broke down the argument for both sides:
Keep reading...
Show less
How do you warmup? Photo by Jim Lafferty
For many dancers, a "warmup" consists of sitting on the floor stretching their legs in various positions. But this strategy only reduces your muscles' ability to work properly—it negatively affects your strength, endurance, balance and speed for up to an hour.
Save your flexibility training for the end of the day. Instead, follow a warmup that will actually help prevent injury and improve your body's performance.
According to the International Association of Dance Medicine and Science, a smart warmup has four parts: "a gentle pulse-raising section, a joint mobilization section, a muscle lengthening section and a strength/balance building section."
Keep reading...
Show less
Breaking
Feb. 16, 2018 12:17PM EST
Former NYCB ballet master in chief Peter Martins resigned in January in the midst of an investigation into allegations of harassment and abuse. Photo by Paul Kolnik, Courtesy NYCB
A statement released yesterday by New York City Ballet and School of American Ballet reported that an independent investigation was unable to corroborate allegations of harassment and abuse against former ballet master in chief Peter Martins, according to The New York Times. This marks the end of a two-month inquiry jointly launched by the two organizations in December following an anonymous letter detailing instances of harassment and violence.
The statement also included new policies for both the company and school to create safer, more respectful environments for the dancers, including hiring an independent vendor to handle employee complaints anonymously. These changes are being made despite the independent investigation, handled by outside counsel Barbara Hoey, purportedly finding no evidence of abuse.
Keep reading...
Show less
Lauren Lovette, photographed by Jayme Thornton
Not all ballet dancers cling to their youth. At 26, Lauren Lovette, the New York City Ballet principal, has surpassed the quarter-century mark. And she's relieved.
"I've never felt young," she says. "I can't wait until I'm 30. Every woman I've ever talked to says that at 30 you just don't care. You're free. Maybe I'll start early?"
Keep reading...
Show less


Get Dance Magazine in your inbox