Breaking Stereotypes
Feb. 01, 2018 01:13PM EST
New Children's Book Sheds Light on Trailblazing Black Ballerina Raven Wilkinson
Raven Wilkinson in "Les Sylphides" as illustrated by Leda Schubert. Photos Courtesy Wilkinson.
When children's book writer and illustrator Leda Schubert first reached out to Raven Wilkinson about writing a book on her life, Wilkinson had qualms. She was worried that the racism she experienced as an African American dancer touring the South with the Ballet Russe de Monte Carlo in the 1960s might scare the intended audience of 6-9 year olds. With time, Wilkinson came to an understanding. "If we keep hiding everything from our children we'll never get these things solved," she told me in an interview. The result is a picture book, released earlier this month, titled Trailblazer: The Story of Ballerina Raven Wilkinson.
Trailblazer opens with a foreword by Misty Copeland, who has has often cited Wilkinson as a mentor. Copeland's words are accompanied by a photo of Wilkinson presenting her with a bouquet onstage after her Swan Lake debut with American Ballet Theatre. "Since learning about Raven, sharing her journey and those of the many black ballerinas who have paved the way has become part of my mission," writes Copeland. And indeed, Copeland's fame and success has pushed Wilkinson's story into the public eye.
---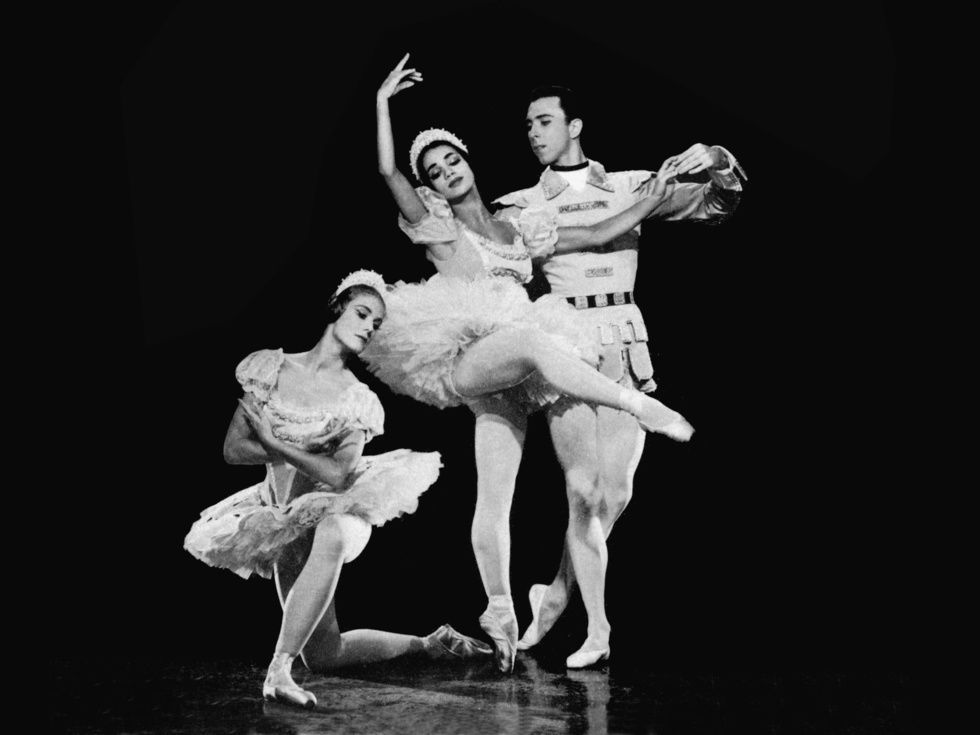 Wilkinson, center, with the Ballet Russe. Photo Courtesy Wilkinson.
Wilkinson was born in New York City in 1935 and started ballet classes at age 9. Schubert depicts the young Wilkinson arriving for her first classes in a tank top and athletic shorts, a touching parallel to Copeland's description of her own early ballet attire in her memoir Life in Motion. From the very start, the ballet world seemed unsure of where to place Wilkinson. With very light skin, Wilkinson was often mistaken for Spanish. "I think they thought I was exotic, from another country," Wilkinson says. She remembers going shopping with her mother fending off questions about where they were from. Her mother would firmly reply that they were American. "All of that questioning and prompting was to get you in the right box and get the lid on it," says Wilkinson.
Read the full story at pointemagazine.com.
BalletMet in company class onstage before a show. Photo by Jennifer Zmuda, courtesy BalletMet
Before she became the 20th century's most revered ballet pedagogue, Agrippina Vaganova was a frustrated ballerina. "I was not progressing and that was a terrible thing to realize," she wrote in a rough draft of her memoirs.
She retired from the Imperial Ballet stage in 1916, and for the next 30-plus years, devoted herself to creating a "science of ballet." Her new, dynamic teaching method produced stars like Rudolf Nureyev, Alla Osipenko, and Galina Ulanova and later Natalia Makarova and Mikhail Baryshnikov. And her approach continues to influence how we think about ballet training to this day.
But is the ballet class due for an update? Demands and aesthetics have changed. So should the way dancers train change too?
Keep reading...
Show less
PC Lydia Daniller, Courtesy Dorsey
I love being transgender. It's an important part of the story of why I choreograph. Although I loved dance from a very young age, I grew up never seeing a single person like me in dance. So how could I imagine a future for myself there?
The enormous barriers I had to overcome weren't internal: I didn't struggle with feelings of dysphoria, and I wasn't locked down by shame.
Keep reading...
Show less
How do you warmup? Photo by Jim Lafferty
For many dancers, a "warmup" consists of sitting on the floor stretching their legs in various positions. But this strategy only reduces your muscles' ability to work properly—it negatively affects your strength, endurance, balance and speed for up to an hour.
Save your flexibility training for the end of the day. Instead, follow a warmup that will actually help prevent injury and improve your body's performance.
According to the International Association of Dance Medicine and Science, a smart warmup has four parts: "a gentle pulse-raising section, a joint mobilization section, a muscle lengthening section and a strength/balance building section."
Keep reading...
Show less
Screenshot via YouTube
Keep reading...
Show less
News
Feb. 16, 2018 02:45PM EST
via Facebook
The dance community is heartbroken to learn that 14-year-olds Jaime Guttenberg and Cara Loughran were among the 17 people killed during the February 14 shooting at Marjory Stoneman Douglas High School in Parkland, FL.
Guttenberg was a talented competition dancer at Dance Theatre in Coconut Creek, FL, according to a report from Sun Sentinel. Dance Theatre owner Michelle McGrath Gerlick shared the below message on her Facebook page, encouraging dancers across the country to wear orange ribbons this weekend in honor of Guttenberg, whose favorite color was orange.
Keep reading...
Show less
Breaking
Feb. 16, 2018 12:17PM EST
Former NYCB ballet master in chief Peter Martins resigned in January in the midst of an investigation into allegations of harassment and abuse. Photo by Paul Kolnik, Courtesy NYCB
A statement released yesterday by New York City Ballet and School of American Ballet reported that an independent investigation was unable to corroborate allegations of harassment and abuse against former ballet master in chief Peter Martins, according to The New York Times. This marks the end of a two-month inquiry jointly launched by the two organizations in December following an anonymous letter detailing instances of harassment and violence.
The statement also included new policies for both the company and school to create safer, more respectful environments for the dancers, including hiring an independent vendor to handle employee complaints anonymously. These changes are being made despite the independent investigation, handled by outside counsel Barbara Hoey, purportedly finding no evidence of abuse.
Keep reading...
Show less


Get Dance Magazine in your inbox