Siobhan Burke
Siobhan Burke is a dance writer based in New York City. She contributes regularly to The New York Times and Dance Magazine. She has also written for The Brooklyn Rail, The Performance Club, Pointe, The Columbia Journal of American Studies and Hyperallergic. She was a 2013 USC Annenberg/Getty Arts Journalism Fellow.
As a dancer, Siobhan has performed with New York-based artists Jillian Sweeney & Jeffrey Cranor, Rebecca Warner, Hadley Smith, and RoseAnne Spradlin, among others. She grew up studying traditional Irish dance and toured the U.S. and Canada with the North American company of Riverdance.
Siobhan holds a degree in American Studies from Barnard College, where she is now an adjunct lecturer in the Dance Department. She was a mentor with Girls Write Now and has been a guest speaker in classes at Princeton University, University of Virginia, University of Florida, Hofstra University, and New York University. She has read her work at Sarah Maxfield's Now and Then series and the Poetry Project.
Mar. 17, 2017 09:00PM EST
Jim Lafferty
The term "backup dancer" might bring to mind the army of women on Beyoncé's Formation tour, or the men who didn't miss a beat during Mariah Carey's recent New Year's Eve performance, maintaining flawless unison as she dealt with technical difficulties. Choreography for concerts tends to be almost aggressively slick and synchronized, a sea of dancers serving to multiply the image of the star.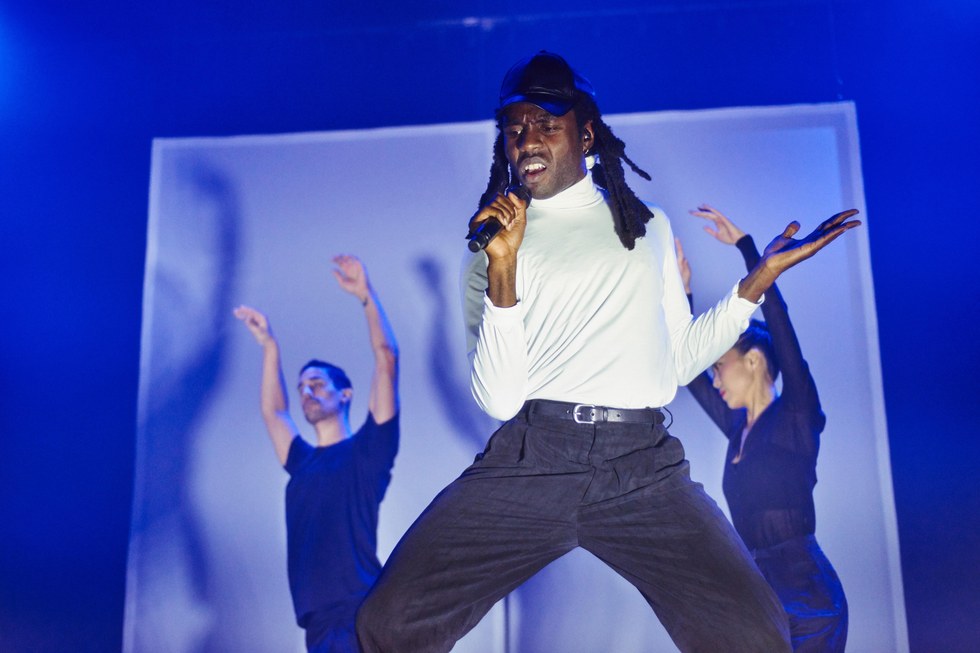 Jim Lafferty
But when it comes to making dance for the music industry's stages, the Japanese-born, Brooklyn-based choreographer Juri Onuki is in a league of her own. Last fall at Terminal 5 in New York, Onuki, 34, was one of three dancers accompanying Dev Hynes (also known as Blood Orange) during the tour of his new album Freetown Sound.
The choreography, which Onuki whipped up in just a few rehearsals, ranged from fluid pop-and-locking to angular balances you might find in a Merce Cunningham technique class.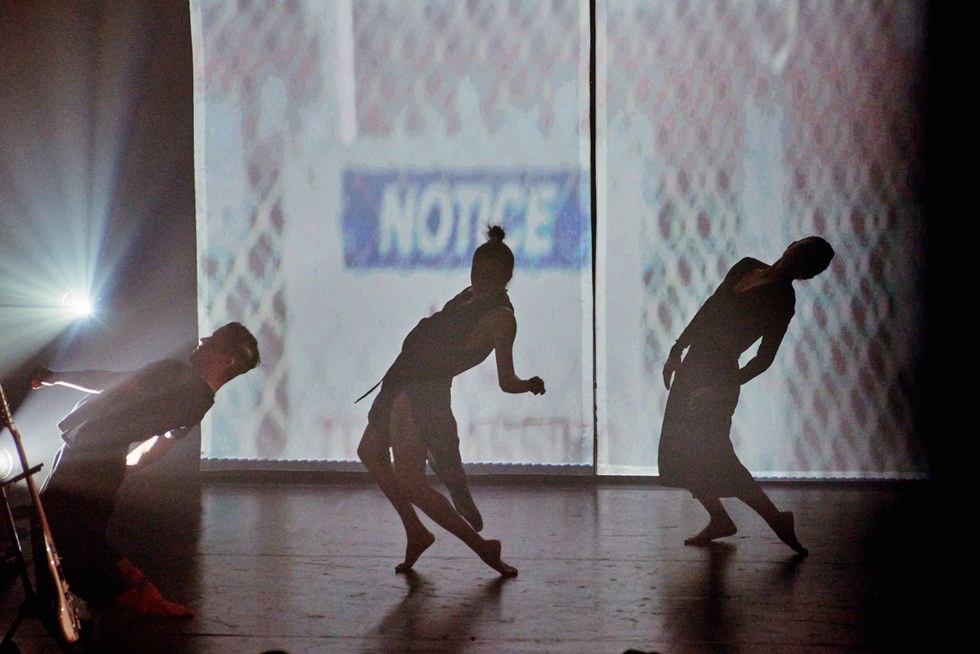 Jim Lafferty
"It's the most mixed bag of choreographic styles I've ever experienced in one show," says dancer Jordan Isadore, whose free-spirited duet with Hynes, in which Isadore lifted and spun the singer, was a high point of the concert. "She's totally into old-school hip-hop—not trying to perfect it, just capturing the ideas—mixed with New-York-City-Ballet-Justin-Peck-roll-off-canon feelings, mixed with West Side Story. It's constantly refreshing itself."
Onuki has worked with Hynes—who is himself an excellent, if not formally trained, dancer—on several music videos, both as a choreographer and in the more collaborative role of movement consultant. Her inclusive taste, the sense that no juxtaposition is too odd, pairs well with his own hard-to-classify style.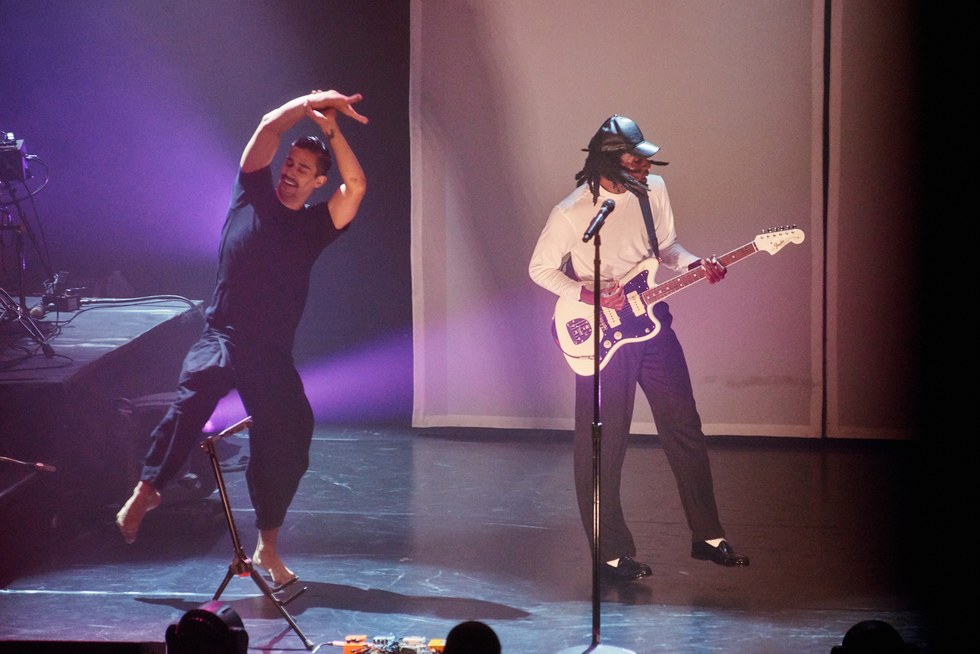 Jim Lafferty
The Freetown Sound tour was Onuki's first time choreographing a live show for venues as large as the Theatre at Ace Hotel in Los Angeles (capacity 1,600) and Terminal 5 (capacity 3,000). That scale presented new challenges, like creating movement that would read clearly on stages full of sound equipment, for audiences sitting far away or standing near the front, and managing her own nerves while dancing for big crowds.
"I had to tell my dancers to calm me down, because I got so nervous," she says. "I totally trust everybody else but myself."
Onuki and her two dancers are better acquainted with New York City's contemporary dance scene, where the audiences are smaller, the music not as loud, the lights less bright.
"What's so different is that people are screaming at the top of their lungs," dancer Eloise DeLuca says of performing with Hynes. "So you get that adrenaline rush, and sometimes it's too much; we all make our mistakes onstage. But the exciting thing is you can play it off a little better. No one's going to remember in this context that I did two chaîné turns instead of one, or that I was shaky on my leg."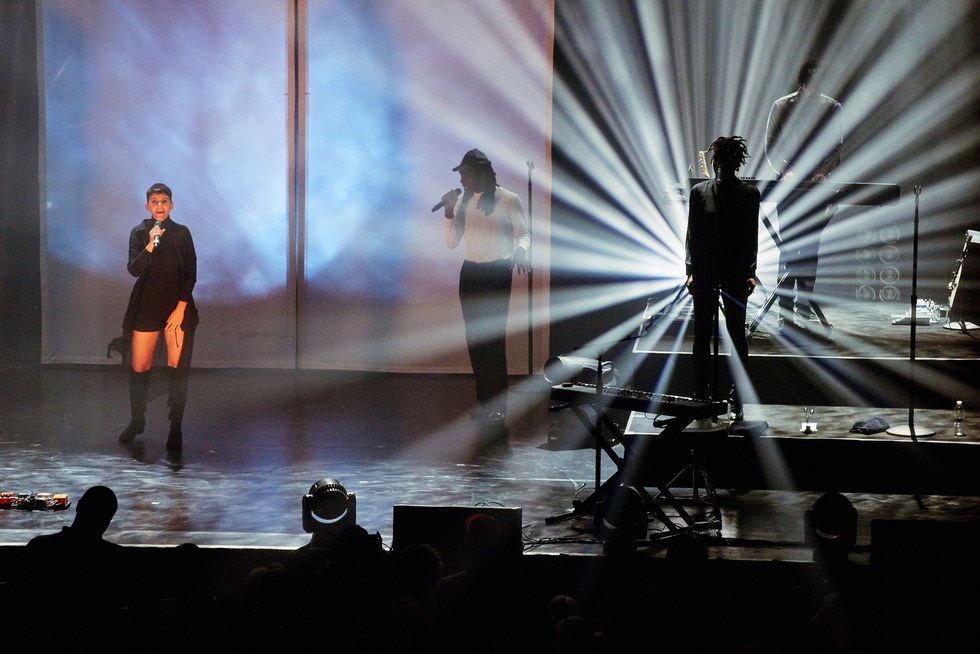 Jim Lafferty
While the audience size could be nerve-racking, DeLuca enjoyed breaking out of "I'm a modern dancer" mode, she says, and exploring a "more human" side of performing, which came in part from dancing to live music.
"You can really get lost in it," she says. "It's purely fun. You look out and see a sea of people with iPhones staring at you, and it kind of changes your perspective. You realize that you're part of something much bigger going on all around you."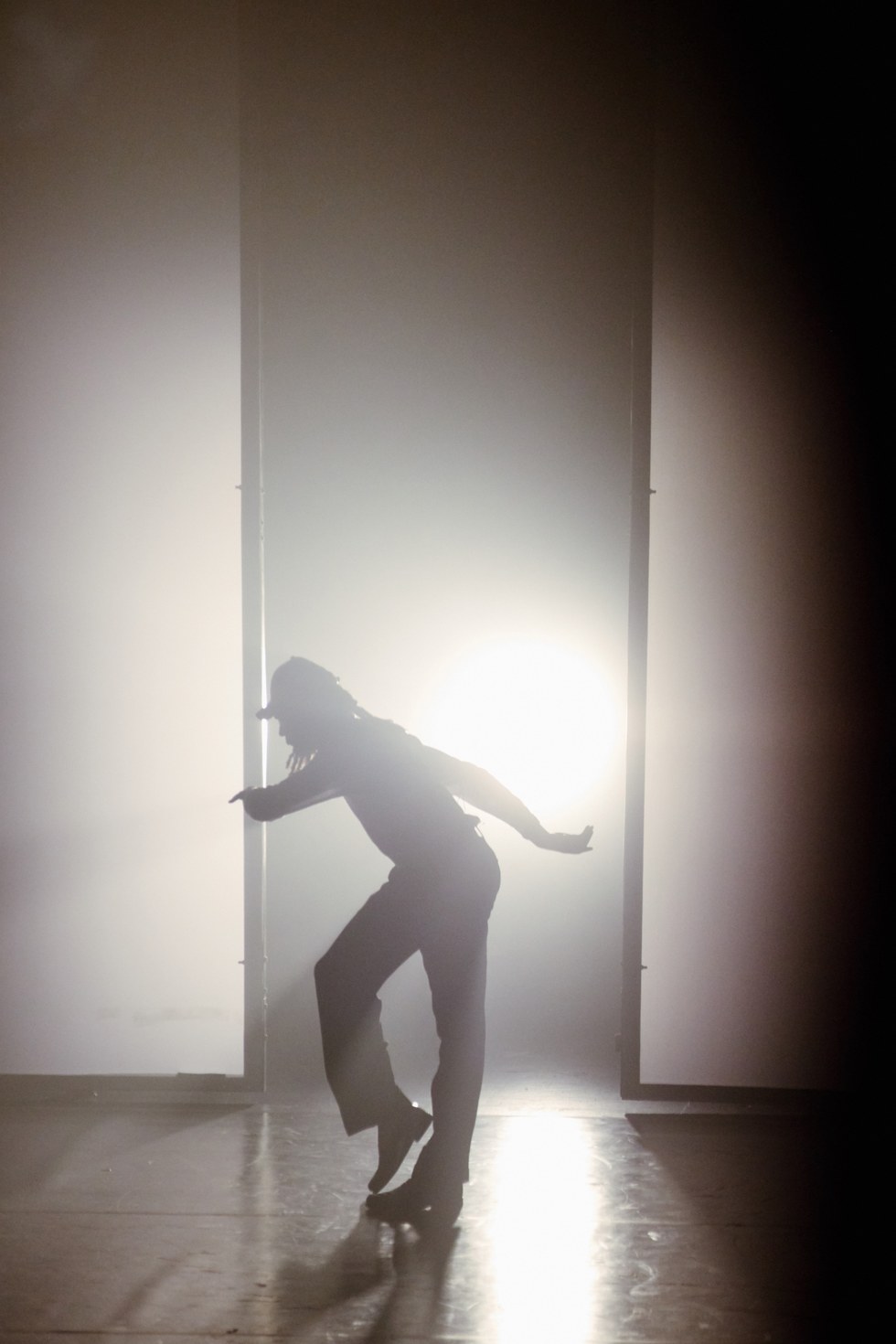 Photo by Jim Lafferty
Keep reading...
Show less
May. 31, 2016 11:11PM EST
With spidery limbs and a sprawling imagination, Brooklyn-based Raja Feather Kelly brings a vivid boundlessness to all he does. Whether dancing for the likes of Reggie Wilson or cooking up his own darkly entertaining dance-theater productions, he seems insatiably curious. Fascinated by pop culture and performance history, Kelly has been pursuing an unabashed obsession with Andy Warhol since 2009. His projects include a Warholian version of A Chorus Line and other works inspired by the artist's diaries.
Photo by Andy Toad, Courtesy Raja Feather Kelly
Companies: Artistic director of the feath3r theory and dancer with, most recently, Keely Garfield, Rebecca Lazier, Christopher Williams and Reggie Wilson
Age: 29
Hometown: Fort Hood, Texas
Training: Jazz, tap, modern, musical theater and competition dance at Long Branch High School, NJ; theater at the Governor's School of the Arts, NJ; BA in dance and English from Connecticut College
Accolades: 2016 Solange MacArthur Award for New Choreography; 2016 Gelsey Kirkland Academy Artist in Residence; two-time danceWEB scholar at ImPulsTanz
Falling for Fosse: Kelly traces his love for dance and theater to middle school, when he saw a performance by the high school dance club. "These students did Bob Fosse's Steam Heat, and I was like 'I'm supposed to do that.' As soon as I could, I signed up for anything with 'dance' in the title."
Breakout moment: Rehearsing for David Dorfman's Disavowal right after receiving his diploma in 2009. "I finished college and my career started two hours later," Kelly says. "I don't think I've stopped dancing or making since. To top it off, The New York Times called me the 'enthusiastic Raja Kelly,' and it felt like my 15 minutes."
What David Dorfman is saying: "There's no one I've met who moves like Raja," says Kelly's longtime mentor. "He has that long, lanky body, but plenty of people are tall and thin. It's the way he uses it. He works with an immediacy, a power and an element of surprise that's very exciting and human."
Warhol as muse: "I think Andy Warhol gets a bad rap as being superficial or vapid," Kelly says. "I feel the opposite, that his work speaks to something really humane and deep and sometimes dark." The latest installment of Kelly's Warhol Series, Andy Warhol's TROPICO—part performance, part graphic novel—comes to Danspace Project June 2–4.
Marketing magic: A web and media designer for his own company and others, Kelly approaches marketing as its own art. "I feel like a piece starts when you start talking about it. If that's not treated with the same integrity as the work itself, you could be selling yourself short." 
Feb. 29, 2016 09:36PM EST
On a Saturday in October, Omagbitse Omagbemi performed in Jon Kinzel's COWHAND CON MAN, for the eighth time in two weeks, at Gibney Dance in Lower Manhattan. Three days later and a few miles uptown, she was lighting up a new role in Ralph Lemon's Scaffold Room at The Kitchen. With cool delicacy in one work and searing drive in the other, she was at home in both, unequivocally herself even as she transformed.

While the freelancer's path is precarious, with unsteady work and unpredictable income, some dancers make it look easy. Omagbemi, Stuart Singer and Molly Lieber have that in common. In recent years, they've become three of the most in-demand performers in New York's experimental dance scene and beyond. Audiences relish watching them; choreographers seek them out. Strikingly individual and endlessly hard-working, they seem to bend the laws of space and time not only with their bodies but with their schedules, which accommodate many projects at once. Yet while they may be stellar multitaskers, they're above all dedicated artists. Dance Magazine asked them how they do it.
Molly Lieber
luciana achugar's The Pleasure Project. Photo by Alex Kangangi, courtesy achugar
"Strong" is an adjective that Lieber gets a lot, and for good reason: She dances like she can't be messed with. Insatiably curious about what the body can do—"It's kind of endless and awesome," she says—she welcomes the influx of new ideas that comes with a project-to-project career. "It's an amazing thing, bringing something new into the world, and I guess that's why I've gravitated away from repertory work. I love experimental dance because we're making it up as we go."
Growing up in Pittsburgh, Lieber attended the Creative and Performing Arts High School and Pittsburgh Ballet Theatre School, then headed to Connecticut College with multiple career paths in mind. After graduation, she worked as a special education teacher in New York, a hiatus from dance that made her want to dance more. Making connections through classes and the occasional audition, she began performing and being seen around town.
Neil Greenberg's This. Photo by Frank Mullaney, courtesy Greenberg.
While her strength gets noticed, so does her sensitivity to a range of aesthetics, whether dancing for other choreographers like Neil Greenberg, Melinda Ring and Donna Uchizono, or in the work that she makes collaboratively with her friend Eleanor Smith. Greenberg invited Lieber to work with him after seeing her perform with Anna Sperber and luciana achugar. "She was so committed to the moment," he says of her role in Sperber's austere duet, The Superseded Third. "Then I saw her again with luciana achugar"—in the much rowdier ritual-dance OTRO TEATRO—"and she was so completely in there, too, embodying in a very full way a very different kind of work."
Considering her workload, Lieber, 32, has stayed remarkably injury-free. That might have to do with her thorough warm-up regimen and her ongoing study of Klein Technique, which has helped her find range and stability in her legs and spine. She isn't immune to exhaustion, but, as she puts it, "I don't mind effort and endurance. Enjoying the process, the effort—that makes this life a lot more enjoyable."
Job advice: "If you're moving to the city, think of it as a continuation of whatever you've been studying. Things like seeing work and taking class are part of your profession."
See her dance with Maria Hassabi at the Museum of Modern Art, through March 20.
Stuart Singer
Gwen Welliver's What a Horse! Photo by Jinyoul Lim, courtesy Singer.
Singer vividly remembers his first "dream job": to join the Paul Taylor Dance Company. As a student at New York State Summer School of the Arts, he was introduced to Taylor's buoyant, athletic technique. Having grown up as a "nerdy and overweight kid," he says, it was a revelation. "That large-scale moving felt deeply empowering and expressive in a way I'd never experienced."
Singer never pursued that dream, but he did spend four years with the Bill T. Jones/Arnie Zane Dance Company, leaving SUNY Purchase after his sophomore year to dance full-time. While he grew exponentially as an artist, he also got restless. "I wanted a range of experiences," he says. "I think I perceived on some level that this long-term commitment to one choreographer wasn't how I wanted to build my career."
John Jasperse's Within between. Photo by Ian Douglas, courtesy Jasperse.
Since leaving the company in 2008, Singer, 30, has definitely broadened his range, dancing with Wally Cardona, Beth Gill, John Jasperse, Joanna Kotze, Pam Tanowitz and Gwen Welliver, and in the epic five-hour opera Einstein on the Beach. Amid more creative concerns, he doesn't underestimate the importance of a detailed calendar. "One of the biggest skills that gets called upon in this work is communication about schedule. I know it's so dry and so boring, but it's a huge part of my life."
While Singer can be pragmatic, he can also be wild, a quality he tapped into for his role in Jasperse's Within between, which earned him a 2014 Bessie for outstanding performer. Jasperse appreciates his fearlessness: "Not so much a physical fearlessness," he says, "but a willingness to look awkward, to go into a space of potential discomfort with excitement about the unknown."
Job advice: "Networking has this slimy reputation, but to me it's just finding like-minded people. Reach out to people you want to work for, and tell them you want to work for them. The worst that happens is you're exactly where you were when you started."
See him dance in a play by Andrew Ondrejcak, with choreography by John Jasperse, March 10–19 at The Kitchen, and with Beth Gill, May 18–28 at the Chocolate Factory.
Omagbitse Omagbemi
With Simon Courchel in Jon Kinzel's COWHAND COW MAN. Photo by Scott Shaw, courtesy Kinzel.
Of all she's learned throughout her career, one epiphany stands out to Omagbemi: "It's okay to be ugly." That came to her while rehearsing with Wally Cardona for his 2009 Really Real. "He said, 'You're a beautiful dancer. Now show me something else,' " she recalls. "It shifted everything: how I see myself, how I see dance and choose to be in it."
Maybe that explains the depth and nuance of her dancing, which has caught the attention of everyone from Vicky Shick, whose ornate works she's graced since 2011, to the creative team of Sleep No More, the popular immersive theater show in which she played Lady Macbeth. "There's an inherent drama in whatever she does, but it's not overdone," says Shick. "She has this pared-down elegance and this natural, unforced flamboyance."
Omagbemi, 42, grew up in Silver Spring, Maryland, and began dancing relatively late, at 16. After dabbling in fashion merchandising at Radford University, she majored in dance at Montclair State University and moved to New York. (Known among friends as a "fashion icon," she's still serious about clothes.) She says that while she's always thought about joining a company full-time ("it seems simpler"), she feels inspired by everyone she's worked with, an illustrious group that's only grown since 2012, when she won a Bessie for sustained achievement in the work of Keely Garfield, David Gordon, Ralph Lemon, Urban Bush Women and others.
Keely Garfield's Twin Pines. Photo by Julieta Cervantes, courtesy Garfield.
Nursing some aches and pains last fall, Omagbemi was considering a vacation—and potentially bigger changes: "Sometimes you have to reassess. How long can I actually do this?" Europe has been on her mind; she recently auditioned for Cullberg Ballet in Sweden. But for now she's staying stateside, in a community she's glad to be part of. "As crazy and competitive as New York is," she says, "people are really supportive."
Job advice: "It's not easy, but you've got to talk about money. When I start a new project, I try to ask right at the beginning about compensation. If someone can't pay, that's okay, but they need to tell me so it can be my decision."
See her dance with Vicky Shick, April 14–16 at Danspace Project, and Heather Kravas, April 27–30 at the Chocolate Factory.
Tricks of the Trade
Lieber, Omagbemi and Singer discuss three pillars of freelance life.
On side jobs
Singer: I always tell my students: Get a skill you can get paid for, some way to make money outside your dancing that doesn't make you insane. For me, when I started freelancing, it was part-time bookkeeping. Now I teach dance at Princeton and still do a bit of bookkeeping. Having other work gives me more freedom to be selective about the projects I take on.
On getting work
Omagbemi: I've been lucky in that people have seen me perform and asked me to work with them. I approach people, too, because for some reason they might think you're not interested. I still audition. I hate doing it, but that's how I got Sleep No More. It helps if you have friends in the company. Honestly, I can't say I've gotten a job from an audition where the people didn't know me.
On self-care
Lieber: It can be expensive, but I try to get body work every two or three weeks, mostly Zero Balancing with Barbara Mahler, and occasionally a massage. I should get acupuncture, but I'm scared of needles.
Dec. 29, 2015 02:50AM EST
Young (center) with some of her collaborators. Photo by Michael Guerrero, courtesy NYLA.
The controversial artist shares the stage with a pig in Elektra.
The performance artist Ann Liv Young is most notorious as her alter ego Sherry, a platinum-blonde provocateur who lashes out at audiences and gives free therapy (Sherapy) in her roving Sherry Truck. But she can do other characters, too, as her dark, deranged takes on Snow White, Cinderella and Sleeping Beauty have shown. Turning to Greek mythology with her latest works—Elektra and its more portable companion piece, Elektra Cabaret—she offers a sympathetic portrait of the princess who plots with her brother to kill their mother for killing their father. This Elektra even has a pet: a live pig in the role of the Chorus. Both versions come to New York Live Arts, January 20–23 and 26–30, and both boast more dancing than much of Young's recent work.
Why Elektra?
One of our producers actually suggested it. I read as many versions as I could find, and loved the story. I can relate to Elektra's character, and I think a lot of people can, this woman who has dedicated her life to avenging her father's death. I'm interested in that intense will, to be so devoted that nothing can deter you from your goal.
Do you identify with that?
Sometimes I've felt super-strong and willful, and at other times I haven't cared as much about the path I'm on. I actually ended up exploring the other characters more, Elektra's mother (Clytemnestra) and brother (Orestes) and sister (Chrysothemis). How they operate gives you a lot of information about her. The show is fast and exhausting and has a lot of movement, which I haven't done in a while.
What kind of movement?
There's a lot of synchronization and singing while dancing, some improvisation and some set choreography. We do things that are very physically demanding. In the original version we have a fight scene, and we've hit heads before. That was scary. So we've had to figure out, How do we make this really terrifying but still safe?
Your work is often less physical, or at least less choreographed. What inspired the shift?
Around the time I started making Elektra, I was diagnosed with this rare inner ear disorder, superior canal dehiscence syndrome. It's basically like I have holes in the bones between my inner ear and brain, so I have constant vertigo. It's insane. Moving is one of the only things that alleviates the dizziness and stress. So that's why I wanted Elektra to have more movement. The disorder also makes you sensitive to loud noise, which is a huge part of my work. It's all very metaphorical. I just can't do what I've been doing. My body is like, "No."
I have to ask about the pig. Are you importing one from out of town?
We're getting it from my mom's farm in Virginia. We've only done the show in Europe, where they provide the pig and a pig handler and another pig in case the first doesn't work, because it's Europe and they have the capacity to do this. But here, we're just going to go get the pig. It will probably end up staying in my apartment.
Keep reading...
Show less


Get Dance Magazine in your inbox
Featured College Dance Program