The Joffrey Ballet has created a workout series. PC Cheryl Mann, Courtesy Joffrey
It's an ongoing question for large and small companies alike: How can we increase ticket sales? Tickets are the primary product dance troupes are selling. But what if there were other untapped avenues to make money, and even expand your audience in the process?
Some companies are exploring the possibilities. L.A. Dance Project recently launched the subscription-based ladanceworkout.com, offering streaming workout videos led by company members. Groups of all sizes and even some individual dancers have launched merchandise lines bearing their logos. And, of course, there's the perpetually innovative Pilobolus, which has been in the creative-revenue game for years, with books, advertisements, corporate appearances and more. Companies told us what it takes to expand revenue streams beyond ticket sales:
Keep reading...
Show less
Image courtesy "We Speak Dance"
Even as a teen, Vandana Hart knew she wasn't headed for a cookie-cutter dance career. "Growing up with a family that really cared about social change, pursuing dance as a standalone career—without linking it to something more—felt like I wasn't completely fulfilling my purpose," she says.
Linking dance to "something more" is just what she did: In her downtime from her role as a coordinator for UN Women's "safe cities" initiative, she has choreographed and taught dance around the world. Now, she produces a Netflix series called "We Speak Dance," in which she travels the globe to learn new dance styles and the deeply human stories behind them.
Keep reading...
Show less
Ashley Ellis, photo by Albert Ayzenberg, courtesy of Ashley Ellis
Every dancer has learned—probably the hard way—that healthy feet are the foundation of a productive and happy day in the studio. As dancers, our most important asset has to carry the weight (literally) of everything we do. So it's not surprising that most professional dancers have foot care down to an art.
Three dancers shared their foot-care products they can't live without.
Keep reading...
Show less
Colorado Ballet, PC Mike Watson
One of the toughest moments in the ballet world is watching a life-changing performance—and then looking around to see that only half the seats were filled to witness it. The discussion about how ballet can stay relevant and build new audiences has been going on for decades. However, these debates often end in speculation about the relevance of the product, rather than placing the onus on the marketing and sales crew.
But recently, a few U.S. ballet companies have done the latter, leading to full houses on weeknights and proving that revenue growth is possible: In 2016, Boston Ballet saw record-breaking ticket revenue and had the highest attendance in more than a decade. Colorado Ballet has exceeded revenue goals the last four seasons, with the 2016–17 season being the most successful to date.
Keep reading...
Show less
Career
Mar. 14, 2017 10:15PM EST
Your first year in a dance company can be a shocking transition. It's also a high-stakes one. "Everyone's looking at you to see what you can do, but also the kind of person you're going to be," says Philadanco founder Joan Myers Brown. How can you succeed when you're suddenly the least experienced person in the room?
Keep reading...
Show less
Career
Nov. 30, 2016 08:22PM EST
All photos by Liza Voll
Most corps members have one thing in common: little rest. When you're the backbone of the company, you're cast in almost every major ballet, and expected to give just as much to each character and peasant role as you do the rare soloist opportunities thrown your way. Recently, Dance Magazine followed Boston Ballet's Hannah Bettes and Lawrence Rines through a typical rehearsal day as they juggled a nonstop load of dance.

Hannah Bettes
7 am
Bettes is an early riser, up by 7 to have a slow breakfast and watch the news. "I like to stay up to date," she says. "It makes me feel more productive." The company is known for its fashion, and most dancers put together separate street and studio outfits each day. Bettes says, "Lawrence has taught me a lot about fashion actually—he's taken me shopping. I think my style is 'hobo chic.' When I arrived, it was just 'hobo.' "
9:45 am
Bettes starts her day in the PT room so she can get occasional advice from the PT team while she warms ups with hip and shoulder stabilization exercises. Then she uses company class to focus on improving her technique. "Recently it's been all about shoulder and arm placement."
11:35 am
Hour-long rehearsal for Swan Lake, which opens later in the season.
12:35 pm
Bettes eats her lunch early, since she has a coaching session during the company break. Her typical lunch includes a peanut butter chocolate chip Zing Bar; a beet, kale and chicken dish; and a small lentil salad with cherries and hazelnuts.
1:20 pm
Bettes runs downstairs to the costume shop for a hairpiece fitting for Gaîté Parisienne and grabs an extra pair of pointe shoes from her cubby in the shoe room.
2:30 pm
Her one-on-one rehearsal is with Peter Stark, with whom she trained at the Patel Conservatory before he moved to Boston last year to head up the men's program and become the associate director of Boston Ballet II. Bettes is preparing for the Helsinki International Ballet Competition. "Competitions give dancers that little extra push," Stark says. As Bettes runs through Aurora's Act I variation, he calls out simple cues that evidence their history together: things like "fingers," "audience, audience" and "chin down."
3:35 pm
Bettes uses her five-minute break to switch gears by marking through choreography on her own before a run-through of portions of Onegin, which the company is performing later in the week.
4:35 pm
The day ends with a two-hour rehearsal for the raucous Gaîté Parisienne, where Bettes builds her character as a spunky maid.
6:30 pm
"I probably go out to dinner with friends every other night," says Bettes. "It's where the majority of my salary goes."
Lawrence Rines
8 am
Rines wakes up with just enough time to shower, eat and walk the 10 minutes to the studio for pre-class exercises.
9:45 am
Loose in his lower back and hips, Rines warms up for the day by strengthening his rotators and core. "That way, instead of using my bones and ligaments at the barre, my muscles are ready to work," he says. He uses company class to prepare for the day ahead. On tough rehearsal days, he might practice steps from his rep in the back of the room towards the end of class. On lighter ones, he'll push full-force to make sure he gets in a good workout.
Pushing the limits of extension in William Forsythe's The Vertiginous Thrill of Exactitude.
11:35 am
Rehearsals start with a full-out run of the intense The Vertiginous Thrill of Exactitude, which opens in two weeks. Rines is known for excelling in neoclassical rep.
12:35 pm
Next is a rehearsal for Balanchine's Kammermusik No. 2. Rines manages the quick transitions between one-hour rehearsal blocks by mentally compartmentalizing each ballet. "I don't think ahead, because that would drive me crazy," he says. "I take it like the chapters of a book—I walk in and say, 'What am I doing now?' "
2:30 pm
Rines runs out to grab lunch (which changes daily, but he stays away from anything too heavy).
2:50 pm
Rines uses his break for a quick visit to the PT room for maintenance on a prior calf issue. The treatment includes massage and an exercise on the Pilates chair equipment.
3:35 pm
Onegin rehearsal. Tomorrow the dancers will switch over to their theater schedule, beginning their day at noon and finishing with a 7:30 pm show.
4:35 pm
In Gaîté Parisienne, Rines is learning three different roles and must stay on top of his "live in the moment, don't anticipate" approach to mental multitasking.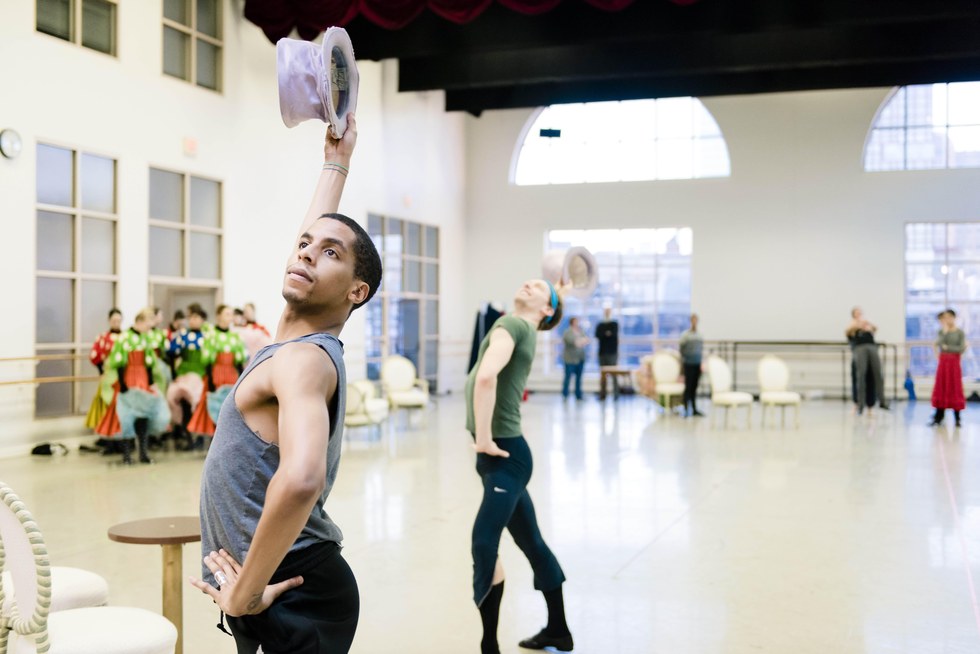 6:30 pm
Rines believes after-work time is essential to maintaining a balanced life. "I like to keep myself social—I get angry at myself when friends want to do something and I'm like, 'No, I'm tired,' " he says. "You can't let ballet run your whole life."
Career
Oct. 31, 2016 09:48PM EST
"Forsythe pulls something good out of you," says Kuranaga, here in The Vertiginous Thrill of Exactitude. PC Gene Schiavone, Courtesy BB.
For Boston Ballet principal Misa Kuranaga, reaching the top is just the start.
Misa Kuranaga had just arrived in Taipei, and was already eager to get in a rehearsal. At the following night's last-minute gala engagement she would dance Don Quixote and Balanchine's Tschaikovsky Pas de Deux. But at that point, she still hadn't met her partner.
"He has a great reputation," Kuranaga says of New York City Ballet principal Joaquin De Luz, "so I thought, Okay, let's do this. I wouldn't take such a crazy risk if I didn't know his name."
Gone are the days of comfortable career partnerships in ballet, of one-track dancers, of ballerinas who rely on a company to build their fan base. Kuranaga, whose killer work ethic and lyrical lines have long made her a fan favorite, has come to embody the future of ballet—a world of dancers who are independent and endlessly versatile. Dancers who supplement full-time company lives with part-time commercial gigs, and fill their vacations with guest appearances spanning the globe. "Being a dancer is almost a superhuman commitment, and Misa seems to understand that," says Boston Ballet artistic director Mikko Nissinen. "She has always been a wonderful dancer—but she's matured and become a true ballerina."
Growing up in Osaka, Japan, Kuranaga won early ballet success in competitions, then started her career as a San Francisco Ballet apprentice. But one year and a bad case of culture shock later, she wasn't rehired. She faced a decision: to leave ballet behind or to start over. Kuranaga chose to go back to school, enrolling at the School of American Ballet. By the end of the year, she received multiple job offers and chose Boston Ballet, earning her first principal role in La Sylphide only one year later.
She quickly built a reputation as a workhorse, spending hours in the studio alone. "I haven't seen anybody work as hard as her—in every class, every rehearsal," says American Ballet Theatre principal Herman Cornejo, a favorite partner of Kuranaga's at the Vail International Dance Festival. Her determination led to steady promotions: second soloist in 2005, soloist in 2007 and principal in 2009.
"When I got to principal, that was actually my start," says Kuranaga. "You have more freedom to express yourself." Having spent years in search of "perfect" technique, she now faced the challenge of figuring out who she was—and communicating that from the stage. Rather than adopting a flashy persona, she was simply herself: the always-striving, never fully satisfied, vulnerable but determined ballerina. "She is a very honest artist, that's what makes her so pure," says Nissinen. "She's very sincere, in life and onstage."
Company life has now become her artistic safe space. "I'm getting to a point that I don't have to feel nervous about every single thing anymore," she says. That comfort has given her the security to relax and deepen her artistry. "Only she knows her weaknesses," says Cornejo. "Sitting in the audience, I would never know."
Today, Kuranaga's fame reaches far beyond Boston. She brings her characteristic honesty to her tens of thousands of followers on social media, which she approaches as a public diary, whether she's feeling silly in rehearsal, challenged by altitude sickness or inspired by a new partner. "I used to hate to post videos on YouTube, because I didn't feel like I should be promoting myself—I felt like somebody else should do it," she says. "But now, promoting myself makes me feel good. It's a wonderful way to be independent." That self-promotion has earned her notable side gigs, including advertising campaigns for Freed of London, Japanese skin-care line SK-II and Italian jewelry company Bulgari. Earlier this year, Bulgari chose Kuranaga as one of 10 inspiring Japanese women from a variety of professions, and after completing a series of photo and video shoots over the summer, this month Kuranaga will attend a red carpet event in Tokyo where one of the 10 women will win an achievement award.
It's just the latest stop on a never-ending schedule of galas, festivals and events around the world, from Vail to Taipei to Havana. "I'm seeking inspiration," she says. "That's why I love guesting—because I grow. And then when I go back to Boston I train myself differently."
For now, the work is what fuels her. The thrilling challenges like meeting a new partner right before a performance or dancing at high altitudes remind her that even now at the pinnacle of her career there's still more to learn. "It's hard, but once you've done it, it becomes your confidence," she says. "Then you're like 'At sea level I can do anything.' "
Ashley Rivers is a frequent contributor to Dance Magazine.
Keep reading...
Show less
Career
Aug. 31, 2016 10:17AM EST
Körbes in Jean-Christophe Maillot's Roméo et Juliette. Photo by Angela Sterling, Courtesy PNB.
Six common mistakes he may not be telling you about
Partnering training is one of the most nuanced parts of dance education. And yet, so much of it is entirely focused on male students. Beyond the basic principles—like holding your core and avoiding slippery leotards—young women often have little direction other than performing steps they already know with the help of a male dancer. But they have just as much to learn about becoming a good partner. Communication is key—but there are also some mistakes that your counterpart may not think to mention.
Keep reading...
Show less


Get Dance Magazine in your inbox