Candice Thompson
A former dancer with Milwaukee Ballet Company, Candice Thompson received her MFA in literary nonfiction from Columbia University. She is a co-founder of DIYdancer, and currently based in Atlanta, GA.
Apr. 17, 2017 04:54PM EST
Jim Lafferty
Having just returned to New York City after a couple weeks of guesting in Southeast Asia, American Ballet Theatre principal Daniil Simkin is in rehearsal for the lead role in Alexei Ratmansky's latest creation, Whipped Cream. In between this brief rehearsal period and ABT's Metropolitan Opera House season, Simkin will be using any days off to travel for other guest performances. That is, when he's not in production meetings or rehearsing in Chicago or New York for his own project premiering at the Guggenheim in the fall, or preparing his debut as Albrecht in Giselle for an ABT tour.
"If I have an hour break between rehearsals, I try to get my work done for the day," says Simkin. "There are emails, meetings, fundraising, a lot of administration stuff with the Guggenheim project, delegating, checking in—'Will Dior do the costumes?'—and then I might get a guesting invitation and then I have to check my schedule, book flights and hotels."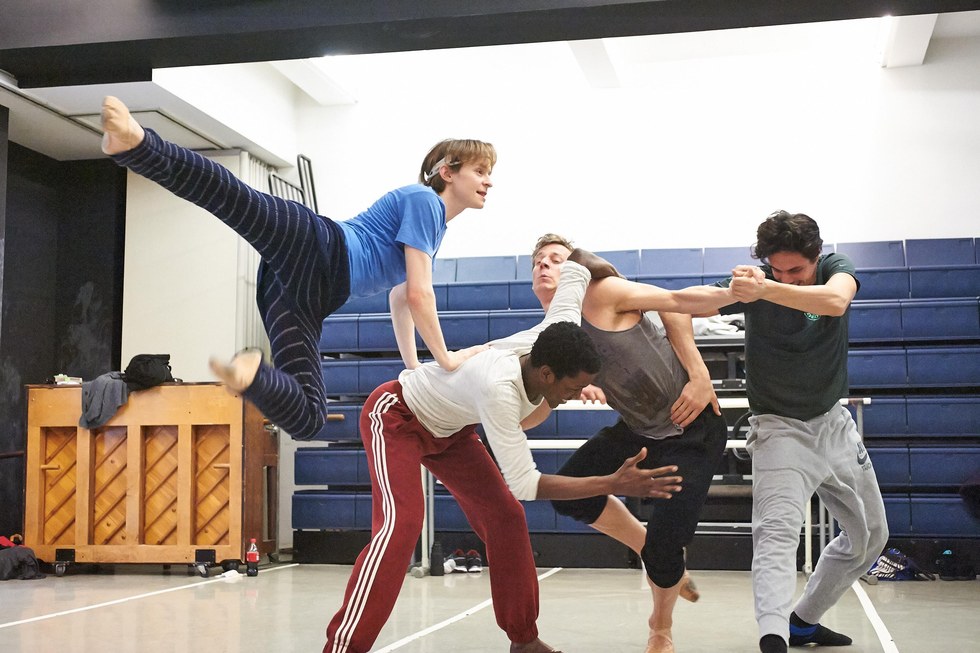 Daniil Simkin's Intensio project. Photo by Jim Lafferty
Multitasking has become the new normal in the concert dance world. Many dancers, not just international stars like Simkin and Misty Copeland, are adding freelance careers on top of their regular company commitments. It seems like most artistic staffs have come to accept and even embrace this type of branching out, citing artistic growth for the dancers and marketing benefits for the company as their dancers grow more visible.
But the question remains: How much can one dancer juggle while maintaining both health and sanity—and still satisfying their commitments as a company dancer?
Dancers didn't always operate this way. "There was a different culture when George Balanchine was alive," says former New York City Ballet soloist and BalletMet artistic director Edwaard Liang. "People were extremely focused on their main job and work with Mr. B and Jerome Robbins." Even though big stars were able to guest, there weren't many opportunities for rank-and-file company dancers.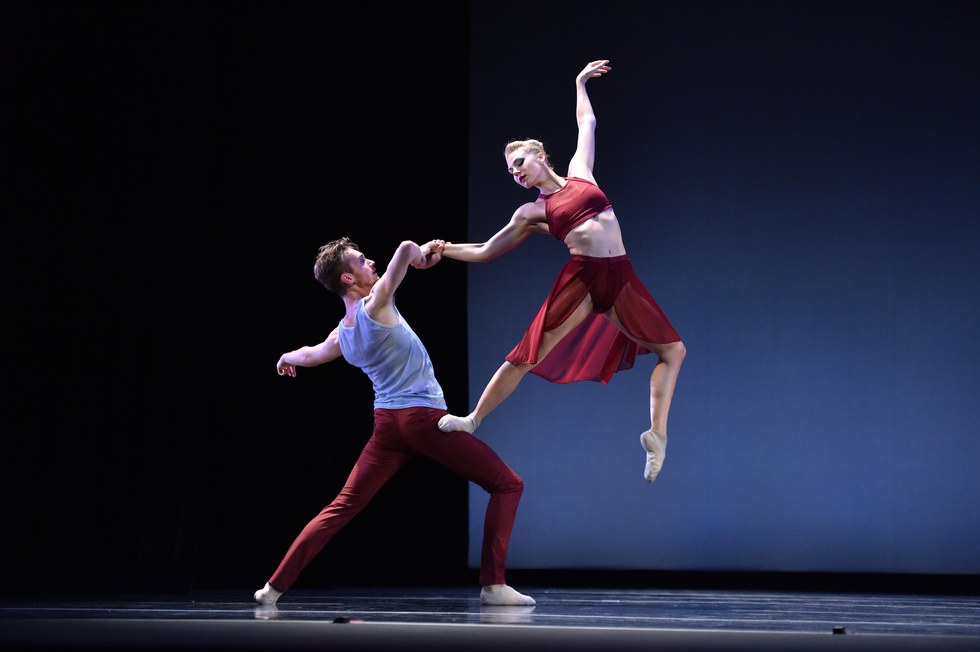 Los Angeles Ballet's Zachary Guthier and Smuin Ballet's Erica Felsch at National Choreographers Initiative. Photo by Dave Friedman.
Today, there are more guestings, galas, pickup troupes and other side jobs available all over the country and abroad. And the thinking inside many companies has evolved to encourage this outreach.
"This career goes so quickly; as much experience as you can get is good," says Liang, who took leave from NYCB to do Fosse on Broadway and dance with Nederlands Dans Theater during his own career. Today, he tries to hook up his dancers with outside projects, like the National Choreographers Initiative, whenever he can. "When they come back they are richer, deeper, more creative, even more engaged in the company."
Anthony Randazzo, ballet master at Boston Ballet, where several dancers like Lia Cirio participate in and manage side projects, agrees. "It is a chance to grow," he says, "and that helps strengthen the company, which is a win for everyone." He admits that there are challenges when a dancer asks for a day off during the season, but is quick to point out that if it can be accommodated, the benefits of the opportunity usually outweigh the extra work required to manage scheduling and rehearsal flow.
For some dancers, performing outside work just makes financial sense. Since few contracts are year-round, summer and side projects can keep up their technique as well as cushion their bank accounts.
But physical therapists warn that taking on too many projects can come at the expense of rest. Dancers have to be careful not to overwhelm their bodies if they already have a demanding rehearsal, performance and touring schedule. However, Simkin feels that the variety of styles his guestings generate has actually kept him healthier and less prone to injury.
Not all dancers go after this extra work. For instance, New York City Ballet principal Sterling Hyltin turns down such offers during the season in order to help preserve her work-life balance. "I can't physically do any more," she says. "I have had seasons where on Mondays I would be doing a photo shoot, or once I flew off to Russia for a weekend gala, but then I wound up without a day off. Some people can operate that way, but it hasn't been good for my body or my mind."
Instead, Hyltin finds ways to further her artistic growth and recharge herself by doing things besides dance—reading, going to museums and walking her dog. While she understands that other dancers in the company find fulfillment in performing on Broadway and elsewhere, she feels completely nourished by the opportunities she already has at NYCB.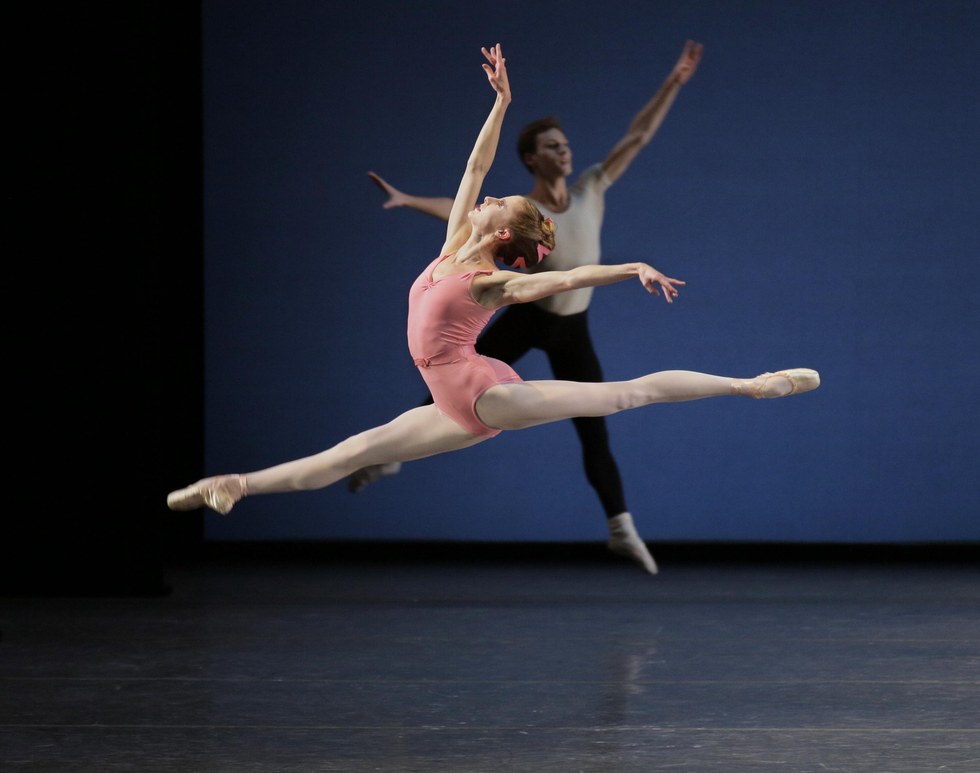 Sterling Hyltin, photo by Paul Kolnik, courtesy NYCB.
Making the most of these career choices comes down to defining what success means to you. "Different dancers have different visions of success, whether it be galas and medals versus being a part of a company, or simply doing fashion photo shoots in their spare time," says Randazzo. "The trick is to find what might have a deeper meaning for you."
"There were absolutely times I felt left out when I was younger, when I felt like it was a form of competition: how many galas, how many modeling gigs you have," says Hyltin. "You can really get down on yourself, but you have to find a certain amount of healthy exposure. Decide what works for you. If you spread too thin, all your work can become less meaningful."
Luckily for Simkin, his workaholic schedule seems to suit his personality. "I get to do what I love, I get to travel and live a good life," he says. "You can always be too tired and feel like you are juggling too much, but our careers are too short, so I enjoy spreading myself out." However, now that he is scheduled for the next two years, Simkin admits that he's added something new to his to-do list: downtime.
Keep reading...
Show less
Mar. 17, 2017 03:53PM EST
The premiere of Dutch National Ballet's Night Fall. Photo by Michel Schnater, Courtesy DNB
Fog envelops you as swans and sylphs flash right past your shoulder. This is Peter Leung's Night Fall, a new virtual reality 360 dance film featuring Dutch National Ballet. It puts you inside the "white acts" the film portrays as though you were a member of the corps.
Over the past year, ballet companies and premier artists have been creating new work and adapting existing ballets for the virtual reality world via 360-degree video technology. From English National Ballet's Giselle VR, a two-minute adaptation of Akram Khan's new production, to The Royal Ballet's snow scene from The Nutcracker, classical ballet is forging new partnerships with technology and entertainment companies to cross over into this new platform.
360-degree video technology offers unprecedented access and astounding visuals. Using an omnidirectional camera or several cameras, every angle is captured and the resulting footage stitched together. During playback online, the viewer has the option of exploring the entire panorama.
But for choreographers used to the distance of proscenium stages and a clear sense of front and back, working with this new medium poses creative challenges. When Leung began creating Night Fall for DNB, he placed himself in the middle of the studio and choreographed out from the center. "The only way to learn was to do it," he says. "I told the dancers 'Your audience is now the camera.' " Even more challenging than working in the round was figuring out where to be during filming, so that he could see the take but also be out of sight: "There were two cameras, one on a fly bar coming down from out of the sky and another on a tripod at eye level. I hid behind scaffolding and boxes in this large warehouse so I could see parts of the dance."
In a time when entertainment options seem endless and dance companies are eager to court younger audiences, VR 360 offers a fully immersive experience. ENB artistic director Tamara Rojo views this as a necessary part of ballet's evolution. "Ballet, more than any other art form, has the ability to be reinterpreted and transformed, and this is vital to drive our art form forward," said Rojo in a press release. Yet the question remains, Can this technology capture new audiences for concert dance or will it become an art form all its own? For now, the possibilities of both are intriguing. "There is something so sacred about the theater, nothing can replace it, so my hope is that VR can become an access point, a reason for people to go to see a show," says Leung. "But if some people just appreciate it for VR, that is cool, too."
Keep reading...
Show less
Mar. 14, 2017 04:15PM EST
Liza Voll
Worried your feet aren't good enough for a professional ballet career?
Good news: Most people, let alone dancers, have enough range of motion to go on pointe, says Mandy Blackmon, a physical therapist for Atlanta Ballet.
"It is almost always a strength problem," she says. "Floppy or flat feet may be the result of weak intrinsic foot muscles."
Strengthening these tiny muscles can help improve your line, as well as your balance, proprioception and the way you absorb the shock of jumps. Here are two of the best exercises to practice:
The Classic Towel Pull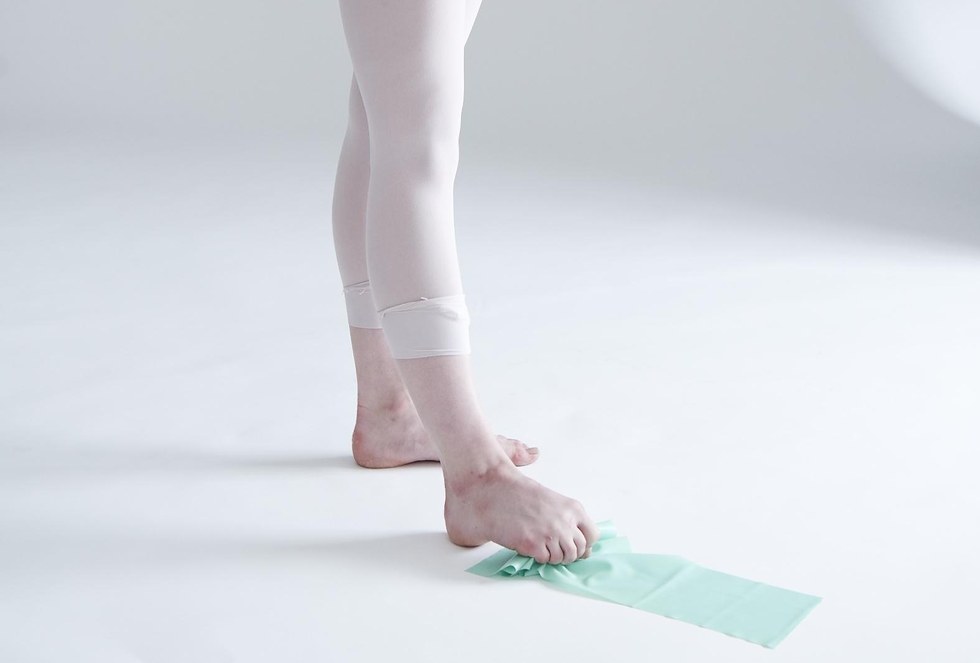 Nathan Sayers
Sit or stand with your feet in parallel, toes on the edge of an unfolded towel. Balancing on your heels, lift all 10 toes and spread them out on the towel. Use your toes to grab the towel and pull it in towards you while keeping your arches lifted. Repeat until all the material has been gathered. You can also try reversing the process—lifting the arches, curling the toes in, and then spreading the towel out as your toes extend.
Doming
Sitting or standing with the whole foot on the floor, press down into your smaller toe knuckles and pull your large toe knuckles in a little closer to your heel, causing your arch to lift. Try to keep your toes long and straight.
To make it harder, try doing it with your toes lifted off the ground.
"A better-looking foot is not just a range-of-motion issue," adds Blackmon. "What most dancers are after when they want 'better feet' is more about strength and support of the bony structure."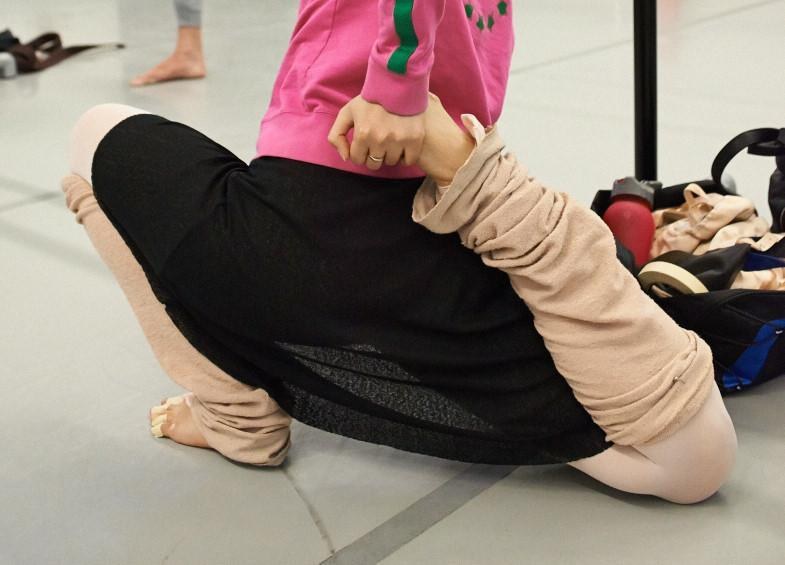 Jim Lafferty
To that end, Blackmon recommends that dancers stretch their calves as well as pushing their pointe. Having a good range of motion in dorsiflexion (flex) and plantar flexion (pointe) is key to keeping feet and ankles healthy, and tight calves can restrict movement in your ankle joint.

A block in either end of your range—whether flexing or pointing—can be an early sign of injury. Get treated before you develop compensations, says Blackmon. Soft-tissue work in the calves and mobilizations performed by a physical therapist can open up your range of motion and keep your limbs healthy.
Keep reading...
Show less
Dec. 29, 2016 08:00AM EST
Want to try a new summer intensive? How do you find out whether a program will be a good fit if you don't know anyone who went there? "We tell our students that faculty is a big factor, the ratio of students to teacher is important for quality instruction, and performance opportunities are great but not the be-all, end-all," says Nancy Davis, founder and co-artistic director of The Portland Ballet in Oregon. Before you sign up for a new program, research this information to assess whether a school offers what you're looking for.
Suss out the style.
One benefit to a new program can be experimenting with an unfamiliar style. While some intensives state up front that they teach a particular technique, others—particularly those not affiliated with a high-profile school or company—may not flag their stylistic emphasis. But program websites offer a lot of clues. Read the bio of the intensive's director (a good indicator of whether, say, Vaganova or Bournonville lies in their background) and the program's mission statement. Look at the regular faculty's bios to see where they danced. Also take a peek at the repertory. A big draw for The Portland Ballet's program, for instance, is its relationship with The George Balanchine Trust. Dig into its press clips, and you will find that students have performed iconic works like Tschaikovsky Pas de Deux.
Read the schedule.
Many students want as much training as they can possibly get in a day. "To pay for six weeks and only get a couple classes a day is not worth their while," says Westside School of Ballet artistic director Martine Harley, whose program in Santa Monica, California, has students dancing four and a half hours a day. Some programs even offer optional classes in the evening, if you are still standing at 6 pm. Generally, schedules are posted on the website. See how many hours of class is standard and whether you can add on extra ones.
Look at classes offered.
Serious about your technique? Be alert to specialty classes like Turns, one of the many offerings on The Portland Ballet's schedule along with music appreciation, dance history and career talks.
Check on class size.
If you are in a studio with 35 other dancers, you may not get the personal attention you need to improve. While most programs do not list their class size, look at the website descriptions and photos (and if necessary, be prepared to call and ask).
Find out if you'll perform.
Some students want stage experience from their intensive. If it is unclear whether there's an end-of-workshop show, or if there is no information about what repertory will be chosen for your level, ask. Even if it feels pushy, it's better to know than end up disappointed. Have your questions prepared ahead, and be polite and professional. You will show your maturity by making clear you take the experience seriously.
Imagine yourself there.
Nearly all the big programs use dorms, which offer camaraderie and social opportunities, not to mention meal plans. Smaller programs sometimes offer host families for out-of-town students instead. Depending on the school's location, there may also be affordable short-term rentals. Make sure you have housing, food and transportation mapped out so that you will have everything you need to concentrate fully on your dancing. Plan with an eye to making sure you will not end up feeling isolated.
Search alum bios.
Where do the school's graduates end up? Are they winning competitions? Getting hired by major companies? Often, some of the more famous alums may show up as guest faculty, such as New York City Ballet principal Tiler Peck for the Westside School of Ballet. If a program is relatively unknown to you or your teachers, check out its track record to see where past students have landed.
Keep reading...
Show less


Get Dance Magazine in your inbox
Featured College Dance Program