Chelsey Hamilton
Hailing from Philadelphia, Chelsey graduated from Temple University with a dual degree in Journalism and Dance and joined the Dance Media team in late 2016. Previously working at Health Magazine, her work has been published on Health.com, Time.com, Huffingtonpost.com, Philadelphia Magazine and Philadelphia Dance Journal, among others. Currently a company member with DanceWorks New York City, she continues to perform and create work as often as possible.
Chicago's Auditorium Theater
For most dancers, walking into the theater elicits a familiar emotion that's somewhere between the reverence of stepping into a chapel and the comfort of coming home. But each venue has its own aura, and can offer that something special that takes your performance to a new level. Six dancers share which theaters have transported them the most.
GLENN ALLEN SIMS
Alvin Ailey American Dance Theater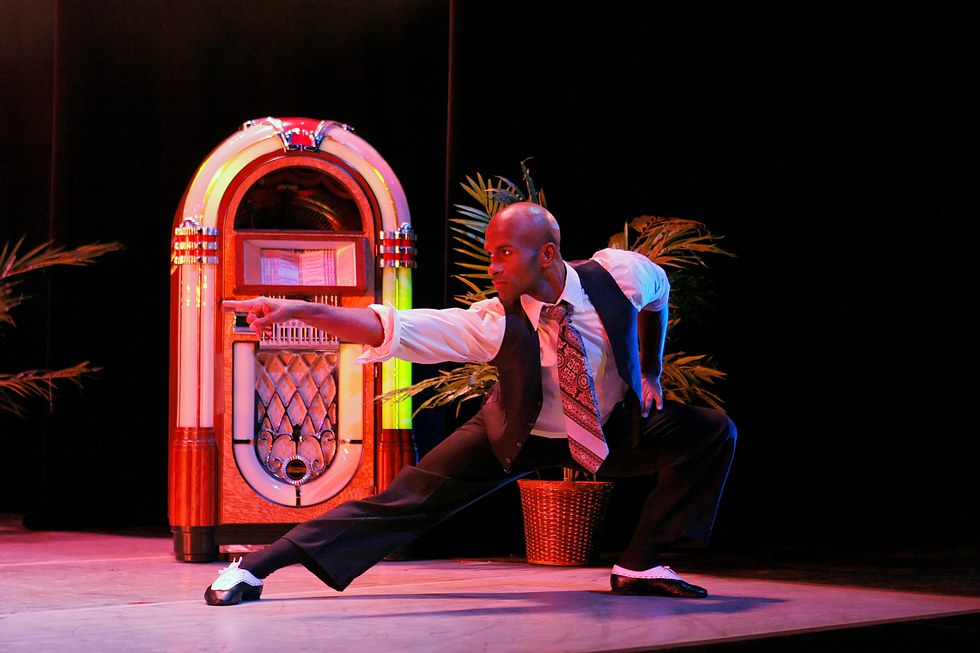 Glenn Allen Sims in Alvin Ailey's Masekela Langage. Photo by Paul Kolnik, courtesy AAADT
Favorite theater: Teatro Real in Madrid, Spain

Royal details: "The theater is gorgeous and ornate, with deep red upholstery and gold trim. There is a huge royal box in the center, which takes you back to when kings and queens were watching performances there."
Impressive facilities: Even the dressing rooms are a sight to see: Amenities for the dancers include large, carpeted rooms, and towel service.
Keep reading...
Show less
As the temperatures drop and sweater weather begins, most of us groan at the thought of chilly muscles and achy bones. Dancers know that a cold winter can make our bodies feel "off." Dance Magazine tapped Dr. Thomas Sanders, a board-certified foot and ankle specialist at The Centers for Advanced Orthopaedics, to find out how to deal with the most common health issues dancers face in frigid temps.
Keep reading...
Show less
Few things are most frustrating than arriving at your summer intensive full of excitement—only to get injured, stuck sitting out on the sidelines and missing out on the experience you signed up for.
To help you avoid this disappointment, we tapped Daniel Cuttica, D.O., an orthopedic foot and ankle surgeon with The Centers for Advanced Orthopaedics and consultant to The Washington Ballet, for expert advice on how to keep your body healthy, safe and injury-free this summer.
Keep reading...
Show less
Living the #dancerlife is no easy feat. Between daily technique classes, late night rehearsals and numerous side gigs to get the bills paid, dancers often don't prioritize self care. It may seem like the least important item on your never-ending to-do list, but it's vital to make time for your physical, mental and emotional wellbeing.
Ignoring basic needs can ultimately damage your technique and performance. We could all use some tips from these 10 professional dancers who know how to practice self love.
Keep reading...
Show less
As a dancer, you probably spend the majority of your time donning a leotard and sweating it out in the studio. But constantly wearing tight, sweaty fabrics can take a toll on your skin.
"Body acne is caused by the same factors that trigger acne on the face: overactive oil glands, dead skin cells that block pores, and a buildup of acne-causing bacteria on the skin's surface," says Debra Jaliman, a board-certified dermatologist in New York City. She also notes that some people are naturally more prone to acne than others because of their hormones.
Keep reading...
Show less
Image via colehaan.com
Last month, members of New York City Ballet teamed up with designer Cole Haan to create a comfy, yet stylish line of shoes that are wearable from the stage to the streets. Because in a career where you're almost constantly working on your feet, it's vital for dancers to have supportive and safe footwear, even when you're not in the studio.
To ensure your feet are always feeling performance-ready, we asked two podiatrists who've worked with dancers what to look for—and what to avoid—when shopping for new springtime kicks.
Video: colehaan.com
Keep reading...
Show less


Get Dance Magazine in your inbox