Garnet Henderson
Garnet Henderson is a dancer and writer originally from Jackson Hole, Wyoming, and based in New York. Her writing has appeared in The Guardian, The Atlantic, VICE, Quartz, Refinery29, and others. Her choreographic work has been presented in Paris, France, as well as in New York at the 92nd Street Y, the West End Theater, Triskelion Arts, Gibney Dance, and more. Garnet is also a NASM certified personal trainer and corrective exercise specialist and trains clients at Studio 26 in Manhattan.
Reframing high-stakes auditions as learning opportunities can make you a better auditioner. Photo by Jim Lafferty.
In 2012, freelance contemporary dancer Adrianne Chu made a major career change: She decided to try out for A Chorus Line. "Even though I didn't get the job, I felt like I was meant to do this," says Chu. So she started going to at least one musical theater audition every weekday, treating each as a learning experience. After several years of building up her resumé, Chu's practice paid off: She booked a starring role as Wendy in the first national tour of Finding Neverland.
Approaching auditions as learning opportunities, especially when you're trying to break into a different style or are new to the profession, can sharpen your skills while helping you avoid burnout. It also builds confidence for the auditions that matter most.
Keep reading...
Show less
Stephanie Nugent (left). PC Christie Nelson
Experienced practitioners of contact improvisation appear to float through the air and move through the most daring positions with ease. Those new to the form, on the other hand, often feel awkward and impatient. Some dancers hesitate, worried they will hurt their partner by giving them too much weight. Others move too quickly, trying for impressive lifts without laying the proper groundwork. Having spent so much of their training focused on aesthetics, many dancers struggle to stop fixating on what their movement looks like. But just like any other form of dance, contact improvisation skills can be developed with practice and the right approach.
Keep reading...
Show less
Rachel Fallon (center). Photo by Victor Frankowski, courtesy HSC
Rachel Fallon's first year with the Hofesh Shechter Company has been spent largely on the road. The company performs frequently, and almost always on tour. "Because we are constantly out of our home setting, I like to have some sort of routine that I can count on," says Fallon. She shares how she stays centered despite the nearly-constant traveling.
Keep reading...
Show less
Kretzschmar as Sugarplum Fairy. Photo by Paul Kolnik, courtesy NYCB
Nutcracker season starts today at many ballet companies, including New York City Ballet. For corps members like Claire Kretzschmar, that means an always demanding schedule reaches a whole new level of busy. Here's how she keeps herself going.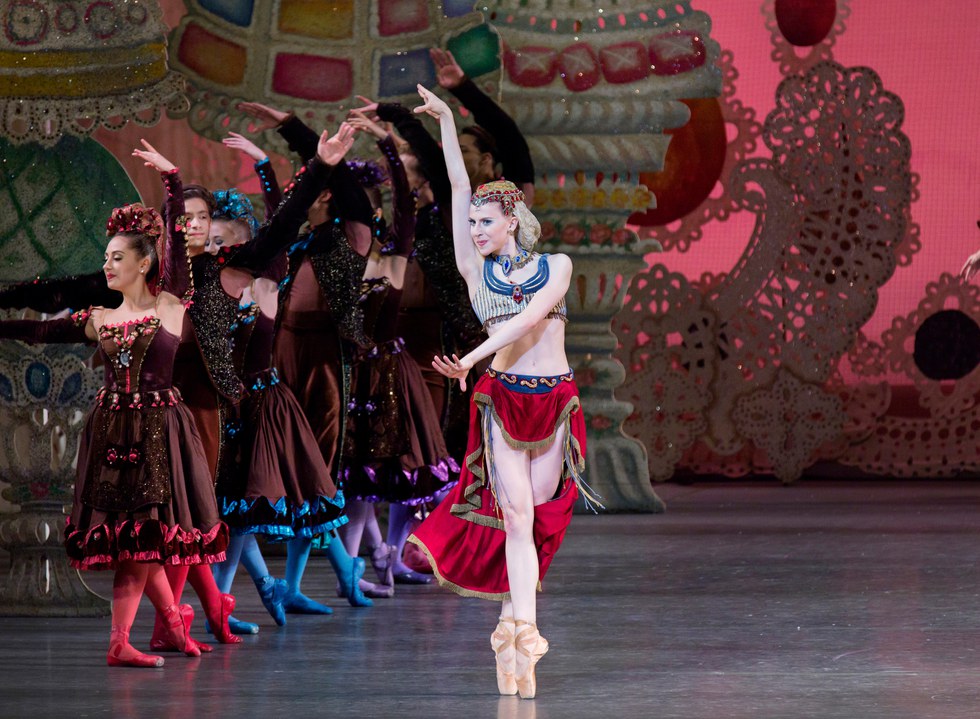 Kretzschmar in the Coffee variation. Photo by Paul Kolnik, courtesy NYCB.
Keep reading...
Show less


Get Dance Magazine in your inbox