Laura Cappelle
Laura Cappelle is a dance writer and sociologist based in Paris. She contributes regularly to the Financial Times, Pointe, Dance Magazine, Dancing Times and Dance Europe. She researches the creation process in ballet companies.
Apr. 19, 2017 01:30PM EST
PC Patrick Imbert
In Rachid Ouramdane's Tenir le temps, Annie Hanauer articulates the choreography with unforced precision, her natural demeanor and smooth transitions the perfect fit for Ouramdane's undulating, abstract patterns. Few seem to notice that there is something slightly different about her: Hanauer was born missing part of her left arm, and now has a prosthetic one.
Hanauer, 30, has achieved what many thought impossible for a performer with a disability: a thriving career in the mainstream dance world. After performing with the UK's Candoco Dance Company from 2008 to 2014, she is now an in-demand freelancer, and a tall, striking presence in the works of contemporary choreographers Emanuel Gat and Ouramdane.
Born in Minnesota, Hanauer started taking a range of classes at a local studio when she was 10. Both her family and dance teachers were supportive: "I was never excluded," she says. "It was recreational, but when I got to the age of 16, I was taking class every night."
Still, pursuing a college degree in dance was far from an easy decision. "I remember having a crisis when I was accepted, saying, 'Am I ever going to get a job, because I've got one arm, you know?" she remembers dryly. The dance department at the University of Minnesota welcomed and nurtured her, and the curriculum helped widen her horizons. "I was the first person like this that they'd ever taught," she says. "It was probably a challenge for them, but we got a lot of individual attention."
In Rachid Ouramdane's TORDRE. PC Patrick Imbert.
In college, she also learned to work around issues linked to her disability. Partnering proved especially complex, although improvisation helped in the long term. "My strategy was to just do it to the best of my abilities, like every other dancer," she says.

The faculty prepared her for the challenges she would likely face in the industry: "I was ready to struggle through and have seven day-jobs," she says. During her senior year, she spotted an audition notice for Candoco, which bills itself as a "company of disabled and nondisabled dancers." They offered her a permanent contract, and the day after her graduation, Hanauer found herself moving to London.
The diverse repertoire of Candoco introduced Hanauer to European contemporary dance with creations by the likes of Hofesh Shechter, Rafael Bonachela and Nigel Charnock. The company was also invited to perform at the Beijing Olympics in 2008, and at the Paralympic Games in London in 2012.
In Rachid Ouramdane's TORDRE. PC Patrick Imbert.
In 2014, Hanauer decided to "stretch her legs" and go freelance. "I wanted to keep growing as a dancer and to see how I would be received as a performer in a different context," she says. Gat and Ouramdane, who had set works on Candoco, soon called, and she now regularly commutes between London, where she lives, and France, where both choreographers are based. Hanauer has been part of three creations with Ouramdane, including TORDRE, a "double portrait" tailor-made for her and another woman. In 2016, she appeared in Gat's SUNNY, where her serene confidence and movement quality were highlights in the fluid group sections.

Prejudice is still part of Hanauer's experience, however. Partners sometimes offer to change choreography before she's had a chance to try it. "You have to be really in touch with your own body, and clear about what you need," she says. Reactions to disabled performers have also frustrated her in the past. "People are surprised that I'm not clunky or awkward. The level of discourse about disability is not super-complex. Either it's shocking, or a novelty, or else it's 'They're so noble.' "
Hanauer knows her success story is fairly unusual, and believes inclusive companies are still relevant and necessary: "The dance world is still very restrictive. In the UK, there is more of a historical conversation about this because of Candoco and others, but there's a lack of opportunities for dancers with disabilities." She now teaches regularly, and is exploring work of her own with three dancers and support from Candoco and London's The Place. "I still wonder if the industry is ready for me," she says with a laugh. "You just have to keep going and try to change people's minds by doing it."

Keep reading...
Show less
Mar. 16, 2017 03:36PM EST
A creation for the Paris Opéra Ballet or The Royal Ballet would have pride of place on any choreographer's resumé. But Crystal Pite is going one better and choreographing works for both companies this season. "Isn't that crazy?" she exclaims at the Palais Garnier in Paris, still sounding surprised. "I have to pinch myself sometimes when I come into this building."
Still, Pite has plainly demonstrated in recent years that she belongs at the top of the choreographic ladder. Since creating her own company, Kidd Pivot, in 2002, the Canadian dancemaker has realized her ambitious vision for dance theater in increasingly large-scale productions: the Shakespeare-inspired The Tempest Replica, in 2011, was described by The New Yorker as "a work of astonishing beauty and thoughtfulness." Since 2013, Pite has been an associate artist at London's prestigious Sadler's Wells Theatre, where her most recent works, from Polaris to Betroffenheit, have made her a critical darling.
And while Pite considers herself a contemporary choreographer, the ballet world has paid attention. A former dancer with Ballet British Columbia and Ballett Frankfurt, Pite has made works for Nederlands Dans Theater and the National Ballet of Canada, among others. In September, her Seasons' Canon made people sit up and take notice in Paris, and The Royal is next for a Pite premiere in March.
"It's exciting to be able to use that knowledge, that mastery classical dancers have," Pite says. "How do I use them and still create a piece that looks like something that I would make?"
Given Pite's background in ballet, it's not surprising classical companies have come knocking. While there was no pre-professional school in her Canadian hometown, Victoria, British Columbia, she trained at "a very good little ballet school" from the age of 4 to 17.
Her hours were limited, but the school's focus on the creative process compensated: "My teacher, Maureen Eastick, would make new pieces for us all the time. We had the experience in the early days of being choreographed on." Her school also entered dance festivals where Pite herself was allowed to develop her creative skills. "We were onstage a lot. I had the opportunity to choreograph on my peers."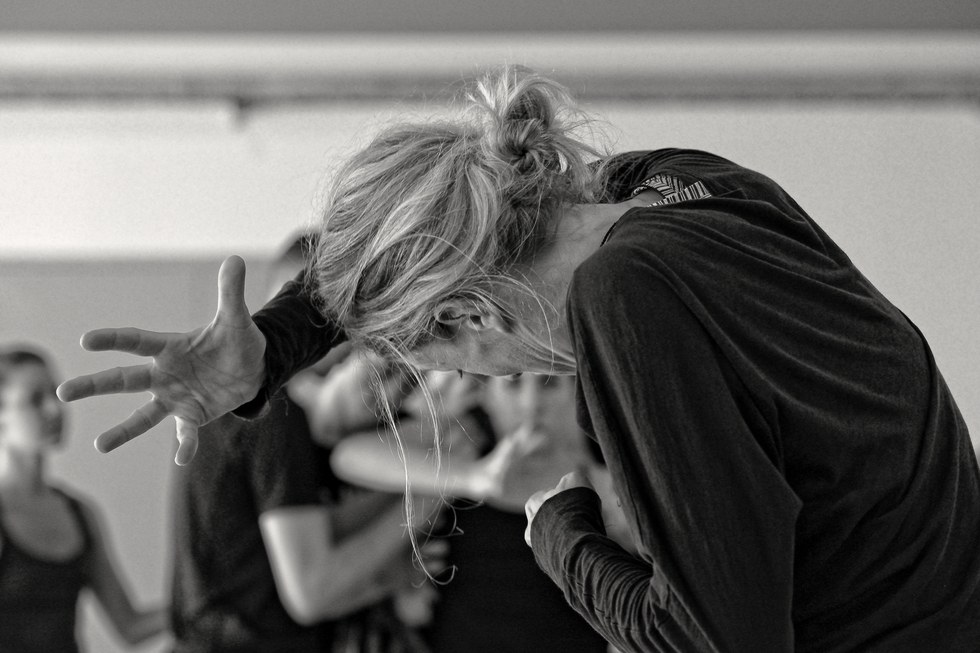 Pite in rehearsal at Ballet BC. Photo by Michael Slobodian, courtesy Ballet BC
After graduating from high school in 1988, she was offered an apprenticeship with Ballet British Columbia in nearby Vancouver. "It turned out that it was the perfect place for me to go," she reflects. "It was a small company, the focus was on new work and contemporary ballet, and I was able to widen my vision of what was possible in ballet and dance."

The company's repertoire included works by Jirí Kylián and William Forsythe, and while her own choreographic career was taking off on the side, Pite opted to challenge herself by joining Forsythe's Ballett Frankfurt in 1996. Many of today's top choreographers have come from the company's ranks, and Pite credits Frankfurt's collaborative ethos with pushing her as an artist.
"Bill [Forsythe] was attracted to people that were creative to begin with, people that were willing to take risks, and there was this incredible creative spirit at work there."
By 2001, however, she longed to go home. "I always had the dream to dance in my own work, in my own company, and I wanted to do that in Canada," she says.

With the support of her long-time partner and designer, Jay Gower Taylor, Pite launched Kidd Pivot. Adequate funding was hard to secure in Canada, but she steadily developed her choreographic voice while dancing in her own works for a decade. "I think those two sides of myself, being a dancer and a choreographer, have always fed each other, and at that point I felt this great synthesis within myself," she says.
Her retirement from the stage coincided with the birth of her son Niko, in 2011. "I always imagined that my dance career would end when I either got injured or had a baby. Fortunately, it ended up being the latter, but the decline was exponential," she says with a laugh. "The aging, the child, the challenges of trying to juggle everything! It was a new beginning and an ending all at once."
Kidd Pivot now works roughly half the year, allowing both Pite and her performers time for side projects. Its bold productions have an experimental, multidisciplinary side to them. Pite's grounded vocabulary is often blended with text and commissioned music, with Gower Taylor contributing seamlessly modern set designs. 2015's Betroffenheit, a raw exploration of loss and grief, was a collaboration with actor and playwright Jonathon Young.
"I'm interested in offering an audience a variety of ways to get into a piece," Pite explains. "Some people can connect in a visceral way to pure movement, and others connect more to language. I like to be able to use anything to get people in the same world as each other."
Despite the commissions she has lined up, Pite still feels like a visitor in the ballet world, where she is one of the rare high-profile female choreographers.
"Ballet dancers have a very different skill-set and vocabulary. The way they use their spines, their relationship with the floor, to each other in partnering: There is a whole different kind of musculature that kicks in when they connect."
Pite has adapted, making ballet works that are more dance-centric than her repertoire for Kidd Pivot, and more focused on group work. "I can achieve a physical complexity within an individual body easily with my own dancers, but with dancers I'm just meeting, I'm not going to be able to," she says. At the Paris Opéra Ballet, she found strength in numbers, with 54 dancers often moving as one—and scenes that paid tribute to their unique lines and technique.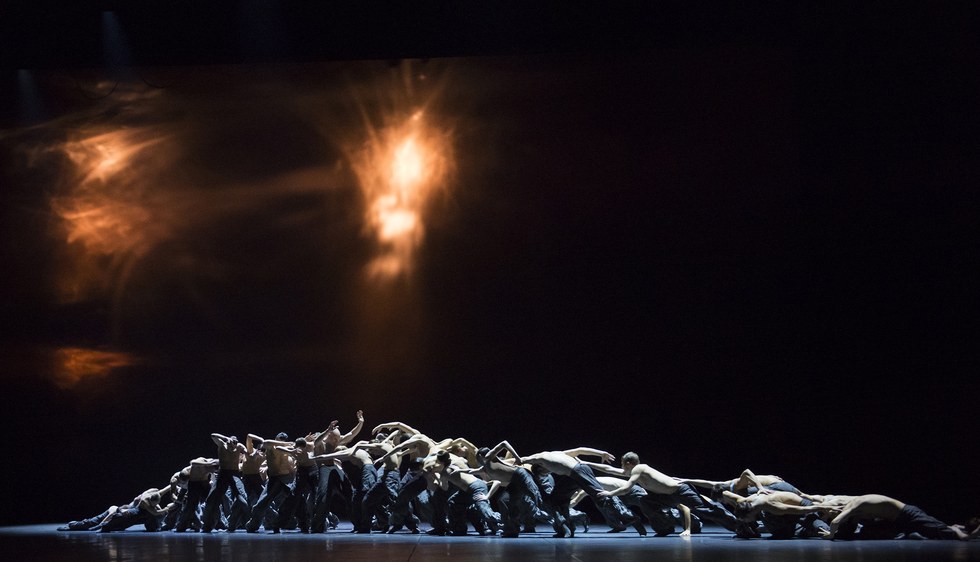 Paris Opéra Ballet in Season's Canon. Photo by Julien Benhamou, courtesy POB
At The Royal Ballet, Pite will use the first movement of Henryk Górecki's Symphony of Sorrowful Songs, "music that is very familiar and beloved," she says. She plans to "follow its trajectory," and mine the dancers' classical training for inspiration.

They will have to adjust to the bold yet rigorous earthiness of her style, however. Pite thrives on the energy that comes from that mix: "When there is tension, something flourishes and becomes alive, complex," she says. "I want dancing that looks like it's being discovered in the very moment it's being danced. I want it to look like it's reckless, dangerous and also delightful."
Keep reading...
Show less
Mar. 14, 2017 07:27PM EST
Stepanova with Alexander Volchkov in Balanchine's "Diamonds."Photo by Damir Yusupov, Courtesy Bolshoi Ballet

With her soulful presence and elegant manner onstage, Yulia Stepanova was touted as a major talent when she graduated from the Vaganova Ballet Academy in 2009. She joined the Mariinsky Ballet, where her sensitive phrasing as Odette/Odile confirmed her potential. Stuck for a promotion, however, she made a bold move to Moscow, and it paid off: Stepanova is now the Bolshoi's newest principal, and a rising star.
Company: Bolshoi Ballet
Age: 26
Hometown: Orenburg, Southern Russia
Training: Vaganova Ballet Academy, St. Petersburg
Accolades: 2014 Taglioni Award for "Best Young Ballerina"
Stepanova in La Bayadère. Photo by Damir Yusupov, Courtesy Bolshoi Ballet
Vaganova legacy: Stepanova's final teacher at the Vaganova Ballet Academy was Lyudmila Safronova, a former student of Agrippina Vaganova herself. "She developed my individuality," says Stepanova. "She always told me: Yulia, when you appear onstage, you're not the girl next door, you're a ballerina."
Bolshoi goals: While Stepanova danced leading roles in her five years with the Mariinsky, she remained a coryphée: "Gradually I realized that there wouldn't be much change." After spending six months with Moscow's Stanislavsky Ballet, Stepanova worked up the courage to request an audition at the Bolshoi in 2015. "I was afraid—I thought that if the Mariinsky didn't work, it would be even more complicated with the Bolshoi." After a monthlong wait, however, she was offered a soloist position by Sergei Filin, and joined with her dancer husband, Kamil Yangurazov.
"Yulia has huge potential. Just wait—she will be one of the best."
—Makhar Vaziev
Right place, right time: Soon after Stepanova's arrival, Makhar Vaziev became artistic director of the Bolshoi, and immediately noticed her. A string of big roles followed, and last summer, Vaziev promoted her straight to principal, skipping two ranks.
Star turns: Stepanova's favorite Bolshoi role so far is Nikiya in La Bayadère. While she had previously performed Gamzatti, when she auditioned in the role for Vaziev, he asked her to prepare the lead role instead. "I immediately said, 'Yes, please,' " she laughs. For the future, her wish list includes Giselle and works by Alexei Ratmansky and Yuri Possokhov.
Stepanova as Myrtha in Giselle. Photo by Damir Yusupov, Courtesy Bolshoi Ballet
Between styles: Stepanova has had to adjust to the more extroverted style in Moscow. "The tempi are much faster here," she says, "and everything is done with more emotions. I feel much freer, and more confident."

Jewels girl: To relax in her free time, Stepanova taught herself jewelry-making and loves to create tiaras: "I haven't danced with them yet, but I hope to some day. I'm probably still too shy!"
Keep reading...
Show less
Dec. 30, 2016 03:49AM EST
The appointment of Sasha Waltz and Johannes Öhman has already proved controversial.
Iana Salenko and Marian Walter. PC Yan Revazov, Courtesy Staatsballett Berlin
Unrest is brewing in Berlin. In September, local government officials announced that the current director of the Staatsballett Berlin, Nacho Duato, would be replaced in 2019 by a duo of co-directors: choreographer Sasha Waltz and Sweden's Johannes Öhman. In response, the company's dancers, worried about the future of ballet in Berlin, have fought back through an online petition and official protests.
Home to a handful of international stars, including Iana Salenko and formerly Polina Semionova, the 89-strong Staatsballett is one of Germany's biggest classical companies. Born in 2004 from the fusion of Berlin's three ballet ensembles, previously employed by different opera houses, it became a noteworthy classical company under the direction of Ukrainian-born star Vladimir Malakhov. Duato has proved divisive since his arrival in 2014, but his recent choreography has relied on the classical technique.
The selection of Waltz and Öhman, on the other hand, has sparked anxiety about the potential fate of the Staatsballett's classical tradition. While Waltz is a world-renowned choreographer with her own Berlin-based company, she works in the Tanztheater tradition of Pina Bausch, with a contemporary vocabulary. "She comes from a completely different genre," says Elinor Jagodnik, a member of the corps de ballet and union representative. "The dancers will know more about ballet than she does, and the company will no longer attract classical talent."
The inclusion of Öhman, who has been the director of the Royal Swedish Ballet since 2011, was widely seen as an attempt to balance Waltz's avant-garde approach, but the dancers are unconvinced. Waltz stated in an open letter that her planned repertoire would be 50 percent classical, yet included Angelin Preljocaj's modern Snow White among those classical productions. (Waltz and Öhman declined to comment for this article.)
In addition to around 20,000 signatures, the Change.org petition attracted statements of support from the likes of John Neumeier and Lucia Lacarra. The dancers contend the appointment was political in nature. The mayor and cultural senator of Berlin, Michael Müller, appoints the Staatsballett's director, and he made the announcement three years in advance, shortly before standing for reelection. In October, his political party weakened, and it is likely that he'll be ousted as cultural senator, along with culture secretary Tim Renner. Jagodnik says the dancers hope the new directors' appointment will be reversed. "We're open-minded, but audiences in Berlin deserve to see classical ballet." 
Meanwhile in Milan…
In October, La Scala announced that artistic director Mauro Bigonzetti was stepping down effective immediately, citing his need to recuperate from a severe back problem. Bigonzetti took over early in 2016 after Makhar Vaziev left to direct the Bolshoi. Echoing the current situation in Berlin, there has been speculation that ongoing tensions between the classically trained company members and the more contemporary director/choreographer were a contributing factor to Bigonzetti's departure after only eight months at the helm. A new director is expected to be announced by March, and will take over from Fréderic Olivieri, who is filling the post in the interim. —Courtney Escoyne
Keep reading...
Show less


Get Dance Magazine in your inbox
Featured College Dance Program