Yup, Dance Is The Best Workout. Science Says So.
Danza Contemporanéa de Cuba. Photo by Quinn Wharton
We already know that dancing is basically the greatest thing you could do for yourself. (Even if, ahem, your feet end up without toenails during sandal season.)
But it's always great when science proves us right.
---
A small study out of the University of Brighton in the UK shows that dancing burns about 600 calories per hour, which is about the same or more than going for a swim or a run for the same amount of time. Of course, an hour of grand allegro is going to push your body much harder than an hour of your grandfather's two-step. But researchers say that even tamer styles of dance can burn about the same number of calories as cycling.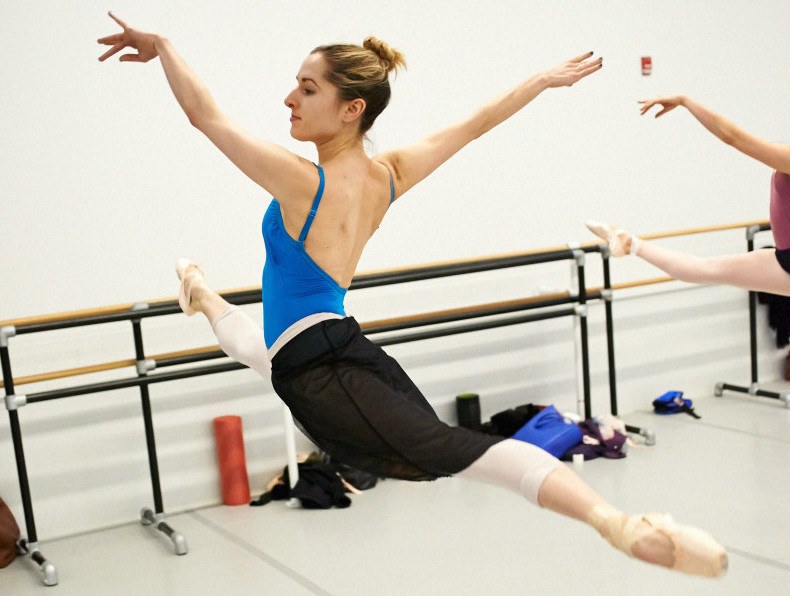 Pennsylvania Ballet's Adrianna de Svastich. Photo by Jim Lafferty.
Nick Smeeton, a coauthor of the report, told Time magazine that all the changes of directions, accelerating and decelerating, and stopping and starting challenges your body in a way that a straightforward run around the park never will. You can't just coast by on momentum when you're dancing. And more of the little support muscles get activated—and strengthened—because your body moves in so many different ways.
But let's not forget that dance is worth much more than calorie burn and muscle building. Research has also shown that it improves mood, lowers stress, boosts energy, curbs anxiety, slows cognitive decline, increases confidence—we could go on and on.
Let's just say, dance for the win!
ABT's James Whiteside and Isabella Boylston. Photo via Instagram
Last night, American Ballet Theatre held its annual Fall Gala at the David H. Koch Theater in New York City. To celebrate ABT's artistic director Kevin McKenzie's 25 years of leadership, dancers from ABT's company, apprentices, studio company members and students from the Jaqueline Kennedy Onassis School took to the stage in Jessica Lang's The Gift, Alexei Ratmansky's Songs of Bukovina and Christopher Wheeldon's Thirteen Diversions.
But we also love a good behind-the-scenes glimpse—especially when designer gowns are involved. And the dancers gave us plenty of glam looks to obsess over once the curtains closed. Ahead, see our favorite moments from gala straight from the dancers.
Devon Teuscher in the floral print suit of our dreams (by designer Patricia Bonaldi) practices her dance moves with Christine Shevchenko. Both girls accessorized with sparkling jewels from gala sponsor de Grisogono.
Keep reading...
Show less
Popular
Sep. 25, 2017 10:40AM EST
The dancers file into an audition room. They are given a number and asked to wait for registration to finish before the audition starts. At the end of the room, behind a table and a computer (and probably a number of mobile devices), there I sit, doing audio tests and updating the audition schedule as the room fills up with candidates. The dancers, more nervous than they need to be, see me, typing, perhaps teasing my colleagues, almost certainly with a coffee cup at my side.

Keep reading...
Show less
Arolyn Williams and Chase O'Connell in Fox on the Doorstep, PC Beau Pearson
Last week Ballet West breezed into New York City's Joyce Theater from Salt Lake City. The dancers are excellent—especially the women (what else is new). The company brought five pieces including works by Gerald Arpino, Val Caniparoli and resident choreographer Nicolo Fonte.
Arpino's last work, made in 2004, is a duet called RUTH, Ricordi per Due ("remembrance for two"). It's about a man haunted by the memory of the woman he loved. Christopher Ruud is strong and sensitive as the man, and Arolyn Williams is riveting as the ghost of his beloved.
Val Caniparoli energizes his dancers with juicy movement, and always sticks to his theme. (He doesn't ramble, and let's face it, long rambling choreography is a problem these days.) In his premiere for Ballet West, Dances for Lou, he takes on the music of Lou Harrison, a composer known for his Eastern sounds and rhythms.
Keep reading...
Show less
Sidi Larbi Cherkaoui's Pictures at an Exhibition, performed by The Royal Ballet of Flanders.
Photo by Filip VanRoe, courtesy Marquee
Your Saturday nights are about to go from "Netflix and chill" to "Marquee and chill." (Okay, maybe we'll need to coin a new phrase).
But seriously, the new streaming app Marquee Arts TV lets you curl up with Bolshoi Ballet's Swan Lake, Sylvie Guillem dancing Mats Ek's solo Bye, a dance film by Cullberg Ballet called 40 M Under, or a documentary about Alonzo King and LINES Ballet. Marquee unlocks a world of digital arts: dance, theater, opera, music, documentaries and film shorts that you can stream directly to your TV or mobile device.
Keep reading...
Show less


Get Dance Magazine in your inbox