What Does it Mean to Have a "Sponsor"?
Lilyan Vigo Ellis and Marcelo Martinez. Photo by 20/20 Photo Video, courtesy Carolina Ballet
Now more than ever, ballet companies are searching for creative ways to build revenue. One tactic has stood out: patrons choosing to donate via the sponsorship of a particular dancer. Often implemented by large troupes like American Ballet Theatre (all of its principals and most soloists have sponsors), the trend has now reached smaller companies such as Cincinnati Ballet and Carolina Ballet.

The History of the Tradition
The custom of bankrolling dancers goes back at least to the 19th century and the Paris Opéra. The right amount of money guaranteed a patron a visitation to the foyer de la danse, built as a space for the men to mingle with the ballerinas. (The foyer was off limits to wives and male dancers.) Louis Véron, a director of the Paris Opéra in the 1830s, observed that "attending the Opéra was fashionable; keeping a ballet girl even more so." Fortunately, 21st-century patrons aren't allowed to indulge such salacious intentions.
---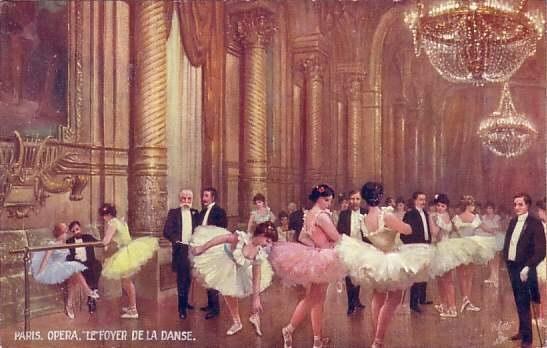 How It Works Now
So what is assumed in patron relationships today? "Nothing is expected," says Lilyan Vigo Ellis, who retired from Carolina Ballet last season after a 20-year career there, six of which were sponsored by Dr. and Mrs. Malcolm Brown. "We became like family. Every time they came to a show, they let me know they were coming and we'd go out to dinner. One year they invited me to their beach house and I spent a couple of days there. They treat my sons like grandkids. I wrote a personal note to them that I was retiring, so they were among the first people I notified."
To be clear, patrons almost never pay the dancers' salaries directly. The donations go to the company, not to the dancer. "The sponsors give the company money in honor of me," says Vigo Ellis. The artistic director and staff decide where the money goes.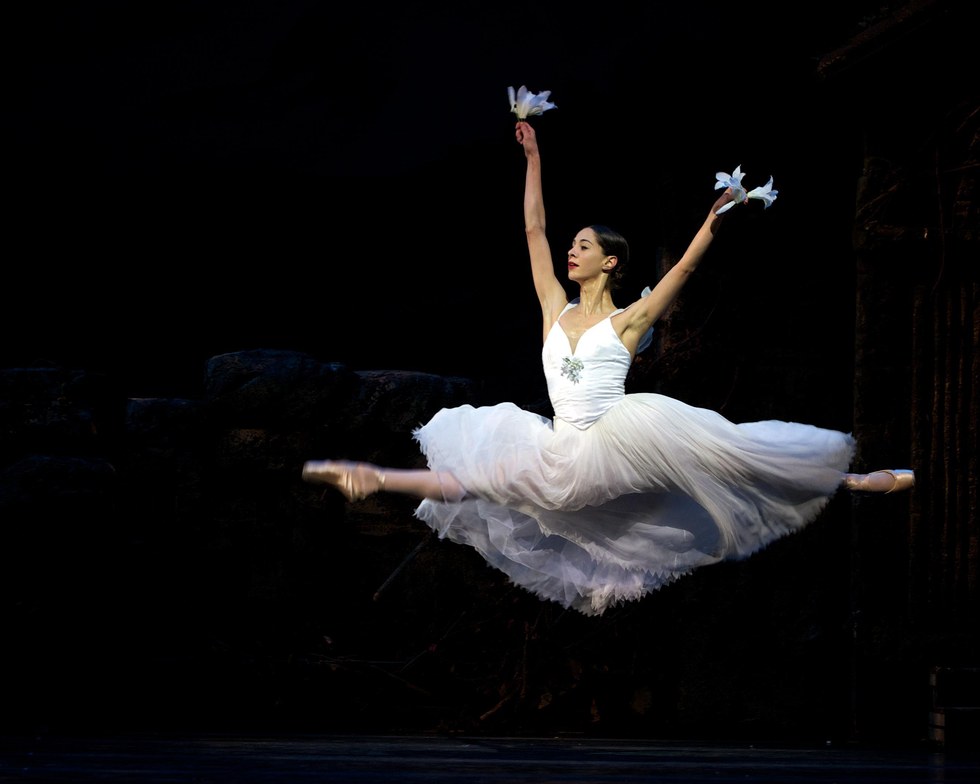 Lilyan Vigo Ellis in Giselle. Photo by Chris Walt Photography, courtesy Carolina Ballet
Ethical Issues
Some sponsor/dancer relationships create complications, however. Before joining Carolina Ballet in 2007, Marcelo Martinez danced lead roles with another midsized company. "One sponsor asked for their dancer to be cast in some ballets for the performance they were attending," says Martinez. He also heard about a patron who paid for a specific ballet and then requested that the male dancer he sponsored dance the principal role. "It brings up questions," he says.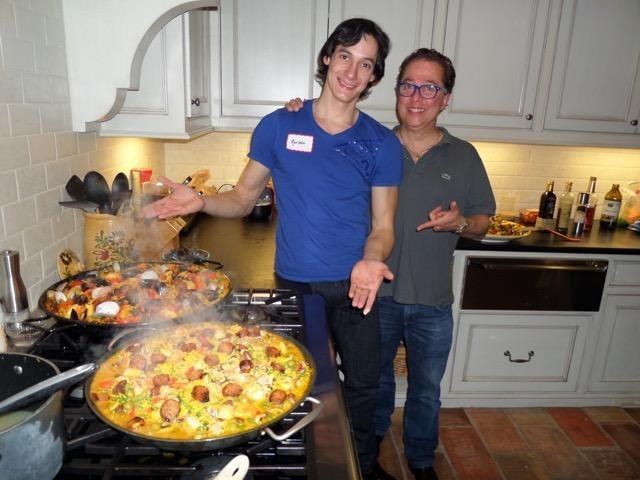 Marcelo Martinez cooking his famous paella in the home of his Carolina Ballet sponsor for a company fundraiser.
How Do Companies Find Sponsors?
Cincinnati Ballet, which has had a successful sponsorship program since the early 2000s, hosts gatherings at the beginning of the season to introduce new and returning dancers to current and prospective sponsors. Some patrons are also drawn to sponsorship through the company website or the program. Cincinnati Ballet's minimum sponsorship for 2016–17 was $500 for a trainee. Its current goal is to seek two sponsors for each dancer.
"It's important we set the tone and expectations for the relationship," says Sara Pomeroy, Cincinnati Ballet's director of major giving. "The dancers are encouraged to participate in ballet-specific, hosted gatherings while sponsors receive perks, including advance notice of casting and special-event invitations."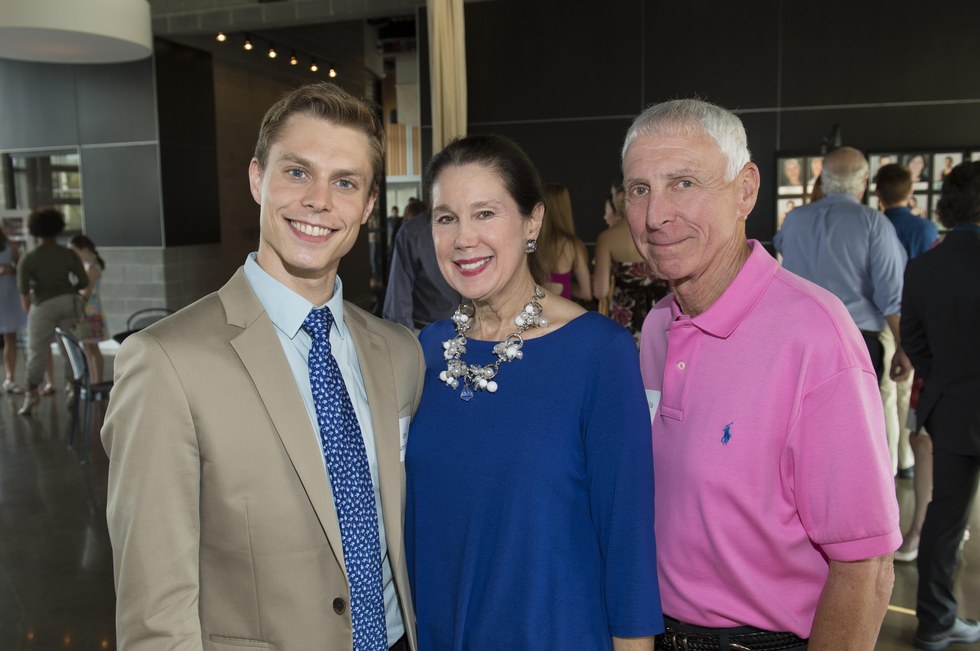 Carolina Ballet soloist James Cunningham with sponsors Ronna and Dr. James B. Willis
Why It Works

The reason for the popularity of sponsorship programs? "Storytelling is compelling," says Pomeroy. "When you know something about a dancer that's more personal, it exposes how they became who they are onstage. The insight creates a connection that deepens the experience for the patron."
For Martinez, a Paraguayan who has no family in the area, the benefit is mutual: "Everything I accomplish in my career, including the hard dedication that gets you there, is shared with my sponsors. I don't know who is more proud—me or them."
Ian Douglas; courtesy Sarah Haarmann. Performing with Pam Tanowitz Dance at The Joyce Theater
Sarah Haarmann stands out without trying to. There is a precision and lack of affectation in her dancing that is very Merce Cunningham. Her movement quality is sharp and clear; her stage presence utterly focused. It's no wonder she caught Mark Morris' eye. Even though she still considers herself "very much the new girl" at Mark Morris Dance Group (she became a full-time member in August 2017), in a recent performance of Layla and Majnun, Haarmann seemed completely in her element.
Company: Mark Morris Dance Group
Age: 27
Hometown: Macungie, Pennsylvania
Training: Lehigh Valley Charter High School for the Performing Arts and Marymount Manhattan College
Keep reading...
Show less
Reframing high-stakes auditions as learning opportunities can make you a better auditioner. Photo by Jim Lafferty.
In 2012, freelance contemporary dancer Adrianne Chu made a major career change: She decided to try out for A Chorus Line. "Even though I didn't get the job, I felt like I was meant to do this," says Chu. So she started going to at least one musical theater audition every weekday, treating each as a learning experience. After several years of building up her resumé, Chu's practice paid off: She booked a starring role as Wendy in the first national tour of Finding Neverland.
Approaching auditions as learning opportunities, especially when you're trying to break into a different style or are new to the profession, can sharpen your skills while helping you avoid burnout. It also builds confidence for the auditions that matter most.
Keep reading...
Show less
How do you warmup? Photo by Jim Lafferty
For many dancers, a "warmup" consists of sitting on the floor stretching their legs in various positions. But this strategy only reduces your muscles' ability to work properly—it negatively affects your strength, endurance, balance and speed for up to an hour.
Save your flexibility training for the end of the day. Instead, follow a warmup that will actually help prevent injury and improve your body's performance.
According to the International Association of Dance Medicine and Science, a smart warmup has four parts: "a gentle pulse-raising section, a joint mobilization section, a muscle lengthening section and a strength/balance building section."
Keep reading...
Show less
Screenshot via YouTube
Keep reading...
Show less
This year, IABD launched a new ballet audition for men of color
Last month, the International Association of Blacks in Dance's third annual ballet audition for women of color was expanded to include a separate audition for men.
The brainchild of Joan Myers Brown (founder of both Philadanco and IABD), the women's audition was created to specifically address the lack of black females in ballet. However, the success and attention that audition drew made the men feel left out, so IABD decided to give the men equal time this year.
Keep reading...
Show less
Students participated in all aspects of Veränderung, from choreography to costumes. Photo by Uwe Stratmann, Courtesy Tanztheater Wuppertal.
Pina Bausch's unique form of German Tanztheater is known for raising questions. Amid water and soil, barstools and balloons, the late choreographer's work contains a distinct tinge of mystery and confrontation. Today, Tanztheater Wuppertal Pina Bausch's dancers use questions as fuel for creativity. The company's most recent project introduced a new group of performers to the stage: local high school ninth-graders from the Gesamtschule Barmen in Wuppertal, Germany, in an original work-in-progress performance called Veränderung (Change).
Keep reading...
Show less


Get Dance Magazine in your inbox