The Injury Dancers Ignore: Hearing Loss
Natalie Catalino, photo by Steven Karageanes
In dance, there's little argument that the perfect music with the perfect steps can be transcendent. But too much of a good thing can be harmful. In this case, the music.
Did you know that music may be damaging your hearing without your realizing it?
Manufacturing, military and music industries have struggled with noise-induced hearing loss for years. A 2014 study found a nearly fourfold increase in the rate of NIHL in musicians compared to the general population. Similar rates are seen in construction and factory workers, so these industries have guidelines designed to protect hearing.
But in dance, no such research or standards exist.
---
Decades of exposure to loud music can cause hearing loss in dance teachers, which can make it hard to know how loud they play music in class. Choreographers might turn the volume up so dancers feed off the music's energy. And in studios, concrete and steel buildings without sound dampening material on the walls only increases the intensity. But dancers can be afraid to ask to turn the music down.
At a national dance convention in July, I measured decibels in a hip-hop class. (Per usual, most of the students were pressed up close to the stage—next to the speakers.) At the back of the ballroom, the music measured 107.9 decibels. From the front, right under the speakers, it was 119 decibels.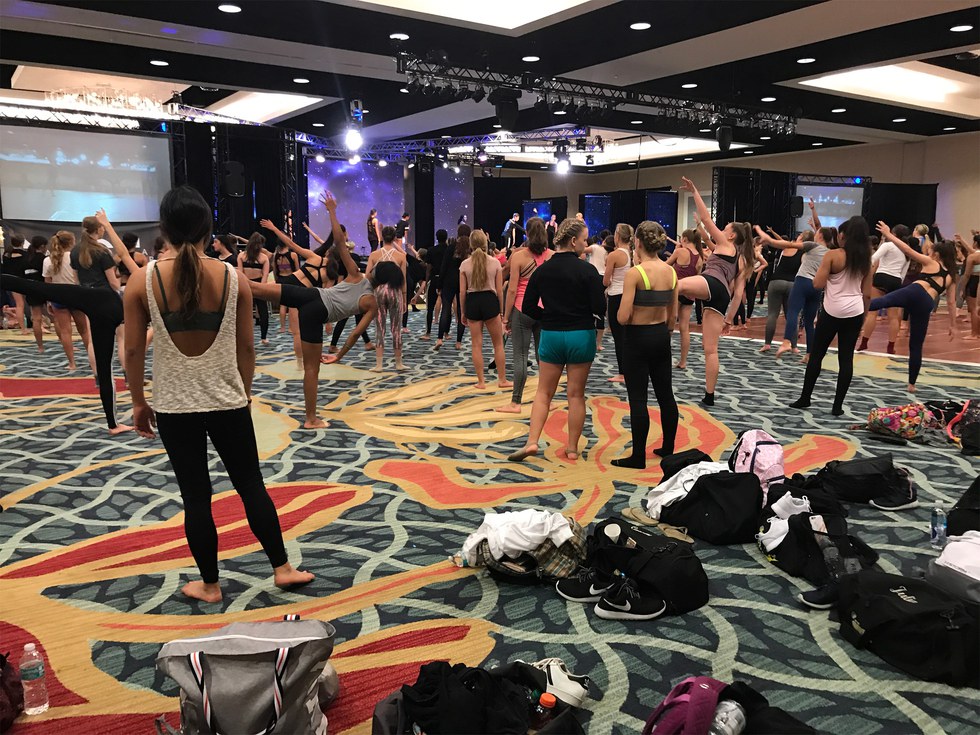 By comparison, a conversation is about 60 dBs, while an ambulance siren measures at 120, too loud to be exposed to for any length of time.
We can hear 85 decibels (i.e. vacuum cleaner) safely for 8 hours without protection. For every 3 decibels more, safe exposure time goes down by half. So at 88 dBs, you are safe for 4 hours, at 91 dB, 2 hours, and so on. However, continuous exposure to 100 dBs may cause permanent hearing loss: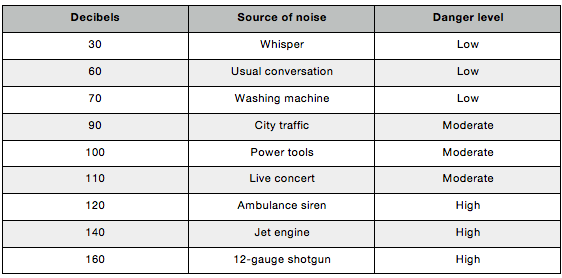 So how can dancers and their teachers protect their ears?
1. Measure the sound in your studio or convention with a smartphone app. If the decibels are into the 100 dB range, let someone at the organization know.
2. Turn the sound down. A dancer can listen to 94 decibels for a 60-minute class safely. At only 9 more decibels, that time goes down to 7.5 minutes. A little goes a long way.
3. Wear hi-fidelity earplugs. They reduce decibels but keep the sound clear. This can be especially useful for teachers and competition judges, who are exposed for long periods of time. Popular brands include Vibes and Hearos.
4. Rest your ears after loud noise exposure. Research suggests that 18 hours of quiet after loud noise exposure can help your ears recover faster.
5. Get your hearing checked—especially if you're a teacher or choreographer. Find an audiologist near you through audiology.org
No treatment exists today that can restore lost hearing. Don't get hurt listening while you're busy dancing.
PC Lydia Daniller, Courtesy Dorsey
I love being transgender. It's an important part of the story of why I choreograph. Although I loved dance from a very young age, I grew up never seeing a single person like me in dance. So how could I imagine a future for myself there?
The enormous barriers I had to overcome weren't internal: I didn't struggle with feelings of dysphoria, and I wasn't locked down by shame.
Keep reading...
Show less
News
Feb. 16, 2018 02:45PM EST
via Facebook
The dance community is heartbroken to learn that 14-year-olds Jaime Guttenberg and Cara Loughran were among the 17 people killed during the February 14 shooting at Marjory Stoneman Douglas High School in Parkland, FL.
Guttenberg was a talented competition dancer at Dance Theatre in Coconut Creek, FL, according to a report from Sun Sentinel. Dance Theatre owner Michelle McGrath Gerlick shared the below message on her Facebook page, encouraging dancers across the country to wear orange ribbons this weekend in honor of Guttenberg, whose favorite color was orange.
Keep reading...
Show less
Gaga teacher Amy Morrow says investigative styles can help any dancer. PC Ascaf Avraham
In today's dance world, it seems to go without saying: The more varied the training, the better. But is that always the case? Rhonda Malkin, a New York City–based dance coach who performed with the Radio City Rockettes, thinks trendy contemporary techniques that emphasize improvisation and organic movement quality are detrimental to the precision and strength needed to be a Rockette, in a traditional Broadway show or on a professional dance team. Her view is controversial: "If you really want to work, making $40,000 in three months for the Rockettes or $25,000 in one day filming a commercial, you need ballet, Broadway jazz, tap, hip hop—not contemporary," she says.
On the flip side, techniques that allow dancers more freedom may help them connect more deeply with their body and artistry, while providing release for overused muscles. We broke down the argument for both sides:
Keep reading...
Show less
How do you warmup? Photo by Jim Lafferty
For many dancers, a "warmup" consists of sitting on the floor stretching their legs in various positions. But this strategy only reduces your muscles' ability to work properly—it negatively affects your strength, endurance, balance and speed for up to an hour.
Save your flexibility training for the end of the day. Instead, follow a warmup that will actually help prevent injury and improve your body's performance.
According to the International Association of Dance Medicine and Science, a smart warmup has four parts: "a gentle pulse-raising section, a joint mobilization section, a muscle lengthening section and a strength/balance building section."
Keep reading...
Show less
Breaking
Feb. 16, 2018 12:17PM EST
Former NYCB ballet master in chief Peter Martins resigned in January in the midst of an investigation into allegations of harassment and abuse. Photo by Paul Kolnik, Courtesy NYCB
A statement released yesterday by New York City Ballet and School of American Ballet reported that an independent investigation was unable to corroborate allegations of harassment and abuse against former ballet master in chief Peter Martins, according to The New York Times. This marks the end of a two-month inquiry jointly launched by the two organizations in December following an anonymous letter detailing instances of harassment and violence.
The statement also included new policies for both the company and school to create safer, more respectful environments for the dancers, including hiring an independent vendor to handle employee complaints anonymously. These changes are being made despite the independent investigation, handled by outside counsel Barbara Hoey, purportedly finding no evidence of abuse.
Keep reading...
Show less
Lauren Lovette, photographed by Jayme Thornton
Not all ballet dancers cling to their youth. At 26, Lauren Lovette, the New York City Ballet principal, has surpassed the quarter-century mark. And she's relieved.
"I've never felt young," she says. "I can't wait until I'm 30. Every woman I've ever talked to says that at 30 you just don't care. You're free. Maybe I'll start early?"
Keep reading...
Show less


Get Dance Magazine in your inbox