Inside Daniil Simkin's New Guggenheim Project
Jim Lafferty
Late one Friday night, Daniil Simkin and Cassandra Trenary are running a new duet inside the Frank Lloyd Wright–designed rotunda in New York City's Guggenheim Museum. Trenary drops her weight back into Simkin's arms and lets him slide her, spinning, into the ground. They clasp hands like children to pull each other close, an intimate moment that lasts for a breath before it slips away, lost in a cascade of slippery, detailed movement.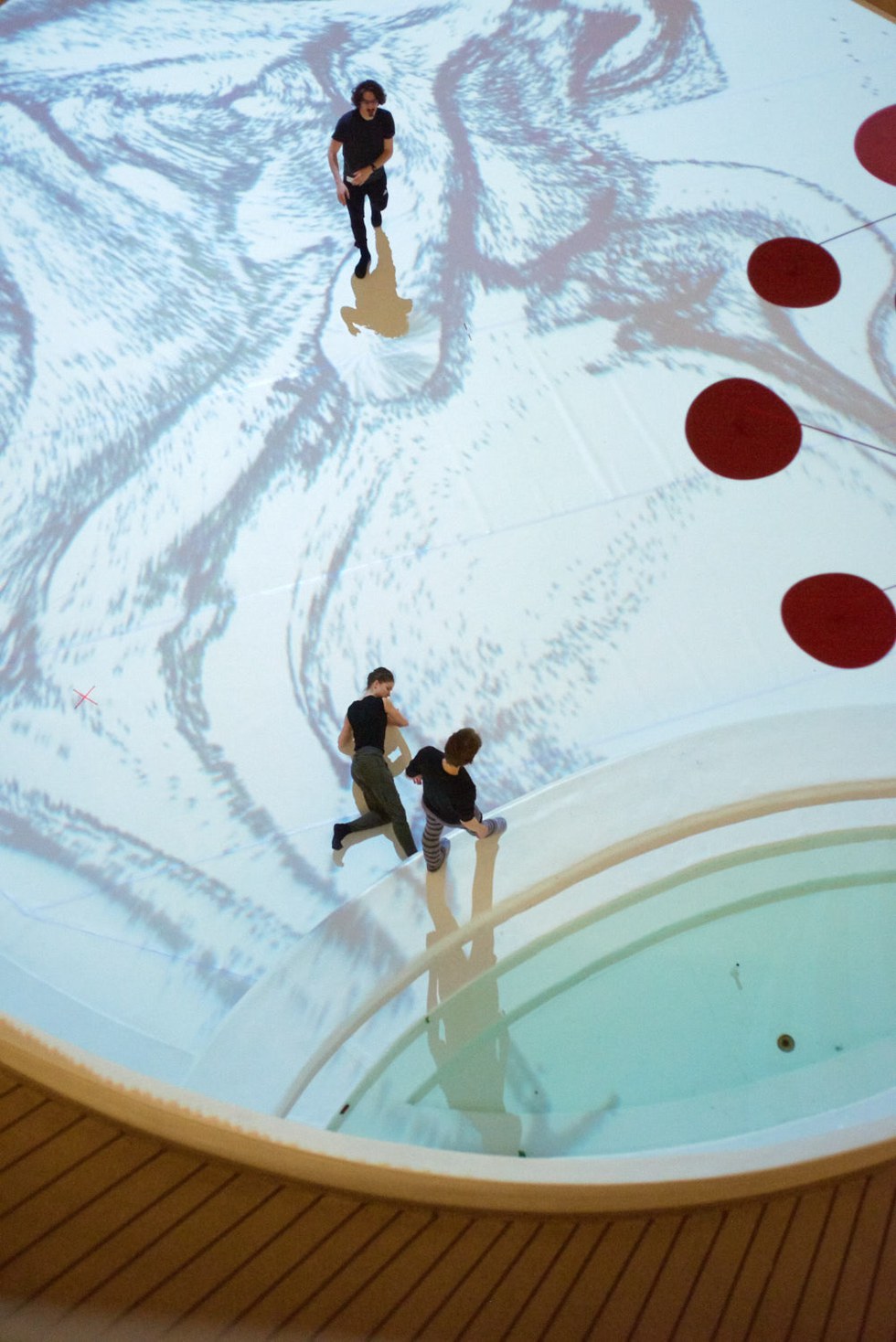 Alejandro Cerrudo (top) directing Simkin and Trenary. Photo by Jim Lafferty
Viewed from several stories up, Alejandro Cerrudo's gliding, seamless partnering becomes otherworldly. The dancers stir vaporous clouds or cast multi-hued shadows which battle each other for primacy—depending on what effect the video team is experimenting with at the moment.
---
The two American Ballet Theatre dancers, alongside Hubbard Street Dance Chicago's Ana Lopez and Andrew Murdock, are at work on Falls the Shadow, set to premiere September 4-5. (Brett Conway has stepped in for Murdock, who appears in these rehearsal images.) The site-specific piece, which will feature costumes designed for the project by Dior, was commissioned by Works & Process at the Guggenheim as part of its new Rotunda Projects initiative.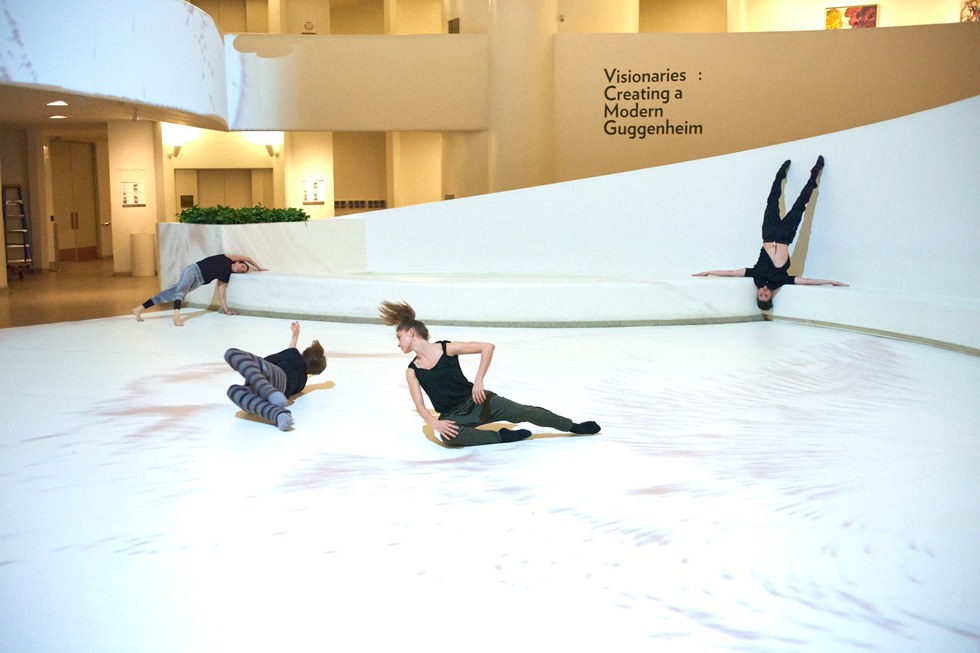 Jim Lafferty
Though Simkin's project is the second to premiere since the program was announced last summer (Michelle Dorrance performed the inaugural work in February), in some ways it's the original: Simkin and his father, Dmitrij, helped spark the push for new dance works created in and for the rotunda when they asked about 3-D–mapping at the Guggenheim.
The idea is for video designed by the elder Simkin to be projected onto the floor and the ramp that spirals up the edges of the space, reacting in real-time to the dancers and amplifying their movement to fill the massive seven-story structure as the audience looks down from above. Though Cerrudo had not previously worked with multimedia, the choreographer leapt at the chance to work with the ABT star and was intrigued by the possibilities presented by this particular project in which video and dance "have reason for coexisting together and enhancing each other."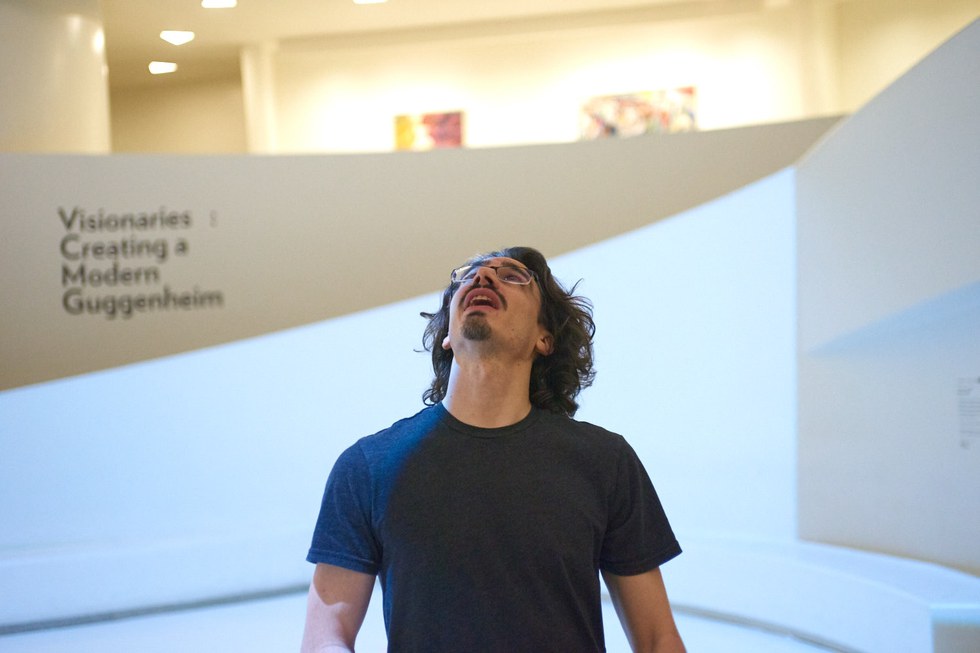 Alejandro Cerrduo. Photo by Jim Lafferty
The projections add another layer of complexity to an already intricate set of logistics. Though Cerrudo and the dancers have created substantial movement material in studios both in New York and Chicago, rehearsals in the rotunda are vital to making the marriage of the choreography, projections and space work. But these are entirely contingent upon the museum's opening hours, after-hour events and load-in/striking schedule for exhibitions—in other words, limited. They enter the museum at 6 pm so the marley and video projectors can be set up; the dancers get into the space around 7 pm, and Cerrudo spends the following five hours switching between working with the dancers on the floor and watching from above, conferring with Dmitrij on new projection designs.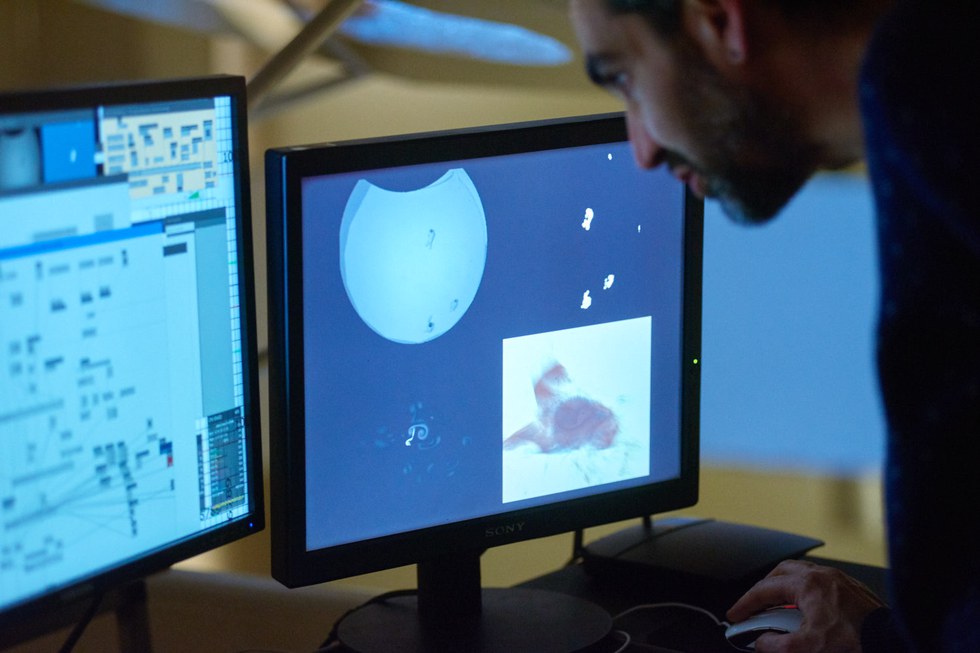 At work on the real-time projections. Photo by Jim Lafferty
The peculiar acoustics of the space make communication between the floor and the ramp challenging; there's an additional lag caused by the security caveat that Cerrudo must be accompanied by a staff member every time he ascends the ramp. By 11 pm, the dancers are mostly marking while the video staff races against the clock to tweak designs. When midnight rolls around, everything has to be reset so the museum can open the next morning.
"It's quite draining," Daniil says matter-of-factly. "You need sort of a different energy than our usual days, when we have class in the mornings, so it's a bit of a shock to the system. But we're making it work!"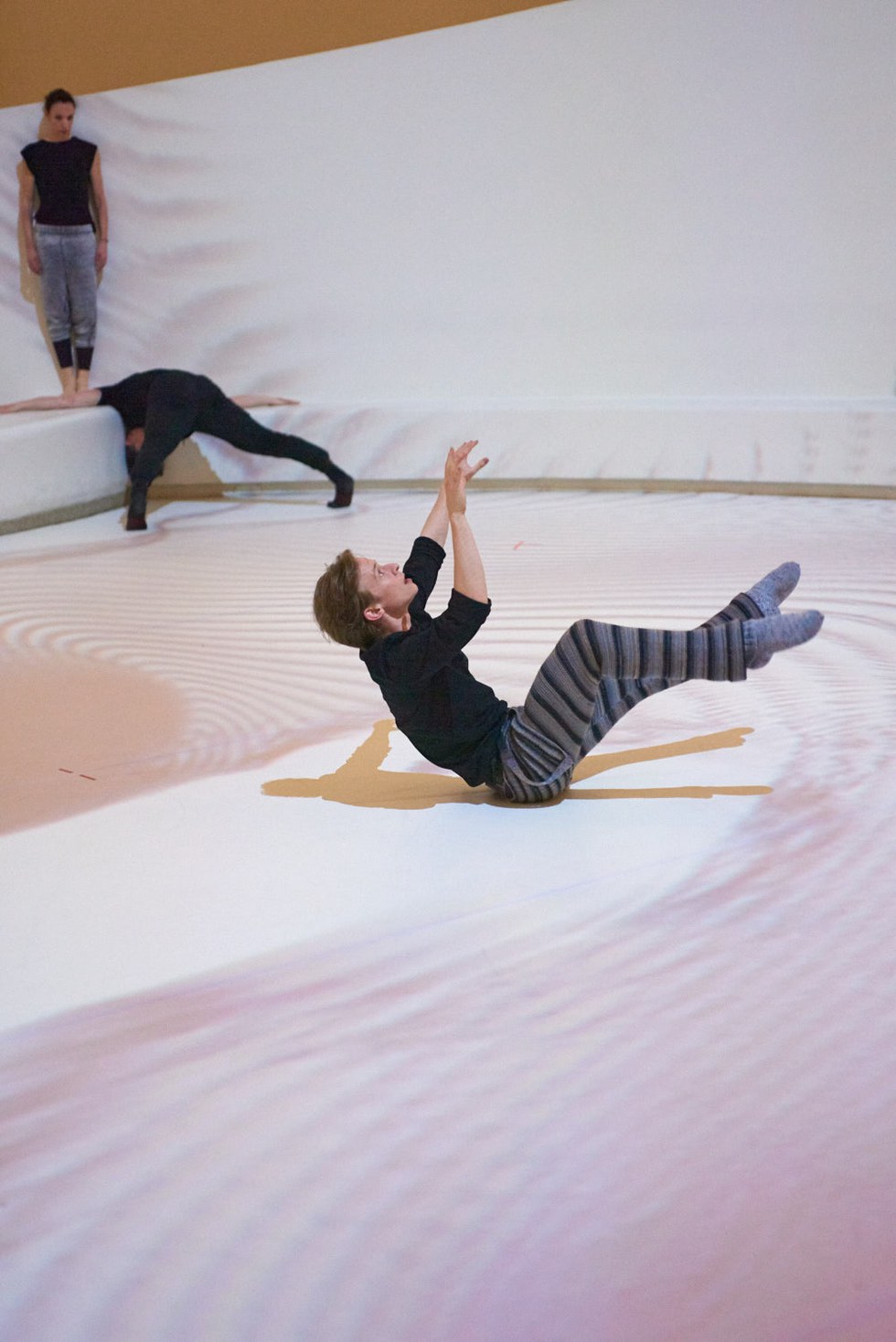 Daniil Simkin and cast. Photo by Jim Lafferty
"This is the first time that I'm rehearsing in socks! Which I'm very happy about," he adds. "You have a different traction, you've got to get into the ground a bit more, be more in tune with your core in a different sense than in ballet."
Schedules being what they are, the creative trio have much left to do entering their final block of rehearsals in late August. "There's still a lot to figure out, and many things could drastically change," Cerrudo says. "I don't set things one day and it stays like that until the premiere. I change—and change my mind—a lot. We're discovering an atmosphere, a world, that we're creating."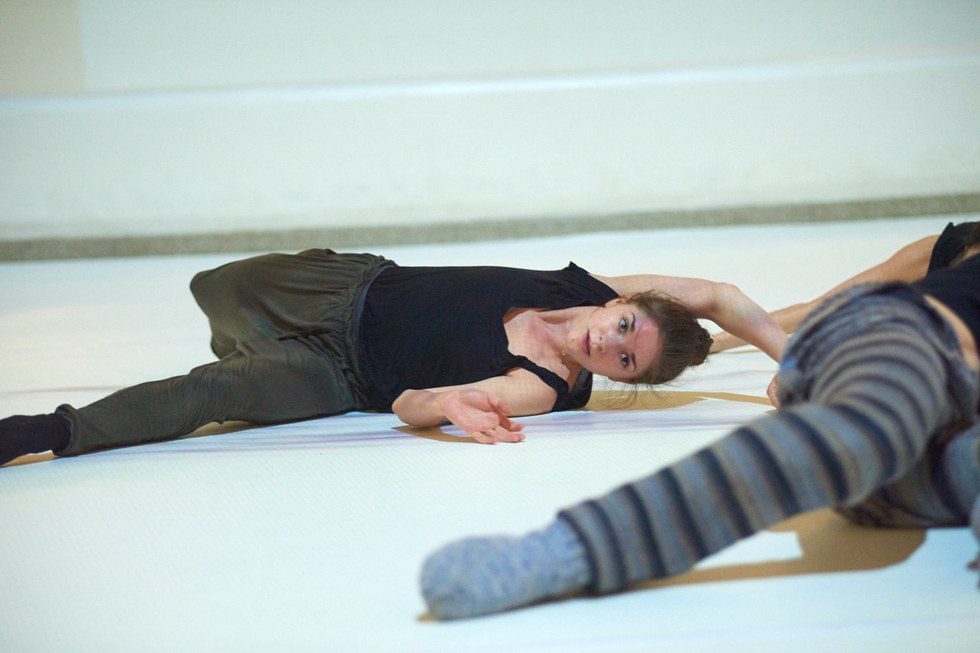 Cassandra Ternary. Photo by Jim Lafferty
Ka'et Contemporary Dance Ensemble in the studio. Still from IFAF documentary.
Mash-ups aren't uncommon in the dance world: Performers of varying styles have been known to share the stage, from ballerina Tiler Peck and famed clown Bill Irwin to Michelle Dorrance, who's mixed tappers and break-dancers. Likewise, collaborations between choreographers and artists from seemingly mismatched disciplines have produced magical creations, such as Alexei Ratmansky's Whipped Cream, featuring Mark Ryden's whimsical and even grotesque designs and costumes.
But the Israeli troupe Ka'et Contemporary Dance Ensemble has found success in one of the most unlikely partnerships: Secular contemporary choreographer Ronen Itzhaki creates movement for a group of rabbis.
Keep reading...
Show less
via Instagram
While undoubtedly best known for her dancing, American Ballet Theatre principal Isabella Boylston has also been getting noticed for her style by Allure and Vogue—and with good reason. Her Instagram feed features a mix of on-trend athleisure wear and detailed dresses from runway designers like Valentino and Anna Sui, none of which would be complete without the makeup and hair to match. With a penchant for skin care and an ever-growing lipstick collection, Boylston talked us through some of her beauty must-haves on and off the stage.
Photo by Jayme Thornton
Keep reading...
Show less
BalletMet in company class onstage before a show. Photo by Jennifer Zmuda, courtesy BalletMet
Before she became the 20th century's most revered ballet pedagogue, Agrippina Vaganova was a frustrated ballerina. "I was not progressing and that was a terrible thing to realize," she wrote in a rough draft of her memoirs.
She retired from the Imperial Ballet stage in 1916, and for the next 30-plus years, devoted herself to creating a "science of ballet." Her new, dynamic teaching method produced stars like Rudolf Nureyev, Alla Osipenko, and Galina Ulanova and later Natalia Makarova and Mikhail Baryshnikov. And her approach continues to influence how we think about ballet training to this day.
But is the ballet class due for an update? Demands and aesthetics have changed. So should the way dancers train change too?
Keep reading...
Show less
How do you warmup? Photo by Jim Lafferty
For many dancers, a "warmup" consists of sitting on the floor stretching their legs in various positions. But this strategy only reduces your muscles' ability to work properly—it negatively affects your strength, endurance, balance and speed for up to an hour.
Save your flexibility training for the end of the day. Instead, follow a warmup that will actually help prevent injury and improve your body's performance.
According to the International Association of Dance Medicine and Science, a smart warmup has four parts: "a gentle pulse-raising section, a joint mobilization section, a muscle lengthening section and a strength/balance building section."
Keep reading...
Show less
Charlie Sutton's "Baby, You Knock Me Out." Photo by Steven Rosen, Courtesy DanceBreak.
DanceBreak came roaring back to life on Monday after seven years on hiatus, and six choreographers now have the opportunity to be the next Andy Blankenbuehler. Or Joshua Bergasse, Kelly Devine, Casey Nicholaw, Josh Prince or Josh Rhodes. These stellar Broadway choreographers all got their first big shows after Melinda Atwood's musical-theater launching pad let them show the industry what they could do.
Since 2002, DanceBreak has been a sort of "So You Think You Can Choreograph" for Broadway. Although not everyone goes straight there—Mandy Moore and Mia Michaels are alumni, too—the program is meant to funnel talented choreographers to the Broadway stage by providing a platform for their work. Prince, who introduced Atwood to the cheering crowd, has paid DanceBreak the ultimate compliment, creating his own non-profit incubator for theater choreographers, Broadway Dance Lab. On Monday, he recalled the story of how he was offered the role of choreographer on Broadway's Shrek just days after its director saw the 2007 edition.
Keep reading...
Show less
Stretching feet the wrong way will only lead to injury. Photo by Thinkstock
When caring for your feet or trying to make them look good, it's tempting to seek shortcuts. Bad ideas—like dangerous stretches that promise perfect lines or ointments that were never meant to go on your toes—catch on all too easily backstage.
We asked podiatrists who've seen their dance clients try it all share the habits they'd like to see gone for good.
Keep reading...
Show less


Get Dance Magazine in your inbox