Dancer Voices
Feb. 06, 2018 10:50AM EST
How Illness Made Me Realize That What I Love Most Is Going To The Ballet
A collection of the author's programs
I've had a sticky note on my desk since 2013 with a horoscope that reads, "What would you do if you made happiness your number one priority?"
Like many things in life, at least for me, there is no single, simple answer to that question, which is perhaps why it's still sitting there.
The past year, I was very sick. You wouldn't have necessarily known it to look at me, but I was. The kind of sick that prompts soul-searching, and meaning-of-life searching. The kind of sick that has you thinking, "There has to be a takeaway from this awful experience; I can't have gone through this for nothing."
---
So I started thinking about what I liked, what I enjoyed—in part because it seemed like a positive way to get through six miserable months of treatment. I like a whole lot of things, chief among them dessert and Harper's Bazaar UK. But what I really like is going to the ballet.
This was not a shocking realization.
Many of my best memories are of wonderful performances—the first time I saw The Royal Ballet, seeing Alessandra Ferri in Manon, watching my friends dance their first principal roles in Nutcracker. Going to the ballet has in many ways defined my life. Performances I have seen serve as landmarks when I look back. I've traveled across the country just to go to the ballet, as I did last summer when I went to see Jewels at Lincoln Center. And if I'm already planning a trip, I always make sure that there is a performance to see while I'm there.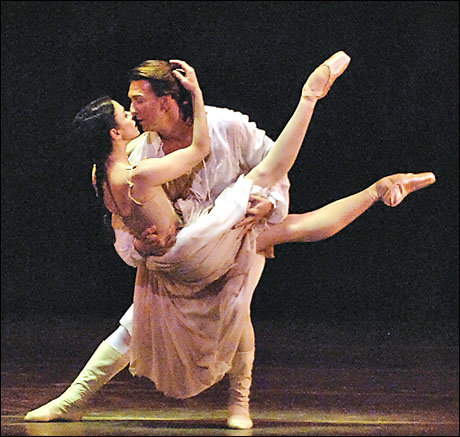 Alessandra Ferri and Julio Bocca in Manon. Photo by Gene Schiavone
When I was in my first year in Nashville Ballet 2, artistic director Paul Vasterling choreographed Carmina Burana. I wasn't cast in it, and I wasn't understudying it either. I was disappointed—but also, secretly, relieved. I could tell that Carmina was going to be a big production, and I deliberately didn't watch rehearsals, wanting to wait and see it onstage.
And when I did—oh, what a thrill! The ballet was a spectacle, by turns dramatic and romantic. When the curtain came down, the audience leapt to its feet. As I stood applauding with the crowd, I felt genuine pleasure to be an audience member. My delight at watching was as great as what I felt when dancing.
Anyway, I was sick, although I felt well enough to go to the ballet. And it just so happens that I work for a ballet company, Smuin Contemporary American Ballet, and that in addition to all of Smuin's performances, I was sick during San Francisco Ballet's season. So between November and May, I saw a total of 17 ballets at SFB, of which 13 were new to me and four were world premieres. Two performances featured retirements, which is always a special thing to see. At Smuin, I saw The Christmas Ballet and Dance Series 02 about a dozen times each.
When Dance Series 02 ended, I felt like I was in withdrawal. I'd gotten accustomed to watching those ballets every night! When the curtain went up, I would fall into the world onstage while my realities melted away. For those two hours, I was free. I wasn't a patient or a carefully contained wreck. I was just me, sitting in the dark, watching the dancers move.
The famous line from A Chorus Line, "Everything is beautiful at the ballet"—maybe this is what the character meant. Not merely that ballet is beautiful, but that whatever unpleasantness is present in your life dissipates while watching it. The magic of the theater is that you can leave your life behind.
Now that I'm done with treatment and moving forward, it's time to prioritize happiness. To that end, I launched Going to the Ballet. I'll be writing about performances I see and, hopefully, interviewing people about why they go.
If we can express why we love ballet, perhaps we can get other people to love it too. I hope to see you at the ballet!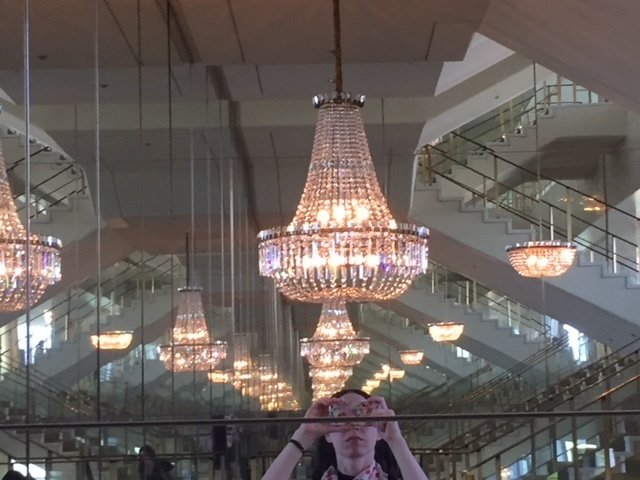 The author taking a photo at a BalletNext performance
BalletMet in company class onstage before a show. Photo by Jennifer Zmuda, courtesy BalletMet
Before she became the 20th century's most revered ballet pedagogue, Agrippina Vaganova was a frustrated ballerina. "I was not progressing and that was a terrible thing to realize," she wrote in a rough draft of her memoirs.
She retired from the Imperial Ballet stage in 1916, and for the next 30-plus years, devoted herself to creating a "science of ballet." Her new, dynamic teaching method produced stars like Rudolf Nureyev, Alla Osipenko, and Galina Ulanova and later Natalia Makarova and Mikhail Baryshnikov. And her approach continues to influence how we think about ballet training to this day.
But is the ballet class due for an update? Demands and aesthetics have changed. So should the way dancers train change too?
Keep reading...
Show less
PC Lydia Daniller, Courtesy Dorsey
I love being transgender. It's an important part of the story of why I choreograph. Although I loved dance from a very young age, I grew up never seeing a single person like me in dance. So how could I imagine a future for myself there?
The enormous barriers I had to overcome weren't internal: I didn't struggle with feelings of dysphoria, and I wasn't locked down by shame.
Keep reading...
Show less
How do you warmup? Photo by Jim Lafferty
For many dancers, a "warmup" consists of sitting on the floor stretching their legs in various positions. But this strategy only reduces your muscles' ability to work properly—it negatively affects your strength, endurance, balance and speed for up to an hour.
Save your flexibility training for the end of the day. Instead, follow a warmup that will actually help prevent injury and improve your body's performance.
According to the International Association of Dance Medicine and Science, a smart warmup has four parts: "a gentle pulse-raising section, a joint mobilization section, a muscle lengthening section and a strength/balance building section."
Keep reading...
Show less
Screenshot via YouTube
Keep reading...
Show less
News
Feb. 16, 2018 02:45PM EST
via Facebook
The dance community is heartbroken to learn that 14-year-olds Jaime Guttenberg and Cara Loughran were among the 17 people killed during the February 14 shooting at Marjory Stoneman Douglas High School in Parkland, FL.
Guttenberg was a talented competition dancer at Dance Theatre in Coconut Creek, FL, according to a report from Sun Sentinel. Dance Theatre owner Michelle McGrath Gerlick shared the below message on her Facebook page, encouraging dancers across the country to wear orange ribbons this weekend in honor of Guttenberg, whose favorite color was orange.
Keep reading...
Show less
Breaking
Feb. 16, 2018 12:17PM EST
Former NYCB ballet master in chief Peter Martins resigned in January in the midst of an investigation into allegations of harassment and abuse. Photo by Paul Kolnik, Courtesy NYCB
A statement released yesterday by New York City Ballet and School of American Ballet reported that an independent investigation was unable to corroborate allegations of harassment and abuse against former ballet master in chief Peter Martins, according to The New York Times. This marks the end of a two-month inquiry jointly launched by the two organizations in December following an anonymous letter detailing instances of harassment and violence.
The statement also included new policies for both the company and school to create safer, more respectful environments for the dancers, including hiring an independent vendor to handle employee complaints anonymously. These changes are being made despite the independent investigation, handled by outside counsel Barbara Hoey, purportedly finding no evidence of abuse.
Keep reading...
Show less


Get Dance Magazine in your inbox