On Sunday, the dance world lost a gentle giant: Dr. Charles R. Davis, known to most as "Baba Chuck," the man who bridged the world of African dance and drumming between Africa and America.
Davis, 80, died from complications due to cancer. As founder and artistic director of the African American Dance Ensemble (1983) and DanceAfrica (1977), he'd become everyone's mentor and teacher. He stood an impressive 6' 5'', and always had room for one more hug.
---
Born in Raleigh, North Carolina, he came to dance after taking classes at Howard University, studying with pioneers such as Katherine Dunham, Pearl Primus and the 6' 6"-tall performer Geoffrey Holder, with whom he learned to embrace his height. Baba Chuck later danced with companies formed by Babatunde Olatunji, Eleo Pomare and Bernice Johnson, among others. In 1964, he saw the Sierra Leone National Dance Company perform at New York World's Fair, then in 1968 formed the Chuck Davis Dance Company.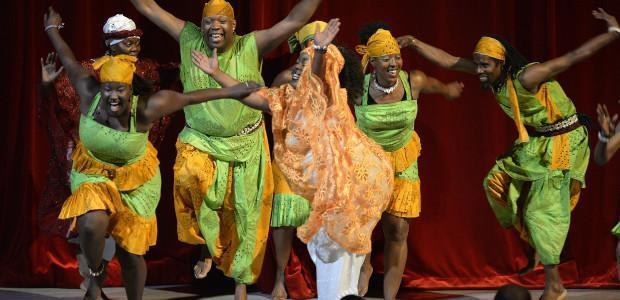 Davis taught African Dance & Drumming classes at ADF
In 1977 when he took his company to Nigeria. This marked the beginning of years of travel and study, and the beginning of DanceAfrica at Brooklyn Academy of Music. Mikki Shepard, the original producer of DanceAfrica recalls, "Chuck Davis built a village. From the very beginning, DanceAfrica was never meant to be just a festival of dance, music, and vendors. For Chuck Davis it was always about building and nourishing community, exchanging ideas, building knowledge, and celebrating and passing on the cultural traditions of Africa and the African diaspora while creating new traditions. The heartbeat of Chuck Davis's village is dance and music."
Baba Chuck was an endearing, yet powerful force to everyone from his colleagues at the International Association of Blacks in Dance, to the very young dancers at BAM/Restoration. Denise Saunders Thompson, president and CEO of IABD remembers: "He helped lay the groundwork for IABD and made sure all benefited from what he had to give. At the close of every conference, he would bring us together in a circle, made us join hands, and repeat "Peace, love, respect ... for everybody!" A mantra that is repeated at every DanceAfrica performance."
For his decades of unwavering service, among many accolades, Baba Chuck received awards from Dance Magazine and The Bessies, plus an honorary doctorate from Medgar Evers College. He is cited as one of America's "Irreplaceable Dance Treasures" by the Dance Heritage Coalition, American Dance Festival dedicated its 2015 season to him, and in 2016, BAM established the "Chuck Davis Emerging Choreographer Fellowship."
Three years ago, Abdel R.Salaam was named Baba Chuck's successor to DanceAfrica. Salaam says, "Forty years ago, Chuck brought many of us together to demonstrate how important the practice of African dance and music are to the living intelligence of African-Americans. He truly believed that dance and music is cultural medicine that has a universal value."
True to form, dance and music remained his medicine until his last days. After one last visit with Baba Chuck, Saunders Thompson says, "We just listened to his stories. Though he was frail, he was lucid and jovial, talking about his next choreographic work, travels to DanceAfrica, his clothes, and even his false teeth. And when I kissed him on his cheeks, and held his face in my hands, his eyes said that everything was going to be all right. I was comforted by his faith."
Baba Chuck's legacy lives on in so many of us.
"Chuck Davis realized his big vision and leaves a unique legacy in dance. Unique because he leaves behind a village of people who don't just attend or perform in DanceAfrica, they own it," Shepard says.
"The love Chuck and I shared is like that of father and son," says Salaam. For DanceAfrica, now in its 40th year, he adds, "As I continue to build on his legacy and trace a path of my own, I will always be true to his vision."
Johns' Map
Before too long, dancers and choreographers will get to create on the luxurious 170-acre property in rural Connecticut that is currently home to legendary visual artist Jasper Johns.
If you think that sounds far more glamorous than your average choreographic retreat, you're right. Though there are some seriously generous opportunities out there, this one seems particularly lavish.
Keep reading...
Show less
Ashley Ellis, photo by Albert Ayzenberg, courtesy of Ashley Ellis
Every dancer has learned—probably the hard way—that healthy feet are the foundation of a productive and happy day in the studio. As dancers, our most important asset has to carry the weight (literally) of everything we do. So it's not surprising that most professional dancers have foot care down to an art.
Three dancers shared their foot-care products they can't live without.
Keep reading...
Show less
popular
Sep. 21, 2017 04:49PM EST
via Instagram, Company Cooperative
Dancers trying their hand at designing is nothing new. But they do tend to stick with studio or performance-wear (think Miami City Ballet's Ella Titus and her line of knit warm-ups or former NYCB dancer Janie Taylor and her ballet costumes). But several dancers at American Ballet Theatre—corps members Jamie Kopit, Erica Lall, Katie Boren, Katie Williams, Lauren Post, Zhong-Jing Fang and soloist Cassandra Trenary—are about to launch a fashion line that's built around designs that can be worn outside of the studio. Titled Company Cooperative, the luxe line of women's wear is handmade in New York City's garment district and designed by the dancers themselves.
Keep reading...
Show less
A still from Duet, via CNN Style
Royal Ballet dancers Yasmine Naghdi and Beatriz Stix-Brunell recently got together for a different kind of performance: no decadent costumes, sets, stage makeup or lighting. Instead, the principal and first soloist danced choreography by principal character artist Kristen McNally in a stark studio.
The movement is crystal clear, and at the beginning, Naghdi and Stix-Brunell duck and weave around each other with near vacant stares. Do they even know they have a partner? And how should they interact? The situation raises a much larger question: How often do we see a female duet in ballet?
Keep reading...
Show less


Get Dance Magazine in your inbox