On Sunday, the dance world lost a gentle giant: Dr. Charles R. Davis, known to most as "Baba Chuck," the man who bridged the world of African dance and drumming between Africa and America.
Davis, 80, died from complications due to cancer. As founder and artistic director of the African American Dance Ensemble (1983) and DanceAfrica (1977), he'd become everyone's mentor and teacher. He stood an impressive 6' 5'', and always had room for one more hug.
---
Born in Raleigh, North Carolina, he came to dance after taking classes at Howard University, studying with pioneers such as Katherine Dunham, Pearl Primus and the 6' 6"-tall performer Geoffrey Holder, with whom he learned to embrace his height. Baba Chuck later danced with companies formed by Babatunde Olatunji, Eleo Pomare and Bernice Johnson, among others. In 1964, he saw the Sierra Leone National Dance Company perform at New York World's Fair, then in 1968 formed the Chuck Davis Dance Company.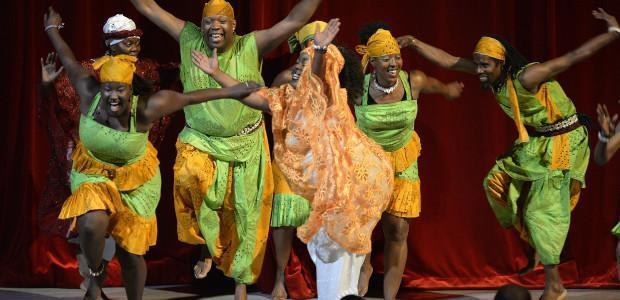 Davis taught African Dance & Drumming classes at ADF
In 1977 when he took his company to Nigeria. This marked the beginning of years of travel and study, and the beginning of DanceAfrica at Brooklyn Academy of Music. Mikki Shepard, the original producer of DanceAfrica recalls, "Chuck Davis built a village. From the very beginning, DanceAfrica was never meant to be just a festival of dance, music, and vendors. For Chuck Davis it was always about building and nourishing community, exchanging ideas, building knowledge, and celebrating and passing on the cultural traditions of Africa and the African diaspora while creating new traditions. The heartbeat of Chuck Davis's village is dance and music."
Baba Chuck was an endearing, yet powerful force to everyone from his colleagues at the International Association of Blacks in Dance, to the very young dancers at BAM/Restoration. Denise Saunders Thompson, president and CEO of IABD remembers: "He helped lay the groundwork for IABD and made sure all benefited from what he had to give. At the close of every conference, he would bring us together in a circle, made us join hands, and repeat "Peace, love, respect ... for everybody!" A mantra that is repeated at every DanceAfrica performance."
For his decades of unwavering service, among many accolades, Baba Chuck received awards from Dance Magazine and The Bessies, plus an honorary doctorate from Medgar Evers College. He is cited as one of America's "Irreplaceable Dance Treasures" by the Dance Heritage Coalition, American Dance Festival dedicated its 2015 season to him, and in 2016, BAM established the "Chuck Davis Emerging Choreographer Fellowship."
Three years ago, Abdel R.Salaam was named Baba Chuck's successor to DanceAfrica. Salaam says, "Forty years ago, Chuck brought many of us together to demonstrate how important the practice of African dance and music are to the living intelligence of African-Americans. He truly believed that dance and music is cultural medicine that has a universal value."
True to form, dance and music remained his medicine until his last days. After one last visit with Baba Chuck, Saunders Thompson says, "We just listened to his stories. Though he was frail, he was lucid and jovial, talking about his next choreographic work, travels to DanceAfrica, his clothes, and even his false teeth. And when I kissed him on his cheeks, and held his face in my hands, his eyes said that everything was going to be all right. I was comforted by his faith."
Baba Chuck's legacy lives on in so many of us.
"Chuck Davis realized his big vision and leaves a unique legacy in dance. Unique because he leaves behind a village of people who don't just attend or perform in DanceAfrica, they own it," Shepard says.
"The love Chuck and I shared is like that of father and son," says Salaam. For DanceAfrica, now in its 40th year, he adds, "As I continue to build on his legacy and trace a path of my own, I will always be true to his vision."
Only you can truly decide if you're ready to start your career. Photo by Thinkstock.
My dance coach wants my word that I'll keep competing under his school's name for the next year and not audition. I'm 18 years old and already doing lead roles and winning medals. I love his teaching, but shouldn't I be ready to go out and get a job?
—Gil, Las Vegas, NV
Keep reading...
Show less
Ballet of Difference is now home to a number of Cedar Lake alumni, such as Matthew Min Rich and Ebony Williams, here in Richard Siegal's Pop HD. Photo by Ray Demski, Courtesy Siegal
How do we make ballet, a traditionally homogeneous art form, relevant to and reflective of an increasingly diverse and globalized era? While established companies are shifting slowly, Richard Siegal/Ballet of Difference, though less than 2 years old, has something of a head start. The guiding force of the company, which is based in Germany, is bringing differences together in the same room and, ultimately, on the same stage.
Keep reading...
Show less
BalletMet in company class onstage before a show. Photo by Jennifer Zmuda, courtesy BalletMet
Before she became the 20th century's most revered ballet pedagogue, Agrippina Vaganova was a frustrated ballerina. "I was not progressing and that was a terrible thing to realize," she wrote in a rough draft of her memoirs.
She retired from the Imperial Ballet stage in 1916, and for the next 30-plus years, devoted herself to creating a "science of ballet." Her new, dynamic teaching method produced stars like Rudolf Nureyev, Alla Osipenko, and Galina Ulanova and later Natalia Makarova and Mikhail Baryshnikov. And her approach continues to influence how we think about ballet training to this day.
But is the ballet class due for an update? Demands and aesthetics have changed. So should the way dancers train change too?
Keep reading...
Show less
How do you warmup? Photo by Jim Lafferty
For many dancers, a "warmup" consists of sitting on the floor stretching their legs in various positions. But this strategy only reduces your muscles' ability to work properly—it negatively affects your strength, endurance, balance and speed for up to an hour.
Save your flexibility training for the end of the day. Instead, follow a warmup that will actually help prevent injury and improve your body's performance.
According to the International Association of Dance Medicine and Science, a smart warmup has four parts: "a gentle pulse-raising section, a joint mobilization section, a muscle lengthening section and a strength/balance building section."
Keep reading...
Show less
Sidi Larbi Cherkaoui's Harbor Me. Photo by Laurence Phillipe, Courtesy Joyce Theater
Claude Debussy's only completed opera, Pelléas et Mélisande, emphasizes clarity and subtlety over high-flung drama as a deadly love triangle unfolds. Opera Vlaanderen and Royal Ballet of Flanders are commemorating the 100th anniversary of the composer's death with a new production of the landmark opera that is sure to be anything but traditional: Sidi Larbi Cherkaoui and Damien Jalet are choreographing and directing, while boundary-pushing performance artist Marina Abramović collaborates on the design. Antwerp, Feb. 2–13. Ghent, Feb. 23–March 4. operaballet.be/en.
Jumatatu Poe's Let 'im Move You. PC Theo Cote, via 18th Street Arts Center
Black History Month offers a time to reflect on the artists who have shaped the dance field as we know it today. But equally important is celebrating the black artists who represent the next generation. These seven up-and-comers are making waves across all kinds of styles and across the country:
Keep reading...
Show less


Get Dance Magazine in your inbox