On Sunday, the dance world lost a gentle giant: Dr. Charles R. Davis, known to most as "Baba Chuck," the man who bridged the world of African dance and drumming between Africa and America.
Davis, 80, died from complications due to cancer. As founder and artistic director of the African American Dance Ensemble (1983) and DanceAfrica (1977), he'd become everyone's mentor and teacher. He stood an impressive 6' 5'', and always had room for one more hug.
---
Born in Raleigh, North Carolina, he came to dance after taking classes at Howard University, studying with pioneers such as Katherine Dunham, Pearl Primus and the 6' 6"-tall performer Geoffrey Holder, with whom he learned to embrace his height. Baba Chuck later danced with companies formed by Babatunde Olatunji, Eleo Pomare and Bernice Johnson, among others. In 1964, he saw the Sierra Leone National Dance Company perform at New York World's Fair, then in 1968 formed the Chuck Davis Dance Company.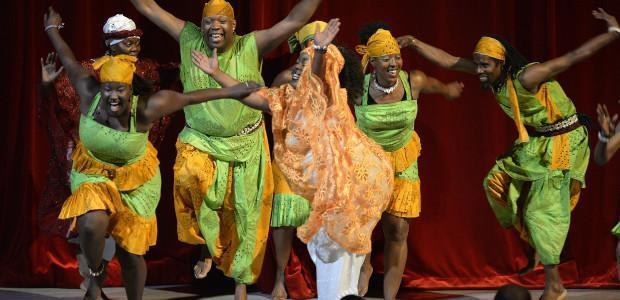 Davis taught African Dance & Drumming classes at ADF
In 1977 when he took his company to Nigeria. This marked the beginning of years of travel and study, and the beginning of DanceAfrica at Brooklyn Academy of Music. Mikki Shepard, the original producer of DanceAfrica recalls, "Chuck Davis built a village. From the very beginning, DanceAfrica was never meant to be just a festival of dance, music, and vendors. For Chuck Davis it was always about building and nourishing community, exchanging ideas, building knowledge, and celebrating and passing on the cultural traditions of Africa and the African diaspora while creating new traditions. The heartbeat of Chuck Davis's village is dance and music."
Baba Chuck was an endearing, yet powerful force to everyone from his colleagues at the International Association of Blacks in Dance, to the very young dancers at BAM/Restoration. Denise Saunders Thompson, president and CEO of IABD remembers: "He helped lay the groundwork for IABD and made sure all benefited from what he had to give. At the close of every conference, he would bring us together in a circle, made us join hands, and repeat "Peace, love, respect ... for everybody!" A mantra that is repeated at every DanceAfrica performance."
For his decades of unwavering service, among many accolades, Baba Chuck received awards from Dance Magazine and The Bessies, plus an honorary doctorate from Medgar Evers College. He is cited as one of America's "Irreplaceable Dance Treasures" by the Dance Heritage Coalition, American Dance Festival dedicated its 2015 season to him, and in 2016, BAM established the "Chuck Davis Emerging Choreographer Fellowship."
Three years ago, Abdel R.Salaam was named Baba Chuck's successor to DanceAfrica. Salaam says, "Forty years ago, Chuck brought many of us together to demonstrate how important the practice of African dance and music are to the living intelligence of African-Americans. He truly believed that dance and music is cultural medicine that has a universal value."
True to form, dance and music remained his medicine until his last days. After one last visit with Baba Chuck, Saunders Thompson says, "We just listened to his stories. Though he was frail, he was lucid and jovial, talking about his next choreographic work, travels to DanceAfrica, his clothes, and even his false teeth. And when I kissed him on his cheeks, and held his face in my hands, his eyes said that everything was going to be all right. I was comforted by his faith."
Baba Chuck's legacy lives on in so many of us.
"Chuck Davis realized his big vision and leaves a unique legacy in dance. Unique because he leaves behind a village of people who don't just attend or perform in DanceAfrica, they own it," Shepard says.
"The love Chuck and I shared is like that of father and son," says Salaam. For DanceAfrica, now in its 40th year, he adds, "As I continue to build on his legacy and trace a path of my own, I will always be true to his vision."
Jim Lafferty
"I don't cook for just one or two people," says James Whiteside, stirring a pot on his stove. "My mom taught me to cook and she had five kids. So when I do cook, I go in!"
Aside from breakfast (usually bacon, egg and cheese on an English muffin), the American Ballet Theatre principal rarely cooks for himself during ABT's seasons. He prefers to "forage" for his lunch and go out or order in for dinner, saving the real cooking for when he has friends or colleagues to feed. "I like to have a lot of people tell me my food is delicious," he quips.
Keep reading...
Show less
PC Dave Morgan
We're not sure what we did to deserve the livestream generosity the dance world is giving us these days, but this weekend, it's getting even better.
PC Joe Toreno
L.A. Dance Project, Benjamin Milliepied's trendsetting contemporary troupe, has been in residence at The Chinati Foundation for the past few days. This weekend, they're showing us what they've come up with—for three days straight.
Keep reading...
Show less
Henry Leutwyler
Let's recap David Hallberg's very busy May, shall we? Last week, we announced the American Ballet Theatre principal as our June cover star.
Keep reading...
Show less
Jenny May Peterson, Courtesy Graney
To create great work, choreographers need the freedom to tackle difficult subjects and push physical limits. But when your instruments are human beings, is there a limit to how far you should go? Five choreographers open up about where they draw the line.
Keep reading...
Show less


Get Dance Magazine in your inbox