Hurricane Harvey Tries and Fails to Stop the Dancing in Houston
Houston's theater district on Sunday, August 27. Photo by Michael Stravato for
The Texas Tribune
It's been 12 years nearly to the day that I last reported on a hurricane for Dance Magazine during Katrina, which devastated much of New Orleans. Now, as you are well aware, Harvey is approaching that level of catastrophe, with 18 deaths, a record rainfall of 51 inches, more than 10,000 Houstonians in shelters, and with our bayous at capacity. You've seen the photos. It's awful, heartbreaking and still dire for many stranded in their homes or in danger of continued flooding.
For local artistic directors, choreographers and studio directors, the first task was to find out how their dancers and teachers were managing, and the state of their homes and family.
"I've been concerned about the safety of the dancers," says Annie Arnoult, director of Hunter Dance Center and Open Dance Project. "The dancers live all over the city and surrounding areas. Most have been trapped in their homes...a few without power. We've stayed in constant touch through regular 'roll calls,' and everyone's fine so far; but I will feel much better when we can be back together face-to-face doing what we do best."
---
Thanks to Facebook, information has been fast and furious, with dance folks reporting everything from flooding in their neighborhoods, to where to volunteer and what items to donate, to what grocery stores are open. We are a small, but tight-knit community. I am thankful for both the speed and accuracy of the information put forward by our dance community. We are a diligent bunch.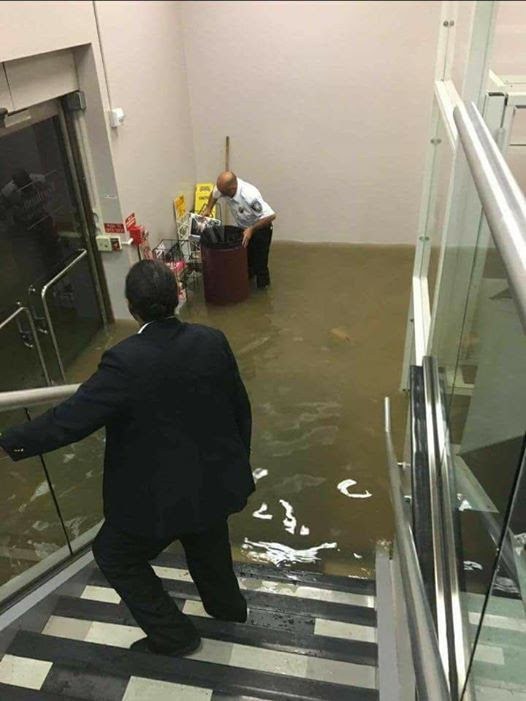 The stage door at Houston's Wortham Center. Photo via Facebook.
We are also lucky to live in a city with one of the most visible dance service organizations in the nation, Dance Source Houston, which has been keeping us updated on resources available to artists and other emergency information. Executive director Mollie Haven Miller has started a spreadsheet to collect damage data in the community and DSH will be instrumental in getting the word out on performances. We need to keep in mind that it took days to even be able to get to many studios and rehearsal spaces, so information is still coming in.
Houston Ballet Cancels Its Season Opener
One look at the waters circling the downtown theaters had us all concerned that Houston Ballet wouldn't be able to open on time for Poetry in Motion, slated for September 8–17, which included Balanchine's storm of a ballet, Symphony in C, Christopher Wheeldon's Carousel (A Dance) and Stanton Welch's Powder. Yesterday, Welch and executive director Jim Nelson issued a statement canceling the season opener. Their hope is that Sir Kenneth MacMillan's epic drama Mayerling, slated for September 21–October 1, will go on as scheduled. "This plan, of course, depends on the availability of the Wortham Theater Center, which has incurred some storm-related damage, as previously reported," wrote Nelson and Welch. There is also talk of rescheduling Poetry in Motion for later in the season.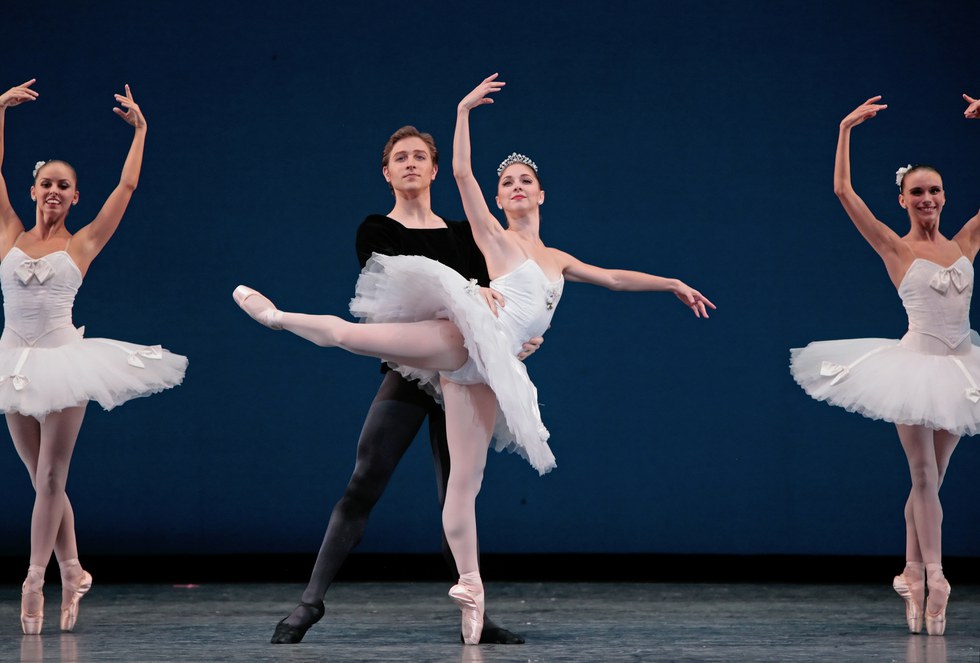 Houston Ballet's season opener Poetry in Motion which featured George Balanchine's Symphony in C has now been postponed until Oct. 26-27. Pictured: Ian Casady, Melody Mennite and artists of Houston Ballet in Symphony in C. Photo by Amitava Sarkar.
After costumes were destroyed in Tropical Storm Allison in 2001, the company relocated valuable costumes, including those gorgeous new Nutcracker costumes, to a safe location, where they sustained no damage.
We all have our fingers crossed that Mayerling will go on as planned. The company is the first North American troupe to perform the work. Welch described Mayerling as "a Thanksgiving feast for emotions." We are eager to see it.
Wortham Center's flooded basement and the loss of the underground parking are no small matters, but I am happy to report that the damage to the Wortham Center's Brown Theater stage was minimal. It was just over a week ago that principal Connor Walsh, as Rudolf, amazed me and his peers in one of the first run throughs of the killer-difficult first act of Mayerling, where he dances several pas de deux. Walsh has been keeping us informed on Facebook, sharing news and, get this, rescuing kittens. Yes dancers are superheros!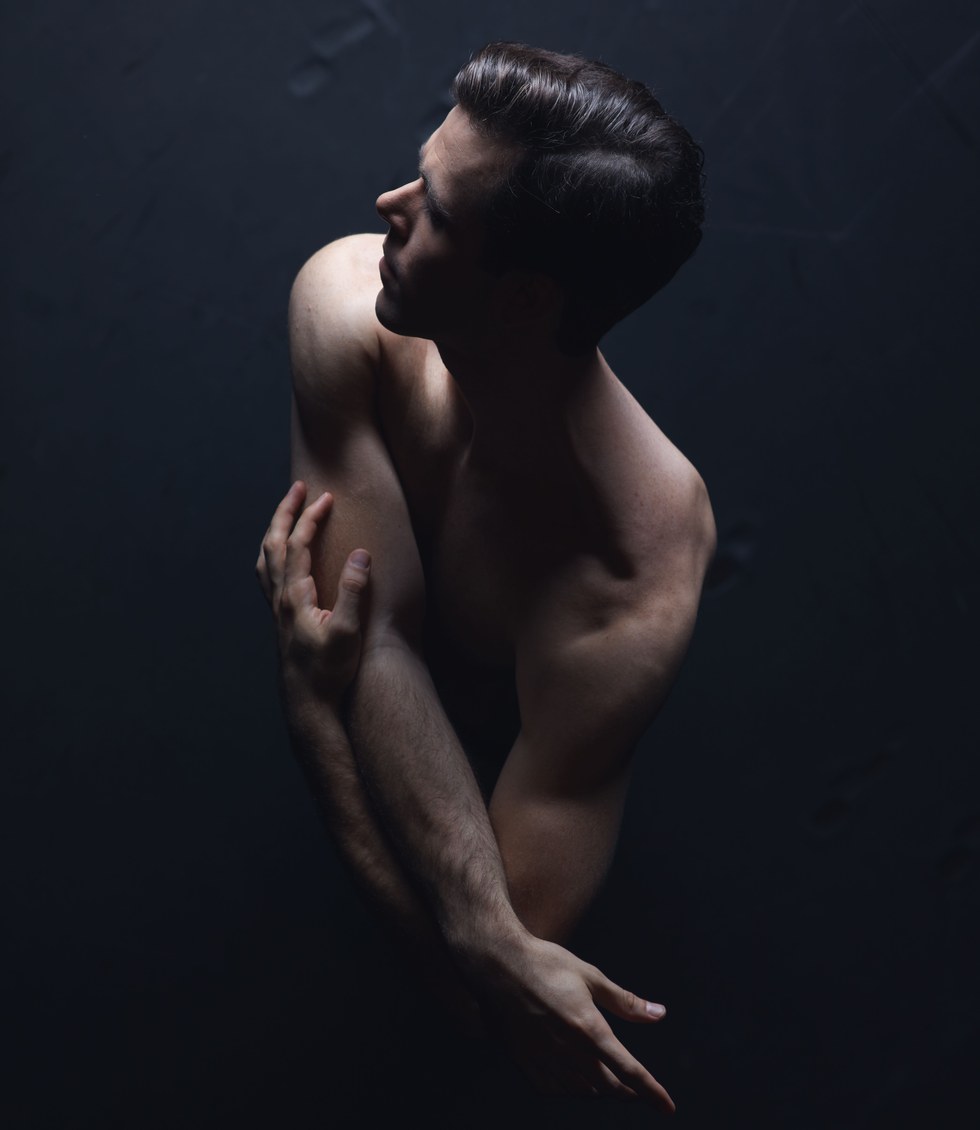 Houston Ballet principal Connor Walsh is still on track to dance the role of a lifetime as Rudolf in Sir Kenneth MacMillan's Mayerling, which was rescheduled for for Sept. 22-24, at the Hobby Center. Photo by Claire McAdams.
Update: As of Sept. 6, both fall shows have been moved to the Hobby Center for the Performing Arts. The Houston Ballet season opener Poetry in Motion, has been postponed to Oct. 26 and 27 at the Hobby Center and Sir Kenneth MacMillan's Mayerling has been rescheduled for Sept. 22–24, also at the Hobby Center.
The Show Goes On (We Hope)
Many groups remain in a state of limbo, not knowing whether their scheduled shows can go on as planned. Noblemotion Dance had to cancel their big show of the year, Catapult: Dance Meets Design, in advance of Harvey. It has been rescheduled for later this month in Hobby Center for the Performing Arts' Zilkha Hall, which sustained some flooding. It's uncertain at this point if the rescheduled performance will work with the timeline for theater repairs. NobleMotion co-artistic director Andy Noble finds himself at a difficult juncture.
"This is the most challenging situation I have encountered in my professional career," says Noble. "In a matter of 48 hours, we canceled and rescheduled our biggest show to date that we have worked on for a year after we had already moved into the theater. Several of our dancers are impacted severely by the storm. We have over 30 artists in this show as well as a large group of kids doing a pre-show performance. A couple of them are unavailable for the reschedule. Each one of us stand to lose much financially. My feet are trying to find the ground."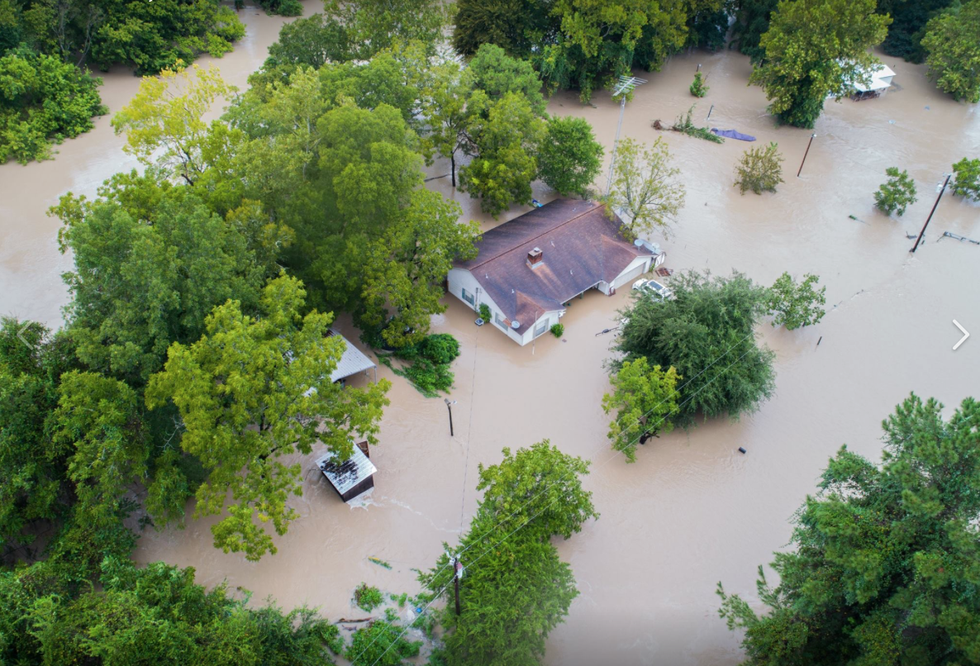 Jared Doster's flooded home. He is a founding member of NobleMotion Dance, and the Industrial Designer for the company's canceled show, Catapult.
Like many artists, Noble's priorities remain focused on the people impacted by Harvey, yet he is also a big believer in the healing power of art. "We are very concerned about the well-being of Houston and are committed to performing Catapult and bringing the community together," he says. "This show has a lot of heart and I believe it will resonate deeply in this challenging time."
Open Dance Project was looking forward to their debut collaboration with Musiqa, Bodies in Motion on September 23, also at Hobby. Arnoult is committed to having her work with her company see the light of day. "If it we have to do a showing at Hunter Dance Center, we will; we have worked too hard to let this go," she says.
So far, it seems that the small and mid-size companies came through the storm with minor damage. The MATCH, the city's go-to space, with a theater built especially for dance, is unharmed, which is great news for the fall season. Adam Castaneda, executive/artistic director of FrenetiCore, is pleased to announce that the Houston Fringe Festival will go on as planned, September 4–10 at the MATCH. According to Castaneda, shows by the city's leading independent artists, jhon r stronks and Lori Yuill, are ready to go. It's not an easy decision, and, frankly, it is difficult to make big decisions while watching the drama that surrounds us now, but Castaneda feels moving forward is the best choice. "I'm looking at ways the festival could possibly contribute to hurricane relief," he adds.
"I've got so many conflicting thoughts and feelings right now it is hard to sort them out," says Yuill, who will premiere Remember the Missing at the festival on September 5 and 10. "I want to support the Fringe and offer an outlet for anyone who is ready for one. But I also feel like it might be too soon for anyone to want an outlet and I wonder if we could serve better by spending our time volunteering at a shelter."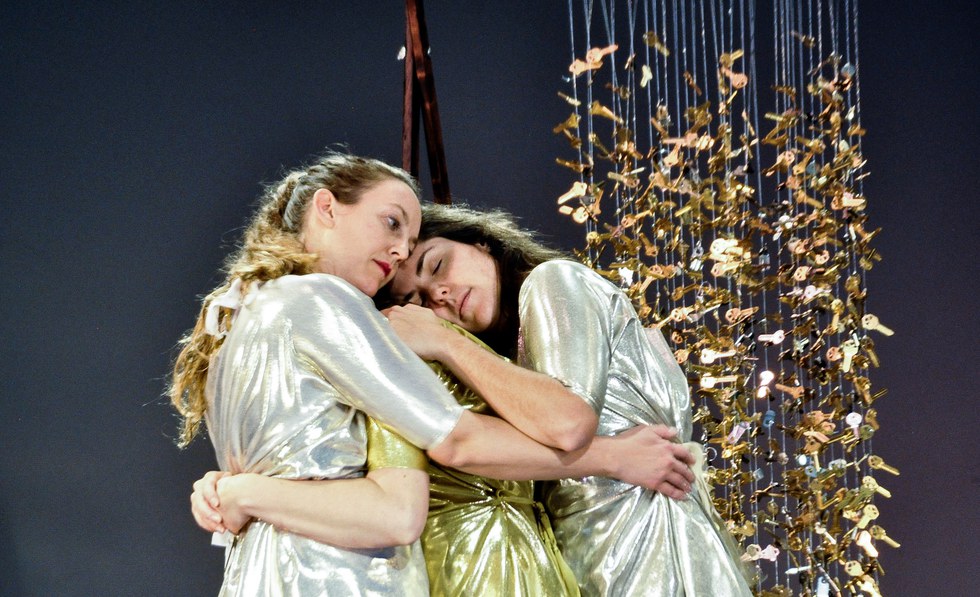 Lori Yuill, Miranda Tadlock and Danielle Antelo in the first iteration of Yuill's The Remembering Happens, 2016. Photo by Tati Vice. Yuill will present the world premiere of the piece as part of the Houston Fringe Festival which will go on as scheduled, on Sept. 5 & 10 at the MATCH.
Two in-town dance studios, Hunter Dance Center and METdance company and studio, are in good shape. Arnoult opened Hunter Dance Center for children's classes today. "Kids need some semblance of normalcy," she says.
Although METdance's studios escaped major damage, there were disappointments. After their success performing on Jacob's Pillow's storied Inside/Out stage, the company was jazzed to present at the ArtsMidwest Conference, which was impossible due to airport and road closures. When they open for classes they plan to take into consideration what their students have gone through.
"METdance always wants to help the dance community and other studios in the suburban areas that had significant damage from Hurricane Harvey. Our executive director Michelle Smith and I talked about giving studio students a place to rehearse and class discounts if their home studio has had flooding," says Marlana Doyle, artistic director of METdance.
How to Help
Many arts organizations have been busy doing all that they can. Kelly Ann Vitacca, of Vitacca Vocational School For Dance is in the midst of organizing a food, toiletries and baby needs drive for this Friday from 11am to 4pm at Vitacca Dance School. They will store and deliver any donated items to the Houston Food Bank and the Texas Diaper Bank. Expect many more studios to being organizing similar efforts.
The national dance community has been reaching out on Facebook and other social media networks to check on their friends, family and favorite companies and studios, and we appreciate that. Just asking how you can help is a help. Miami City Ballet's moving message of love and support to Houston Ballet exemplified the strength of the national dance community. We all could feel the love.
It's still too soon to know the lasting impact on the Houston dance community as the city will be in rebuilding mode for a good long while. You can donate at Hurricane Harvey Relief Fund.
PC Lydia Daniller, Courtesy Dorsey
I love being transgender. It's an important part of the story of why I choreograph. Although I loved dance from a very young age, I grew up never seeing a single person like me in dance. So how could I imagine a future for myself there?
The enormous barriers I had to overcome weren't internal: I didn't struggle with feelings of dysphoria, and I wasn't locked down by shame.
Keep reading...
Show less
News
Feb. 16, 2018 02:45PM EST
via Facebook
The dance community is heartbroken to learn that 14-year-olds Jaime Guttenberg and Cara Loughran were among the 17 people killed during the February 14 shooting at Marjory Stoneman Douglas High School in Parkland, FL.
Guttenberg was a talented competition dancer at Dance Theatre in Coconut Creek, FL, according to a report from Sun Sentinel. Dance Theatre owner Michelle McGrath Gerlick shared the below message on her Facebook page, encouraging dancers across the country to wear orange ribbons this weekend in honor of Guttenberg, whose favorite color was orange.
Keep reading...
Show less
Gaga teacher Amy Morrow says investigative styles can help any dancer. PC Ascaf Avraham
In today's dance world, it seems to go without saying: The more varied the training, the better. But is that always the case? Rhonda Malkin, a New York City–based dance coach who performed with the Radio City Rockettes, thinks trendy contemporary techniques that emphasize improvisation and organic movement quality are detrimental to the precision and strength needed to be a Rockette, in a traditional Broadway show or on a professional dance team. Her view is controversial: "If you really want to work, making $40,000 in three months for the Rockettes or $25,000 in one day filming a commercial, you need ballet, Broadway jazz, tap, hip hop—not contemporary," she says.
On the flip side, techniques that allow dancers more freedom may help them connect more deeply with their body and artistry, while providing release for overused muscles. We broke down the argument for both sides:
Keep reading...
Show less
How do you warmup? Photo by Jim Lafferty
For many dancers, a "warmup" consists of sitting on the floor stretching their legs in various positions. But this strategy only reduces your muscles' ability to work properly—it negatively affects your strength, endurance, balance and speed for up to an hour.
Save your flexibility training for the end of the day. Instead, follow a warmup that will actually help prevent injury and improve your body's performance.
According to the International Association of Dance Medicine and Science, a smart warmup has four parts: "a gentle pulse-raising section, a joint mobilization section, a muscle lengthening section and a strength/balance building section."
Keep reading...
Show less
Breaking
Feb. 16, 2018 12:17PM EST
Former NYCB ballet master in chief Peter Martins resigned in January in the midst of an investigation into allegations of harassment and abuse. Photo by Paul Kolnik, Courtesy NYCB
A statement released yesterday by New York City Ballet and School of American Ballet reported that an independent investigation was unable to corroborate allegations of harassment and abuse against former ballet master in chief Peter Martins, according to The New York Times. This marks the end of a two-month inquiry jointly launched by the two organizations in December following an anonymous letter detailing instances of harassment and violence.
The statement also included new policies for both the company and school to create safer, more respectful environments for the dancers, including hiring an independent vendor to handle employee complaints anonymously. These changes are being made despite the independent investigation, handled by outside counsel Barbara Hoey, purportedly finding no evidence of abuse.
Keep reading...
Show less
Lauren Lovette, photographed by Jayme Thornton
Not all ballet dancers cling to their youth. At 26, Lauren Lovette, the New York City Ballet principal, has surpassed the quarter-century mark. And she's relieved.
"I've never felt young," she says. "I can't wait until I'm 30. Every woman I've ever talked to says that at 30 you just don't care. You're free. Maybe I'll start early?"
Keep reading...
Show less


Get Dance Magazine in your inbox