News
Nov. 02, 2017 08:54AM EST
New Choreography Opportunity at Jacob's Pillow
Dancers in the new Perles Family Studio. Photo by Robert Benson, Courtesy Jacob's Pillow
Heads up, choreographers: Jacob's Pillow just announced the launch of a new choreography program, starting next summer.
Inspired by the famous Bessie Schönberg workshops from the '80s and '90s, the Ann & Weston Hicks Choreography Fellows Program is designed to help eight early-career choreographers (approximately 20–30 years old) refine their voices and expand their networks. The program, August 21–31, will be directed by none other than pioneering choreographer Dianne McIntyre and renowned Limón teacher and choreographic advisor Risa Steinberg.
---
The focus will be more on process than product, offering fellows assignments and feedback sessions without expectations for an end product.
Of course, one of the biggest benefits of being located at the Pillow is the chance to meet the many professional artists that perform on the grounds each summer. The fellows will have opportunities to make connections and gain valuable insights from festival choreographers. They will also have access to the amazing videos in the Pillow's vast archives, which may be one of the greatest sources of dance history today.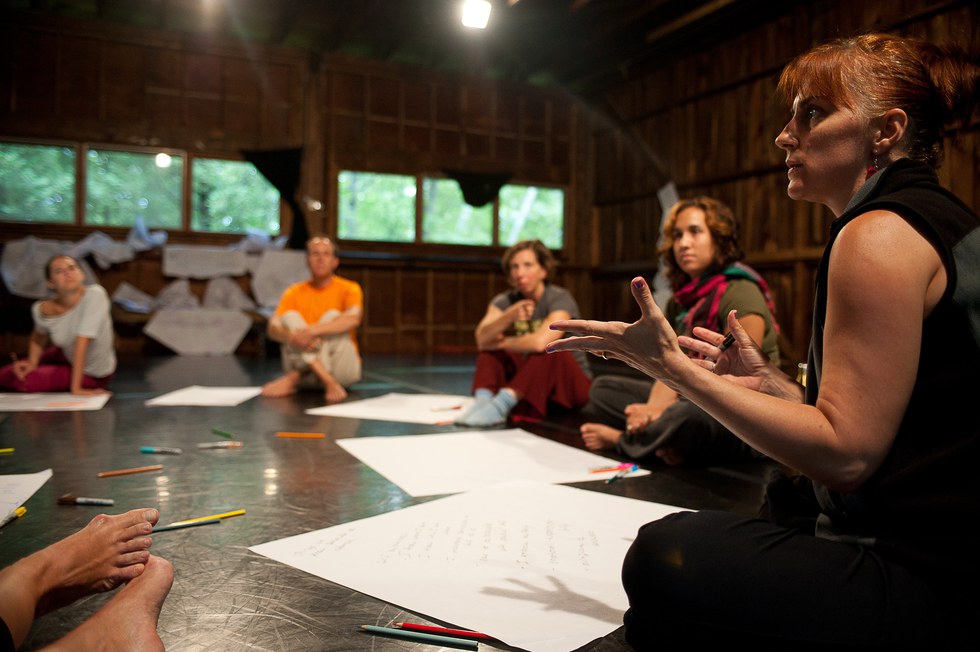 The School at Jacob's Pillow's Choreolab. Photo by Christopher Duggan, Courtesy Jacob's Pillow
"Through guidance, feedback and exposure to the work of established choreographers, the young fellows will have the dedicated time and space to answer: Who am I as an artist? What do I want to say? And how do I want to say it?" McIntyre says in a press release.
Along with the Pillow's five other Professional Advancement Programs—which next summer will include ballet, contemporary, musical theater dance, dance photography and Gaga—the choreography fellowship will take advantage of the school's brand-new home in the state-of-the-art Perles Family Studio.
Stay tuned for application requirements, which will be announced at jacobspillow.org on December 1.
Related Articles Around the Web
Only you can truly decide if you're ready to start your career. Photo by Thinkstock.
My dance coach wants my word that I'll keep competing under his school's name for the next year and not audition. I'm 18 years old and already doing lead roles and winning medals. I love his teaching, but shouldn't I be ready to go out and get a job?
—Gil, Las Vegas, NV
Keep reading...
Show less
Ballet of Difference is now home to a number of Cedar Lake alumni, such as Matthew Min Rich and Ebony Williams, here in Richard Siegal's Pop HD. Photo by Ray Demski, Courtesy Siegal
How do we make ballet, a traditionally homogeneous art form, relevant to and reflective of an increasingly diverse and globalized era? While established companies are shifting slowly, Richard Siegal/Ballet of Difference, though less than 2 years old, has something of a head start. The guiding force of the company, which is based in Germany, is bringing differences together in the same room and, ultimately, on the same stage.
Keep reading...
Show less
BalletMet in company class onstage before a show. Photo by Jennifer Zmuda, courtesy BalletMet
Before she became the 20th century's most revered ballet pedagogue, Agrippina Vaganova was a frustrated ballerina. "I was not progressing and that was a terrible thing to realize," she wrote in a rough draft of her memoirs.
She retired from the Imperial Ballet stage in 1916, and for the next 30-plus years, devoted herself to creating a "science of ballet." Her new, dynamic teaching method produced stars like Rudolf Nureyev, Alla Osipenko, and Galina Ulanova and later Natalia Makarova and Mikhail Baryshnikov. And her approach continues to influence how we think about ballet training to this day.
But is the ballet class due for an update? Demands and aesthetics have changed. So should the way dancers train change too?
Keep reading...
Show less
How do you warmup? Photo by Jim Lafferty
For many dancers, a "warmup" consists of sitting on the floor stretching their legs in various positions. But this strategy only reduces your muscles' ability to work properly—it negatively affects your strength, endurance, balance and speed for up to an hour.
Save your flexibility training for the end of the day. Instead, follow a warmup that will actually help prevent injury and improve your body's performance.
According to the International Association of Dance Medicine and Science, a smart warmup has four parts: "a gentle pulse-raising section, a joint mobilization section, a muscle lengthening section and a strength/balance building section."
Keep reading...
Show less
Sidi Larbi Cherkaoui's Harbor Me. Photo by Laurence Phillipe, Courtesy Joyce Theater
Claude Debussy's only completed opera, Pelléas et Mélisande, emphasizes clarity and subtlety over high-flung drama as a deadly love triangle unfolds. Opera Vlaanderen and Royal Ballet of Flanders are commemorating the 100th anniversary of the composer's death with a new production of the landmark opera that is sure to be anything but traditional: Sidi Larbi Cherkaoui and Damien Jalet are choreographing and directing, while boundary-pushing performance artist Marina Abramović collaborates on the design. Antwerp, Feb. 2–13. Ghent, Feb. 23–March 4. operaballet.be/en.
Jumatatu Poe's Let 'im Move You. PC Theo Cote, via 18th Street Arts Center
Black History Month offers a time to reflect on the artists who have shaped the dance field as we know it today. But equally important is celebrating the black artists who represent the next generation. These seven up-and-comers are making waves across all kinds of styles and across the country:
Keep reading...
Show less


Get Dance Magazine in your inbox