Étoile Léonore Baulac on Feminist Ballet, Hygge and Not Dancing Too "Safe"
Nisian Hughes
"Women are often presented as soft, fragile little creatures in ballet," says Léonore Baulac. "We're not." The Paris Opéra Ballet's newest female étoile is discussing her unease at some of the 19th-century narratives she portrays. "It was real acting," she says with a laugh of La Sylphide. "James kills her by taking away her wings, yet she tells him not to worry and goes to die elsewhere onstage!"
Sitting in the canteen of the Palais Garnier, Baulac embodies some of ballet's contradictions in the 21st century. With her fair curls and dainty features, she could easily pass for a little girl's fantasy princess. As Juliet, she exuded a girlish ardor that felt entirely natural; her reservations notwithstanding, her Sylphide was committed and carefully Romantic in style.
Yet the 27-year-old is no ingénue. At Garnier that day, her sweater reads "I can't believe I still have to protest this s**t," a feminist slogan; last winter, Baulac proudly wore it over a Kitri tutu on Instagram. And her repertoire is as thoroughly modern as she is offstage. A versatile performer even by Parisian standards, she is equally at home in Nutcracker as she is in the works of Pina Bausch and Anne Teresa De Keersmaeker.
---
"She is an all-arounder," says POB director Aurélie Dupont, who promoted Baulac to étoile on New Year's Eve last season, after her debut as Odette/Odile in Swan Lake. "And her dancing is intelligent. She is mature, she knows what she wants, why she does things."
That maturity, along with a solid sense of humor, has helped Baulac weather the rough waters that have rocked the venerable French company in the past few years. When Benjamin Millepied was appointed director of POB in 2014, he pushed Baulac, then a coryphée, into the spotlight.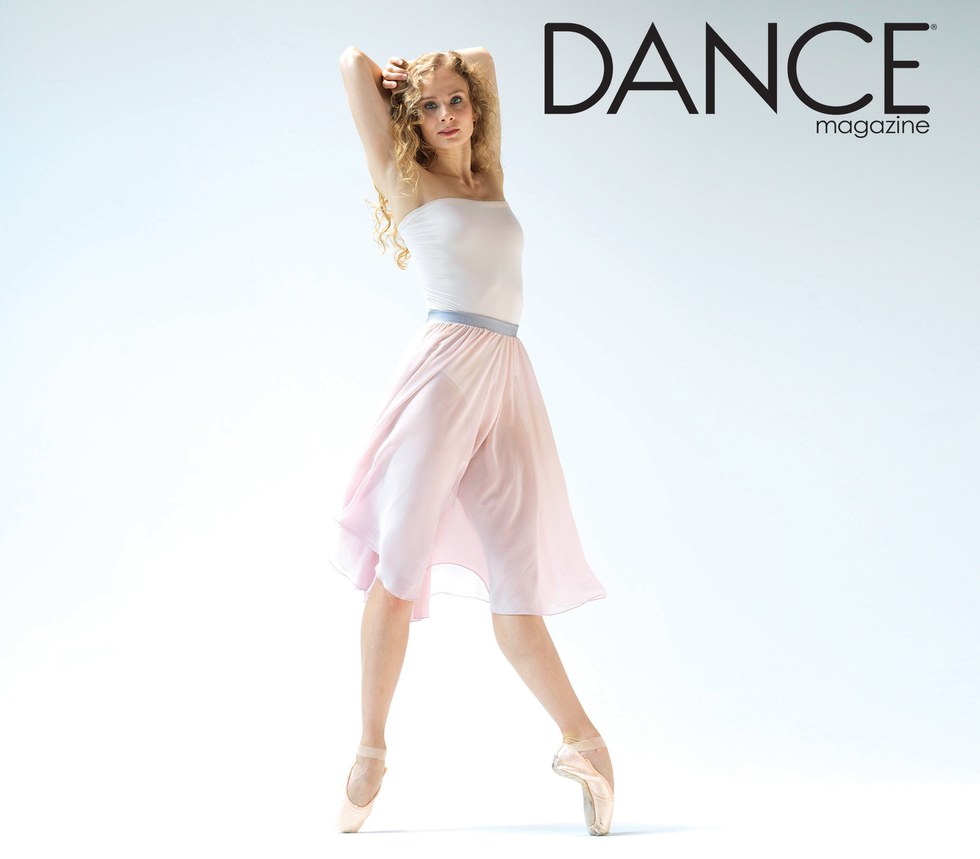 Nisian Hughes
"I quickly noticed a very musical and imaginative dancer with great individuality," Millepied remembers. "She has a very French elegance, this fine-champagne sort of quality, yet she can also be fierce."
Baulac visibly blossomed under Millepied, her dancing growing in scale and confidence. Her innate musicality was right at home in the American-style repertoire her director favored. She also tried her hand at classics, including Paquita, as well as creations by Mille-pied, Wayne McGregor and William Forsythe.
Millepied's drive to nurture young talent led to discontent among more senior dancers, however, and when the embattled director abruptly announced his departure in February 2016, his protégés weren't quite sure what the future would hold for them. "I worried the momentum I had would come to a halt," Baulac admits.
It didn't. Along with Germain Louvet and Hugo Marchand, two friends and frequent partners, Baulac was one of three Millepied-era favorites to be promoted to étoile by Dupont in the space of three months last season: "It was wonderful, because I was able to share that huge emotion with people who were going through it too." As several other étoiles near retirement, the trio is now leading the charge for the new generation—and rejuvenating the 154-strong company in the process.
Ironically, Baulac didn't even get through the first round of the POB School's entrance exams—the physical examination—when she was 10. She only became serious about a classical career a year later, after winning a competition where her idol, POB star José Martinez, sat on the jury. "I decided to be a dancer to dance with him," she says with a chuckle.
By then, she was too old to reapply to the POB School, instead training with a private teacher, Monique Servaes. At the age of 13, Baulac was admitted to the Conservatoire de Paris, and credits her interest in contemporary dance to its mixed curriculum. "Before that, all I wanted was a tutu," she says. "I think we underestimate how important it is for ballet dancers to learn contemporary dance in order to move in a less rigid way."
She finally joined the POB School at 15 as a paying student, the only path for older candidates. Baulac relished the atmosphere, and joined the POB corps de ballet three years later, in 2008.
A frustrating spell ensued. For five years, she missed the mark at the internal concours de promotion, and as a young dancer on the lowest rung, rarely set foot onstage. "The concours got harder and harder every time I failed," Baulac says. "I was hungry for the stage, for roles. I'm a very impatient person, and I had to learn patience."
A handful of opportunities—including De Keersmaeker's Rain and Olympia in John Neumeier's Lady of the Camellias—as well as side gigs with 3e étage, a pickup group of POB dancers, kept her going. By the concours for 2014, however, she made the decision to leave the company if she wasn't promoted. "I think it freed me: I realized that if it didn't work out, there were other options."
She earned a coryphée spot (the second rank of five), and the following fall, Millepied replaced Brigitte Lefèvre as director. "There was an energy about him that was very encouraging," she says. He immediately cast Baulac and Louvet in Nureyev's Nutcracker. "I went from corps understudy to a principal role. The rehearsals in front of the whole company were more stressful than the shows. You feel people looking at you, wondering: Why not me?"
Dupont was her coach for the production, and was impressed: "If you give her a correction, she will analyze it, keep thinking about it," says Dupont. "The progress she makes between the first day of rehearsal and the show is always striking."
Baulac, who has a comfortable technique but was never known for competition-style virtuosity, has forced herself to unlearn the cautious approach drilled into POB's dancers. "I was a good turner, but at the POB School, we were always told: Instead of trying four turns and messing up, just do two." She credits Forsythe, who created a role for her in Blake Works I, and Dupont with pushing her to take risks. "When you're stressed, it feels safer to dance small. I tell myself that the audience wants to see someone who gives their all."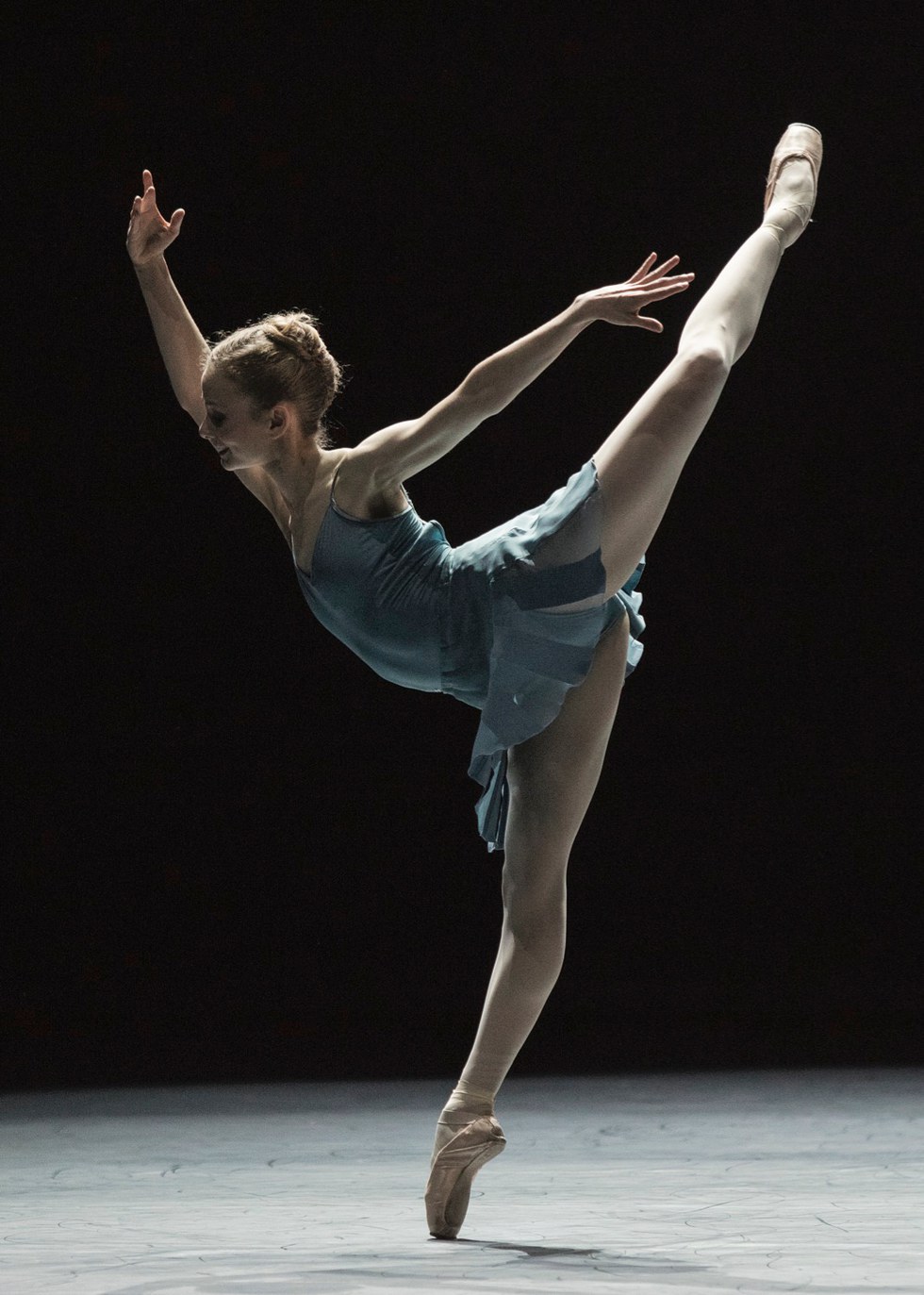 Baulac in Forsythe's Blake Works I. Photo by Ann-Ray, courtesy Paris Opera Ballet
Despite her steady rise, with promotions every year since 2014, her appointment as étoile still came as a surprise. Baulac was only an understudy for Odette/Odile, her one performance coming as a result of injuries. "For me," says Dupont, "it was already done. I was just waiting for the right role to promote her."
Baulac is honest about the weight of responsibility as an étoile: "You're supposed to be excellent all the time, but I don't feel excellent that often." A short period of therapy, before and after her promotion, helped her to embrace the pressure without complacency.
A balanced home life is part of the secret: Outside work, Baulac, whose mother hails from Norway, swears by hygge, the Scandinavian concept of coziness and warmth. In Paris, she lives close enough to walk to work. After a high-profile relationship with fellow POB dancer François Alu, her current boyfriend is in the field of biological agriculture. "It's refreshing, because when I go home, I can really leave the ballet world behind."
Onstage, one of Baulac's dreams came true this fall when she performed Pina Bausch's Rite of Spring. The next item on her wish list—working with the recently retired Mats Ek—may have to wait, but she hopes for more female choreographers in Paris, including the return of Crystal Pite. "I love the way she makes women move. They have the same strength and power as the men."
She still enjoys the traditional tutu-and-tiara roles, but deems it "crucial that creations depict women in new ways, for the classics of the future." In Paris, expect Baulac to be center stage for them.
Related Articles Around the Web
Alvin Ailey's life and groundbreaking work are coming to the big screen. Photo courtesy Ailey Archives.
There must be something in the water: Last week, we announced that Madonna is directing Michaela DePrince's upcoming biopic. And yesterday, we got wind of another major dance film: According to The Hollywood Reporter, Fox Searchlight has sealed the deal to make Ailey Ailey's life and work into a movie. Yes, please.
While some movies falter along their way to the big screen, we think this one's got legs (and hopefully a whole lot of lateral T's and hinges and coccyx balances, too). Why?
Keep reading...
Show less
John Heginbotham never walks into rehearsal unprepared. Photo by Janelle Jones, courtesy the Watermill Center
Back in 2012, after 14 years dancing with Mark Morris Dance Group, choreographer John Heginbotham ventured out on his own. Don't think of it as going solo, though.
Almost from the outset, Heginbotham has embarked on a series of fruitful collaborations with other artists, via his namesake company, Dance Heginbotham, and through a stream of independent projects. His creative partners have covered a range of talents and genres: illustrator Maira Kalman (in 2017's The Principles of Uncertainty), opera director Peter Sellars (for Girls of the Golden West, which debuted at San Francisco Opera in November), and contemporary-music luminaries such as Tyondai Braxton and Alarm Will Sound.
Here's What He Has To Say: About starting his company, his rehearsal process and why he's drawn to creative mash-ups.

Keep reading...
Show less
What Dancers Eat
Mar. 09, 2018 09:15AM EST
Pizza can be an excellent recovery meal after a hard day of class and rehearsal. Photo by Thinkstock
Raise your hand if you've ever walked out of the studio with just one thought on your mind: a big, juicy cheeseburger. But raise your other hand if instead of getting that burger, you opted for a hearty salad or stir-fry.
While dancers need to fuel their bodies with nutrient-dense meals and snacks, plenty of foods get an unfair bad rap. "The diet culture in this country vilifies various food groups as being bad while championing others as good," says Kelly Hogan, MS, RD, CDN, clinical nutrition and wellness manager at the Dubin Breast Center at Mount Sinai Hospital in New York City. "But black-and-white thinking like that has no place when it comes to food."
Some foods have less nutrition than others, admits Hogan, but if you're eating what you crave and honoring your hunger and fullness cues, she says you'll probably get the variety of nutrients your body needs. Here are seven foods that can have a place on your plate—guilt-free.
Keep reading...
Show less
When you spend as much time on the road as The Royal Ballet's Steven McRae, getting access to a proper gym can be a hassle. To stay fit, the Australian-born principal turns to calisthenics—the old-school art of developing aerobic ability and strength with little to no equipment.
"It's basically just using your own body weight," McRae explains. "In terms of partnering, I'm not going to dance with a ballerina who is bigger than me, so if I can sustain my own body weight, then in my head I should be fine."
Keep reading...
Show less
Photo by Hugo Glendinning, Courtesy Sadler's Wells
Ten years is a long time for a dance production to run, but Sidi Larbi Cherkaoui's Sutra, an athletic, meditative spectacle featuring 19 Shaolin monks and a malleable set of 21 wooden boxes (designed by Antony Gormley) is still striking a chord with audiences worldwide. To celebrate the milestone, Sutra is returning to Sadler's Wells, where it all began. March 26–28. sadlerswells.com.
Irina Dvorovenko's latest role: Playing Elizaveta Grushinskaya in Grand Hotel at New York City Center. Photo by Joan Marcus, Courtesy New York City Center.
Whether playing a saucy soubrette or an imperious swan, Irina Dvorovenko was always a formidable presence on the American Ballet Theatre stage. Since her 2013 retirement at 39, after 16 seasons, she's been bringing that intensity to an acting career in roles ranging from, well, Russian ballerinas to the Soviet-era newcomer she plays in the FX spy series "The Americans."
We caught up with her after tech rehearsal for the Encores! presentation of the musical Grand Hotel, directed and choreographed by Josh Rhodes and running March 21–25 at New York City Center. It's another tempestuous ballerina role for Dvorovenko—Elizaveta Grushinskaya, on her seventh farewell tour, resentfully checks into the Berlin hostelry of the title with her entourage, only to fall for a handsome young baron and sing "Bonjour, Amour."
Keep reading...
Show less


Get Dance Magazine in your inbox