Career
May. 31, 2017 01:21PM EST
What Happens When You Dance For 200,000 People at Once?
Carla Körbes and Janie Taylor in L.A. Dance Project's livestream from The Chinati Foundation
New York's Metropolitan Opera House seats 3,800 people. Moscow's Bolshoi Theater holds 2,153. When the Royal Ballet hosts a special event in London's massive O2 arena, the dancers perform for a comparatively giant 20,000.
But dancing for more than 200,000 people at a time? That's simply not something most concert dancers are used to.
So when we heard that L.A. Dance Project's series of livestreams over Memorial Day weekend reached more than 500,000 views total, with its most popular stream hitting 211,300 views, it got us thinking. How does that sort of viewership affect a small troupe like LADP? And how does it feel for the dancers to perform for the equivalent of the entire population of Salt Lake City?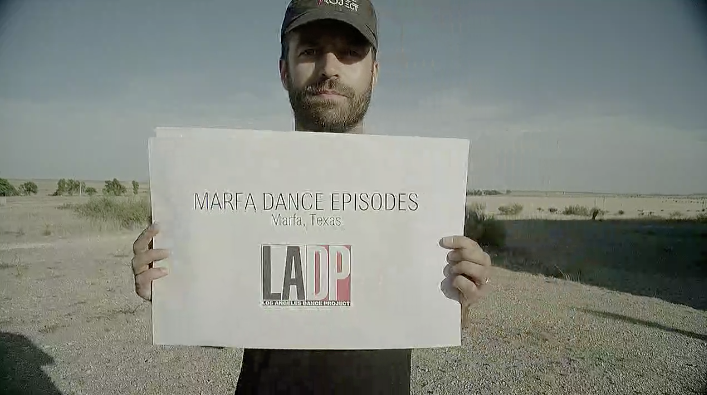 Millepied holding up DIY-style cards to introduce the second "episode"
---
One obvious benefit of this success: People everywhere from Russia to South America could get a glimpse of the troupe's residency at The Chinati Foundation without having to schelp to Marfa, Texas. Several comments on the stream showed that for many, this was clearly their first exposure to contemporary dance. (See Exhibit A, below.)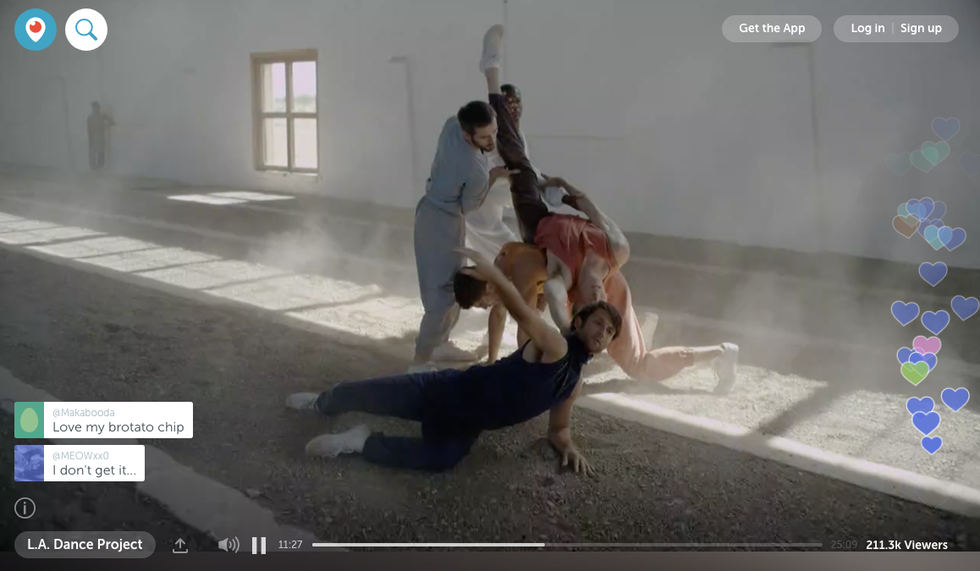 For most of us dance lovers, it was our first glimpse at Carla Körbes and Janie Taylor since their "retirements" from Pacific Northwest Ballet and New York City Ballet, respectively. (Please excuse us while we drool over their duet. More, please. Please?)
Director Benjamin Millepied has made it clear that he wants LADP to be as active online as it is in theaters, so congrats to him on hitting this one out of the ball park. In just over an hour's worth of livestreaming, the audience far surpassed what the troupe could have reached even in a month of performances at one of the world's largest opera houses. (In comparison, World Ballet Day has reportedly reached 350,000 in 24 hours.) Talk about building your brand.
What's interesting is that this livestream wasn't what we're typically used to: It was more of a live dance film happening in real time than an intimate peek in on rehearsal. It was highly curated, with a cinematic feel; more of a final product than a look behind the scenes.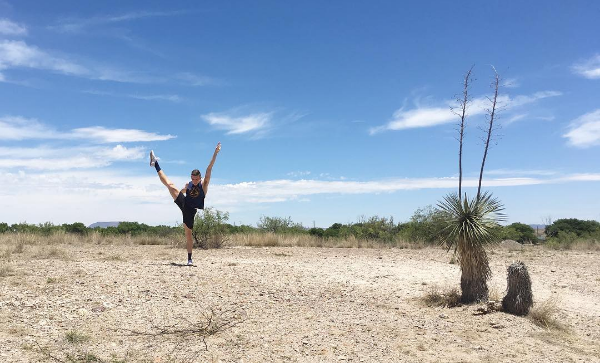 Via ladanceproject on Instagram
But that still leaves the question that many dance companies are asking today: Can you can convert free livestream viewers into people who actually purchase tickets to watch dance at a theater? Will they be intrigued enough to pay for a more intimate dance experience? Or will they feel like they can just stay home and get their dance fix online instead?
In Millepied's case, ticket sales don't seem to be his end goal. He's got bigger plans in mind, and has told us that he's actively pursuing other sources of revenue, like a clothing line and possibly brand-name licensing opportunities. We're curious to see if other companies will follow his lead, and take advantage of their own livestreams in creative new ways.
Johns' Map
Before too long, dancers and choreographers will get to create on the luxurious 170-acre property in rural Connecticut that is currently home to legendary visual artist Jasper Johns.
If you think that sounds far more glamorous than your average choreographic retreat, you're right. Though there are some seriously generous opportunities out there, this one seems particularly lavish.
Keep reading...
Show less
Ashley Ellis, photo by Albert Ayzenberg, courtesy of Ashley Ellis
Every dancer has learned—probably the hard way—that healthy feet are the foundation of a productive and happy day in the studio. As dancers, our most important asset has to carry the weight (literally) of everything we do. So it's not surprising that most professional dancers have foot care down to an art.
Three dancers shared their foot-care products they can't live without.
Keep reading...
Show less
popular
Sep. 21, 2017 04:49PM EST
via Instagram, Company Cooperative
Dancers trying their hand at designing is nothing new. But they do tend to stick with studio or performance-wear (think Miami City Ballet's Ella Titus and her line of knit warm-ups or former NYCB dancer Janie Taylor and her ballet costumes). But several dancers at American Ballet Theatre—corps members Jamie Kopit, Erica Lall, Katie Boren, Katie Williams, Lauren Post, Zhong-Jing Fang and soloist Cassandra Trenary—are about to launch a fashion line that's built around designs that can be worn outside of the studio. Titled Company Cooperative, the luxe line of women's wear is handmade in New York City's garment district and designed by the dancers themselves.
Keep reading...
Show less
A still from Duet, via CNN Style
Royal Ballet dancers Yasmine Naghdi and Beatriz Stix-Brunell recently got together for a different kind of performance: no decadent costumes, sets, stage makeup or lighting. Instead, the principal and first soloist danced choreography by principal character artist Kristen McNally in a stark studio.
The movement is crystal clear, and at the beginning, Naghdi and Stix-Brunell duck and weave around each other with near vacant stares. Do they even know they have a partner? And how should they interact? The situation raises a much larger question: How often do we see a female duet in ballet?
Keep reading...
Show less


Get Dance Magazine in your inbox