What Happens When You Dance For 200,000 People at Once?
Carla Körbes and Janie Taylor in L.A. Dance Project's livestream from The Chinati Foundation
New York's Metropolitan Opera House seats 3,800 people. Moscow's Bolshoi Theater holds 2,153. When the Royal Ballet hosts a special event in London's massive O2 arena, the dancers perform for a comparatively giant 20,000.
But dancing for more than 200,000 people at a time? That's simply not something most concert dancers are used to.
So when we heard that L.A. Dance Project's series of livestreams over Memorial Day weekend reached more than 500,000 views total, with its most popular stream hitting 211,300 views, it got us thinking. How does that sort of viewership affect a small troupe like LADP? And how does it feel for the dancers to perform for the equivalent of the entire population of Salt Lake City?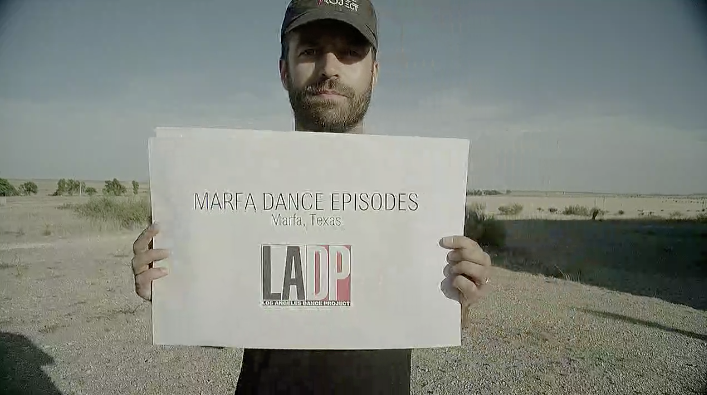 Millepied holding up DIY-style cards to introduce the second "episode"
---
One obvious benefit of this success: People everywhere from Russia to South America could get a glimpse of the troupe's residency at The Chinati Foundation without having to schelp to Marfa, Texas. Several comments on the stream showed that for many, this was clearly their first exposure to contemporary dance. (See Exhibit A, below.)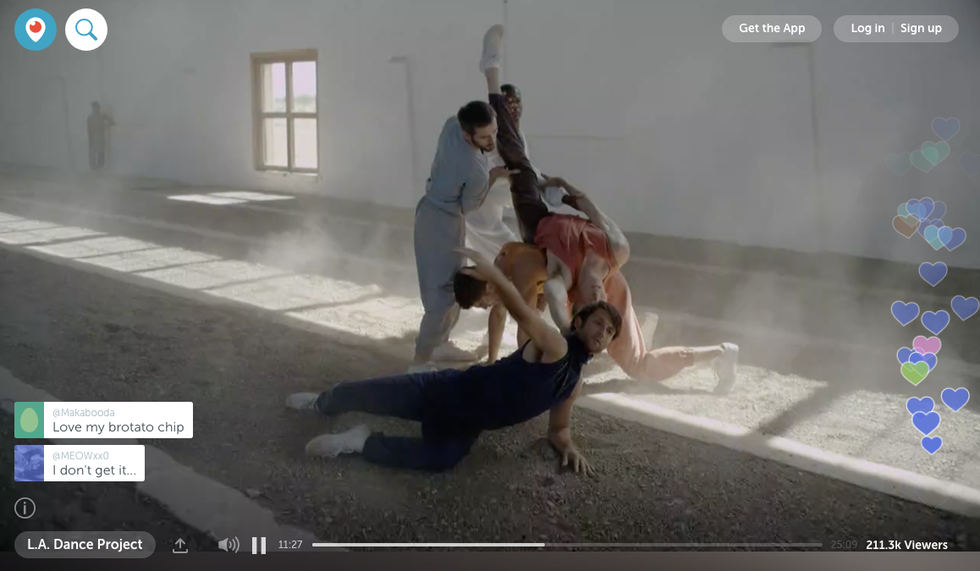 For most of us dance lovers, it was our first glimpse at Carla Körbes and Janie Taylor since their "retirements" from Pacific Northwest Ballet and New York City Ballet, respectively. (Please excuse us while we drool over their duet. More, please. Please?)
Director Benjamin Millepied has made it clear that he wants LADP to be as active online as it is in theaters, so congrats to him on hitting this one out of the ball park. In just over an hour's worth of livestreaming, the audience far surpassed what the troupe could have reached even in a month of performances at one of the world's largest opera houses. (In comparison, World Ballet Day has reportedly reached 350,000 in 24 hours.) Talk about building your brand.
What's interesting is that this livestream wasn't what we're typically used to: It was more of a live dance film happening in real time than an intimate peek in on rehearsal. It was highly curated, with a cinematic feel; more of a final product than a look behind the scenes.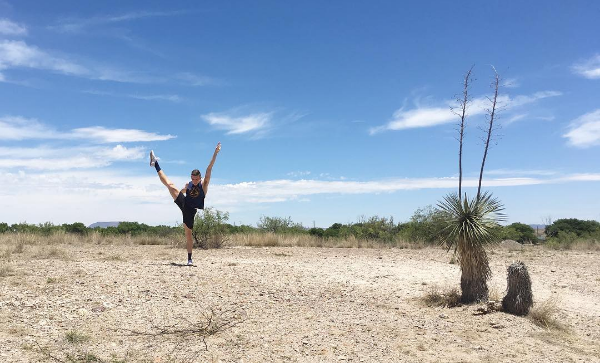 Via ladanceproject on Instagram
But that still leaves the question that many dance companies are asking today: Can you can convert free livestream viewers into people who actually purchase tickets to watch dance at a theater? Will they be intrigued enough to pay for a more intimate dance experience? Or will they feel like they can just stay home and get their dance fix online instead?
In Millepied's case, ticket sales don't seem to be his end goal. He's got bigger plans in mind, and has told us that he's actively pursuing other sources of revenue, like a clothing line and possibly brand-name licensing opportunities. We're curious to see if other companies will follow his lead, and take advantage of their own livestreams in creative new ways.
Only you can truly decide if you're ready to start your career. Photo by Thinkstock.
My dance coach wants my word that I'll keep competing under his school's name for the next year and not audition. I'm 18 years old and already doing lead roles and winning medals. I love his teaching, but shouldn't I be ready to go out and get a job?
—Gil, Las Vegas, NV
Keep reading...
Show less
Ballet of Difference is now home to a number of Cedar Lake alumni, such as Matthew Min Rich and Ebony Williams, here in Richard Siegal's Pop HD. Photo by Ray Demski, Courtesy Siegal
How do we make ballet, a traditionally homogeneous art form, relevant to and reflective of an increasingly diverse and globalized era? While established companies are shifting slowly, Richard Siegal/Ballet of Difference, though less than 2 years old, has something of a head start. The guiding force of the company, which is based in Germany, is bringing differences together in the same room and, ultimately, on the same stage.
Keep reading...
Show less
BalletMet in company class onstage before a show. Photo by Jennifer Zmuda, courtesy BalletMet
Before she became the 20th century's most revered ballet pedagogue, Agrippina Vaganova was a frustrated ballerina. "I was not progressing and that was a terrible thing to realize," she wrote in a rough draft of her memoirs.
She retired from the Imperial Ballet stage in 1916, and for the next 30-plus years, devoted herself to creating a "science of ballet." Her new, dynamic teaching method produced stars like Rudolf Nureyev, Alla Osipenko, and Galina Ulanova and later Natalia Makarova and Mikhail Baryshnikov. And her approach continues to influence how we think about ballet training to this day.
But is the ballet class due for an update? Demands and aesthetics have changed. So should the way dancers train change too?
Keep reading...
Show less
How do you warmup? Photo by Jim Lafferty
For many dancers, a "warmup" consists of sitting on the floor stretching their legs in various positions. But this strategy only reduces your muscles' ability to work properly—it negatively affects your strength, endurance, balance and speed for up to an hour.
Save your flexibility training for the end of the day. Instead, follow a warmup that will actually help prevent injury and improve your body's performance.
According to the International Association of Dance Medicine and Science, a smart warmup has four parts: "a gentle pulse-raising section, a joint mobilization section, a muscle lengthening section and a strength/balance building section."
Keep reading...
Show less
Sidi Larbi Cherkaoui's Harbor Me. Photo by Laurence Phillipe, Courtesy Joyce Theater
Claude Debussy's only completed opera, Pelléas et Mélisande, emphasizes clarity and subtlety over high-flung drama as a deadly love triangle unfolds. Opera Vlaanderen and Royal Ballet of Flanders are commemorating the 100th anniversary of the composer's death with a new production of the landmark opera that is sure to be anything but traditional: Sidi Larbi Cherkaoui and Damien Jalet are choreographing and directing, while boundary-pushing performance artist Marina Abramović collaborates on the design. Antwerp, Feb. 2–13. Ghent, Feb. 23–March 4. operaballet.be/en.
Jumatatu Poe's Let 'im Move You. PC Theo Cote, via 18th Street Arts Center
Black History Month offers a time to reflect on the artists who have shaped the dance field as we know it today. But equally important is celebrating the black artists who represent the next generation. These seven up-and-comers are making waves across all kinds of styles and across the country:
Keep reading...
Show less


Get Dance Magazine in your inbox