How This Dancer Trains For Her Double Life As An Assistant Boat Captain
Cromwell with Kelly Del Rosario in Jenkins' Gate of Winds. Photo by Margo Moritz, Courtesy MJDC
As side hustles go, Margaret Cromwell might win the prize for most unusual.
When she's not onstage with Margaret Jenkins Dance Company, the modern dancer moonlights as a first officer on dinner cruises on the San Francisco Bay. After company class and rehearsal from 12:30 to 5:30 pm, one to two days a week she'll work on a boat from 6 pm until 1 am, pulling ropes, lifting heavy objects, running up and down stairs, and assisting the captain.
---
All that exertion takes a toll, so when a lingering rotator-cuff injury acted up in 2015, she turned to fellow MJDC dancer Kelly Del Rosario, a certified personal trainer.
During their weekly sessions at Rise Combat Sports, where he is the strength and conditioning coach, Cromwell performs exercises that build agility, endurance and power: everything from flipping a tractor tire to hopping over hurdles to throwing a medicine ball.
Why Cross-Training Is Key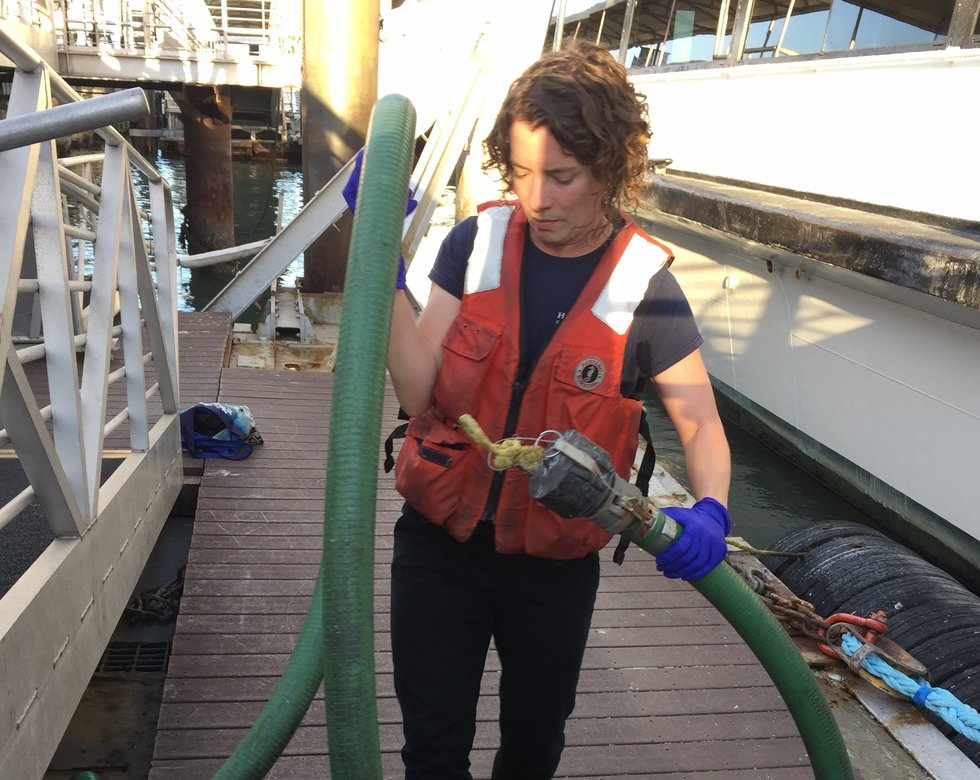 Cromwell prepping the boat. Photo by Claudia Bauer.
Adding more physical exertion to her life might seem like overdoing it, but Cromwell believes she dances better on days that she trains before taking class. "I come in exhausted from training, and then kind of reestablish the dance pathways," she says. "I feel a deeper connection with my body." Her increased upper-body strength has remedied her shoulder pain and also helped with partnering.
Fitness training has empowered Cromwell in many ways. "As a dancer, I was taught the mentality of protecting your body, from a defensive place," she says. "I've learned that my body loves to be pushed."
Her Go-To Power Moves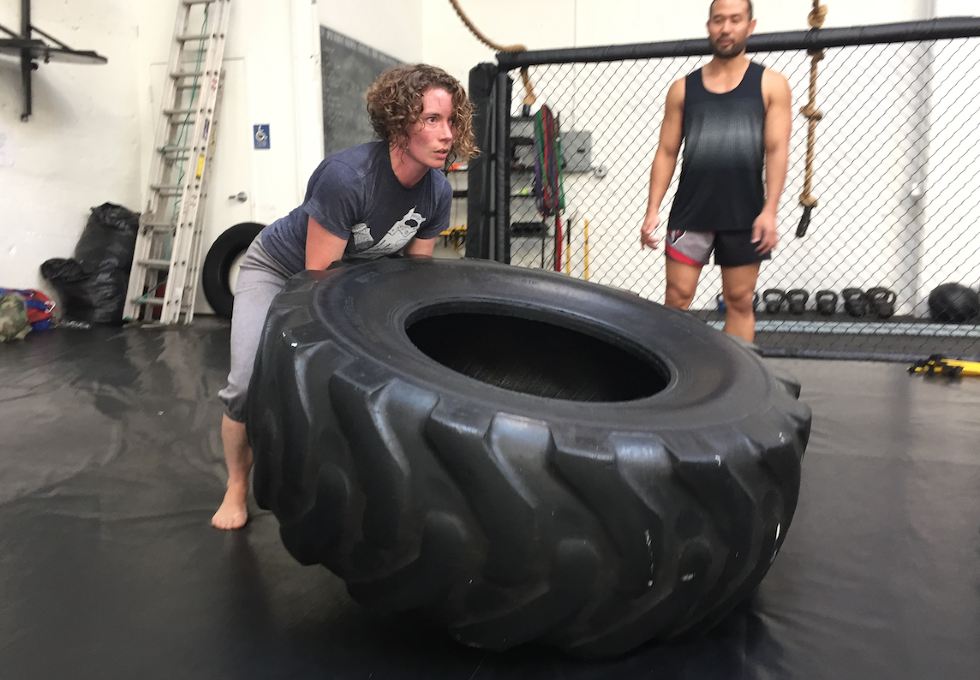 Cromwell flips tires to improve her power. Photo by Claudia Bauer
Tire flipping: Squatting next to a roughly 100-pound tractor tire, Cromwell puts both hands under the tire's edge. With an explosive burst, she powers through her legs and core to lift the tire to vertical and push it over. "Imagine jumping, but with your entire body," says Del Rosario. "It teaches dancers to use all their force."
Sledgehammer: Cromwell swings a 10- or 20-pound sledgehammer at the sidewall of the tractor tire. "It feels like you're finding a really good overcurve," she says, "because you're using that weightedness to drop into a circle and give yourself momentum." She softens her upper body to absorb the rebound. "That softness combined with strength is where efficient partnering exists," says Del Rosario.
Try This: Cromwell's Rope Ladder Drills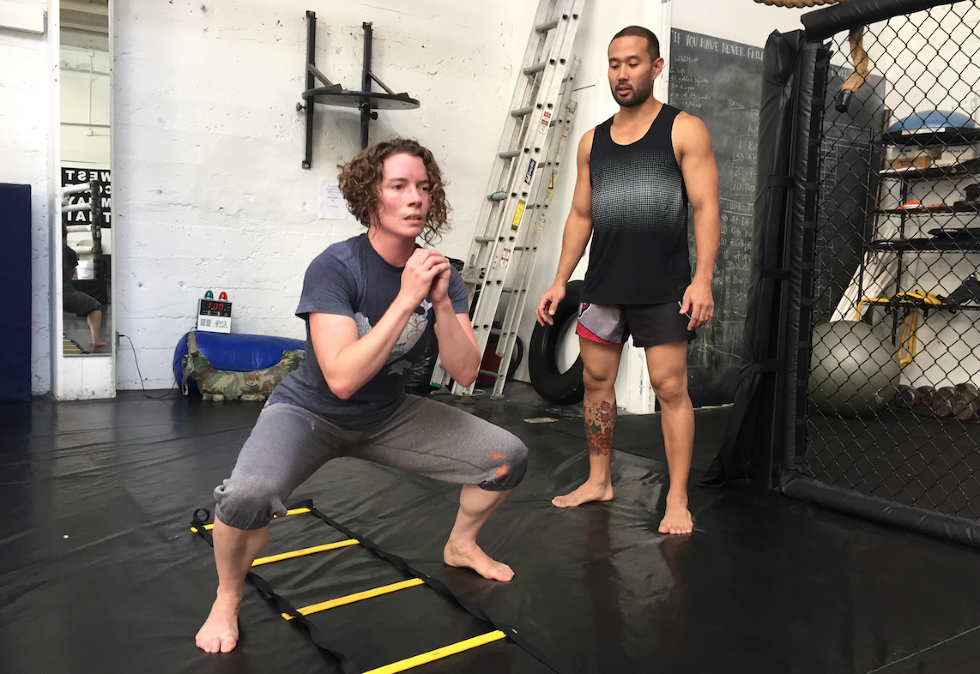 Jump up and down the ladder, aiming for speed. Photo by Claudia Bauer.
Flipping tires and swinging sledgehammers require training and a spotter, but any dancer can try Cromwell's rope-ladder drills. Great for improving petit allégro, ladder work develops coordination, speed and control in the feet and legs.
Stand at one end of the ladder, keeping legs parallel.
Hop with both feet into the first square.
Hop so that each foot lands outside the next square.
Jump so that the legs land together into the third square.
Work your way down the ladder, then turn around.
Start with 30-second intervals and increase your speed as you work up to 60 seconds. It's not about jumping high, it's about staying at the same speed, says Del Rosario. "When you do it for speed, you're getting adductor and abductor work, and also teaching the body to stay grounded."
Boost the challenge by hopping from two feet to one, alternating feet or going backwards.
Cover Story
Mar. 19, 2018 09:15AM EST
Jayme Thornton
Camille A. Brown is on an impressive streak: In October, the Ford Foundation named her an Art of Change fellow. In November, she won an AUDELCO ("Viv") Award for her choreography in the musical Bella: An American Tall Tale. On December 1, her Camille A. Brown & Dancers made its debut at the Kennedy Center, and two days later she was back in New York City to see her choreography in the opening of Broadway's Once on This Island. Weeks later, it was announced that she was choreographing NBC's live television musical Jesus Christ Superstar Live in Concert, to air on April 1.
An extraordinarily private person, few knew that during this time Brown was in the midst of a health crisis. It started with an upset stomach while performing with her company on tour last summer.
"I was drinking ginger ale, thinking that I would feel better," she says. Finally, the pain became so acute that she went to the emergency room in Mississippi. Her appendix had burst. "Until then, I didn't know it was serious," she says. "I'm a dancer—aches and pains don't keep you from work."
Keep reading...
Show less
Dance As Activism
Mar. 19, 2018 10:34AM EST
Nathalia Arja as the Novice in Jerome Robbins' The Cage. Photo by Alexander Iziliaev, courtesy Miami City Ballet
The encounter with man-eating female creatures in Jerome Robbins' The Cage never fails to shock audiences. As this tribe of insects initiates the newly-born Novice into their community and prepares her for the attack of the male Intruders, the ballet draws us into a world of survival and instinct.
This year celebrates the 100th anniversary of Jerome Robbins' birth, and a number of Robbins programs are celebrating his timeless repertoire. But it especially feels like a prime moment to experience The Cage again. Several companies are performing it: San Francisco Ballet begins performances on March 20, followed by the English National Ballet in April and New York City Ballet in May.
Why it matters: In this time of female empowerment—as women are supporting one another in vocalizing injustices, demanding fair treatment and pay, and advocating for future generations—The Cage's nest of dominant women have new significance.
Keep reading...
Show less
Rant & Rave
Mar. 08, 2018 04:18PM EST
Is this the turning point when we'll finally see an end to dancer mistreatment? Photo by Gez Xavier Mansfield/Unsplash
Last week in a piece I wrote about the drama at English National Ballet, I pointed out that many of the accusations against artistic director Tamara Rojo—screaming at dancers, giving them the silent treatment, taking away roles without explanation—were, unfortunately, pretty standard practice in the ballet world:
If it's a conversation we're going to have, we can't only point the finger at ENB.
The line provoked a pretty strong response. Professional dancers, students and administrators reached out to me, making it clear that it's a conversation they want to have. Several shared their personal stories of experiencing abusive behavior.
Christopher Hampson, artistic director of the Scottish Ballet, wrote his thoughts about the issue on his company's website on Monday:
Keep reading...
Show less
Dancer Voices
Mar. 13, 2018 09:15AM EST
Emily Ramirez as "Meg Giry" in The Phantom of the Opera. Photo by Matthew Murphy.
I always knew my ballet career would eventually end. It was implied from the very start that at some point I would be too old and decrepit to take morning ballet class, followed by six hours of intense rehearsals.
What I never imagined was that I would experience a time when I couldn't walk at all.
In rehearsal for Nutcracker in 2013, I slipped while pushing off for a fouetté sauté, instantly rupturing the ACL in my right knee. In that moment my dance life flashed before my eyes.
Keep reading...
Show less
What Wendy's Watching
Mar. 19, 2018 10:21AM EST
Jaqlin Medlock rehearsing Signals, with, seated, Rashaun Mitchell, Melissa Toogood and Petronio, PC Paula Court
Stephen Petronio brings a bracing season to New York City's Joyce Theater, where he has performed almost every year for 24 years . His work is exciting to the subscription audience as well as to many dance artists. He delves into movement invention at the same time as creating complex postmodern forms. The new work, Hardness 10, is his third collaboration with composer Nico Muhly. The costumes are by Patricia Field ARTFASHION, hand-painted by Iris Bonner/These Pink Lips. Petronio's work still practically defines the word contemporary.
Stephen Petronio Company also continues with its Bloodlines series. That's where he pays homage to landmark works of the past that have influenced his own edgy aesthetics. This season he's chosen Merce Cunningham's playful trio Signals (1970), which will be performed with live music from Composers Inside Electronics.

Completing the program is an excerpt from Petronio's Underland (2003), with music by Nick Cave. Video footage courtesy of Stephen Petronio Company, filmed by Blake Martin.
Photo via Unsplash
Never did I think I'd see the day when I'd outgrow dance. Sure, I knew my life would have to evolve. In fact, my dance career had already taken me through seasons of being a performer, a choreographer, a business owner and even a dance professor. Evolution was a given. Evolving past dancing for a living, however, was not.
Transitioning from a dance career involved just as much of a process as building one did. But after I overcame the initial identity crisis, I realized that my dance career had helped me develop strengths that could be put to use in other careers. For instance, my work as a dance professor allowed me to discover my knack for connecting with students and helping them with their careers, skills that ultimately opened the door for a pivot into college career services.
Here's how five dance skills can land you a new job—and help you thrive in it:
Keep reading...
Show less


Get Dance Magazine in your inbox