popular
Aug. 03, 2017 09:22AM EST
Op-Ed: Why We Need To Confront Bias in Dance Criticism
LINES dancer Adji Cissoko. Photo by Quinn Wahrton
Points should be given to the dance world for beginning to address the issue of diversity. But have we ever taken into consideration who critiques dance—and the lack of diversity in that area of our community? Or how critics' subconscious biases create barriers to the elevation of non-white artists?
Recently, Charmian Wells wrote a scathing critical analysis of New York Times dance critic Gia Kourlas' review of DanceAfrica. Entitled "Strong and Wrong: On Ignorance and Modes of White Spectatorship in Dance Criticism" it took Kourlas to task for critiquing from a place of cultural and technical ignorance.

Forces of Nature Dance Theatre, which performed at DanceAfrica. Photo via Facebook.
Reviews are part of the life blood of artistic sustainability—funders, agents, bookers and audience members use them as guides. Dance critics have a responsibility to the community to do, and be better, or at least have the courage to let the reader know what they don't understand.
---
How can you truly comment on what you are seeing when you have no technical knowledge of a specific genre like African or hip hop? Critics who stand on the outside of a culture cannot write about what they do not know. Artists of color endure reviews that are often reductive or dismissive, especially when the work is "foreign" to the critic. Critiques without in-depth analysis—but with comments about how energetic, colorful or dynamic dancers are—reduces the sophistication and mastery that might be present to a learned eye. Instead, what's read between those lines is "happy Negroes dancing."
The black body on stage is never neutral, and the effects of its inherent politicization as it relates to the subconscious cultural ignorance and biases held by critics is seldom addressed.
The most common microaggressive critique of black artists is the hyperawareness of their bodies. There are critics who wax poetic about rippling, sinewy musculature, or raw sensuality while overlooking the actual dancing. These trope-laden reviews can read as though the writer was critiquing a dancing slave auction. You can barely read a review of the Ailey company without the mention of their over all "buffness," especially that of the men. During the meteoric rise of Misty Copeland, there was little talk of her technique; instead there was great focus her "athleticism," aka muscularity.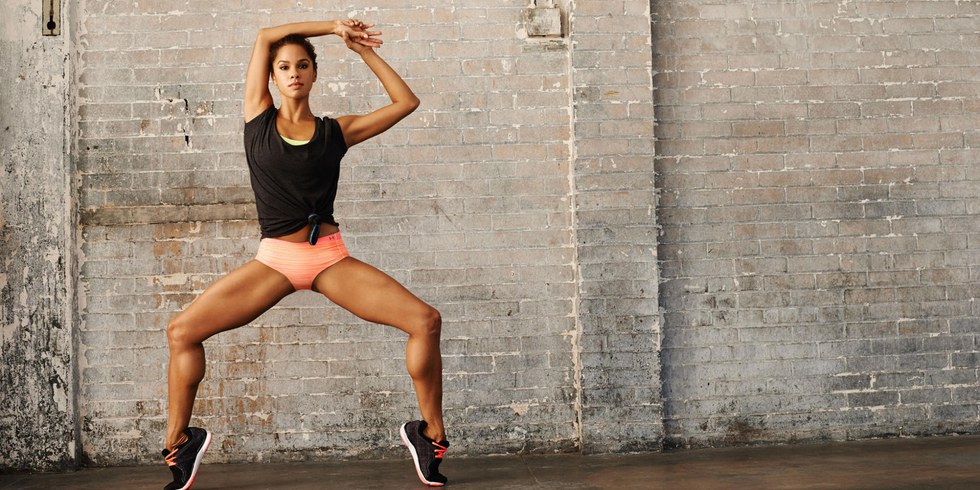 Copeland's Under Armour campaign
Even choreographers fall victim to this focus. Take William Forsythe and Alonzo King: Both have extrapolated the ballet vernacular, one from an anatomic/intellectual place, the other from a organic/spiritual one. Early in their careers, Forsythe was heralded for his innovation and daring while King's work was reduced to the beauty of his dancers, never addressing the systematic methodology behind creating his aesthetic.
Donald Byrd is another example of a black choreographer whose early work critics rarely acknowledged for its choreographic intricacies. They consistently used adjectives such as "aggressive," and focused on the "violent" nature of his movement. Byrd was the "angry, black man" choreographer.
Los Angeles Times critic Lewis Segal wrote a particularly scathing review of Byrd's 1998 production of Life Situations: Daydreams on Giselle, stating, "Byrd has never come to terms with his fixation on ballet." The fixation of which he speaks is the same one that Twyla Tharp's 1973 Deuce Coupe was lauded for. Segal was unrelenting: "Obviously, there are plenty of distinguished choreographers who explore ballet technique without requiring toe shoes—Jirí Kylián for starters. But nobody seems as unrelenting as Byrd in his fixation on tests of balance: the heart of pointe choreography." Why should Byrd be required to "relent" when his white counterparts are free to create?
Black artists are often hemmed into addressing culturally-specific topics, knowing that in order to succeed, white critics must be able to properly "place" them. There is an odd power struggle when black artists' voices are dictated to them through the critique of what writers "would have liked" to see or what they "should" do instead of the critics confronting what they are actually watching.
Choreographers are trapped between the rock of being culturally-specific, and the hard place of creating abstract work—or any work not necessarily associated with blackness. 2013 MacArthur fellow Kyle Abraham seems to be damned if he does and damned if he doesn't. For his latest work for Alvin Ailey, Absent Matter, his inspiration is clearly taken in part from his life in a black male body. Yet The New York Times decided "Mr. Abraham is not fully formed enough as a choreographer to tackle it," implying that he is (artistically) incapable of telling his own story. Meanwhile, for his new work on his own company, Dearest Home, which instead of confronting politics, confronts human emotion, NYT deemed it, "too many tears, not enough art."
Camille A. Brown tried to get ahead of this problem with her BLACK GIRL: Linguistic Play. This work is dense with the sentiment of growing up as a black girl, and the physical vocabulary is like an encyclopedia spanning from the shores of Africa to the dancehalls of Jamaica and the streets and clubs of America. Cognizant of the overall illiteracy of the audience (because this is information not taught), Brown placed a study guide in the program, and built in a post-show talkback where much of the cultural and historical information was unpacked. Still, writers gave the production a scratch-and-sniff once over, reducing the rhythms derived from Juba to "sneaker tapping" and using trite adjectives to describe the movement: "A sassy, fierce and at times playfully snarky step dance number opened the evening."
A May danceviewtimes review of The Washington Ballet in Lilac Garden unwittingly revealed the exact reasons why there is such a problem with diversity in ballet today.:
"Another issue was racially neutral casting. Ashley Murphy, one of the company's black dancers, was the bride-to-be Caroline. Jonathan Jordan, one of the company's white dancers, was the lover she can not marry. That this became a mixed race pair added a dimension to the story that Tudor hadn't intended in his careful depiction of English society during Edwardian times—a distracting dimension."
I would like to know if writer George Jackson is distracted when white male dancers perform the Moor's role in Othello? Or when white dancers do the Chinese, Arabian, Spanish roles in The Nutcracker? Is he disturbed when humans play swans or when live women are cast as dead ones? Or is his opinion on what he refers to as "neutral casting" reserved for non-white people in traditionally white roles? If that is the case, since traditionally most roles in ballet were cast on white dancers, where would that leave people of color?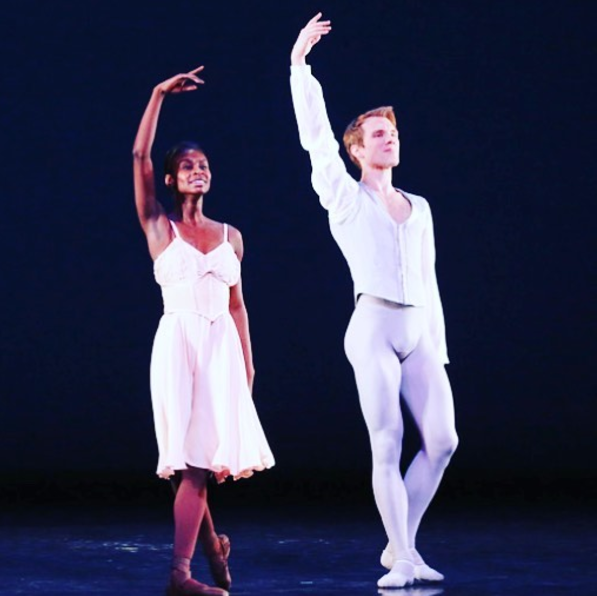 Ashley Murphy with her real-life fiancé, Sam Wilson.
His comments on the choreographer's original intent are purely speculative. Ironically, when you watch the ballet, the only nod to culture, class or era is in the costuming and hair (depending on the production); not even the set alludes to a time period. This is what makes the ballet so enduring—it is a universal story of unrequited love. The casting of the interracial couple is somewhat of a Rorschach test, and clearly Jackson did not see a butterfly.
But if Jackson wants to rely on history, then let's do. In the 1940s Tudor worked extensively with African American ballet dancers in Philadelphia. When other white teachers refused to teach them, he welcomed them into his classes. When the likes of Delores Browne and Joan Myers Brown took his partnering class and white male dancers refused to partner them, he was happy to step in. Judith Jamison speaks of her time training with him with great affection. In 1954, he choreographed Offenbach in the Underworld for the Philadelphia Guild with John Jones, Billy Wilson and Delores Browne (the ballet was later done on ABT).
Based on these facts, there is a great likelihood that Tudor would have had little issue with the color of the dancers.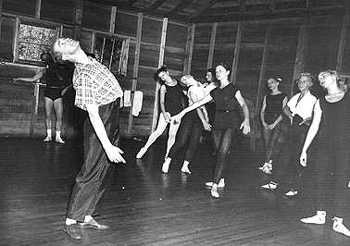 Tudor teaching at Jacob's Pillow. Photo via antonytudor.org.
Black performers, choreographers and directors are never shocked by this; it is what acronyms like SMH were truncated for. But it smarts a bit more when you believe that you are sharing the hallowed, liberal space of the theater where "the suspension of disbelief" is the agreement we enter into when we cross the threshold.
The fact that dance critics are allowed to write their personal proclivities without presenting them as such is a problem. The fact that there are so few dance critics of color working for mainstream outlets is another. The fact that critics are under no obligation to disclose their ignorance, yet are imbued with the authority to write about (or around) the work, or worse, dismiss its validity, is yet another.
Major publications have been printing pieces about diversity in dance, and have yet to look at their writing and editorial staffs. There can be no "marking" in our community if we are truly looking to create equity. It's full out or fail. Starting a conversation about the way work is critiqued should be a part of the reconstruction. And until then we have to call it like we see it. In true New York fashion, "If you see something, say something."
popular
Aug. 01, 2017 02:37PM EST
Renato Penteado, one of last year's winners. PC Alexandre Dufaur
Have you ever seen a performance and thought, "Wow, this was so good. Dance Magazine should really be writing about this!"? You're in luck.
We're collecting nominations for our annual Readers' Choice feature, and we need your help! We'll compile our favorite nominations, and then you'll vote on what should make it into our December issue. But for now, we want to hear about the most memorable dance you've seen so far in 2017.
Keep reading...
Show less
via Instagram, Courtney Lavine
Throughout the summer, we've been noticing beachside views and scenic waterfalls sprinkled in with all of the usual rehearsal and performance posts we see from ballet's biggest stars. But even while enjoying some sun and relaxation, dancers like Sara Mearns and Michaela DePrince prove that they never really take a break from ballet. Ahead, check out some of the cutest vacay pictures and videos our favorite dancers have been sharing this summer. Not only will they give you some future vacation inspo, they'll also have you itching to get back in the studio.
Keep reading...
Show less
Ballet at University of Utah. Photo by August Miller, Courtesy University of Utah.
This fall, the University of Utah's School of Dance welcomes the first class of candidates to its newly reinstated Master of Fine Arts in Ballet program, currently the only ballet-specific MFA in the country. Geared toward those with professional ballet experience, it requires courses in pedagogy, choreography and scholarly inquiry. Melonie Murray, the director of graduate studies, says, "We want to support students in understanding ballet in a deeper way."
"We Are What We Are" from La Cage aux Folles
The 2017–18 Broadway season is just getting underway! But before we look ahead to new productions, let's recall what came before. Here are a few of the sparkliest shows that opened on the Great White Way in previous Augusts.
42nd Street (1980)
The cast of the 2001 revival of 42nd Street performing at the Tony Awards

If you need an example of traditional Broadway-style tap, this couldn't be any closer. The original production of 42nd Street ran for over eight years. That's a lot of time steps.
Keep reading...
Show less


Get Dance Magazine in your inbox