Rant & Rave
Jan. 15, 2018 09:15AM EST
Message to Audiences: Put Down Your Phone!
The instant screens light up, the spell is shattered. Original performance photo by Rosalie O'Connor.
-Hey. U up?
-Ya. I'm at the ballet.
-Oh ok. Talk later.
-Nah, it's cool, it's a slow part right now.
Nope, it's not cool. Put your phone away. In the hushed darkness of an auditorium, light explodes from that screen like shrapnel, blasting those around you out of their viewing experience.
---
Your fellow audience members have ponied up considerable cash for tickets, and the artists onstage and in the orchestra pit have devoted their lives, since childhood, to a single craft, spending weeks, months, years preparing their roles in any given show. Honor those investments. Honor your own.
A measure of interruption during a live performance is expected—the Marco Polo call-and-answer of sneezes and coughs, the matinee toddler tantrums, the occasional snore of the exceptionally aged or fatigued. I remember Mexican free-tailed bats dive-bombing us mid-show in Austin, Texas, and ground squirrels waddling, like overzealous supernumeraries, onstage in Vail, Colorado. I remember, during a wild thunderstorm that christened my retirement show with American Ballet Theatre, the Met roof springing a leak and a puddle forming downstage right, in prime pirouette territory.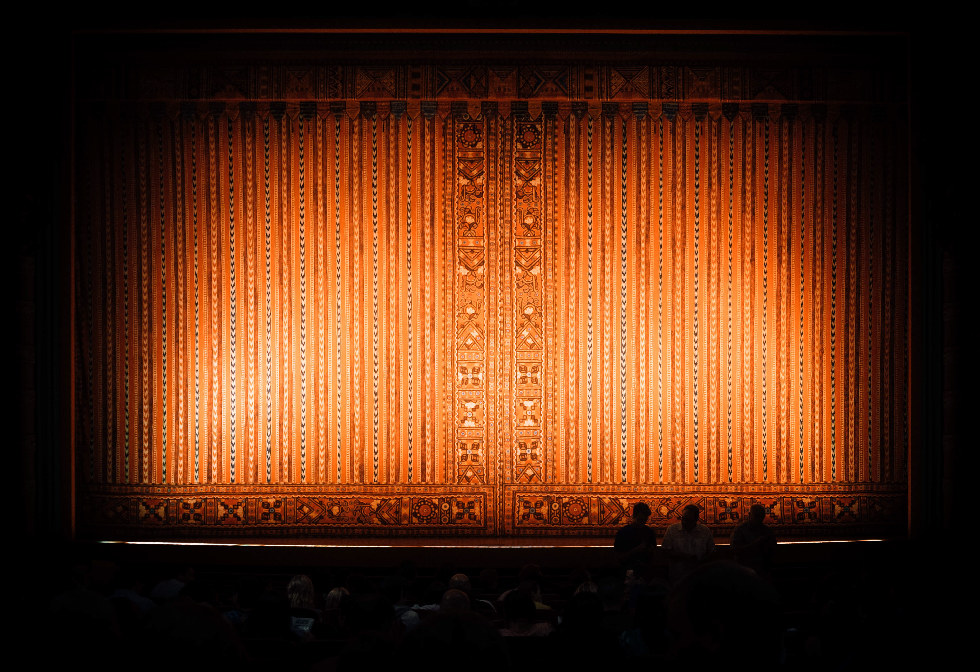 Facebook can wait until intermission. Photo by Jad Limcaco/StockSnap
It's hard to control a cough or a cranky kid's wails. Tough to tame the artistic ambitions of bats or squirrels. And sometimes, I guess the rain gods want in on the festivities too. But most philosophers and legal scholars would agree that even the most strung-out phone addicts possess free will. Force majeure has nothing to do with Facebook.
On Broadway, the use of phones during shows is the new normal, as epidemic among the theatergoing masses as shorts and flip-flops. My sister, a ballet dancer with The Phantom of the Opera, could fill volumes with tales of outrageous cell phone behavior—viewers blithely carrying on phone conversations, ringtones that don't exactly complement Andrew Lloyd Webber's songs. Every night, multiple audience members are lost in their phones at once, screens beaming ignominious haloes around their faces. The ushers, by way of reprimand, march down the aisles and shine their flashlights at the offenders. These light shows erupt throughout the performance, from front row to balcony, as if the romance between Christine and her Angel of Music were flowering not at the Paris Opéra in the 1880s but at a Pink Floyd concert a century later.
Ballet audiences have yet to slide that far below a standard of decorum, but they're losing altitude fast. When I sit among them, I inevitably see people texting, scrolling through email, snapping photos, checking the activity of social media posts. Fortunately, the expanse between stage and seats in most opera houses is broad enough that the performers don't notice.
But those of us on the less sweaty side of the pit sure do. As far as I'm concerned, the instant those screens come up during a show, the spell is shattered. I'm no longer carried along by the story, the movement, the music; I'm wrenched back into my seat. And now, instead of enraptured and exhilarated, I'm just irritated.
The phone fiends are likewise missing out, so why are they there? Don't they, like the rest of us, come to the ballet in the hopes of quieting the chatter of the mind, touching a collective consciousness, being stirred, provoked, getting their hair blown back? By fixating on their phones, they swerve away from that purpose, away from the rewards of the three-dimensional present and a unique swath of space and time that will never be experienced again.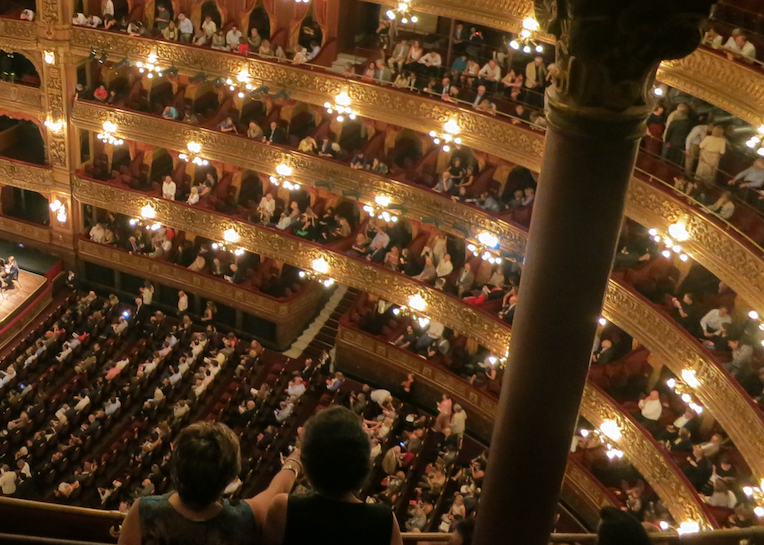 Don't the phone addicts realize they're missing out? Photo via StockSnap
These might sound like the puritanical ravings of an anti-tech grouch, but I love my phone too. I peer into its numinous fathoms far too many times per day, and I sometimes find myself doing the loathsome text-while-you-walk zombie zigzag down crowded sidewalks. I too tumble down the rabbit hole of animal videos on a shamefully regular basis. I too jones for the dopamine suckle of social media. But a trace of self-discipline stays with me from my dancer days, at least while the curtain's drawn. (And luckily, I take terrible selfies.)
It's hard not to view the illicit use of cell phones in theaters as symbolic of society's larger problems. If we're apathetic to the experiences of our fellow citizens in the audience, with whom we ostensibly share an interest, why would we empathize with people of different ideologies, races, sexual orientations, cultures and classes?
I'm not suggesting that bad phone behavior is necessarily a gateway to graver transgressions, that civilization will crumble if our phones don't stay in our pockets, or that world peace will reign if they do.
But I wonder how we'll ever begin to understand one another on this shrinking planet without a language of simple courtesy. Maybe that means, for the 40 minutes until intermission, letting that text go unanswered. Maybe that means powering down, opening up and checking the activity onstage.
Ka'et Contemporary Dance Ensemble in the studio. Still from IFAF documentary.
Mash-ups aren't uncommon in the dance world: Performers of varying styles have been known to share the stage, from ballerina Tiler Peck and famed clown Bill Irwin to Michelle Dorrance, who's mixed tappers and break-dancers. Likewise, collaborations between choreographers and artists from seemingly mismatched disciplines have produced magical creations, such as Alexei Ratmansky's Whipped Cream, featuring Mark Ryden's whimsical and even grotesque designs and costumes.
But the Israeli troupe Ka'et Contemporary Dance Ensemble has found success in one of the most unlikely partnerships: Secular contemporary choreographer Ronen Itzhaki creates movement for a group of rabbis.
Keep reading...
Show less
via Instagram
While undoubtedly best known for her dancing, American Ballet Theatre principal Isabella Boylston has also been getting noticed for her style by Allure and Vogue—and with good reason. Her Instagram feed features a mix of on-trend athleisure wear and detailed dresses from runway designers like Valentino and Anna Sui, none of which would be complete without the makeup and hair to match. With a penchant for skin care and an ever-growing lipstick collection, Boylston talked us through some of her beauty must-haves on and off the stage.
Photo by Jayme Thornton
Keep reading...
Show less
BalletMet in company class onstage before a show. Photo by Jennifer Zmuda, courtesy BalletMet
Before she became the 20th century's most revered ballet pedagogue, Agrippina Vaganova was a frustrated ballerina. "I was not progressing and that was a terrible thing to realize," she wrote in a rough draft of her memoirs.
She retired from the Imperial Ballet stage in 1916, and for the next 30-plus years, devoted herself to creating a "science of ballet." Her new, dynamic teaching method produced stars like Rudolf Nureyev, Alla Osipenko, and Galina Ulanova and later Natalia Makarova and Mikhail Baryshnikov. And her approach continues to influence how we think about ballet training to this day.
But is the ballet class due for an update? Demands and aesthetics have changed. So should the way dancers train change too?
Keep reading...
Show less
How do you warmup? Photo by Jim Lafferty
For many dancers, a "warmup" consists of sitting on the floor stretching their legs in various positions. But this strategy only reduces your muscles' ability to work properly—it negatively affects your strength, endurance, balance and speed for up to an hour.
Save your flexibility training for the end of the day. Instead, follow a warmup that will actually help prevent injury and improve your body's performance.
According to the International Association of Dance Medicine and Science, a smart warmup has four parts: "a gentle pulse-raising section, a joint mobilization section, a muscle lengthening section and a strength/balance building section."
Keep reading...
Show less
Charlie Sutton's "Baby, You Knock Me Out." Photo by Steven Rosen, Courtesy DanceBreak.
DanceBreak came roaring back to life on Monday after seven years on hiatus, and six choreographers now have the opportunity to be the next Andy Blankenbuehler. Or Joshua Bergasse, Kelly Devine, Casey Nicholaw, Josh Prince or Josh Rhodes. These stellar Broadway choreographers all got their first big shows after Melinda Atwood's musical-theater launching pad let them show the industry what they could do.
Since 2002, DanceBreak has been a sort of "So You Think You Can Choreograph" for Broadway. Although not everyone goes straight there—Mandy Moore and Mia Michaels are alumni, too—the program is meant to funnel talented choreographers to the Broadway stage by providing a platform for their work. Prince, who introduced Atwood to the cheering crowd, has paid DanceBreak the ultimate compliment, creating his own non-profit incubator for theater choreographers, Broadway Dance Lab. On Monday, he recalled the story of how he was offered the role of choreographer on Broadway's Shrek just days after its director saw the 2007 edition.
Keep reading...
Show less
Stretching feet the wrong way will only lead to injury. Photo by Thinkstock
When caring for your feet or trying to make them look good, it's tempting to seek shortcuts. Bad ideas—like dangerous stretches that promise perfect lines or ointments that were never meant to go on your toes—catch on all too easily backstage.
We asked podiatrists who've seen their dance clients try it all share the habits they'd like to see gone for good.
Keep reading...
Show less


Get Dance Magazine in your inbox