Recover Like a Pro: Parisa Khobdeh's Post-Show Routine
Francisco Granciano, Courtesy PTDC
The minutes after curtain comes down can be the trickiest of a dancer's day: Despite your adrenaline high and the impulse to celebrate the night's achievements, you need to jumpstart your body's recovery so that you can take the stage again the very next day.
Smart dancers like Parisa Khobdeh follow a carefully calibrated routine during busy performance weeks, whether they're at home or on the road. The 14-year Paul Taylor Dance Company veteran shares her tried-and-true post-show rituals.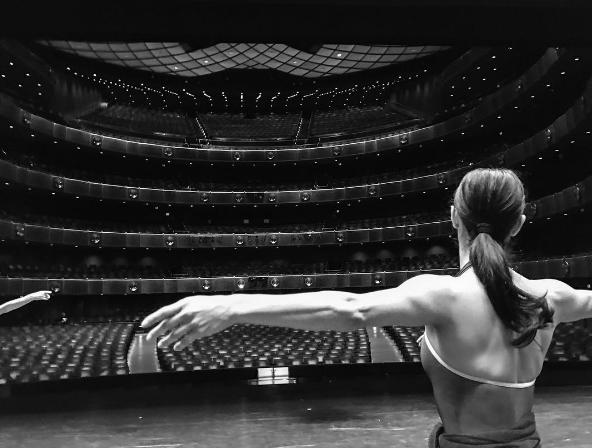 Photo by Francisco Graciano, via Instagram
---
Stretch: "While I'm still warm, I have a 10-minute routine with a friend in the company, where I actively stretch and she passively stretches me, then vice versa."
Ice: "I'll fill a bucket or trash can with ice, add water and stand in it for at least a minute. Bringing down any inflammation helps me feel better the next day."
Eat: "I eat my biggest meal of the day after the show. I always have protein and vegetables. I try to avoid sugary foods during show weeks, and that includes vegetables that are higher in sugars."
Hydrate: "I add electrolytes to refuel while I'm hydrating. I love coconut water. I also avoid alcohol when I'm performing."
Sleep: "I prefer eight hours a night, though that can be a luxury. To relax before bed, I read a book or meditate. I'll forfeit staying out late—I can save that for after the season."
These days, it's not uncommon to see men dancing on pointe. Sure, the Trocks have been doing it forever, but now even men in traditional companies are seeing the benefits of training in pointe shoes.
And yet, we've never seen anything like this video of Houston Ballet's Hayden Stark, Derek Dunn and Daniel Durrett performing the "Shades" variations from La Bayadere on pointe. It's not a parody video or a spoof. These boys' pointework is the real deal, and we're all for it.
Keep reading...
Show less
Thinkstock
Your gut is a hot topic in nutrition right now. Experts say a healthy microbiome (the makeup of bacteria in our bodies) is associated with everything from a reduced risk of infection to a more efficient metabolism.
But can we actually make our inner bacterial population healthier?
Keep reading...
Show less
Jun. 19, 2017 01:31PM EST
For Dance Magazine's 90th anniversary issue, we wanted to celebrate the movers, shakers and changemakers who are having the biggest impact on our field right now. There were so many to choose from! But with the help of dozens of writers, artists and administrators working in dance, the Dance Magazine staff whittled the list down to those we felt are making the most difference right now.
Click through the links below to find out why they made our list.
Keep reading...
Show less
Jun. 22, 2017 07:53PM EST
Jayme Thornton
With the first round of dancer duels complete, Jennifer Lopez and the World of Dance judges are bringing in some extra help as the competition thickens. American Ballet Theatre principal and all around dance superstar Misty Copeland will be the show's first guest judge for the July 18th and July 25th episodes.
Keep reading...
Show less