Meet Reid & Harriet, The Trendiest Design Duo in Dance
Bartelme and Jung compare colors. Photo by Michael Manata, courtesy Reid & Harriet
Reid Bartelme and Harriet Jung were still students at the Fashion Institute of Technology when their first joint commission came along: Creating the costume for a Fall for Dance piece Andrea Miller choreographed on Drew Jacoby. The pair officially joined forces in 2011, forming their eponymous label and building a resumé that includes designing for American Ballet Theatre, New York City Ballet and Miami City Ballet. Reid & Harriet Design's success lies in their ability to mix bold colors and unique textures with an innate understanding of what dancers need to perform comfortably.
---
They opened up to Dance Magazine about their creative process, where they get inspiration and why they like it when choreographers don't come with too many ideas.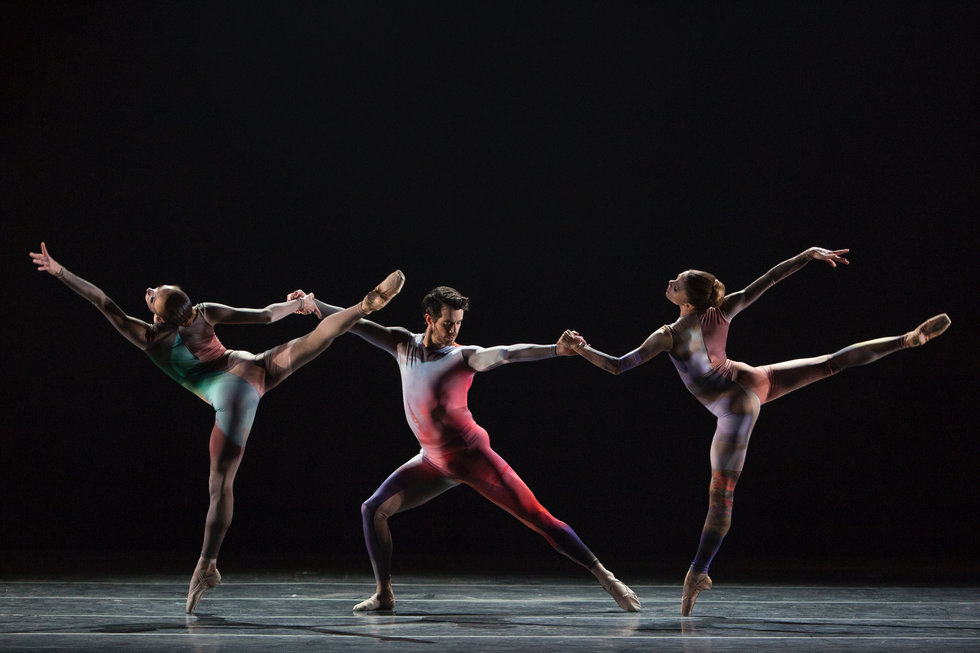 Costumes for choreographer Matthew Neenan. Photo by Erin Baiano, courtesy Reid & Harriet
Bartelme: Fashion made a lot of sense for me when I started transitioning out of dance. I was always crafty—I used photographs of my Halloween costumes growing up to apply to FIT.
Jung: I didn't have any experience in fashion prior to FIT—I majored in molecular and cell biology in college.
Bartelme: When we start a project, a choreographer might come with some dancing done or music picked out. Sometimes they won't have started at all. Harriet and I take whatever we're given and start to source things visually. Then we pull imagery and start sketching together. We'll figure out fabrics and do drawings to send off to the choreographer to see if we're going in the right direction.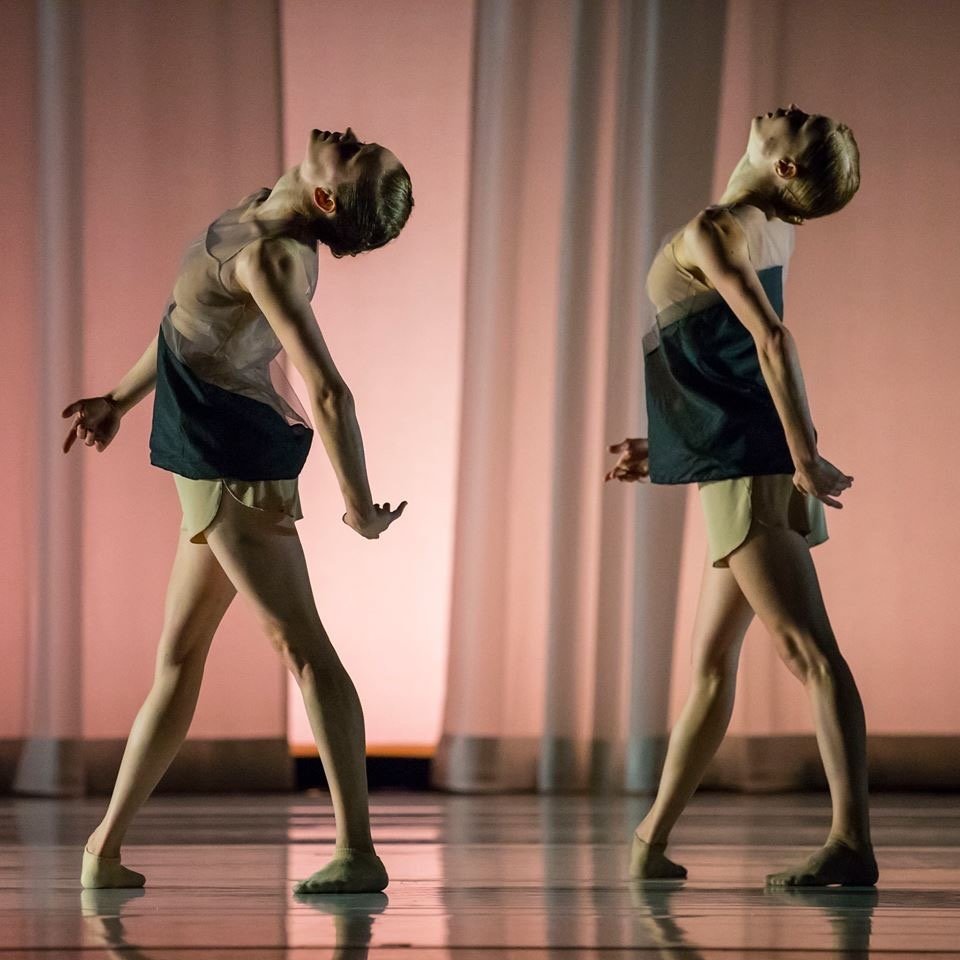 Costumes for Kyle Abraham's Counterpoint for Hubbard Street Dance Chicago. Photo via reidandharriet.com
Jung: I always say it's my favorite when choreographers don't come in with too many ideas. The projects that turn out the best are with choreographers who really trust us.
Bartelme: Ideally, we're put in situations where we can draw from art or a movie or a trip we've taken, and bring that into our work.
Bartelme: We also have to be able to shift along with the choreographer's work because sometimes the piece evolves.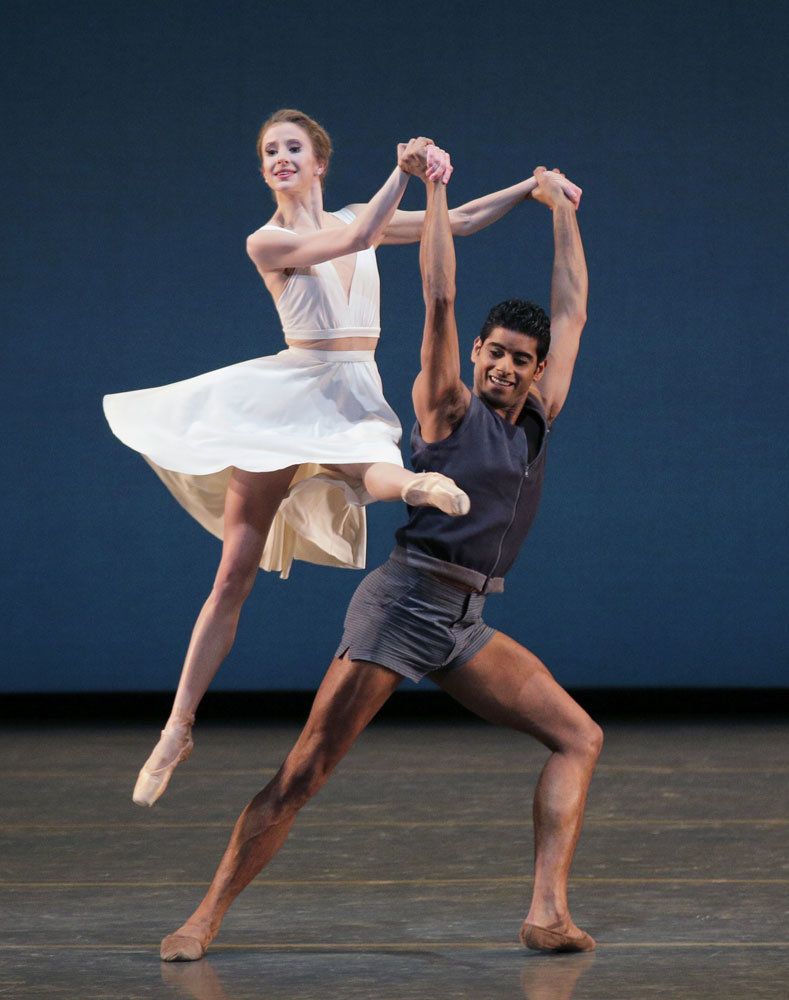 Costumes for Justin Peck's Paz de la Jolla. Photo by Paul Kolnick, courtesy NYCB
Jung: We're always learning. We once made a corset bodice with plastic boning for Julie Kent. After dress rehearsal, the bonings were all broken.
Bartelme: This happened four hours before the show, but luckily Tomoko Ueda-Dunbar, ABT's amazing wardrobe supervisor, took out all of the boning and rigged the costume to the tights.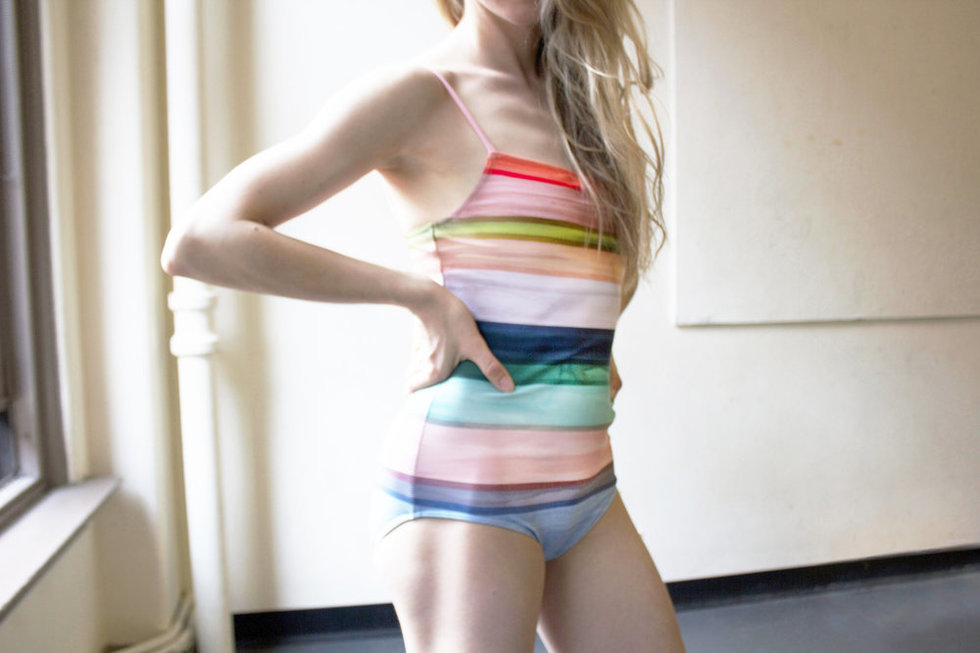 "The Harriet" from Reid & Harriet's ready-to-wear line. Photo via reidandharriet.com
Jung: It's always been one of our ultimate goals to have a unisex, very wearable collection. The ready-to-wear bathing suits we designed last spring were the first logical steps towards that.
Bartelme: Next, we have a show in late March. It's a curated evening in dance at the Guggenheim Museum Works & Process that's based in costumes. It will include five choreographers that I've danced for and we've both designed for, plus a handful of dancers we've worked with. Harriet and I are going to dance, too.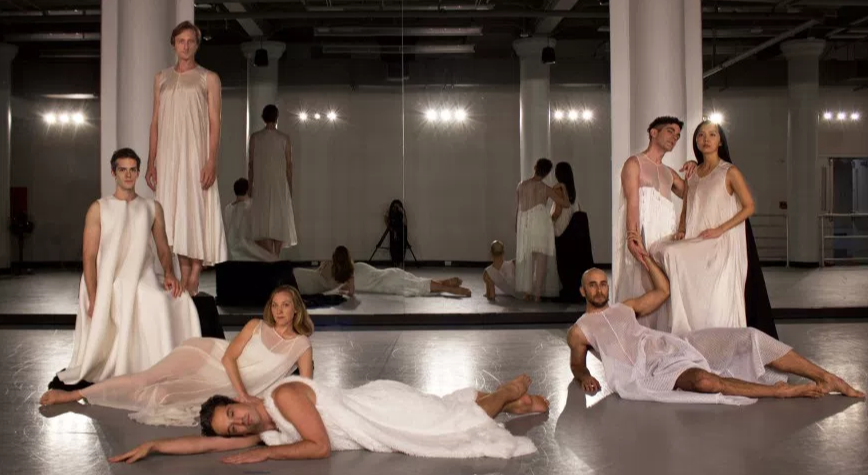 Bartleme, Jung and their cast. Photo via guggenheim.org
Ian Douglas; courtesy Sarah Haarmann. Performing with Pam Tanowitz Dance at The Joyce Theater
Sarah Haarmann stands out without trying to. There is a precision and lack of affectation in her dancing that is very Merce Cunningham. Her movement quality is sharp and clear; her stage presence utterly focused. It's no wonder she caught Mark Morris' eye. Even though she still considers herself "very much the new girl" at Mark Morris Dance Group (she became a full-time member in August 2017), in a recent performance of Layla and Majnun, Haarmann seemed completely in her element.
Company: Mark Morris Dance Group
Age: 27
Hometown: Macungie, Pennsylvania
Training: Lehigh Valley Charter High School for the Performing Arts and Marymount Manhattan College
Keep reading...
Show less
Reframing high-stakes auditions as learning opportunities can make you a better auditioner. Photo by Jim Lafferty.
In 2012, freelance contemporary dancer Adrianne Chu made a major career change: She decided to try out for A Chorus Line. "Even though I didn't get the job, I felt like I was meant to do this," says Chu. So she started going to at least one musical theater audition every weekday, treating each as a learning experience. After several years of building up her resumé, Chu's practice paid off: She booked a starring role as Wendy in the first national tour of Finding Neverland.
Approaching auditions as learning opportunities, especially when you're trying to break into a different style or are new to the profession, can sharpen your skills while helping you avoid burnout. It also builds confidence for the auditions that matter most.
Keep reading...
Show less
How do you warmup? Photo by Jim Lafferty
For many dancers, a "warmup" consists of sitting on the floor stretching their legs in various positions. But this strategy only reduces your muscles' ability to work properly—it negatively affects your strength, endurance, balance and speed for up to an hour.
Save your flexibility training for the end of the day. Instead, follow a warmup that will actually help prevent injury and improve your body's performance.
According to the International Association of Dance Medicine and Science, a smart warmup has four parts: "a gentle pulse-raising section, a joint mobilization section, a muscle lengthening section and a strength/balance building section."
Keep reading...
Show less
Screenshot via YouTube
Keep reading...
Show less
This year, IABD launched a new ballet audition for men of color
Last month, the International Association of Blacks in Dance's third annual ballet audition for women of color was expanded to include a separate audition for men.
The brainchild of Joan Myers Brown (founder of both Philadanco and IABD), the women's audition was created to specifically address the lack of black females in ballet. However, the success and attention that audition drew made the men feel left out, so IABD decided to give the men equal time this year.
Keep reading...
Show less
Students participated in all aspects of Veränderung, from choreography to costumes. Photo by Uwe Stratmann, Courtesy Tanztheater Wuppertal.
Pina Bausch's unique form of German Tanztheater is known for raising questions. Amid water and soil, barstools and balloons, the late choreographer's work contains a distinct tinge of mystery and confrontation. Today, Tanztheater Wuppertal Pina Bausch's dancers use questions as fuel for creativity. The company's most recent project introduced a new group of performers to the stage: local high school ninth-graders from the Gesamtschule Barmen in Wuppertal, Germany, in an original work-in-progress performance called Veränderung (Change).
Keep reading...
Show less


Get Dance Magazine in your inbox