Dance Magazine Awards
Nov. 13, 2017 09:15AM EST
Dance Magazine Award Honoree: Rennie Harris
Osamu Inoue, courtesy Harris
It makes sense that Dance Magazine long ago dubbed Rennie (Lorenzo) Harris the "high priest of hip hop." When the often shy, Philadelphia-born choreographer founded his company Rennie Harris Puremovement in 1992, he planted a prodigious seed in the dance world. Then and now, Harris' mission has been to examine, preserve and share the culture of hip hop, decisively away from the commercially exploited view.
Harris remembers that when he started in the '90s, it was rough; a lot of his work was direct, so picketing and policing RHPM shows was the norm. But that time also harkened the birth of his well-thought-out launch of street dance onto the concert stage. There was the politically charged March of the Antmen, the pointed look at brotherhood and neighborhoods in P-Funk, and the tour de force Students of the Asphalt Jungle. His chilling solos, Lorenzo's Oil and Endangered Species, screamed chaos, contradiction and culture. In the 2000s, Rome & Jewels, his first evening-length work, garnered a Bessie Award. Facing Mekka followed, celebrating women of hip hop.
---
Always with one foot in the streets and the other on the stage, time spent teaching in the studio has been an extension of his ongoing hip-hop ministry. With his signature cap, and a towel hanging from his shoulder, before any movement, he guides his classes in a fact-filled discussion on tradition, the elders, and then he breaks down the choreography (aka "routines"). This is where Harris makes all of us rethink the possibilities of bridging the streets and the stage. As he puts it, "At the end of the day it's not just street dance, it's a culture."
He's Dr. Rennie Harris now, his Illadelph Legends of Hip-hop Festival, begun in 1997, is ever strong, and he heads four companies: RHPM; the youth-driven RHAW (Rennie Harris Awe-Inspiring Works); Rennie Harris Grass Roots, with mixed-level and polycultural dancers; plus the all-female THIS WOMAN.
For his unwavering efforts he has received numerous accolades, including three Black Theater Alliance Awards for best choreography, the Herb Alpert Award in the Arts, a Philadelphia Rocky Award, a Guggenheim Fellowship, a Pew Fellowship, and a Governor's Awards for the Arts Artist of the Year nod, to name just a few. Harris' cultural cipher is alive and well.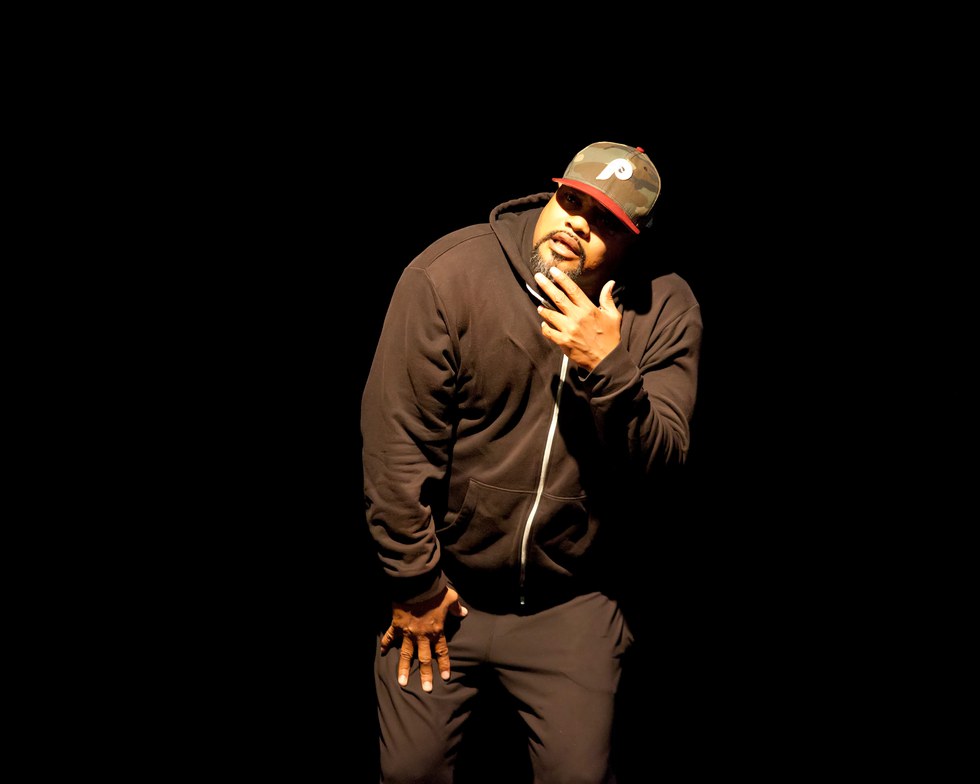 Courtesy Harris
For information about the Dance Magazine Awards ceremony on December 4, click here.
Related Articles Around the Web
Alvin Ailey's life and groundbreaking work are coming to the big screen. Photo courtesy Ailey Archives.
There must be something in the water: Last week, we announced that Madonna is directing Michaela DePrince's upcoming biopic. And yesterday, we got wind of another major dance film: According to The Hollywood Reporter, Fox Searchlight has sealed the deal to make Ailey Ailey's life and work into a movie. Yes, please.
While some movies falter along their way to the big screen, we think this one's got legs (and hopefully a whole lot of lateral T's and hinges and coccyx balances, too). Why?
Keep reading...
Show less
John Heginbotham never walks into rehearsal unprepared. Photo by Janelle Jones, courtesy the Watermill Center
Back in 2012, after 14 years dancing with Mark Morris Dance Group, choreographer John Heginbotham ventured out on his own. Don't think of it as going solo, though.
Almost from the outset, Heginbotham has embarked on a series of fruitful collaborations with other artists, via his namesake company, Dance Heginbotham, and through a stream of independent projects. His creative partners have covered a range of talents and genres: illustrator Maira Kalman (in 2017's The Principles of Uncertainty), opera director Peter Sellars (for Girls of the Golden West, which debuted at San Francisco Opera in November), and contemporary-music luminaries such as Tyondai Braxton and Alarm Will Sound.
Here's What He Has To Say: About starting his company, his rehearsal process and why he's drawn to creative mash-ups.

Keep reading...
Show less
What Dancers Eat
Mar. 09, 2018 09:15AM EST
Pizza can be an excellent recovery meal after a hard day of class and rehearsal. Photo by Thinkstock
Raise your hand if you've ever walked out of the studio with just one thought on your mind: a big, juicy cheeseburger. But raise your other hand if instead of getting that burger, you opted for a hearty salad or stir-fry.
While dancers need to fuel their bodies with nutrient-dense meals and snacks, plenty of foods get an unfair bad rap. "The diet culture in this country vilifies various food groups as being bad while championing others as good," says Kelly Hogan, MS, RD, CDN, clinical nutrition and wellness manager at the Dubin Breast Center at Mount Sinai Hospital in New York City. "But black-and-white thinking like that has no place when it comes to food."
Some foods have less nutrition than others, admits Hogan, but if you're eating what you crave and honoring your hunger and fullness cues, she says you'll probably get the variety of nutrients your body needs. Here are seven foods that can have a place on your plate—guilt-free.
Keep reading...
Show less
When you spend as much time on the road as The Royal Ballet's Steven McRae, getting access to a proper gym can be a hassle. To stay fit, the Australian-born principal turns to calisthenics—the old-school art of developing aerobic ability and strength with little to no equipment.
"It's basically just using your own body weight," McRae explains. "In terms of partnering, I'm not going to dance with a ballerina who is bigger than me, so if I can sustain my own body weight, then in my head I should be fine."
Keep reading...
Show less
Photo by Hugo Glendinning, Courtesy Sadler's Wells
Ten years is a long time for a dance production to run, but Sidi Larbi Cherkaoui's Sutra, an athletic, meditative spectacle featuring 19 Shaolin monks and a malleable set of 21 wooden boxes (designed by Antony Gormley) is still striking a chord with audiences worldwide. To celebrate the milestone, Sutra is returning to Sadler's Wells, where it all began. March 26–28. sadlerswells.com.
Irina Dvorovenko's latest role: Playing Elizaveta Grushinskaya in Grand Hotel at New York City Center. Photo by Joan Marcus, Courtesy New York City Center.
Whether playing a saucy soubrette or an imperious swan, Irina Dvorovenko was always a formidable presence on the American Ballet Theatre stage. Since her 2013 retirement at 39, after 16 seasons, she's been bringing that intensity to an acting career in roles ranging from, well, Russian ballerinas to the Soviet-era newcomer she plays in the FX spy series "The Americans."
We caught up with her after tech rehearsal for the Encores! presentation of the musical Grand Hotel, directed and choreographed by Josh Rhodes and running March 21–25 at New York City Center. It's another tempestuous ballerina role for Dvorovenko—Elizaveta Grushinskaya, on her seventh farewell tour, resentfully checks into the Berlin hostelry of the title with her entourage, only to fall for a handsome young baron and sing "Bonjour, Amour."
Keep reading...
Show less


Get Dance Magazine in your inbox