What It's Like To Attend the Rockettes' Summer Intensive
The intensive dancers learn what it takes to move specifically enough for a kickline. Photo courtesy MSG Entertainment
On a humid summer day in midtown Manhattan, construction goes on outside the Church of St. Paul the Apostle. Inside, another type of building goes on: In separate basement studios, two groups of 40 dancers focus their attention on their instructors. It's the Rockettes' summer intensive, a rare chance for students to work with professional Rockettes, not to mention Julie Branam, their director and choreographer.
Rockette Bailey Callahan demonstrates in front of one group. Hers is a classic Rockette story. She attended their intensive every summer from 2009 to 2011; being a Rockette was her dream. Then, in 2012, she was asked to attend the program's invitational week. At the end, she received her Rockette contract.
---
The invitational week has proved a path to the Radio City stage for more than a few Rockettes. Around 1,200 women ages 14 and up audition each year for the summer intensive. Up to 640 dancers are placed in one of the program's seven repeating weeks, or in the invitational week. That week amps up the intensive's already rigorous pace and is geared toward semi-professional and professional dancers.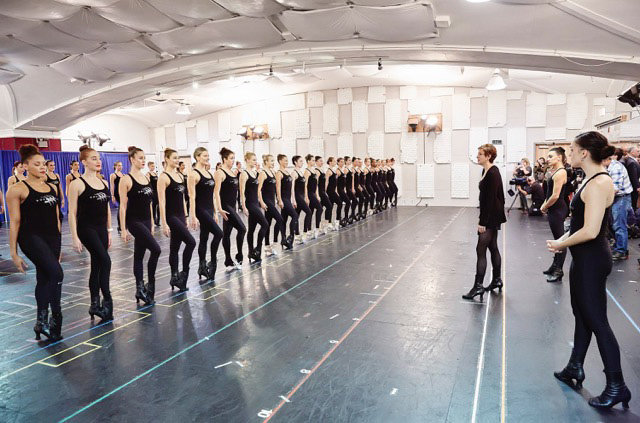 The intensive offers a rare chance to learn directly from Julie Branam. Photo courtesy MSG Entertainment
Branam, a former Rockette herself, looks for several elements in all summer intensive students. "We want a strong ballet foundation and the ability to handle many styles. I'm also watching for willingness to take in details. You may want to kick as high as you can and reach your face. But can you do what I ask—kick just to eyeline as the Rockettes do? We need dancers who can be specific and take directions, even if they are used to doing it differently."
For the invitational week, Branam is looking for students with more polish. "Are you comfortable in the room?" she asks. "Are you listening to what I'm saying? Are you executing the signature Rockettes strong arms instead of letting them float?"
Branam notes that neither the invitational week nor the regular intensive is an audition for the troupe, but they can be a great place to demonstrate skill and readiness.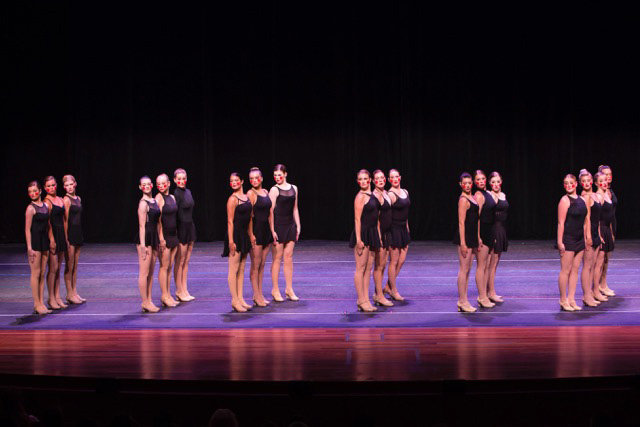 Students learn the challenges of precision dancing. Photo courtesy MSG Entertainment
Each intensive week is run like Rockettes rehearsals, working for 80 minutes at a time, then resting for 10, plus an hour for lunch. Mornings start at 9:30 am with a review of the previous day's choreography, followed by a Rockette-led group warm-up consisting of planks, strength and core work mixed with jazz-flavored sequences.
"We did a tap drawback section across the floor that dancers then used in the 42nd Street number," explains Branam. "We're always working on integrating technique."
Students spend the rest of the day on choreography, with pieces used as workshops for Rockette trademarks: "muscled" arms, whiplash footwork, precise torso angles, and, of course, those kicks.
By Wednesday, students have all the choreography they'll perform at their showcase on Friday. A workshop with the Rockettes' athletic trainer on body care, injuries and maintenance, a Q&A with the Rockette teachers, and a "crazy legging day" round out the week's activities.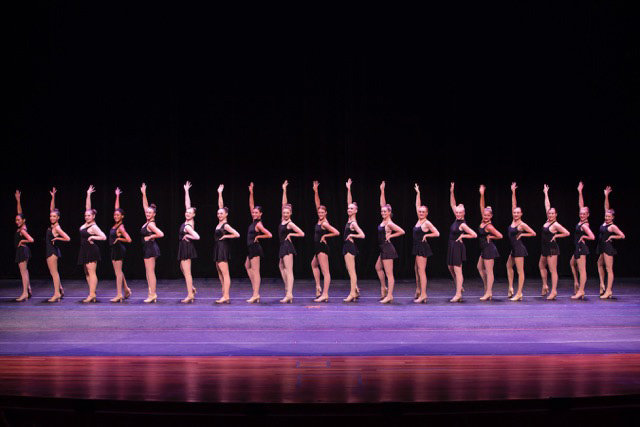 Angles are key. Photo courtesy MSG Entertainment
The invitational week has a similar structure, but greater challenges. This year, that included learning "Sleigh Ride," a number featuring the Rockettes as Santa's reindeer. "It's super-stylized and difficult," says Branam. "It has the most details: tilt of the head, where antlers are, where elbows are."
All the choreography the invitational students learn is taught much faster, and some numbers include far more kicks in longer phrases of kicklines, as well as more changes in formation and weight shifts.
During the week, Branam may glean what she needs to make an offer. As it happened, this past summer three dancers proved they were up to all the requirements, and Branam offered them contracts.
All the students, whether in the invitational or the intensive weeks, learn about Rockette teamwork. "Togetherness is an essential part of being a Rockette," says Katelyn Gaffney, a Rockette instructor who also attended summer intensives before finally earning her contract. "It's dancing together, breathing together, having fun together. Most students aren't used to dancing so closely, just two feet apart. It's hard to dance full-out but stay contained. But practicing how to stay together, how to be sharp but not hold back, that's so special."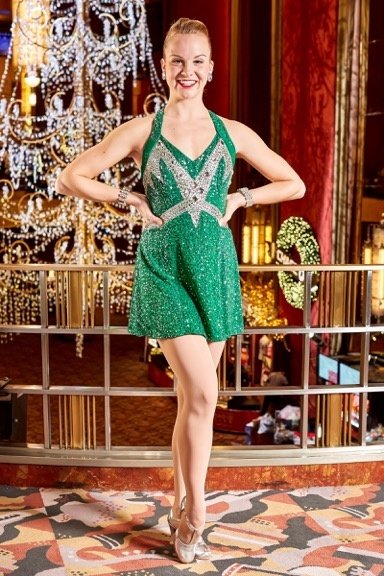 Rockette Katelyn Gaffney attended summer intensives before earning her contract
Related Articles Around the Web
Ka'et Contemporary Dance Ensemble in the studio. Still from IFAF documentary.
Mash-ups aren't uncommon in the dance world: Performers of varying styles have been known to share the stage, from ballerina Tiler Peck and famed clown Bill Irwin to Michelle Dorrance, who's mixed tappers and break-dancers. Likewise, collaborations between choreographers and artists from seemingly mismatched disciplines have produced magical creations, such as Alexei Ratmansky's Whipped Cream, featuring Mark Ryden's whimsical and even grotesque designs and costumes.
But the Israeli troupe Ka'et Contemporary Dance Ensemble has found success in one of the most unlikely partnerships: Secular contemporary choreographer Ronen Itzhaki creates movement for a group of rabbis.
Keep reading...
Show less
via Instagram
While undoubtedly best known for her dancing, American Ballet Theatre principal Isabella Boylston has also been getting noticed for her style by Allure and Vogue—and with good reason. Her Instagram feed features a mix of on-trend athleisure wear and detailed dresses from runway designers like Valentino and Anna Sui, none of which would be complete without the makeup and hair to match. With a penchant for skin care and an ever-growing lipstick collection, Boylston talked us through some of her beauty must-haves on and off the stage.
Photo by Jayme Thornton
Keep reading...
Show less
BalletMet in company class onstage before a show. Photo by Jennifer Zmuda, courtesy BalletMet
Before she became the 20th century's most revered ballet pedagogue, Agrippina Vaganova was a frustrated ballerina. "I was not progressing and that was a terrible thing to realize," she wrote in a rough draft of her memoirs.
She retired from the Imperial Ballet stage in 1916, and for the next 30-plus years, devoted herself to creating a "science of ballet." Her new, dynamic teaching method produced stars like Rudolf Nureyev, Alla Osipenko, and Galina Ulanova and later Natalia Makarova and Mikhail Baryshnikov. And her approach continues to influence how we think about ballet training to this day.
But is the ballet class due for an update? Demands and aesthetics have changed. So should the way dancers train change too?
Keep reading...
Show less
How do you warmup? Photo by Jim Lafferty
For many dancers, a "warmup" consists of sitting on the floor stretching their legs in various positions. But this strategy only reduces your muscles' ability to work properly—it negatively affects your strength, endurance, balance and speed for up to an hour.
Save your flexibility training for the end of the day. Instead, follow a warmup that will actually help prevent injury and improve your body's performance.
According to the International Association of Dance Medicine and Science, a smart warmup has four parts: "a gentle pulse-raising section, a joint mobilization section, a muscle lengthening section and a strength/balance building section."
Keep reading...
Show less
Charlie Sutton's "Baby, You Knock Me Out." Photo by Steven Rosen, Courtesy DanceBreak.
DanceBreak came roaring back to life on Monday after seven years on hiatus, and six choreographers now have the opportunity to be the next Andy Blankenbuehler. Or Joshua Bergasse, Kelly Devine, Casey Nicholaw, Josh Prince or Josh Rhodes. These stellar Broadway choreographers all got their first big shows after Melinda Atwood's musical-theater launching pad let them show the industry what they could do.
Since 2002, DanceBreak has been a sort of "So You Think You Can Choreograph" for Broadway. Although not everyone goes straight there—Mandy Moore and Mia Michaels are alumni, too—the program is meant to funnel talented choreographers to the Broadway stage by providing a platform for their work. Prince, who introduced Atwood to the cheering crowd, has paid DanceBreak the ultimate compliment, creating his own non-profit incubator for theater choreographers, Broadway Dance Lab. On Monday, he recalled the story of how he was offered the role of choreographer on Broadway's Shrek just days after its director saw the 2007 edition.
Keep reading...
Show less
Stretching feet the wrong way will only lead to injury. Photo by Thinkstock
When caring for your feet or trying to make them look good, it's tempting to seek shortcuts. Bad ideas—like dangerous stretches that promise perfect lines or ointments that were never meant to go on your toes—catch on all too easily backstage.
We asked podiatrists who've seen their dance clients try it all share the habits they'd like to see gone for good.
Keep reading...
Show less


Get Dance Magazine in your inbox