Meet the Ballerina Who's Not Letting Her Height Get in the Way of Her Dancing
Photo by Vikki Sloviter
At 5' 10.5", Sara Michelle Murawski stands taller than most people, let alone most ballerinas. As a student, Murawski was always told her height was a positive thing, and that elongated lines are what ballet is all about. But in the professional world in the U.S., she encountered a totally different mentality. Her story went viral last December, when she was fired from Pennsylvania Ballet for being "too tall." After a devastating few months, Murawski was the first principal signed to the new American National Ballet, a Charleston, SC, company whose mission is to celebrate dancer diversity. Here, she tells her story. —Courtney Bowers
---
Growing Up Tall
Even as a young ballet student, I was already quite lanky—all legs and limbs, and no torso. When I was 15 (and already 5' 9") I discovered The Rock School for Dance Education in Philadelphia, PA. Training there was probably one of the most influential parts of my life, because they embrace the beauty of all dancers. My teachers taught me that being tall was a good thing, and I started to accept my height.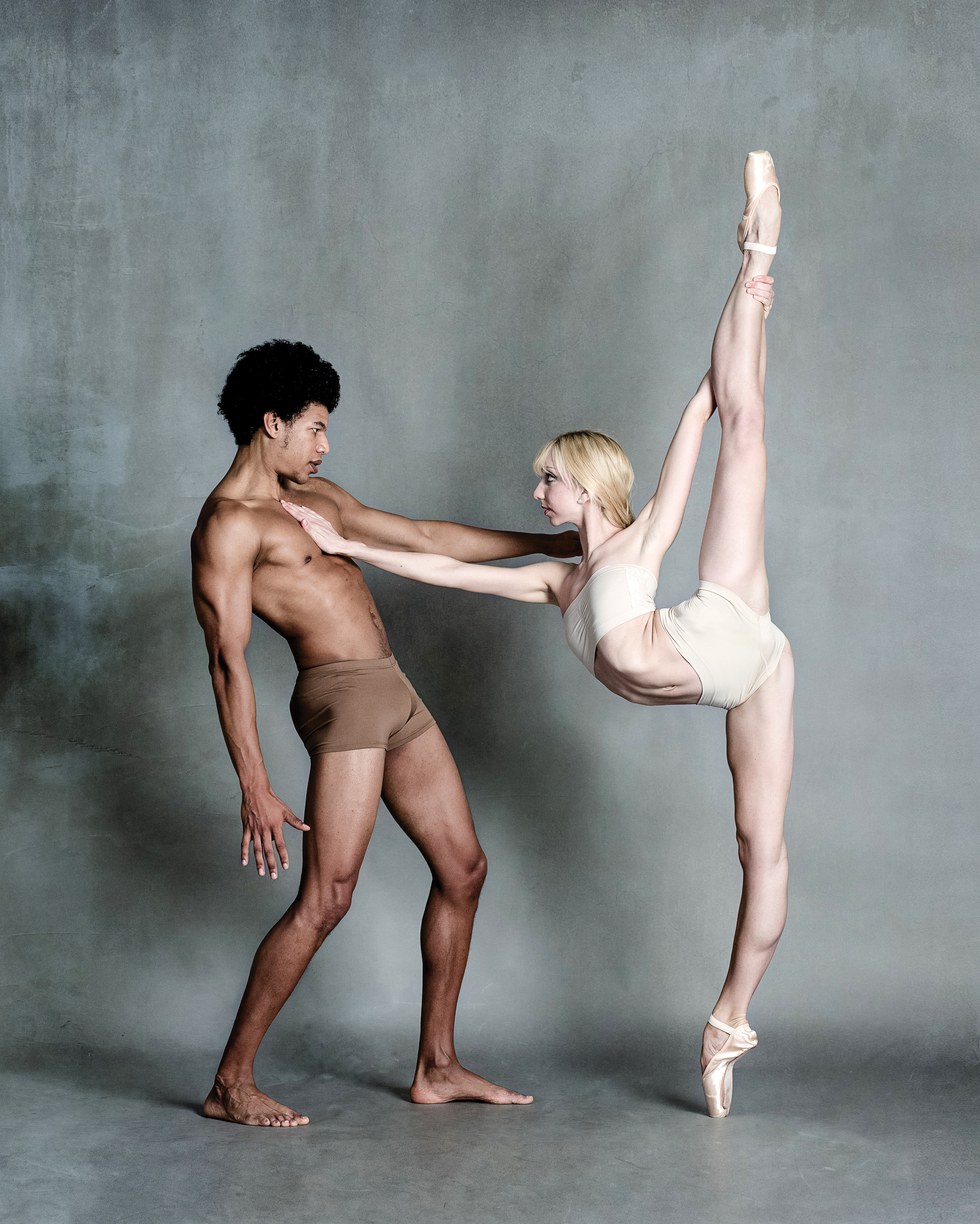 Murawski with dancer David Marks (photo by Sloviter, courtesy Murawski)
Building a Career
At 17 years old, I started in the corps de ballet at Dresden Semperoper Ballett in Germany. I already knew that
I should probably be dancing in Europe—European companies tend to be more open-minded about height. I didn't even audition in the U.S. At the time, Dresden had some very tall dancers in the company—some of them even taller than me! Later, I went to dance with Slovak National Ballet, where I was able to perform principal roles in full-length ballets with a principal male dancer who was about 6' 5".
Heading Back Stateside
While I was at Slovak National Ballet, Ángel Corella, the artistic director of Pennsylvania Ballet, reached out and offered me a principal contract with his company. I was elated because I grew up in Philadelphia at The Rock, so it was like home to me. I was very grateful and humbled.
I started my first season in August 2016, and everything seemed great. I was getting positive attention for roles not even meant to be danced by tall girls. When I danced the Sugarplum Fairy in The Nutcracker, I had so many moms with children at the school come up to me and say things like, "You're breaking the mold!" It wasn't just about me—it was about future generations, too.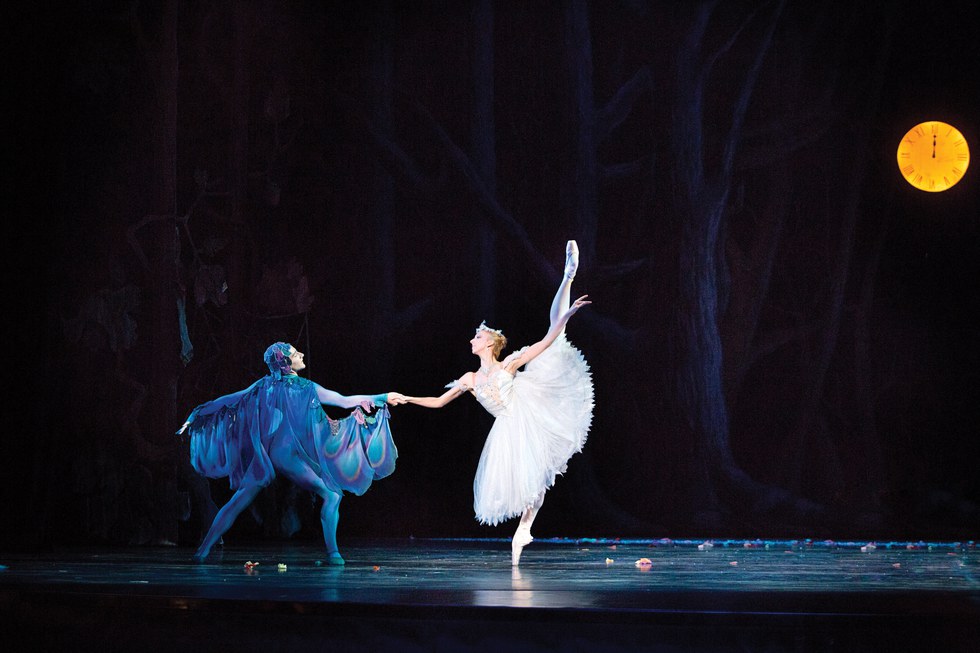 Murawski as the Fairy Godmother in Pennsylvania Ballet's "Cinderella" (photo by Alexander Izilaev, courtesy Murawski)
I found out my contract wasn't going to be renewed that December, right before my last performance of The Nutcracker. I was devastated. It was incredibly hard to go onstage right after being told that—I was crying my makeup off in the wings. I felt lost, scared, alone, and unwanted. Even though it was difficult, I finished out the whole season, which ended this past May.
Some social media posts and an article about my firing went viral, and the public outcry saved me. I even had some big dance names write to me personally. It was the thing that made me believe in humanity and dance again. So many dancers in this country share and understand my frustrations.
Breaking the Mold
During one of my lowest days, American National Ballet sent me the kindest, most supportive message on Instagram. ANB is a new company in Charleston, SC, whose mission is to highlight diversity and to give dancers who may be different a chance to shine.
I visited Charleston a few weeks after talking to them on the phone and fell in love with the city, and with what ANB is doing. It's all long overdue. I was the first principal dancer to sign on, and I'll also serve as the visionary assistant to the artistic director.
I'm so excited to be working with ANB. People want this kind of change in the dance world. At ANB they're after real artists. And they're going to get better dancers that way. To all the tall, hopeful dancers out there: Please carry your height with pride and joy.
This story originally appeared on dancespirit.com.
Alvin Ailey's life and groundbreaking work are coming to the big screen. Photo courtesy Ailey Archives.
There must be something in the water: Last week, we announced that Madonna is directing Michaela DePrince's upcoming biopic. And yesterday, we got wind of another major dance film: According to The Hollywood Reporter, Fox Searchlight has sealed the deal to make Ailey Ailey's life and work into a movie. Yes, please.
While some movies falter along their way to the big screen, we think this one's got legs (and hopefully a whole lot of lateral T's and hinges and coccyx balances, too). Why?
Keep reading...
Show less
John Heginbotham never walks into rehearsal unprepared. Photo by Janelle Jones, courtesy the Watermill Center
Back in 2012, after 14 years dancing with Mark Morris Dance Group, choreographer John Heginbotham ventured out on his own. Don't think of it as going solo, though.
Almost from the outset, Heginbotham has embarked on a series of fruitful collaborations with other artists, via his namesake company, Dance Heginbotham, and through a stream of independent projects. His creative partners have covered a range of talents and genres: illustrator Maira Kalman (in 2017's The Principles of Uncertainty), opera director Peter Sellars (for Girls of the Golden West, which debuted at San Francisco Opera in November), and contemporary-music luminaries such as Tyondai Braxton and Alarm Will Sound.
Here's What He Has To Say: About starting his company, his rehearsal process and why he's drawn to creative mash-ups.

Keep reading...
Show less
What Dancers Eat
Mar. 09, 2018 09:15AM EST
Pizza can be an excellent recovery meal after a hard day of class and rehearsal. Photo by Thinkstock
Raise your hand if you've ever walked out of the studio with just one thought on your mind: a big, juicy cheeseburger. But raise your other hand if instead of getting that burger, you opted for a hearty salad or stir-fry.
While dancers need to fuel their bodies with nutrient-dense meals and snacks, plenty of foods get an unfair bad rap. "The diet culture in this country vilifies various food groups as being bad while championing others as good," says Kelly Hogan, MS, RD, CDN, clinical nutrition and wellness manager at the Dubin Breast Center at Mount Sinai Hospital in New York City. "But black-and-white thinking like that has no place when it comes to food."
Some foods have less nutrition than others, admits Hogan, but if you're eating what you crave and honoring your hunger and fullness cues, she says you'll probably get the variety of nutrients your body needs. Here are seven foods that can have a place on your plate—guilt-free.
Keep reading...
Show less
When you spend as much time on the road as The Royal Ballet's Steven McRae, getting access to a proper gym can be a hassle. To stay fit, the Australian-born principal turns to calisthenics—the old-school art of developing aerobic ability and strength with little to no equipment.
"It's basically just using your own body weight," McRae explains. "In terms of partnering, I'm not going to dance with a ballerina who is bigger than me, so if I can sustain my own body weight, then in my head I should be fine."
Keep reading...
Show less
Photo by Hugo Glendinning, Courtesy Sadler's Wells
Ten years is a long time for a dance production to run, but Sidi Larbi Cherkaoui's Sutra, an athletic, meditative spectacle featuring 19 Shaolin monks and a malleable set of 21 wooden boxes (designed by Antony Gormley) is still striking a chord with audiences worldwide. To celebrate the milestone, Sutra is returning to Sadler's Wells, where it all began. March 26–28. sadlerswells.com.
Irina Dvorovenko's latest role: Playing Elizaveta Grushinskaya in Grand Hotel at New York City Center. Photo by Joan Marcus, Courtesy New York City Center.
Whether playing a saucy soubrette or an imperious swan, Irina Dvorovenko was always a formidable presence on the American Ballet Theatre stage. Since her 2013 retirement at 39, after 16 seasons, she's been bringing that intensity to an acting career in roles ranging from, well, Russian ballerinas to the Soviet-era newcomer she plays in the FX spy series "The Americans."
We caught up with her after tech rehearsal for the Encores! presentation of the musical Grand Hotel, directed and choreographed by Josh Rhodes and running March 21–25 at New York City Center. It's another tempestuous ballerina role for Dvorovenko—Elizaveta Grushinskaya, on her seventh farewell tour, resentfully checks into the Berlin hostelry of the title with her entourage, only to fall for a handsome young baron and sing "Bonjour, Amour."
Keep reading...
Show less


Get Dance Magazine in your inbox