Secrets of Longevity: 6 Tips From 20-Year Veteran Ballerina Xiao Nan Yu
Xiao Nan Yu in rehearsal for A Month In The Country. Photo by Bruce Zinger, courtesy National Ballet of Canada
What does it take to sustain a 20-year ballet career? The luminous principal dancer Xiao Nan Yu, who just marked two decades with National Ballet of Canada, shares how she's kept her body strong for long-term success:
---
Find Balance in Your Body
Naturally flexible, Yu spends most of her cross-training time counter-acting her body's elasticity. "Having a flexible body is a treat, but it can sometimes be a curse," she says. To control her limbs, she strengthens her core with lots of planks, especially during her daily pre-class warm-up (which can take up to an hour). She also books private Pilates sessions with NBoC's instructor whenever her schedule allows, and does yoga videos or a half-hour of floor barre at home on the weekends.
Don't Skip Morning Class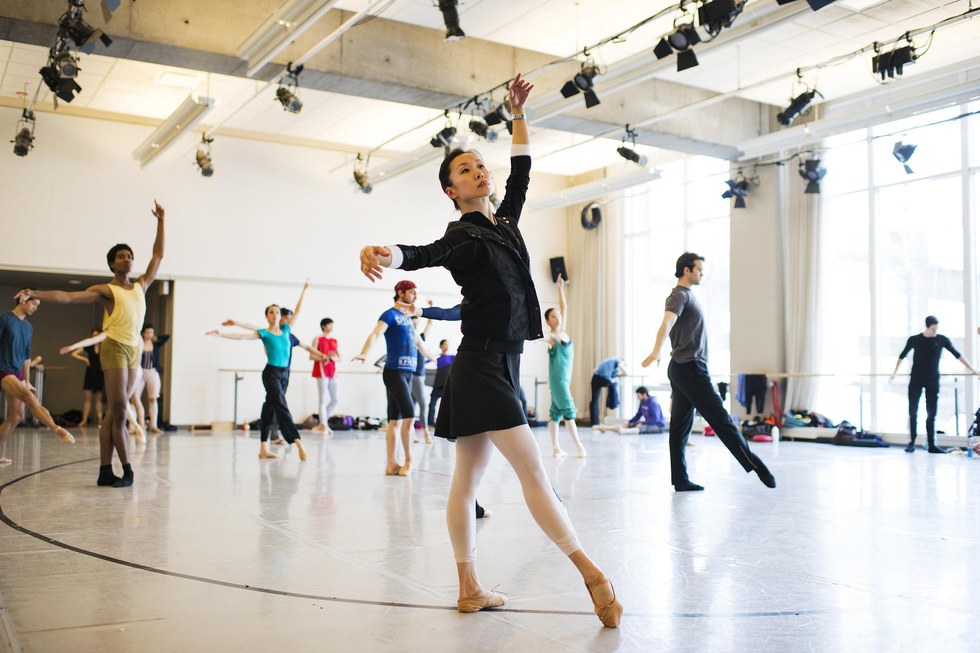 Aaron Vincent Elkaim, Courtesy NBoC
"Ballet class is like brushing my teeth," says Yu. "I have to start every day with it or else my body does not feel right."
Go To Bed Early

Quinn B. Wharton
Now that she's a mom (her daughters are ages 5 and 12), Yu wakes up around 6:30 or 7:30 am. She's forced to go to bed earlier, which she feels actually benefits her body: Studies have shown it increases sleep quality and could be connected to improved heart health.
Strengthen Your Weaknesses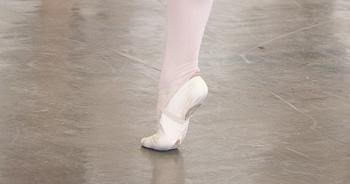 Due to an extra bone in her left foot, that ankle often rolls in. To build strength to counteract that habit, Yu practices this exercise in soft ballet slippers:
1. Holding the barre with both hands, she rises to demi-pointe with both feet in parallel.
2. From there, she rises onto full pointe using just the strength of her foot muscles, then slowly rolls down.
She repeats this with both feet, and then on single legs, first turned in and then turned out. She'll add an extra set or two on her left side.
Just Keep Drinking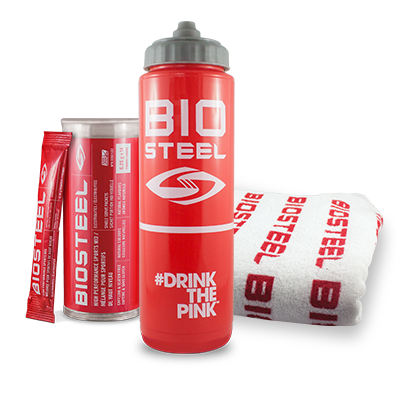 Yu drinks at least three bottles of water and sports drinks every day. Her favorite brand is BioSteel, which is filled with electrolytes but is low in calories and has no sugar. "It has a bubble gum flavor! Even my kids like it."
Don't Waste Energy Stressing Out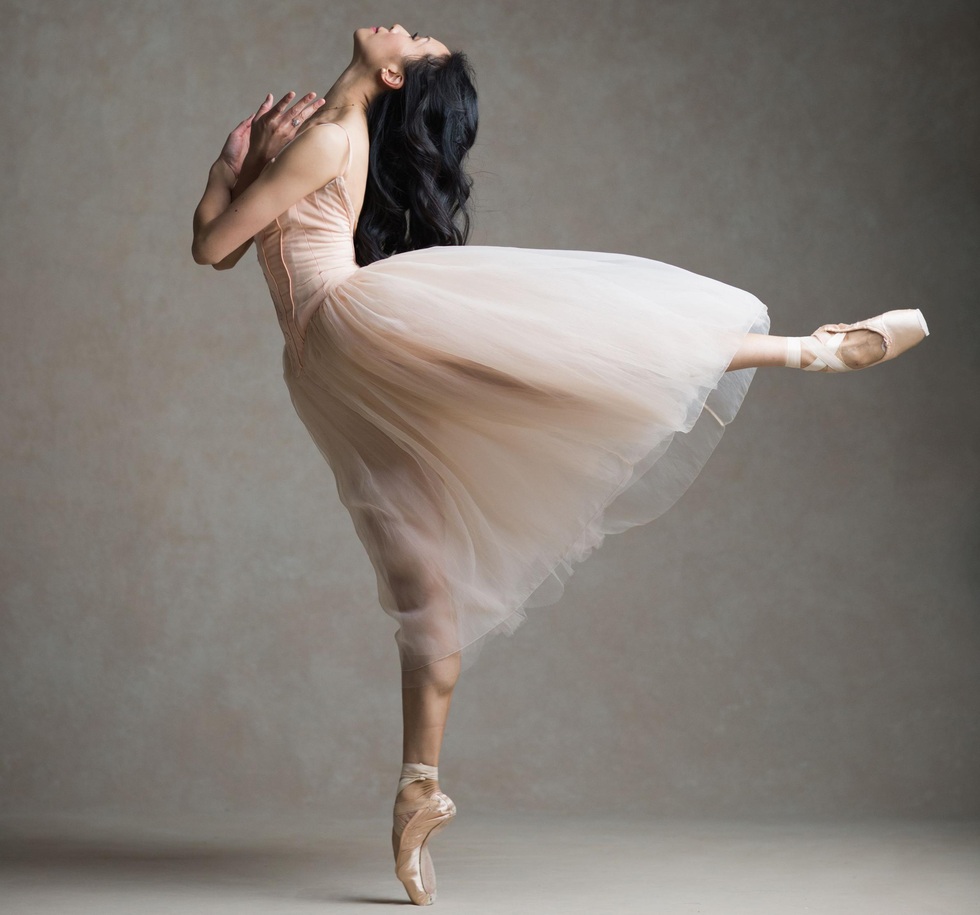 Karolina Kuras, courtesy NBoC
Yu found her body grew even looser after going through pregnancy. But having children also made her mind tougher. "My muscles don't fight me as much," she says. "After having children, I don't think, 'Oh, holding my leg up is so difficult.' It's just something I have to do, so I do it. Maybe I just don't have much time to agonize over it anymore. My daughters have made me realize how precious my time is when I come to work."
Johns' Map
Before too long, dancers and choreographers will get to create on the luxurious 170-acre property in rural Connecticut that is currently home to legendary visual artist Jasper Johns.
If you think that sounds far more glamorous than your average choreographic retreat, you're right. Though there are some seriously generous opportunities out there, this one seems particularly lavish.
Keep reading...
Show less
Ashley Ellis, photo by Albert Ayzenberg, courtesy of Ashley Ellis
Every dancer has learned—probably the hard way—that healthy feet are the foundation of a productive and happy day in the studio. As dancers, our most important asset has to carry the weight (literally) of everything we do. So it's not surprising that most professional dancers have foot care down to an art.
Three dancers shared their foot-care products they can't live without.
Keep reading...
Show less
popular
Sep. 21, 2017 04:49PM EST
via Instagram, Company Cooperative
Dancers trying their hand at designing is nothing new. But they do tend to stick with studio or performance-wear (think Miami City Ballet's Ella Titus and her line of knit warm-ups or former NYCB dancer Janie Taylor and her ballet costumes). But several dancers at American Ballet Theatre—corps members Jamie Kopit, Erica Lall, Katie Boren, Katie Williams, Lauren Post, Zhong-Jing Fang and soloist Cassandra Trenary—are about to launch a fashion line that's built around designs that can be worn outside of the studio. Titled Company Cooperative, the luxe line of women's wear is handmade in New York City's garment district and designed by the dancers themselves.
Keep reading...
Show less
A still from Duet, via CNN Style
Royal Ballet dancers Yasmine Naghdi and Beatriz Stix-Brunell recently got together for a different kind of performance: no decadent costumes, sets, stage makeup or lighting. Instead, the principal and first soloist danced choreography by principal character artist Kristen McNally in a stark studio.
The movement is crystal clear, and at the beginning, Naghdi and Stix-Brunell duck and weave around each other with near vacant stares. Do they even know they have a partner? And how should they interact? The situation raises a much larger question: How often do we see a female duet in ballet?
Keep reading...
Show less


Get Dance Magazine in your inbox