Op-Ed: The Problem With So You Think You Can Dance's Fast-Food Activism
Wall's piece for SYTYCD
Last week for "So You Think You Can Dance," Travis Wall choreographed a routine to Nina Simone's "Strange Fruit." It had beautiful dancers, liquid movement and subtle lighting. The concept no doubt had good intentions. But the execution was troublesome.
My complicated relationship with "So You Think You Can Dance" will never cease. I was in the second row when the "SYTYCD" Season 2 tour hit my city; I've taken class from Season 1 winner Nick Lazzarini; I saved Melanie and Marco's duets to my "Favorites" on YouTube.

The show creates opportunities for dancers and choreographers, yet consistently holds the artistic integrity of dance to such a low standard. The nature of this competitive dance show is quick-paced, where choreographers set several dances on performers in one week or less. The repercussions of this learn-dance-eliminate cycle are such that the process, research and discussion of the dance—namely the work in spotlight—are condensed into a week.
---
I will turn a blind eye to Travis Wall's choice of dressing his dancers in plantation clothes of the 1800s. I will not critique his choice of a song that resonates with the black community on a level beyond white people's understanding—and even that of my community of other people of color. I will ignore his use of movement that is commercialized and un-archived in the bodies affected by/leading conversations on race. I am not even bothered by the fact that not all the dancers are of color—because every body is allowed to use dance as a response, and everybody should be talking about race regardless of heritage or skin tone.
However, I cannot excuse the fact that Travis Wall, as a white man with credible dance accolades, reduced the topic of blackness in America's past, present and future to a loose creative process of seven days or less.
Of course, it's possible that he created this dance months ago after spending time in communities with histories of systemic/social oppression, and that he acknowledged to his dancers his privilege of being white—that his own struggles in society are not written directly on his skin. And I have no doubt that Travis Wall, as an award-winning choreographer and major commercial-dance personality, sat down with his dancers to discuss the residual effects of slavery in America. He has every right and obligation to respond to the current state of the Union; we do not have to be black to make or perform work about black bodies and racism.
But even if Travis Wall were a person of color I would not excuse the foolery.
Where he could have used his white voice to reiterate the black call for equality, he has instead voiced the white plea for peace, ending his dance with a still of the darkest male in the cast shaking hands with a white woman. Had he utilized his dancers' skin tone throughout the whole of the work, rather than just the ending, he might have better succeeded in a call for equality. I guarantee only a white choreographer could get away with such a bold, direct statement on national TV without hypercriticism. (Remember how the nation responded to Beyoncé's "Formation" performance using only black dancers?)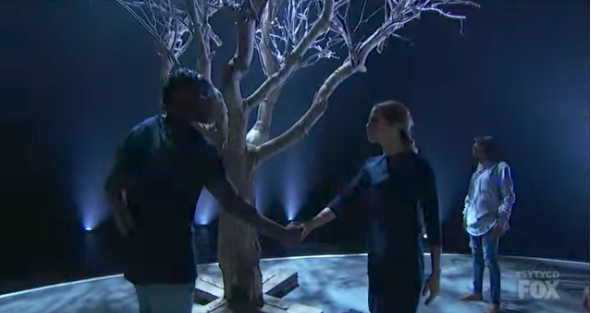 Unsurprisingly, Travis Wall has become a victim of fast-food activism, just like many of us (myself included) in a world run by social media. Not only has he consumed it, he is also now serving it. It is so clear that the impact is lost when the creative process, particularly research and incubation, is cut short. We cannot watch a two-minute piece about racism and suddenly be "woke," even if accompanied by the 30-second behind-the-scenes clips. We cannot be considered allies or accomplices without researching, listening and rallying. We must educate ourselves before utilizing our platforms.
There are countless choreographers who have dedicated their entire body of work to the story-telling of blackness in America (Kyle Abraham, Camille Brown, Okwui Okpokwasili and the collaborators/choreographers of Urban Bush Women, to name a few). There are the nameless choreographers working four part-time jobs in order to share their stories and experiences in a downtown factory-turned-studio-turned-theatre. A white man creates a vaguely political two-minute work and he goes viral, turning the purpose of his work on its head.
At the end of the day, dance is our way of responding to the human experience, and this must have been Travis Wall's well-intentioned way of sympathizing—not to be confused with empathizing—with people of color. For this I commend him, but not without a firm reality-check of his whiteness and surface-level interpretations of American race-relations.

Yes, "SYTYCD" brings dance to the masses and has potential to be the sole reason a child opens the door to dance. But it is such a shallow view of our art's endless possibilities and its means of communication and story-telling. As artists, we should be holding each other accountable for disclosing the entirety of dance, not just churning out work for media.
Cover Story
Mar. 19, 2018 09:15AM EST
Jayme Thornton
Camille A. Brown is on an impressive streak: In October, the Ford Foundation named her an Art of Change fellow. In November, she won an AUDELCO ("Viv") Award for her choreography in the musical Bella: An American Tall Tale. On December 1, her Camille A. Brown & Dancers made its debut at the Kennedy Center, and two days later she was back in New York City to see her choreography in the opening of Broadway's Once on This Island. Weeks later, it was announced that she was choreographing NBC's live television musical Jesus Christ Superstar Live in Concert, to air on April 1.
An extraordinarily private person, few knew that during this time Brown was in the midst of a health crisis. It started with an upset stomach while performing with her company on tour last summer.
"I was drinking ginger ale, thinking that I would feel better," she says. Finally, the pain became so acute that she went to the emergency room in Mississippi. Her appendix had burst. "Until then, I didn't know it was serious," she says. "I'm a dancer—aches and pains don't keep you from work."
Keep reading...
Show less
Take your self-massage to the next level. Photo of TheraGun G2PRO via
Amazon
The latest fitness fad has us literally buzzing. Vibrating tools—and exercise classes—promise added benefits to your typical workout and recovery routine, and they're only growing more popular.
Warning: These good vibrations don't come cheap.
Keep reading...
Show less
Rant & Rave
Mar. 08, 2018 04:18PM EST
Is this the turning point when we'll finally see an end to dancer mistreatment? Photo by Gez Xavier Mansfield/Unsplash
Last week in a piece I wrote about the drama at English National Ballet, I pointed out that many of the accusations against artistic director Tamara Rojo—screaming at dancers, giving them the silent treatment, taking away roles without explanation—were, unfortunately, pretty standard practice in the ballet world:
If it's a conversation we're going to have, we can't only point the finger at ENB.
The line provoked a pretty strong response. Professional dancers, students and administrators reached out to me, making it clear that it's a conversation they want to have. Several shared their personal stories of experiencing abusive behavior.
Christopher Hampson, artistic director of the Scottish Ballet, wrote his thoughts about the issue on his company's website on Monday:
Keep reading...
Show less
Dancer Voices
Mar. 13, 2018 09:15AM EST
Emily Ramirez as "Meg Giry" in The Phantom of the Opera. Photo by Matthew Murphy.
I always knew my ballet career would eventually end. It was implied from the very start that at some point I would be too old and decrepit to take morning ballet class, followed by six hours of intense rehearsals.
What I never imagined was that I would experience a time when I couldn't walk at all.
In rehearsal for Nutcracker in 2013, I slipped while pushing off for a fouetté sauté, instantly rupturing the ACL in my right knee. In that moment my dance life flashed before my eyes.
Keep reading...
Show less
Losing a dance company can be like losing part of your family. Photo by Thinkstock.
My life is in complete chaos since my dance company disbanded. I have a day job, so money isn't the issue. It's the loss of my world that stings the most. What can I do?

—Lost Career, Washington, DC
Keep reading...
Show less
Dance Theatre of Harlem performing Dougla. Photo by Matha Swope, courtesy DTH.
Dance Theatre of Harlem is busy preparing for the company's Vision Gala on April 4. The works on the program, which takes place on the 50th anniversary of the assassination of Dr. Martin Luther King Jr., reflect on the legacy of Dr. King and his impact on company founder Arthur Mitchell. Among them is the much-anticipated revival of legendary choreographer Geoffrey Holder's Dougla, which will include live music and dancers from Collage Dance Collective.
We stepped into the studio with Holder's wife Carmen de Lavallade and son Leo Holder to hear what it feels like to keep Holder's legacy alive and what de Lavallade thinks of the recent rise in kids standing up against the government—as she did not too long ago.
Keep reading...
Show less


Get Dance Magazine in your inbox