Breaking Stereotypes
Jan. 11, 2018 12:00PM EST
How The Syncopated Ladies Found The Formula For Viral Success
The Syncopated Ladies on the set of their latest viral video. Photo by Cassandra Plavoukos
In an unassuming industrial neighborhood east of downtown Los Angeles, five tap dancers are huddled in a bunker-turned-tap-studio. With concrete floors and a windowless, tunnel-like interior reminiscent of old London Tube stations, it feels like a place far below the earth.
Ciara's "Like a Boy" blasts through the speakers, and the dancers, dressed in camo and golden tap shoes, saunter into their positions facing the lights and camera, eyes focused forward, bodies vibrating with energy. "Wish we could switch up the roles," Ciara sings, and the Syncopated Ladies, led by choreographer Chloe Arnold, hit it—hard, again and again, as the cinematographer glides the camera along a track across the room, capturing their every move.
---
The Ladies are filming their latest video, the 15th in a series that have, by and large, gone viral. "The song is talking about switching roles," Arnold explains. "Walk a day in my shoes, and you'll have compassion and understanding for what it is to be a woman, battling oppressions on a daily basis. It's about breaking free, about not letting conditioning stop you."
It is the perfect song for this moment in history and for a company built on sisterhood, a philosophy that is not only articulated and danced about, but felt: Before filming begins, Arnold makes a point of warmly welcoming everyone to set (recalling everybody's name and role); the dancers get ready by chanting "Team work, dream work!" Despite the fact that the women perform the piece upwards of three dozen times full-out while shots are captured from various angles, nary a peep of complaint is heard. The joy and power they feel when they dance is infectious.

From left: Orialis Ashley, Assata Madison, Chloe Arnold, Anissa Lee, Maud Arnold. Photo by Cassandra Plavoukos
The Syncopated Ladies have been together for almost 15 years, but the company expanded its vision in 2012 after Arnold had saved money to invest in the group. Its formation, in fact, was born out of the realization that virtually all the celebrated tap dancers—Bill "Bojangles" Robinson, Gregory Hines, Savion Glover—were men.
"The irony," Arnold says, "is that I grew up dancing with women." It wasn't until she was 16 and studying with Debbie Allen—who has been her mentor ever since—that Arnold realized she, too, could be an artist. "She awakened my awareness that I could do this art form however I imagined. I didn't have to fit into a box to be successful."
In 2012, in collaboration with the other dancers—including her sister and company producer, Maud Arnold—the Ladies launched their first video, to Rihanna's "Where Have You Been." It garnered 70,000 views, which shocked them.
But it was a little nod from Beyoncé the following year that sent them into the stratosphere. The star shared their "End of Time" video on her Facebook page, with one simple declaration: "They killed it!" Much followed: appearances on "So You Think You Can Dance," a hair campaign for Cantu Beauty, an international tour and an invitation to perform at the 2016 Democratic National Convention.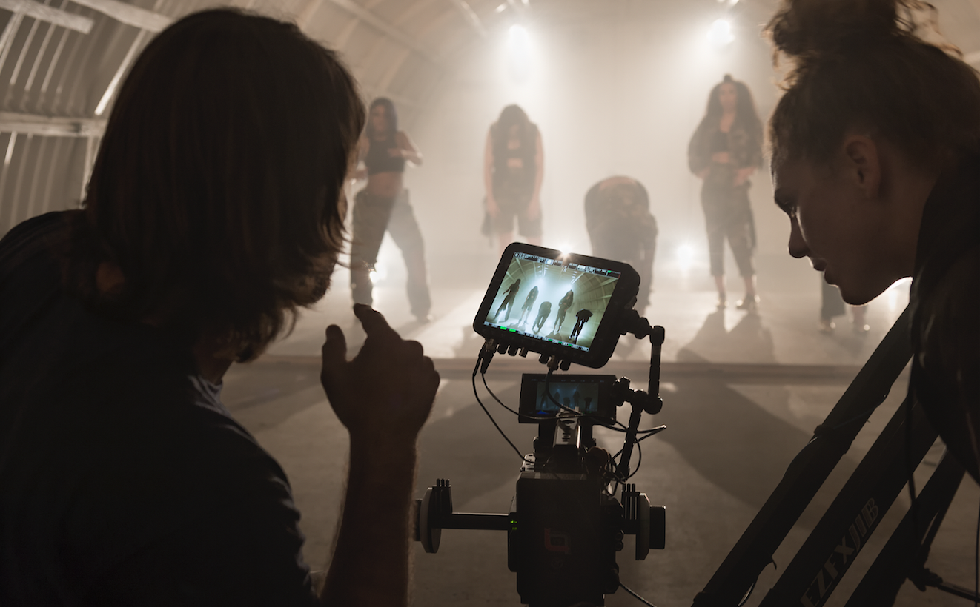 Syncopated Ladies' videos celebrate strong and supremely talented women. Photo by Cassandra Plavoukos
It was the ideal helping hand for a company that is built on the principals of collaboration and support, but it didn't end there. When Beyoncé's "Formation" came out in 2016, Arnold knew that she had to choreograph to it. The end product not only features the company, but integrates footage of women from all over the world performing Arnold's steps. This time, Beyoncé showcased the dance on her website's homepage and her social media channels, and invited the Ladies to perform at a launch event for her clothing line, Ivy Park, at Topshop in London. "With the stroke of a button she provided a lane for women in tap to be heard," Arnold says.
Part of why these videos resonate so strongly is their message: "You, my sister, matter," Arnold explains. "Don't let anyone intimidate you." The Ciara piece, in particular, explores the complexity of gender roles—something most women can connect to. "We aren't limited to being girly. We are tough, but our toughness is not something that has to turn people off and doesn't have to be stigmatized as bad."
But the other appeal is purely aesthetic: These women can really dance. They've all been trained in multiple genres, and that comes through in their tapping.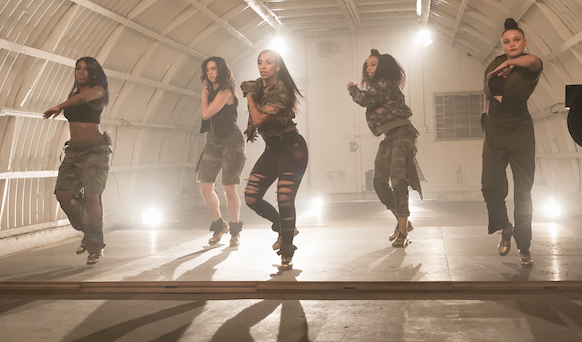 Passion, vigor, energy. Photo by Cassandra Plavoukos
"Their passion and vigor and energy is undeniable," says video director Becca Nelson, who has been collaborating with the company on visual content for the past couple of years. "They're able to get it into the lens and out to people." She also emphasizes that they're working an untapped market incredibly skillfully—tapping to popular, recognizable music. It feels familiar to audiences, while introducing an art form they might not otherwise be drawn to.

The Ladies are currently in the studio composing original music and collaborating with other artists. And later this year, they plan to take their concert, Syncopated Ladies: Live, back on the road for U.S. and international tours.
But Arnold has an even grander vision for the company. She is determined to provide opportunities for girls around the world to tap, to lift up women the way others, like Debbie Allen and Beyoncé, have done for her. "We want to be leaders in how tap is seen and received. We want to teach girls to have their own voices. To be themselves. To not be afraid."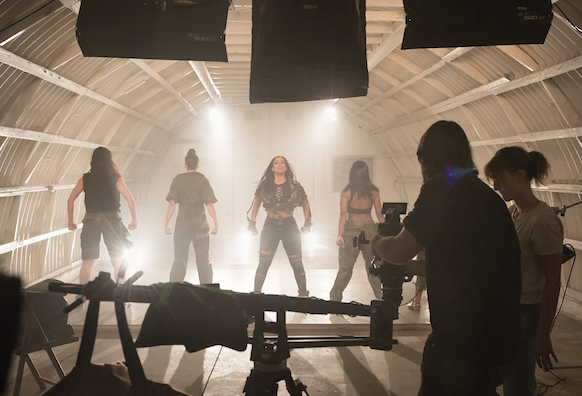 Coming up next: Original music, international tour and inspiration for girls around the world. Photo by Cassandra Plavoukos
Ian Douglas; courtesy Sarah Haarmann. Performing with Pam Tanowitz Dance at The Joyce Theater
Sarah Haarmann stands out without trying to. There is a precision and lack of affectation in her dancing that is very Merce Cunningham. Her movement quality is sharp and clear; her stage presence utterly focused. It's no wonder she caught Mark Morris' eye. Even though she still considers herself "very much the new girl" at Mark Morris Dance Group (she became a full-time member in August 2017), in a recent performance of Layla and Majnun, Haarmann seemed completely in her element.
Company: Mark Morris Dance Group
Age: 27
Hometown: Macungie, Pennsylvania
Training: Lehigh Valley Charter High School for the Performing Arts and Marymount Manhattan College
Keep reading...
Show less
Reframing high-stakes auditions as learning opportunities can make you a better auditioner. Photo by Jim Lafferty.
In 2012, freelance contemporary dancer Adrianne Chu made a major career change: She decided to try out for A Chorus Line. "Even though I didn't get the job, I felt like I was meant to do this," says Chu. So she started going to at least one musical theater audition every weekday, treating each as a learning experience. After several years of building up her resumé, Chu's practice paid off: She booked a starring role as Wendy in the first national tour of Finding Neverland.
Approaching auditions as learning opportunities, especially when you're trying to break into a different style or are new to the profession, can sharpen your skills while helping you avoid burnout. It also builds confidence for the auditions that matter most.
Keep reading...
Show less
How do you warmup? Photo by Jim Lafferty
For many dancers, a "warmup" consists of sitting on the floor stretching their legs in various positions. But this strategy only reduces your muscles' ability to work properly—it negatively affects your strength, endurance, balance and speed for up to an hour.
Save your flexibility training for the end of the day. Instead, follow a warmup that will actually help prevent injury and improve your body's performance.
According to the International Association of Dance Medicine and Science, a smart warmup has four parts: "a gentle pulse-raising section, a joint mobilization section, a muscle lengthening section and a strength/balance building section."
Keep reading...
Show less
Screenshot via YouTube
Keep reading...
Show less
This year, IABD launched a new ballet audition for men of color
Last month, the International Association of Blacks in Dance's third annual ballet audition for women of color was expanded to include a separate audition for men.
The brainchild of Joan Myers Brown (founder of both Philadanco and IABD), the women's audition was created to specifically address the lack of black females in ballet. However, the success and attention that audition drew made the men feel left out, so IABD decided to give the men equal time this year.
Keep reading...
Show less
Students participated in all aspects of Veränderung, from choreography to costumes. Photo by Uwe Stratmann, Courtesy Tanztheater Wuppertal.
Pina Bausch's unique form of German Tanztheater is known for raising questions. Amid water and soil, barstools and balloons, the late choreographer's work contains a distinct tinge of mystery and confrontation. Today, Tanztheater Wuppertal Pina Bausch's dancers use questions as fuel for creativity. The company's most recent project introduced a new group of performers to the stage: local high school ninth-graders from the Gesamtschule Barmen in Wuppertal, Germany, in an original work-in-progress performance called Veränderung (Change).
Keep reading...
Show less


Get Dance Magazine in your inbox