May. 10, 2017 07:07PM EST
Choreographer and Gallim Dance artistic director Andrea Miller is known for visceral, imaginative work, where dancers can seem to do the impossible. She sat down with Dance Magazine editor at large Wendy Perron as part of our "Choreography in Focus" series to discuss rule-breaking, how Batsheva changed her and more:
Keep reading...
Show less
Apr. 25, 2017 08:19PM EST
Matthew Karas
The Metropolitan Museum of Art has been seriously getting into dance lately. But now it's taking its love affair one step further: Gallim Dance director/choreographer Andrea Miller was just named the museum's artist in residence for the 2017-18 season—the first dance artist ever chosen for that distinction!
We caught up with Miller to find out exactly what this means.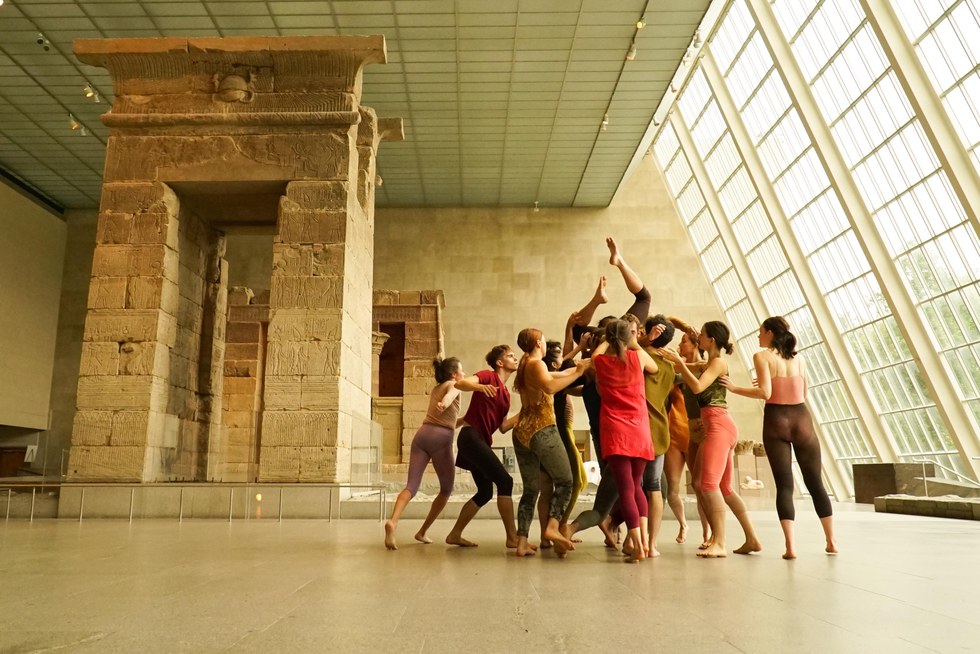 Gallim Dance at the Temple of Dendur. Photo by Ani Coller, courtesy Metropolitan Museum of Art
Keep reading...
Show less
Aug. 31, 2016 05:10AM EST
Emily Tendrup
I didn't know what I was getting into when, at the ripe age of 11, I naively resolved to be the next Doris Humphrey. Even today I can't truly grasp where choreography will take me. It probably all began with dancing, loving music, feeling ownership of a little something in a world owned and ruled by adults.
Early on in my dance training, I was aware that I was observing the structure and components of dances as much as the task of dancing them. Around 15, I started making my own dances, performing them at my high school assemblies—much to my initial enthusiasm and ultimate mortification. When I began studying at Juilliard I abandoned the idea of making dance, influenced by the highly competitive environment and an unspoken cultural prejudice that suggested "those who can't dance, choreograph." So I decided just to focus on my training. But even as I was taking our daily classes, I found myself pretending that I choreographed the phrases to enhance my experience of executing them. Contrary to my own prejudice, choreography was moving me to find more satisfaction from dancing, and better technical understanding of it.
After graduating I moved to Israel to dance with Batsheva Ensemble. Training as a professional dancer and being immersed in the creative process, I realized that not only did I want to choreograph, I wanted to build a dance company. I found myself observing the elements of the art, as well as the structure that supported it. The transition into founding Gallim Dance felt very natural, yet there's been so much to learn, so many failures to surpass and milestones to celebrate.
Some of my brightest rewards have come from confronting entrepreneurial challenges to support my commitment to artistic creation. These challenges include the professionalization of the company, the provision of salaries and contracts for the dancers, balancing my work with my family life, and developing a language which allows me to explore the infinite possibilities of curiosity.
Being a choreographer keeps changing me, moving me, pushing me to expand myself—whether this means being an entrepreneur, a leader, a collaborator or a working mom. It's taught me about risk, patience, love, exhaustion, perseverance, joy…there's no end.
Many nights I have dance parties at home with my partner and two children. It's not unusual that I'll throw in "Hey, why don't you guys hold hands and try that in a circle?" It's a force. It can't be helped.
Mar. 02, 2014 01:29AM EST
The Gallim dancer strengthens and centers her body with Gyro.
Romo in Andrea Miller's Mama Call. Photo by Ayala Gazit, Courtesy Gallim.
Though she trained classically at the Royal Ballet School in London, Francesca Romo always loved "getting dirty" in her weekly Graham class. Now, she must be both lithe and strong to capture the quirky athleticism of choreographer Andrea Miller's work for Gallim Dance. When she first started dancing for the Brooklyn-based troupe in 2007, "My energy output was immense," says Romo. "Sometimes I'd go home and I wouldn't be able to hold my head up, my neck would hurt so much." But over the years, she's learned how to keep pace. The key? Gyrotonic® and Gyrokinesis®.
Why Gyro Helps
Gallim's dance style requires Romo to be both "soft and available, and have flexibility and strength at the same time," she says. A certified Gyrotonic® instructor for the last two years, Romo uses Gyro to get her body warm, integrated and grounded before rehearsals. Even just 20 minutes of Gyrokinesis® (the version practiced on a mat and chair, without special equipment) at the beginning of a hectic day is an ideal warm-up strategy when she's facing six to eight hours of very physical work.
Because much of Gallim's work is asymmetrical, Gyrokinesis® helps Romo combat long-term overuse problems by working both sides of the body the same way. "In fact, after Gyro I can better understand what it means to move asymmetrically," she says. The internal focus also gives Romo that extra dose of calm to attack the day's choreography anew, returning equilibrium "not just to the body, but to the mind."
Her Go-To Gyro Warm-Up
Romo recommends this five-minute wake-up-and-warm-up exercise. "It takes you through the whole body," she says. "It grounds you, aligns the spine, awakens your energy and gets the blood moving."
1) Sitting on a chair with legs slightly apart, get comfortable and close your eyes to focus internally.
2) Feel the uprightness of the spine: Imagine lengthening the sits bones away from the crown of the head, which reaches toward the ceiling.
3) Start moving the spine in a subtle figure-8 pattern at the sits bones.
4) After two sets of figure-8s at the sits bones, move the focus to the level of the "seed center" (located between your belly button and pubic bone).
5) Keep moving the figure-8 movement up through the solar plexus, the sternum, the throat and the eyeballs, until you're moving your entire upper body. Imagine the movement extending slightly above the top of the head.
6) Pause, then reverse the direction of your figure-8. Start from the top of the head, and work back down until you reach the sits bones again.
7) After you've completed both directions, open the eyes slowly and blink a couple of times, feeling the surge of blood in the body.
Romo's Rehearsal Fuel: Cheez-Its
"I eat absolutely anything," says Romo. For lunch at the studio, she often brings something involving salami or cheese, her favorite. She also keeps Cheez-Its, a company staple, in her backpack to munch on throughout the day. "I've developed an obsession."
Jan. 31, 2013 09:30PM EST
Gallim Glows
Physical expression, humor, intensity—Gallim Dance takes these facets of performance way past the bounds of what's comfortable or expected, with engrossing results. The company brings director Andrea Miller's hilarious Pupil Suite and Mama Call, which draws inspiration from Miller's Sephardic-American roots, to Wesleyan University Center for the Arts Feb. 8–9 and Temecula, CA, March 22–23. Sit, Kneel, Stand, with its star turn for "25 to Watch" Jonathan Royse Windham, will be performed at Georgia State University on Feb. 16. www.gallimdance.com.
Miller's Pupil Suite. Photo by Franziska Strauss, Courtesy Wesleyan.
Set Design Swagger
Crashing waves, starry skies, and laser shows will hit the REDCAT stage on Feb. 14–16 as Japanese dancer/ choreographer Hiroaki Umeda aims to dazzle viewers with both technological effects and his choreography, a mix of hip-hop, ballet, and butoh. Umeda, who plans these effects on his laptop, will also take the two works, Haptic and Holistic Strata, to the Wexner Center in Columbus, OH, Canadian Stage in Toronto, and New York Live Arts. www.hiroakiumeda.com.
Umeda's Holistic Strata. Photo courtesy Yamaguchi Center for Arts and Media.
Pure Power
Bursting with energy, the New Zealand–based Black Grace embarks on a two-month North American tour. Making its Portland debut at White Bird on Feb. 19, the company performs a smattering of works including the full-length Waka. Packing power into skilled manipulations of the body, these dancers, led by artistic director Neil Ieremia, can be seen in Seattle; Pittsburgh; Saint Paul; Victoria, Canada; and Northridge, CA. www.blackgrace.co.nz.
Carl Tolentino and Thomas Fonua. Photo by Duncan Cole, Courtesy White Bird.
Rhythm and Soul
Performances, master classes, and other special events abound in San Francisco and Oakland this month as the 2013 Black Choreographers Festival marks its ninth year. Bay Area–based dancemakers Gregory Dawson, Raissa Simpson, and Colette Eloi, among others, will present work along with notable out-of-towners such as Camille A. Brown. A celebration of the 40th anniversary of Oakland's Dimensions Dance Theater stands out among the two weeks of festival activities. www.bcfhereandnow.com.
Co-director of the Black Choreographers Festival Laura E. Ellis. Photo by Andy Mogg, Courtesy BCF.
Hamburg on Tour
The Hamburg Ballet brings John Neumeier's sweeping dramatics to Orange County, Chicago, and San Francisco this month with two programs. The Little Mermaid swims into the Segerstrom Center of the Arts Feb. 8–10, while Nijinsky, which reimagines the ballet superstar's career with the Ballets Russes, will be danced at the Harris Theater Feb. 1–2 and the War Memorial Opera House Feb. 13–19. www.hamburgballett.de.
Alexandre Riabko in The Little Mermaid. Photo by Holger Badekow, Courtesy HB.
Spare Change
Whether you think of Anna Halprin's Parades and Changes as revolutionary, ritualistic, or raunchy, most viewers are riveted by the slow-motion undressing and dressing section—as well as the wanton ripping-huge-reams-of-paper scene. For Halprin's "final" setting of this iconic 1960s work, dancers from around the world are coming to Berkeley to participate. Leading this parade of dancer/(re)searchers will be the original collaborators: Halprin herself (see "Nine Who Dared," Nov.) and composer Morton Subotnick. Feb. 15–17, UC Berkeley Art Museum, with an exhibit of related artifacts on view in Gallery 1. www.bampfa.berkeley.edu.
A performance of Parades and Changes in 1970 in Stockholm. Photo by Ohlstrom, Courtesy BAMPFA.
Song and Dance
As the capital of country music, Nashville is bursting with tuneful talent—a situation just begging for collaboration. Nashville Ballet has put singer/songwriter Matthew Perryman Jones, known for his heartfelt pop-country lyricism, with choreographer Gina Patterson to work on a premiere. Also appearing on the program are Dominic Walsh's lively The Whistling and Sarah Slipper's passionate Ploughing the Dark, inspired by the love letters of Anton Chekhov and his wife, Olga Knipper. Feb. 15–17. www.nashvilleballet.com.
Jon Upleger and Sadie Bo Harris in Slipper's Ploughing the Dark. Photo by Marianne Leach, Courtesy NB.
Contributors: Kathleen Dalton, Wendy Perron, Kina Poon


Get Dance Magazine in your inbox