Dance in Pop Culture
Mar. 05, 2018 02:20PM EST
Op-Ed: Dance Theatre of Harlem Was My Wakanda
Black Panther, screenshot via
YouTube
Recently, I went to see Black Panther. When the aircraft penetrated the invisible force-field cloaking the fictional African nation of Wakanda—a country unmolested by European colonization, one that is powerful, prosperous, thriving and the most technologically advanced society in the world—I literally gasped.
Evan Narcisse, a pop culture critic who co-writes "The Rise of the Black Panther" miniseries told The Washington Post, "Wakanda represents this unbroken chain of achievement of black excellence that never got interrupted by colonialism." It presents African peoples with agency, self-definition and identity. In Wakanda there is no "black" excellence, there is just excellence.
---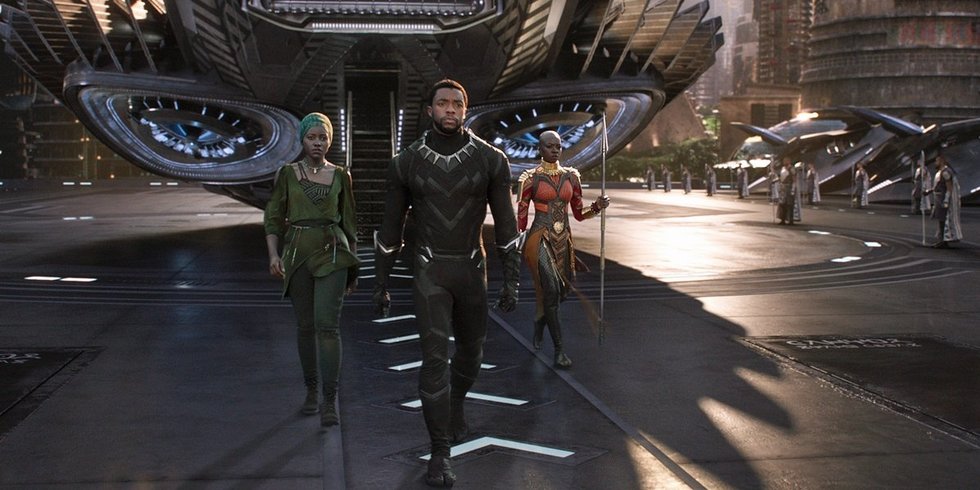 Entering Wakanda in Black Panther. Photo via movies.disney.com/black-panther
As a watched, I began to I understand the phenomenon that was taking over the black community: We were seeing an image of pan Africanism where we were all welcomed and included. For the first time, we were watching how we feel about ourselves before the world projects its image upon us and tells us differently. In it we see "what might have been."
Leaving the theater, I was experiencing a sense of awe and pride for my people and repeating, "Wakanda forever." I realized that this utopian world was triggering real-life memory harkening back to the first time I saw Dance Theatre of Harlem as child in 1978.
I was 8 years old when Arthur Mitchell and his Dance Theatre of Harlem came to Philadelphia with the show Doin' It, which incorporated 12 local children in every city. My father took me to the audition, and out of 200 children I was selected to be one of the 12.
To me, Mr. Mitchell was like a King T'Challa: regal, charming, dynamic and mystical. His voice boomed, his smile lit up the universe. When he made the pronouncement that since we were to be paid, we were now "professionals," we all pulled up a bit more, and puffed out chests our as if we had been inducted into the Dora Milaje special forces of Wakanda.
We rehearsed separately from the company until tech rehearsal, when we were ushered into the theater to be integrated with the rest of the production. That, for me, was like entering Wakanda. My eyes were greeted by a cornucopia of sepia-toned ballet dancers, all with tights and pointe shoes that matched their faces and arms. It was revelatory, akin to the feeling I had watching the five tribes of Wakanda gather at Warrior Falls.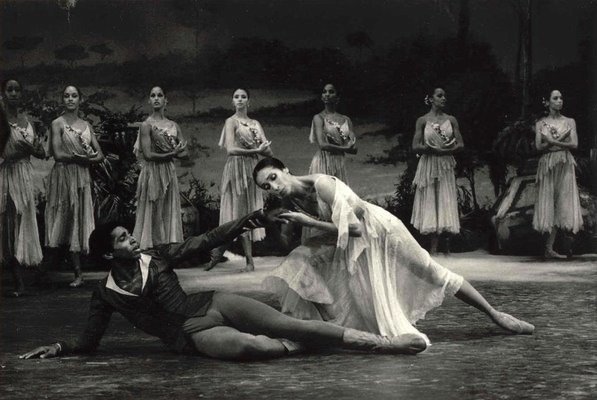 DTH in Creole Giselle (with corps dancers crossing their arms like a balletic Wakanda salute)
As a black ballet dancer, you experience an incredible sense of isolation while training in the oppressively white world of classicism. It does not have to try to be exclusionary or antagonistic because historically, this is its tradition. For young black bodies, entering that space is the antithesis of "entering Wakanda"; it feels as though you are penetrating a force-field of white privilege. The otherness of your skin tone seems to illuminate like the vibranium fibers of the Black Panther suit, and like the suit you must learn absorb all the opposing energy that comes at you (directly or through micro-aggressions) and sublimate it into a shield, much like those worn by the border tribes of Wakanda.
To my 8-year-old self, DTH was like an oasis, something that I could only dream of. When I laid eyes on a world of ballet dancers who looked like me and loved what I loved, it was life-altering.
Though my "ballet" Wakanda is in many ways a direct contradiction to the actual one (since ballet is a European art form), this correlation is less about the "what" it is, and more the "how" it made me feel.
DTH normalized blackness within the European aesthetic of ballet. While adhering to the technical strictures of ballet, it took artistic license with things like the color of tights and shoes, hairstyles, the uniformity of the corps de ballet. The DTH ballerina was allowed to be a woman—she had hips, tits and agency onstage. Our signature walk dubbed "the DTH tip" had a sassy flirtatious switch about it, apropos to the women of our culture. Yes, it was a European form, but we were "Doin' it" and doing it well. DTH made it ours—culturally.
During the '80s, the profound pride and awe that DTH inspired could not be denied. The elegance, sophistication and grace of the artists both onstage and off was cultivated by Arthur Mitchell, who understood better than anyone what dancers endured to arrive at that level. He drilled into students and professionals alike the adage, "You represent something larger than yourself."
It was something that we already knew, but he sublimated that reality from an albatross around our necks to a necklace of diamonds we wore like that of the Black Panther's—at our command it would transform into an impenetrable suit of protective armor able to absorb the slings and arrows of bigotry, racism and inequality.
Like the Wakandans, we too were sent out into the world to teach and build. Whether dance educators and directors, choreographers, college professors, administrators, lawyers or entrepreneurs we sailed forth carrying with us the standard of excellence and pride that had been embossed on us from our experiences within the walls of 466 West 152nd Street, Harlem, New York. Those of us who had the privilege to inhabit that rarified space remember because it lives within us.
Dance Theatre of Harlem was our Wakanda, forever.
Photo via Unsplash
Never did I think I'd see the day when I'd outgrow dance. Sure, I knew my life would have to evolve. In fact, my dance career had already taken me through seasons of being a performer, a choreographer, a business owner and even a dance professor. Evolution was a given. Evolving past dancing for a living, however, was not.
Transitioning from a dance career involved just as much of a process as building one did. But after I overcame the initial identity crisis, I realized that my dance career had helped me develop strengths that could be put to use in other careers. For instance, my work as a dance professor allowed me to discover my knack for connecting with students and helping them with their careers, skills that ultimately opened the door for a pivot into college career services.
Here's how five dance skills can land you a new job—and help you thrive in it:
Keep reading...
Show less
When you spend as much time on the road as The Royal Ballet's Steven McRae, getting access to a proper gym can be a hassle. To stay fit, the Australian-born principal turns to calisthenics—the old-school art of developing aerobic ability and strength with little to no equipment.
"It's basically just using your own body weight," McRae explains. "In terms of partnering, I'm not going to dance with a ballerina who is bigger than me, so if I can sustain my own body weight, then in my head I should be fine."
Keep reading...
Show less
Dancer Voices
Mar. 13, 2018 09:15AM EST
Emily Ramirez as "Meg Giry" in The Phantom of the Opera. Photo by Matthew Murphy.
I always knew my ballet career would eventually end. It was implied from the very start that at some point I would be too old and decrepit to take morning ballet class, followed by six hours of intense rehearsals.
What I never imagined was that I would experience a time when I couldn't walk at all.
In rehearsal for Nutcracker in 2013, I slipped while pushing off for a fouetté sauté, instantly rupturing the ACL in my right knee. In that moment my dance life flashed before my eyes.
Keep reading...
Show less
Rant & Rave
Mar. 08, 2018 04:18PM EST
Is this the turning point when we'll finally see an end to dancer mistreatment? Photo by Gez Xavier Mansfield/Unsplash
Last week in a piece I wrote about the drama at English National Ballet, I pointed out that many of the accusations against artistic director Tamara Rojo—screaming at dancers, giving them the silent treatment, taking away roles without explanation—were, unfortunately, pretty standard practice in the ballet world:
If it's a conversation we're going to have, we can't only point the finger at ENB.
The line provoked a pretty strong response. Professional dancers, students and administrators reached out to me, making it clear that it's a conversation they want to have. Several shared their personal stories of experiencing abusive behavior.
Christopher Hampson, artistic director of the Scottish Ballet, wrote his thoughts about the issue on his company's website on Monday:
Keep reading...
Show less
Dancer Voices
Mar. 15, 2018 02:54PM EST
Photo by Rachel Papo for Pointe
We all know that companies too often take dancers for granted. When I wrote last week about a few common ways in which dancers are mistreated—routine screaming, humiliation, being pressured to perform injured and be stick-thin—I knew I was only scratching the surface.
So I put out a call to readers asking for your perspective on the most pressing issues that need to be addressed first, and what positive changes we might be able to make to achieve those goals.
The bottom line: Readers agree it's time to hold directors accountable, particularly to make sure that dancers are being paid fairly. But the good news is that change is already happening. Here are some of the most intriguing ideas you shared via comments, email and social media:
Keep reading...
Show less
Advice for Dancers
Mar. 15, 2018 11:25AM EST
Lee Cherry; Courtesy Tricia Miranda
With dancer and choreographer credits that cover everything from touring with Beyoncé to music videos and even feature films, Tricia Miranda knows more than a thing or two about what it takes to make it. And aspiring dancers are well aware. We caught up with the commercial dance queen last weekend at the Brooklyn Funk convention, where she taught a ballroom full of dancers classes in hip-hop and dancing for film and video.
How To Land An Agency
"At times with the agencies, they already have someone that looks like you or you're just not ready to work. Look has to do with a lot of it, work ethic and also just the type of person you are. Do you have personality? Do people want to work with you? Because you can be the greatest dancer, but if you're not someone that gives off this energy of wanting to get to know you, then it doesn't matter how dope you are because people want to work with who they want to be around. I learned that by later transitioning into a choreographer because now that I'm hiring people, I want to hire the people that I want to be around for 12 or 14 hours a day.
You also have to understand that class dancers are different from working commercial dancers. A lot of class dancers and what you see in these YouTube videos are people who stand out because they're doing what they want and remixing choreography. They're kind of stars in their own right, which is great for class, but when it comes to a job, you have to do the choreography how it's taught."
Keep reading...
Show less


Get Dance Magazine in your inbox