Ash in Rochester, NY. PC Thaler Photography by Arleen and Daryl Thaler for the Swan Dreams Project
Growing up in inner city Rochester, NY, Aesha Ash was just one of the neighborhood kids. She'd imagine people driving by, judging her by her black skin.
"They'd never know that I was dreaming of becoming a professional ballet dancer. No one would think, Some day she's going to make it into New York City Ballet," says Ash.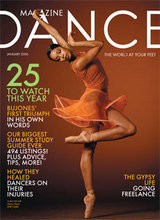 After an inspiring career at NYCB, Béjart's Ballet Lausanne and LINES, the January 2006 Dance Magazine cover star—one of our 25 to Watch that year—is no longer performing. But she's determined to use her dance background to change the stereotypes and misconceptions that people—including black people—have about women of color. "I want to show it's okay to embrace our softer side, and let the world know we're multidimensional," says Ash.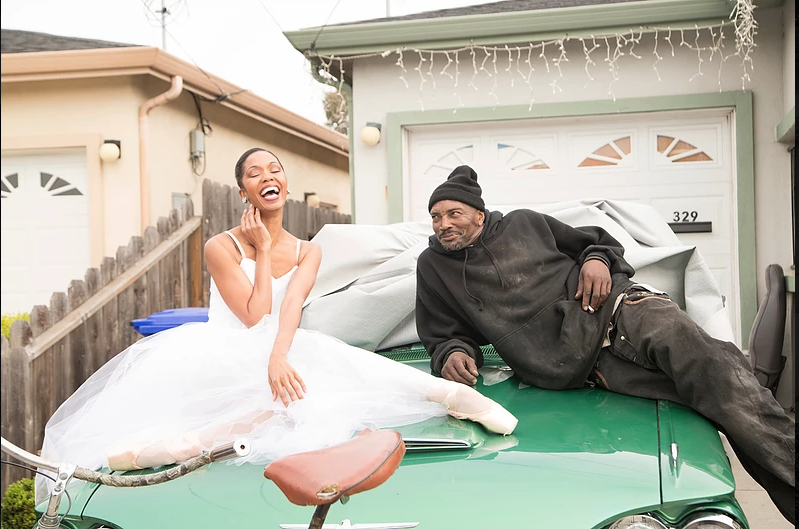 Aesha Ash in Richmond, CA. PC Renee Scott via swandreamsproject.org
In 2011, she launched the Swan Dreams Project to inspire kids in the community she grew up in. The original idea was to post images of herself in a tutu all over Rochester. "I remember growing up and in the bodega you'd see images of girls in bikinis on motorbikes," says Ash. "I wanted to replace those with photos that show women of color in a different light."
She knew the power imagery can have: She still remembers what it felt like as a student at the School of American Ballet to see a photo of black ballet dancer Andrea Long. "That image was everything on days when I was feeling disenchanted. I'd see that picture of her, and know that the struggles I was going through, she went through them, too."
Ash soon realized she didn't have the budget to fund her original plan ("I never realized how expensive a bus stop advertisement is!"). But she's made the images available through an online store, and often simply gives away prints at her own expense to schools and students in need of some inspiration.
Any proceeds she makes from the sales go directly to other organizations that are working to expand ballet in diverse communities. One large donation even led to a pointe shoe fund at dancer Robyn Gardenhire's City Ballet of Los Angeles school—and it helped one dancer who had quit ballet because of the expense come back to class.
Now a mother of two in San Jose, CA, Ash will also start teaching a free after-school ballet class at her daughter's public school next month. "I recently taught at Girls Inc. in Oakland, and one of the little black girls said, 'Are you the ballet teacher?' She just stood there, staring at me with her mouth open, like a unicorn had just walked into the room," Ash says. "You never know the impact you can have just by being a presence."
If you're interested in supporting the project, check out the online shop, or donate directly at swandreamsproject.org.
Sylvie Guillem, via 1843magazine.com
Ever find yourself lusting after that six o'clock penché, or a développé that will reach your nose? You're not alone. The eye is naturally drawn to the end points of a movement, and, in dance, that often translates to the highest extension.
But what if you're born without extreme, Instagram-worthy lines? It's a matter of developing a laser focus on alignment as well as strengthening and stretching with better body mechanics in mind.
Keep reading...
Show less
Megan Fairchild in Jerome Robbins' Dances at a Gathering. PC Paul Kolnik, Courtesy NYCB
From the minute my journey as a dancer began at age 4, there were no other options of what I might do with my life.
Sure, I tried other "after-school activities." I tried desperately to master The Phantom of the Opera with my squeaky violin rental—a headache for my parents who paid for private Suzuki method lessons at our house. Constantly attempting famous show tunes on my violin, the effort was completely futile. I actually remember thinking, 'Surely this sheet music is wrong, this sounds nothing like the Phantom of the Opera.'
I even tried my hand at gymnastics. But when my mom's brilliant bribery of $100 for my first mastery of a kip or a back handspring didn't produce any results, we quickly threw in the towel.
Keep reading...
Show less
Lopez in Circus Polka. PC Alexander Iziliaev, Courtesy MCB
When Miami City Ballet artistic director Lourdes Lopez was a principal dancer at New York City Ballet, she missed her opportunity to honor Jerome Robbins onstage. "Every time there was a celebration for Jerry, I was either injured or had just retired," says Lopez. "I was never able to publicly thank him onstage for all that he taught us and the beauty he left us."
But when Lopez was planning MCB's Jerome Robbins Celebration for the 100th anniversary of the legend's birth, she saw an opportunity. She asked the Robbins Trust to allow her to perform the Ringmaster in Robbins' Circus Polka, a role the choreographer originated himself.
Keep reading...
Show less
Matthew Neenan used images of silencing and control in let mortal tongues awake. Photo by Bill Herbert.
From coast to coast, choreographers have spent the first year of Donald Trump's presidency responding to the impact of his election and what it means for them as artists.
New York City's Dante Brown used rubber Trump masks in his work Package (revamped), which examines the monstrosities of power.
A video titled "Dancers vs. Trump Quotes" went viral last summer, showing dancers taking Trump's "locker-room" talk to task.
Alexis Convento, lead curator of the New York City–based Current Sessions, dedicated a whole program to the concept of resistance, while educator and interdisciplinary artist Jill Sigman has initiated a workshop called "Body Politic, Somatic Selves," as a space for movement research around questions of support, activism and solidarity.
In San Francisco, choreographer Margaret Jenkins facilitated a panel of artists about the role of activism within their work.
Keep reading...
Show less
Courtesy of The Beautiful Mind Series
When London-based perfume company The Beautiful Mind Series was looking for a collaborator for their next scent, they skipped the usual celebrity set and brought in prima ballerina Polina Semionova instead. "I was fascinated by what goes on in the mind of a great dancer," perfumer Geza Schoen said in a press release. Semionova's ballet-inspired scent, Precision & Grace, celebrates the intelligence and beauty behind her craft.
Courtesy of The Beautiful Mind Series
Keep reading...
Show less