Why Some Dancers Are Giving "Hiplet" Serious Side Eye
Hiplet is sweeping the nation. Between TedX, Refinery29, Desigual campaigns, Anna Wintour's #madeforher fundraiser and the plethora of morning show spots, the hybrid dance craze—known for its sassy runway-style walks on pointe and crab-like bent-knee jazzy chassés—has gone viral.
Hiplet is the brain child of Homer Hans Bryant, a former Dance Theatre of Harlem principal who, in 1981, founded Chicago Multi-Cultural Dance Center (then called Bryant Ballet), aka the studio where young Sasha and Malia Obama studied before moving to the White House. Bryant started putting hip hop movement on pointe in 1994 with a piece he choreographed for his students, called The Rap Ballet. That evolved into what became hiplet (a portmanteau of hip hop and ballet), which is now a regular class at his school.
But his curious blend of hip hop sur la pointe has proven to be quite provocative. Some see the blending of the urban and European dance vernaculars as a positive by-product of the black ballerina movement. For me and many others, it sets our teeth on edge.
---
Why such strong reactions? As a former ballet dancer, and current ballet educator, I've attempted to break down why it evokes such icky feelings.
1. The Lack of Ballet Technique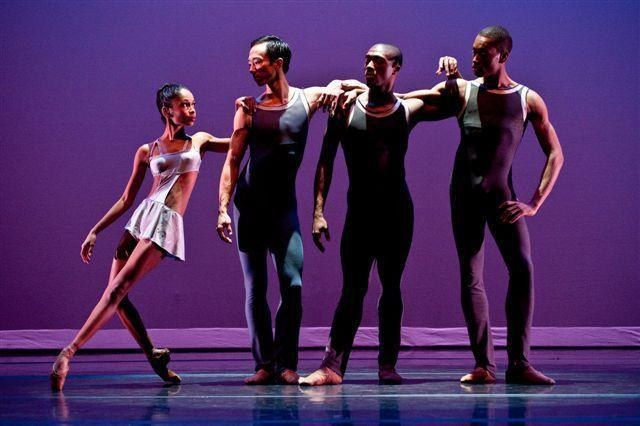 Unlike hiplet, Robert Garland's Return blends ballet with social dance in a way that shows off the dancers' virtuosic technique
Most troublesome for me is the fact that the hiplet ladies have so little ballet technique. To be fair, the three older dancers who are typically featured in the group numbers have beautiful feet and show flashes of solid ballet training. But many of the rest are unable to fully get on their box. It's cringe-worthy and dangerous.
Perhaps if the hiplet dancers exhibited the duality of striking beautiful first arabesque lines in addition to being able to "break it down," there might be less vitriol. For example, Robert Garland's Return set to music by Aretha Franklin and James Brown melds ballet and social dance quite well by highlighting the adroit ballet technique and versatility of Dance Theatre of Harlem's dancers.
But most of the hiplet dancers can't hit those ballet lines, and as a result, the technique is more akin to a toe tapping in a vaudevillian sideshow.
Which is weird, because Bryant is a fantastic ballet teacher, known for his bootcamp-like approach to ballet training. He's famous for employing tactics like non-stop "aerobic" barres, from pliés to battements with no breaks; as you turn from the left side to the right he'll bark out the next combination. I know because I was his student at a DTH summer intensive at age 13. He was inspiring and effective, well-versed in technique, and was a stickler for strength, stamina and precision.
So for people who have danced and trained (in the traditional capacity) with Bryant, hiplet leaves many of us asking the question, "What happened?" Bryant is finally getting some of the recognition that he is due. It's unfortunate is it not for what he is truly gifted at: training technically proficient ballet dancers.
2. It's Neither Hip(Hop) nor (Bal)Let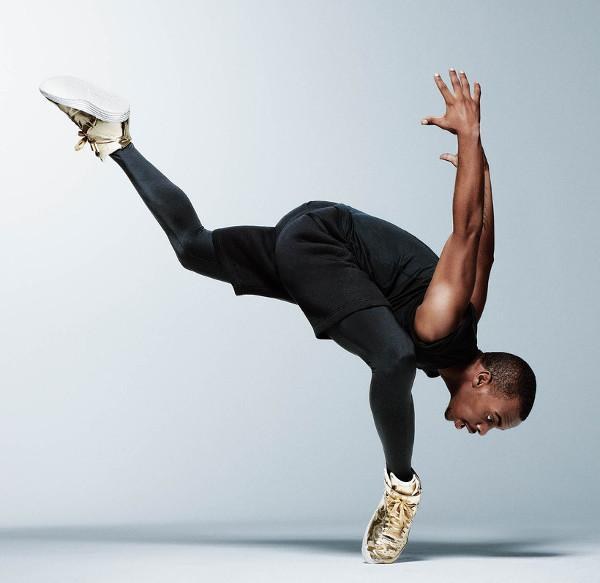 Is Memphis Jookin more balletic than hiplet? Lil Buck uses elements of pointe work in his movement
Hiplet purports to be a blend of hip hop and ballet, but the lack of authentic representation of either genre is another reason some of us are giving it a hard side-eye. The only aspects of ballet would be the use of pointe shoes and some questionably-executed basic ballet vocabulary. And the technique doesn't draw from real hip hop roots, either. The foundational techniques of hip hop are popping, locking and breaking, although Jookin, a Memphis-born derivative (also known as the "Gangsta walk"), sometimes resembles ballet with its elements of gliding and toe work. But hiplet is more of a mash-up of many styles of West African, Horton, jazz, dance hall and social dance.
3. It Undercuts Legit Advances for Black Dancers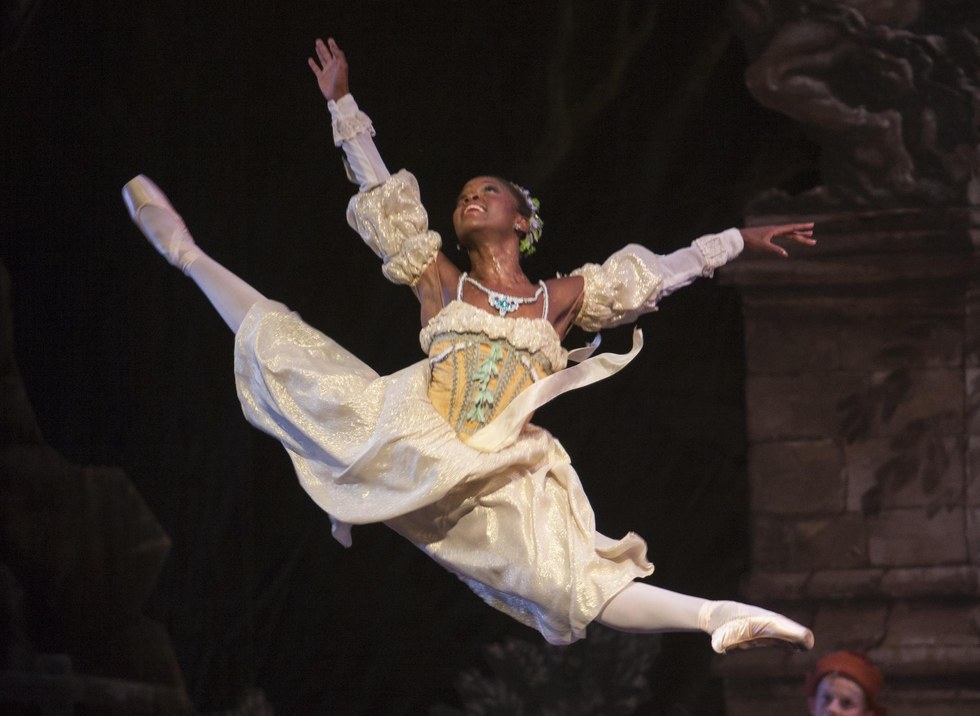 Just when black ballerinas like Michaela DePrince are climbing the ranks in major companies, hiplet presents a caricature of "blacks doing ballet." Photo by Angela Sterling, courtesy Dutch National Ballet
For ballet dancers of color, hiplet is something of an embarrassment. Just when artistic directors are finally taking the need for diversity seriously, and a few black ballerinas are climbing the ranks in major companies, there is hiplet. Just when we can proudly and enthusiastically hashtag #blackballerinas, #blackelegance #browngirlsdoballet and mean it, when we feel like we are the Jeffersons, movin' on up, hiplet is the ghettoization of blacks doing "ballet." Not because it blends African American urban social dance and a European court social dance, but because it does it crudely, without sophistication and hence becomes a mockery of our honest efforts to excel at the latter while not honoring the brilliance of the former.
It is not coincidental that just as we have numerous examples of black ballet excellence, a caricaturized image of "blacks doing ballet" becomes the rage. There has always been a cultural counterbalance that happens when African Americans start to make progress. When movies or televisions shows featuring positive black characters and stories are finally produced, there is always what feels like a backlash, where we are presented with versions of ourselves that are laughable or belittling. It feels like tiny weights have been tethered to our wings just as we think we are about to soar.
4. It Feels Immature and Opportunistic
If a 20-something dance student snapping footage of friends fooling around in a studio complete with the "YASSSSSES" and "WERKS" in the background was responsible for hiplet, people could better understand it, because it feels immature, impromptu, faddish. When you learn that it is the product of a 67-year-old man, it seems...odd. It feels opportunistic, a phenomenon that is riding the wave of conversations about blacks in ballet straight to the bank. There is nothing inherently wrong with that, but you have to ask, "At what cost?" More than ever, images create our reality. Does hiplet help or hurt?
Who knows how long hiplet will be on our radar. I am sure that these young ladies are having wonderful experiences and seeing aspects of the world that they never thought possible. That in and of itself is a positive.
But it is hard to imagine these students growing up become hiplet teachers, or mothers being willing to spend upwards of $80 a pop for pointe shoes for daughters to learn to Dougie on in the long-term. But stranger things have happened.
For now, in old-school fashion, I'll give a nod to Naughty by Nature and say, "Hip hop hiplet, hey, no."
John Heginbotham never walks into rehearsal unprepared. Photo by Janelle Jones, courtesy the Watermill Center
Back in 2012, after 14 years dancing with Mark Morris Dance Group, choreographer John Heginbotham ventured out on his own. Don't think of it as going solo, though.
Almost from the outset, Heginbotham has embarked on a series of fruitful collaborations with other artists, via his namesake company, Dance Heginbotham, and through a stream of independent projects. His creative partners have covered a range of talents and genres: illustrator Maira Kalman (in 2017's The Principles of Uncertainty), opera director Peter Sellars (for Girls of the Golden West, which debuted at San Francisco Opera in November), and contemporary-music luminaries such as Tyondai Braxton and Alarm Will Sound.
Here's What He Has To Say: About starting his company, his rehearsal process and why he's drawn to creative mash-ups.

Keep reading...
Show less
Photo by Hugo Glendinning, Courtesy Sadler's Wells
Ten years is a long time for a dance production to run, but Sidi Larbi Cherkaoui's Sutra, an athletic, meditative spectacle featuring 19 Shaolin monks and a malleable set of 21 wooden boxes (designed by Antony Gormley) is still striking a chord with audiences worldwide. To celebrate the milestone, Sutra is returning to Sadler's Wells, where it all began. March 26–28. sadlerswells.com.
What Dancers Eat
Mar. 09, 2018 09:15AM EST
Pizza can be an excellent recovery meal after a hard day of class and rehearsal. Photo by Thinkstock
Raise your hand if you've ever walked out of the studio with just one thought on your mind: a big, juicy cheeseburger. But raise your other hand if instead of getting that burger, you opted for a hearty salad or stir-fry.
While dancers need to fuel their bodies with nutrient-dense meals and snacks, plenty of foods get an unfair bad rap. "The diet culture in this country vilifies various food groups as being bad while championing others as good," says Kelly Hogan, MS, RD, CDN, clinical nutrition and wellness manager at the Dubin Breast Center at Mount Sinai Hospital in New York City. "But black-and-white thinking like that has no place when it comes to food."
Some foods have less nutrition than others, admits Hogan, but if you're eating what you crave and honoring your hunger and fullness cues, she says you'll probably get the variety of nutrients your body needs. Here are seven foods that can have a place on your plate—guilt-free.
Keep reading...
Show less
When you spend as much time on the road as The Royal Ballet's Steven McRae, getting access to a proper gym can be a hassle. To stay fit, the Australian-born principal turns to calisthenics—the old-school art of developing aerobic ability and strength with little to no equipment.
"It's basically just using your own body weight," McRae explains. "In terms of partnering, I'm not going to dance with a ballerina who is bigger than me, so if I can sustain my own body weight, then in my head I should be fine."
Keep reading...
Show less
Irina Dvorovenko's latest role: Playing Elizaveta Grushinskaya in Grand Hotel at New York City Center. Photo by Joan Marcus, Courtesy New York City Center.
Whether playing a saucy soubrette or an imperious swan, Irina Dvorovenko was always a formidable presence on the American Ballet Theatre stage. Since her 2013 retirement at 39, after 16 seasons, she's been bringing that intensity to an acting career in roles ranging from, well, Russian ballerinas to the Soviet-era newcomer she plays in the FX spy series "The Americans."
We caught up with her after tech rehearsal for the Encores! presentation of the musical Grand Hotel, directed and choreographed by Josh Rhodes and running March 21–25 at New York City Center. It's another tempestuous ballerina role for Dvorovenko—Elizaveta Grushinskaya, on her seventh farewell tour, resentfully checks into the Berlin hostelry of the title with her entourage, only to fall for a handsome young baron and sing "Bonjour, Amour."
Keep reading...
Show less
Breaking Stereotypes
Mar. 21, 2018 12:32PM EST
Photos via Instagram
When Andrew Montgomery first saw the Las Vegas hit Le Rêve - The Dream 10 years ago, he knew he had to be a part of the show one day. Eight years later, he auditioned, and made it to the last round of cuts. On his way home, still waiting to hear whether he'd been cast, he was in a motorcycle accident that ended up costing him half his leg.
But Montgomery's story doesn't end the way you might think. Today, he's a cast member of Le Rêve, where he does acrobatics and aerial work, swims (yes, the show takes places in and around a large pool) and dances, all with his prosthetic leg.
Keep reading...
Show less


Get Dance Magazine in your inbox