Rant & Rave
Nov. 03, 2017 11:17AM EST
Why Do We Let the Industry Tell Us What a Normal Dance Body Is?
Alana Grant, via Facebook
Earlier this week, I came across a daring post by London dancer Alana Grant, sharing her story of how she'd just gotten cut at an audition not because of her talent, but because the director decided she "wouldn't want to see her in hot pants on stage." How appalling, I thought as I jolted to share her post, feeling uneasy about the cruel, body-shaming reality of performing arts. As dancers, our canvas is our flesh and bones and we will always be judged on our appearance as well as our skills (whether we like it or not) because it's the mixture of those two qualities that make us who we are on stage.
But infinitely more appalling was a message I got from an acquaintance berating me for sharing Grant's story. He let me know that she had actually auditioned at his current company. Of course they wouldn't take her, he snickered in angry-red-face-emoji form, "because how could girls as fat as her ever expect to be lifted in the air by another dancer?" He wrote, "She should lose some weight before she even thinks about whining."
---
I gave it my all to try to understand how another performer could be so insensitive and clueless to the power dynamic at play here. As dancers, we are taught to meticulously analyze every point, shape and line on our bodies, trying to figure out what strengths we can play up to distract the eye from any parts that didn't win the genetic lottery. Meanwhile, we're constantly comparing our looks and abilities to those of other bodies around us every single day.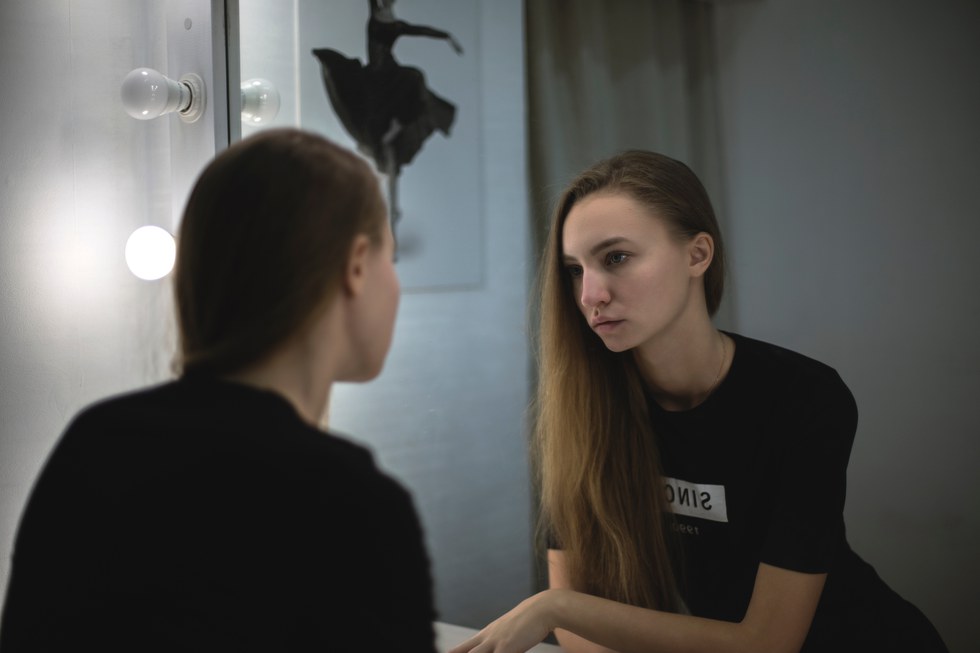 Ivan Obolensky/StockSnap
To tell Grant that she has the talent, but can only get a job if she eventually "sorts out" her body is cruel and shallow. To slam a fellow performer for speaking out about the scrutiny and discrimination we all face on a daily basis is unforgivable.
These actions are not only hideous examples of body shaming. Something much sinister, they aim to attack one's value, worth and freedom of expression. They make a statement that only some bodies are worthy of our gaze.
Sometimes the most interesting bodies are those that do not fit society's mold, physically or cerebrally. It is precisely those bodies that lead me to ask the following questions: Who gets to perform on a stage? Why is there one aesthetic ideal in the dance industry? Do I need to wait for the Pina Bausch company to come back to New York to witness dancers in their 50s and 60s on stage? Do I always need to go below 14th street to find performers that do not "look good" in hot pants on stage? How does looking good in hot pants on stage effectively enhance a production anyway?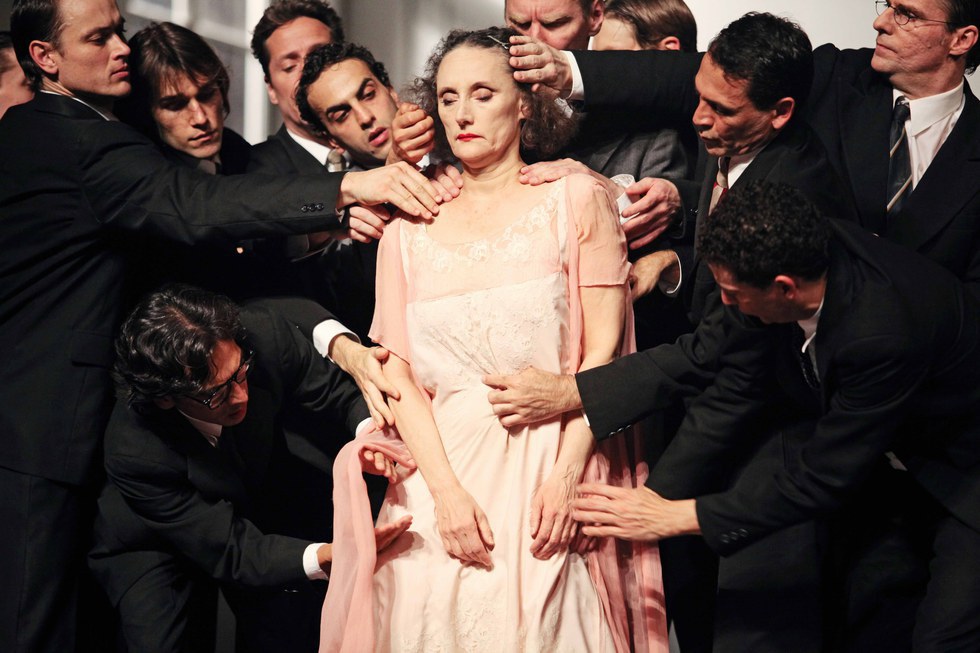 Nazareth Panadero and Tanztheater Wuppertal in Pina Bausch's Kontakthof. Photo by Julieta Cervantes, courtesy Brooklyn Academy of Music.
Some of my most inspiring colleagues are dancers who surprised me with the creative ways they work with the bodies they have. If someone older, younger, heavier, smaller, less experienced than you has learned to do something new, how can you think you've reached your body's limitations of expression?
We cannot help some of the power dynamics we are subjected to on a daily basis. But let's remind ourselves next time in class, rehearsal or auditions that one body is not inherently better than another just because of its type. The same movement does not automatically look better on a skinnier dancer.
Every time you think someone would dance better if they lost weight, ask yourself if it's that's really what you think and not a result of seeing the same body type repeatedly portrayed as "a dancer's body" on stage and screen over and over again. We are lost if we cannot see the effort, vulnerability and significance in each others' hard physical work. We have to offer each other support and advocacy in a way that our superiors can't or don't want to.
And as for the audience, representation on stage carries its own impact. I have had the privilege of performing with many brilliant female dancers who would be considered too large for our industry, and yet, every show there would be a handful of audience members so glad "to have seen someone normal shining on stage for a change." And at the end of the day, there should be no such thing as a normal or not normal performing body. We are all bodies that move, which is already significant.
Related Articles Around the Web
Ian Douglas; courtesy Sarah Haarmann. Performing with Pam Tanowitz Dance at The Joyce Theater
Sarah Haarmann stands out without trying to. There is a precision and lack of affectation in her dancing that is very Merce Cunningham. Her movement quality is sharp and clear; her stage presence utterly focused. It's no wonder she caught Mark Morris' eye. Even though she still considers herself "very much the new girl" at Mark Morris Dance Group (she became a full-time member in August 2017), in a recent performance of Layla and Majnun, Haarmann seemed completely in her element.
Company: Mark Morris Dance Group
Age: 27
Hometown: Macungie, Pennsylvania
Training: Lehigh Valley Charter High School for the Performing Arts and Marymount Manhattan College
Keep reading...
Show less
Reframing high-stakes auditions as learning opportunities can make you a better auditioner. Photo by Jim Lafferty.
In 2012, freelance contemporary dancer Adrianne Chu made a major career change: She decided to try out for A Chorus Line. "Even though I didn't get the job, I felt like I was meant to do this," says Chu. So she started going to at least one musical theater audition every weekday, treating each as a learning experience. After several years of building up her resumé, Chu's practice paid off: She booked a starring role as Wendy in the first national tour of Finding Neverland.
Approaching auditions as learning opportunities, especially when you're trying to break into a different style or are new to the profession, can sharpen your skills while helping you avoid burnout. It also builds confidence for the auditions that matter most.
Keep reading...
Show less
How do you warmup? Photo by Jim Lafferty
For many dancers, a "warmup" consists of sitting on the floor stretching their legs in various positions. But this strategy only reduces your muscles' ability to work properly—it negatively affects your strength, endurance, balance and speed for up to an hour.
Save your flexibility training for the end of the day. Instead, follow a warmup that will actually help prevent injury and improve your body's performance.
According to the International Association of Dance Medicine and Science, a smart warmup has four parts: "a gentle pulse-raising section, a joint mobilization section, a muscle lengthening section and a strength/balance building section."
Keep reading...
Show less
Screenshot via YouTube
Keep reading...
Show less
This year, IABD launched a new ballet audition for men of color
Last month, the International Association of Blacks in Dance's third annual ballet audition for women of color was expanded to include a separate audition for men.
The brainchild of Joan Myers Brown (founder of both Philadanco and IABD), the women's audition was created to specifically address the lack of black females in ballet. However, the success and attention that audition drew made the men feel left out, so IABD decided to give the men equal time this year.
Keep reading...
Show less
Students participated in all aspects of Veränderung, from choreography to costumes. Photo by Uwe Stratmann, Courtesy Tanztheater Wuppertal.
Pina Bausch's unique form of German Tanztheater is known for raising questions. Amid water and soil, barstools and balloons, the late choreographer's work contains a distinct tinge of mystery and confrontation. Today, Tanztheater Wuppertal Pina Bausch's dancers use questions as fuel for creativity. The company's most recent project introduced a new group of performers to the stage: local high school ninth-graders from the Gesamtschule Barmen in Wuppertal, Germany, in an original work-in-progress performance called Veränderung (Change).
Keep reading...
Show less


Get Dance Magazine in your inbox