Career
Apr. 21, 2017 04:12PM EST
Why There's Nothing Else Like The Bond Between Dancers
Off Beat at Beantown Tap Fest, via Instagram
At one point during my latest show, Unbound, I scamper offstage and disrobe as quickly as possible. Behind me, a friend I have known since we began taking dance class together 20 years ago (we danced to "The Color Song"; she was orange, I was purple) holds out a dress shirt for me to put my arms through. I start buttoning furiously while my dance partner, who was also one of my tap teachers for six years, holds out pants into which I step gingerly. While I fix my belt, she helps snake the microphone wire back up through my shirt so I can clip it into my collar and be back onstage in under a minute.

Among most groups of friends, this would be no ordinary—or comfortable—situation. But for me and the members of my company, Off Beat, it's a ritual that we're used to. We don't even think twice about the closeness, the vulnerability, the physical contact.
Dancers develop bonds unlike any other: Through our passion and commitment for our craft, and all the time we spend together, we develop our own family-like relationships that are almost impossible to explain to non-dancers.
---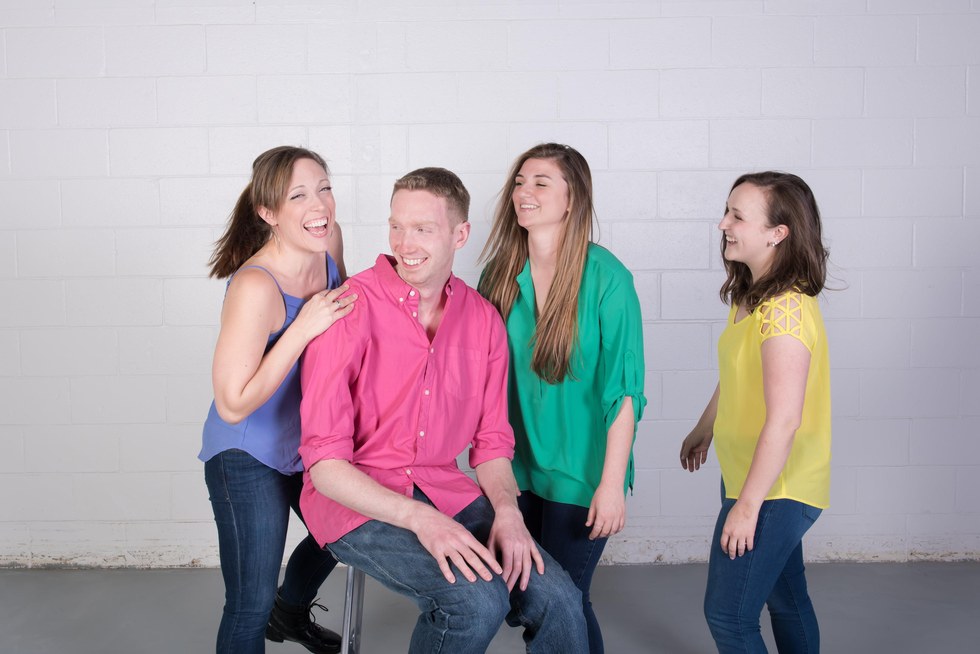 Cynthia Clayton, Courtesy Casey
I've had these ties for as long as I can remember. Like many young dancers who train intensively multiple days per week, my closest friends were my dance friends. They were the only people who could relate to eating dinner at 10 p.m., as though we operated on a European schedule; to spending Friday nights in rehearsal for a production number instead of at a birthday party or a concert; to reviewing tap rhythms under our desks during math class; to the satisfaction of finally nailing a triple pirouette or a syncopated pullback.
We wore our matching team jackets the same way some families might don matching sweaters for their Christmas card photo. We argued over whether the battement was on 8 or 8& not unlike how siblings might fight over who gets the car on Saturday night. We celebrated birthdays, mourned break-ups, even counseled a peer who thought she was pregnant.

For those of us who are still dancing together, now professionally, not much has changed. We spend hours in the studio, in cars and buses and trains, in dressing rooms. All that time together makes us aware of each other's idiosyncrasies (one of my dancers hates the smell of bubble gum), immune to physical boundaries (if your hand ends up on someone else's butt while figuring out a new partnering move, so be it) and reluctantly accustomed to eating everything from handfuls of nuts to munchkins for "lunch" during long rehearsal days (from where do the delicious bins of animal crackers at the studio always seem to materialize?).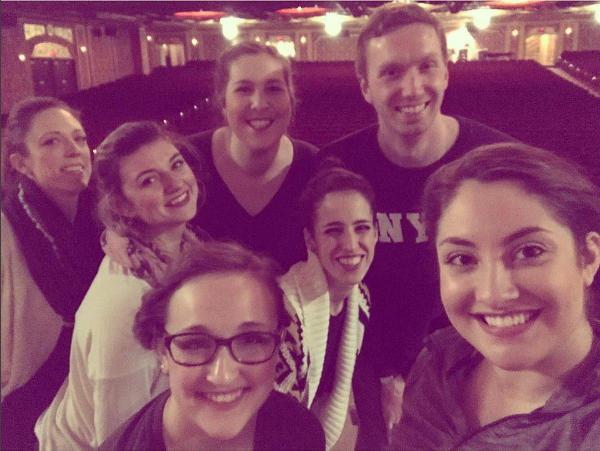 Post-performance in Providence, RI, via Instagram
Our relationships have developed as our work has developed: From being vulnerable and uncertain in front of each other while learning new material to sharing rooms and beds while on tour.

Unlike audience members, who only see me when I am onstage—joyous, focused, put-together—my company members see all sides of me: They see me when I am frustrated and defeated, stymied by what to do next in a piece whose vision I haven't yet clearly articulated. They see me when I'm moody and impatient during a long day of tech rehearsal and am trying to address unexpected difficulties while operating with low blood sugar. They see me exhausted, sweating, lugging props and set pieces down city streets and up stairs. They see me half-naked side stage during myriad quick changes, swearing furiously as a sock refuses to cooperate or my hand gropes wildly for the armhole of a shirt while my entrance cue looms ever closer.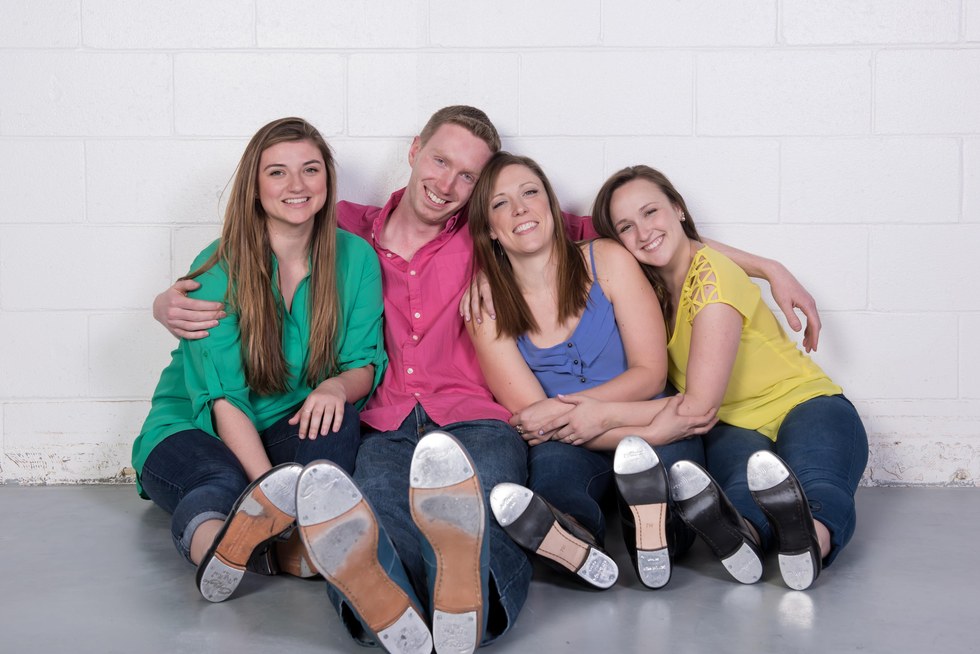 Cynthia Clayton, Courtesy Casey
The rhetoric of family especially pervades the tap community. Many female tappers I know refer to each other as "sis." Dianne Walker is known to many of us as "Aunt Dianne" for her role in mentoring generations of hoofers (I even have her listed in my phone as such). When a colleague talks about "the fam," I know exactly what he or she means. Many photos on my Instagram feed bear the hashtag #tapfam.

At one of the studios where I teach, The Dance Inn of Lexington, MA, we celebrated our graduating seniors this year by profiling each of them in a special social media post. They all wrote about what it meant to them to be a part of the studio's pre-professional company. One described it as "my extra family." Another said it was "like having a second family." A third dancer opined, "I genuinely feel a part of a family."

I'm so glad they've made this great discovery about dance. My hope for them, as they move on to whatever is next, is that they cherish these bonds throughout their lives, as I know I have. I hope they are encouraged, supported and emboldened by their dance family.
There's just nothing else like it.
ABT's James Whiteside and Isabella Boylston. Photo via Instagram
Last night, American Ballet Theatre held its annual Fall Gala at the David H. Koch Theater in New York City. To celebrate ABT's artistic director Kevin McKenzie's 25 years of leadership, dancers from ABT's company, apprentices, studio company members and students from the Jaqueline Kennedy Onassis School took to the stage in Jessica Lang's The Gift, Alexei Ratmansky's Songs of Bukovina and Christopher Wheeldon's Thirteen Diversions.
But we also love a good behind-the-scenes glimpse—especially when designer gowns are involved. And the dancers gave us plenty of glam looks to obsess over once the curtains closed. Ahead, see our favorite moments from gala straight from the dancers.
Devon Teuscher in the floral print suit of our dreams (by designer Patricia Bonaldi) practices her dance moves with Christine Shevchenko. Both girls accessorized with sparkling jewels from gala sponsor de Grisogono.
Keep reading...
Show less
Popular
Sep. 25, 2017 10:40AM EST
The dancers file into an audition room. They are given a number and asked to wait for registration to finish before the audition starts. At the end of the room, behind a table and a computer (and probably a number of mobile devices), there I sit, doing audio tests and updating the audition schedule as the room fills up with candidates. The dancers, more nervous than they need to be, see me, typing, perhaps teasing my colleagues, almost certainly with a coffee cup at my side.

Keep reading...
Show less
Arolyn Williams and Chase O'Connell in Fox on the Doorstep, PC Beau Pearson
Last week Ballet West breezed into New York City's Joyce Theater from Salt Lake City. The dancers are excellent—especially the women (what else is new). The company brought five pieces including works by Gerald Arpino, Val Caniparoli and resident choreographer Nicolo Fonte.
Arpino's last work, made in 2004, is a duet called RUTH, Ricordi per Due ("remembrance for two"). It's about a man haunted by the memory of the woman he loved. Christopher Ruud is strong and sensitive as the man, and Arolyn Williams is riveting as the ghost of his beloved.
Val Caniparoli energizes his dancers with juicy movement, and always sticks to his theme. (He doesn't ramble, and let's face it, long rambling choreography is a problem these days.) In his premiere for Ballet West, Dances for Lou, he takes on the music of Lou Harrison, a composer known for his Eastern sounds and rhythms.
Keep reading...
Show less
Sidi Larbi Cherkaoui's Pictures at an Exhibition, performed by The Royal Ballet of Flanders.
Photo by Filip VanRoe, courtesy Marquee
Your Saturday nights are about to go from "Netflix and chill" to "Marquee and chill." (Okay, maybe we'll need to coin a new phrase).
But seriously, the new streaming app Marquee Arts TV lets you curl up with Bolshoi Ballet's Swan Lake, Sylvie Guillem dancing Mats Ek's solo Bye, a dance film by Cullberg Ballet called 40 M Under, or a documentary about Alonzo King and LINES Ballet. Marquee unlocks a world of digital arts: dance, theater, opera, music, documentaries and film shorts that you can stream directly to your TV or mobile device.
Keep reading...
Show less


Get Dance Magazine in your inbox