Inside DM
01 January 2014
Your Body, Your Health Care
With the Affordable Care Act, dancers must carry insurance or pay a penalty. Here's a cheat sheet.
Barry Kerollis found himself in a health insurance conundrum after leaving his job with Pacific Northwest Ballet in 2011. He joined a contemporary ballet company that did not provide insurance, so he continued his PNB coverage through COBRA for $520 a month, with $30 copays. But then he got injured. "I couldn't afford to pay for my physical therapy because I was paying for my insurance," says Kerollis, who is now a freelance dancer, choreographer and teacher.
Although Kerollis eventually got a $150-a-month plan that covers physical therapy and chiropractor visits, the policy includes a $50 monthly fee for his asthma—something considered a preexisting condition by some insurers.
Kerollis' health insurance woes are common among dance professionals. However, with much of the Affordable Care Act phased in this month, the public has a bevy of new health benefit opportunities. The new law requires insurance companies selling policies through state or federal "exchanges" to abide by specific consumer protections. Those include no discrimination based on preexisting conditions, no lifetime limits or restrictive annual limits and free preventative care, such as mammograms and birth control.
"Freelance professional dancers or those who work for companies that don't offer coverage is exactly the type of group the ACA is meant for," says Sarah Dash, a research fellow at Georgetown University's Health Policy Institute.
But the law has a catch: It requires everyone in the U.S. to have health insurance this year and will penalize those who don't get a policy with a $95 fee or about 1 percent of their income, whichever is greater, when filing 2014 taxes. The penalties will also rise each year. Open enrollment ends March 31—a date that applies to purchases made through the state and federal exchanges or directly with private insurance providers.  
"I encourage dance professionals to at least make an informed decision, and if you choose to take the penalty, do it after having shopped around," says Amy Fitterer, executive director of Dance/USA, a national service organization for professional dance.
Going to the Marketplace
The ACA created the Health Insurance Marketplace, a.k.a. the exchanges, at healthcare.gov. This site, for all its well-reported glitches, allows individuals and small businesses to search for and purchase health insurance coverage in different levels (bronze, silver, gold and platinum). An application can be submitted online, by mail or by phone, and you can then see what policies are available, purchase one and learn whether you are eligible for any income-based subsidies.
This year, 16 states (including ones with major dance centers like California, New York and Nevada) and Washington, DC will launch their own marketplaces. The remaining states opted for the federal government to run their exchanges either fully or partially. All exchanges can be reached through healthcare.gov.
"The exchanges provide more comprehensive information about the plans that are available than any other single source," says Adam Huttler, founder and executive director of Fractured Atlas, a national nonprofit arts service organization. "Having said that, there's a lot of confusion and misinformation out there."
One item to note is that only through an exchange is it possible to get lower costs on monthly premiums through tax credits. These can bring the cost of a plan down to as little as $50 a month. For a single person buying an  individual plan, the income range for tax credit eligibility is $11,490 to $45,960. "The median income for dancers, just looking at U.S. Census data, is about $21,000 a year or $27,000 for those employed full-time, which means as a whole, dancers are going to get some significant help through tax credits," Dash says. Depending on which state a dancer lives in, if she makes less than $15,856 a year, she may be eligible for Medicaid.
"The Affordable Care Act is not a magic bullet, but it does greatly improve the access and affordability of health insurance for dancers," says Huttler, who notes that for the past decade, Fractured Atlas had directly enrolled artists in health insurance plans. "We helped artists understand their needs and options and get the most appropriate coverage. But that was a labor-intensive process and we couldn't help everyone, so I'm very glad that we're no longer needed."
Questions—and answers—for every dancer
 Q: There were so many issues with the launch of the healthcare.gov site. Can I just go and purchase a policy on my own?
A: Yes, but if you purchase a plan outside of the exchanges, just be aware that not all private plans will meet the same standards as those sold through them. You also cannot get tax credits if you buy insurance outside of a government-run exchange.
Q: What all is covered if I buy through an exchange?
A: All private health insurance plans will offer the same set of essential health benefits, including at least the following items and services:
outpatient care

emergency services

hospitalization (such as surgery)

maternity and newborn care

mental health and substance use disorder services, including behavorial health treatment (such as counseling and psychotherapy)

prescription drugs

rehabilitative and habilitative services, such as physical therapy or chiropractic services

laboratory services

preventative and wellness services and chronic disease management

pediatric services
Plans may offer additional coverage. You can see what each plan offers when you compare them side-by-side in the Marketplace.
Q: I'm 23 and I heard that I might be able to go on my parents' plan. Is this true? 
A: Yes! If a plan covers children, they can be added or kept on the health insurance policy until they turn 26—even if they are married, not living with their parents, attending school, are not financially dependent on their parents and are eligible to enroll in their employer's plan.
Q: When I go on healthcare.gov and try to compare plans, I get confused. Can I get advice on how to decipher the differences?
A: Not all of the plans there will be the same, even those within the same tier (bronze, silver, gold and platinum). However, they all cover essential health benefits (see list above) and meet standards for cost sharing. Read the "summary of benefits and coverage"--you can ask for it, if it's not given--and look to see if there are any limits on coverage, such as a 10-visit maximum for chiropractic visits or physical therapy. There is a 24-hour hotline to ask questions: (800) 318-2596.
Q: Yes, I am a dancer, and yes, I am a smoker. Does this matter when I pick out a plan?
A: There will be higher premiums for tobacco users. In most states, insurers will be allowed to charge up to 50 percent higher premiums for people who use tobacco, and tax credits through the exchanges will not cover the tobacco surcharge.
Q: As a freelance performer, I travel to several different states throughout the year. What does that mean when choosing a policy?
A: Once you enroll in a plan, you have to keep the plan you signed on with until the next enrollment period (which will be Oct. 15 to Dec. 7, 2014) or a qualifying life event (such as marriage or divorce). If you are going to be moving around a lot, pay attention to what the out-of-network benefits are for your plan. Going out of network often means your out-of-pocket expenses will be a lot higher.
Hannah Maria Hayes is a writer with an MA in dance education from New York University.
Don't Get Cut Off
Key dates for ACA Coverage
January 1  
If you enrolled in a plan during 2013 through the Health Insurance Marketplace, your new plan is now in effect.
March 31
After this date, individuals and families will not be able to enroll in Marketplace health plans until the next Open Enrollment period—Oct. 15 to Dec. 7—unless they have a qualifying life event.
2014—Through the year
Individuals can enroll in Medicaid at any time during the year, not just during open enrollment. If you do not have health coverage for more than three months in 2014, you must pay a tax penalty, unless you are exempted. —HMH
Image courtesy iStock
Rennie Harris' Lifted. Photo by Brian Mengini, courtesy Harris
Dance Magazine reached out to us with the questions: Over the years, how has increased acceptance and visibility on concert-dance stages affected hip hop and its artists? And how has hip hop influenced concert dance?
Our response? Whoa! Acceptance? Visibility? Immediately we knew that any conscientious attempt to unpack these questions would easily exceed the maximum word count. But we also acknowledged that questions like these affect what we do as dancemakers and artist-citizens.
So we interviewed our colleague Nicole Klaymoon and mentor Rennie Harris to contribute to a conversation. We are all multilingual dance artists with our own unique voices in hip hop and street-dance theater. We are from different backgrounds and generations whose work is presented as concert dance and builds on the groundwork of Rennie Harris Puremovement.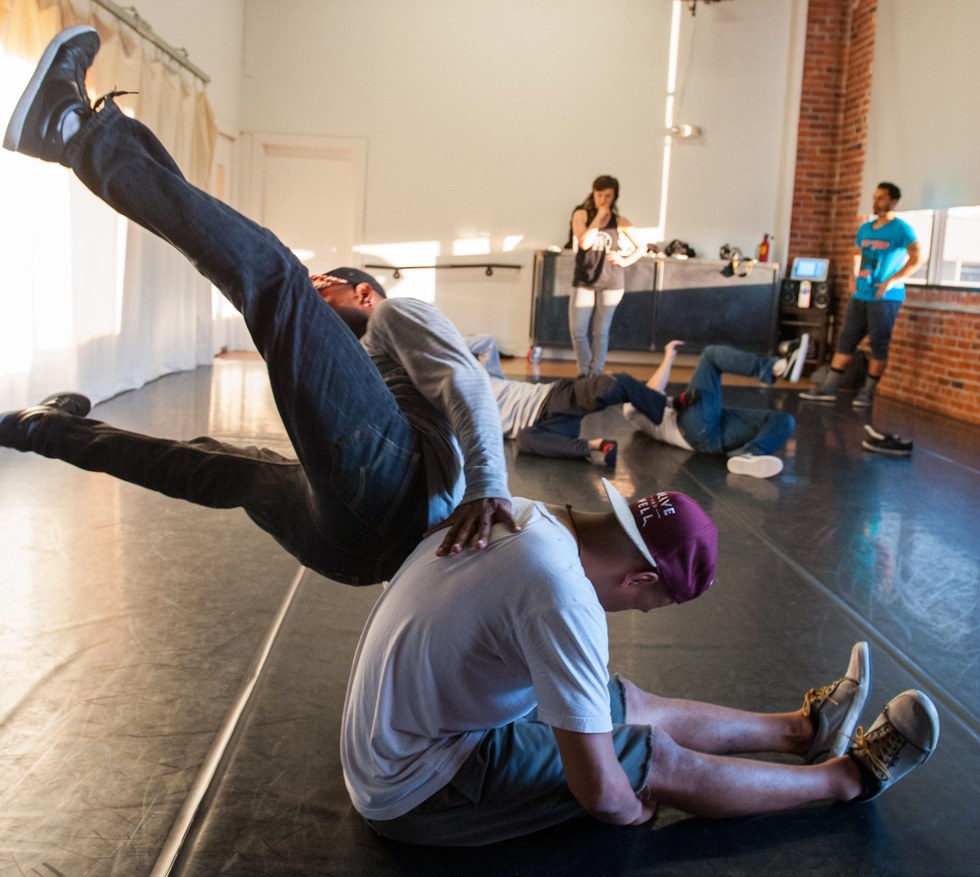 Amy O'Neal's Opposing Forces. Photo by Bruce Clayton Tom, courtesy O'Neal
Keep reading...
Show less
Vishneva at curtain call with Gomes, all photos by Gene Schiavone
The entire audience cheered as they lifted their iPhones to capture the teary-faced Diana Vishneva's gratitude toward Marcelo Gomes.

Last Friday, the great Russian ballerina said goodbye to American Ballet Theatre at the Metropolitan Opera House. Vishneva and Gomes danced a powerful Onegin, and we didn't want to let them go. During the stream of greetings from her fellow principals that is part of the farewell tradition, Marcelo re-entered the stage, rushing to Vishneva to lift her up and spin her around. She instantly threw her arms open and her head back, as though saying, "I am free when I'm with you."
Keep reading...
Show less
Kun-Yang Lin/Dancers in Santuario. Photo by Robli Photography via kyld.org
Just as the Kun-Yang Lin/Dancers reached an emotional moment in an April performance of Santuario, inspired by the Pulse Nightclub shooting in Orlando, the fire alarm began blaring. Timed as it was with the actual reenactment of the shooting within the piece, most of the audience remained in their seats expectantly, thinking this was part of the show. But the onstage fog effects had combined somehow with the humidity in the theater so that there was a real need to evacuate until the fire department could give the all-clear.
An actual break in the action like this—where the lights come up and you're forced to file out into a parking lot—is probably one of the most extreme distractions dancers could encounter during a performance. But thinking about how to refocus can help you prepare for any wardrobe malfunctions, prop flubs, lighting miscues or other onstage stumbles that could happen in the middle of a show.
Keep reading...
Show less
Jun. 23, 2017 04:41PM EST
These days, it's not uncommon to see men dancing on pointe. Sure, the Trocks have been doing it forever, but now even men in traditional companies are seeing the benefits of training in pointe shoes.
And yet, we've never seen anything like this video of Houston Ballet's Hayden Stark, Derek Dunn and Daniel Durrett performing the "Shades" variations from La Bayadere on pointe. It's not a parody video or a spoof. These boys' pointework is the real deal, and we're all for it.
Keep reading...
Show less