Misty Copeland at the Dance Magazine Awards: "Dance Unifies, So Let's Get to Work"
Misty Copeland opened the 2018 Dance Magazine Awards. Photo by Christopher Duggan.
What does it mean to be human? Well, many things. But if you were at the Dance Magazine Awards last night, you could argue that to be human is to dance. Speeches about the powerful humanity of our art form were backed up with performances by incredible dancers hailing from everywhere from Hubbard Street Dance Chicago to Miami City Ballet.
Misty Copeland started off the celebration. A self-professed "Dance Magazine connoisseur from the age of 13," she not only spoke about how excited she was to be in a room full of dancers, but also—having just come from Dance Theatre of Harlem's memorial for Arthur Mitchell—what she saw as their duty: "We all in this room hold a responsibility to use this art for good," she said. "Dance unifies, so let's get to work."
That sentiment was repeated throughout the night.
---
Dance Magazine Awards 2018 www.youtube.com
Michael Trusnovec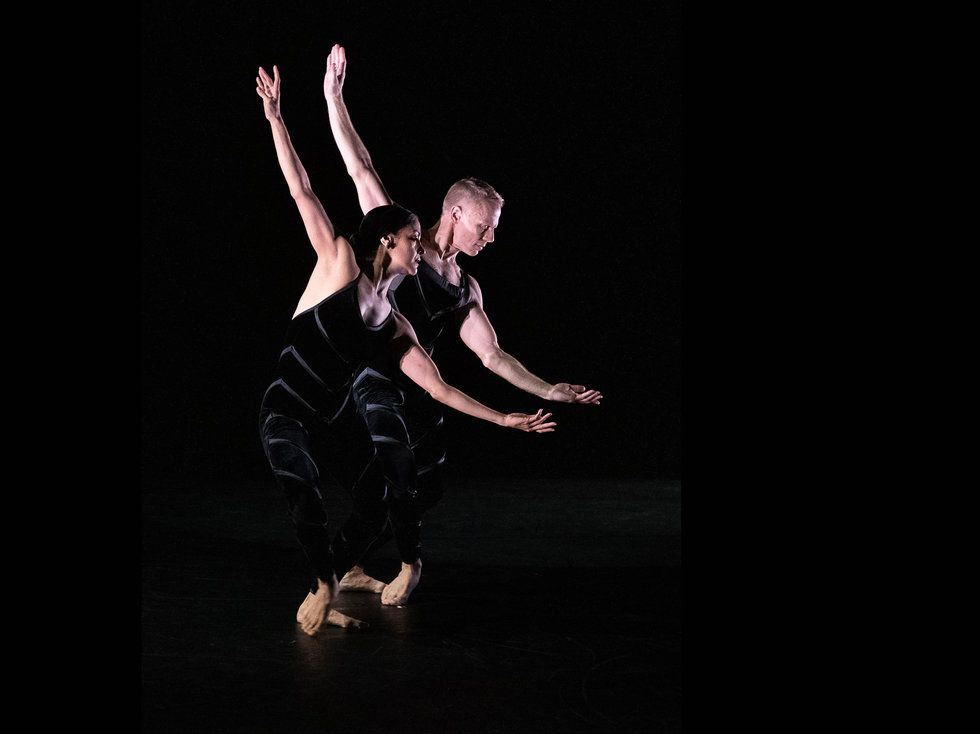 Michael Trusnovec and Parisa Khobdeh in an excerpt from Paul Taylor's Promethean Fire. Photo by Christopher Duggan.
After giving a luminous performance of Paul Taylor's Promethean Fire with Parisa Khobdeh, Michael Trusnovec admitted that it might have been a "crazy idea" for him to choose to dance right before accepting his award. (For the record, we asked him to. Or, more accurately, we gave him the option in the hopes that he'd perform.) But he explained that he'd agreed to perform because dancing is "why I'm here—standing here—but also why I'm here, in general."
Most moving was when Trusnovec, a paragon of cool, collected strength, choked up when talking about what it feels like to know that there will no longer be any more "Taylor-made dances," sharing—in the most heartfelt way—what it's meant to him to have taken part in Taylor's genius.
Crystal Pite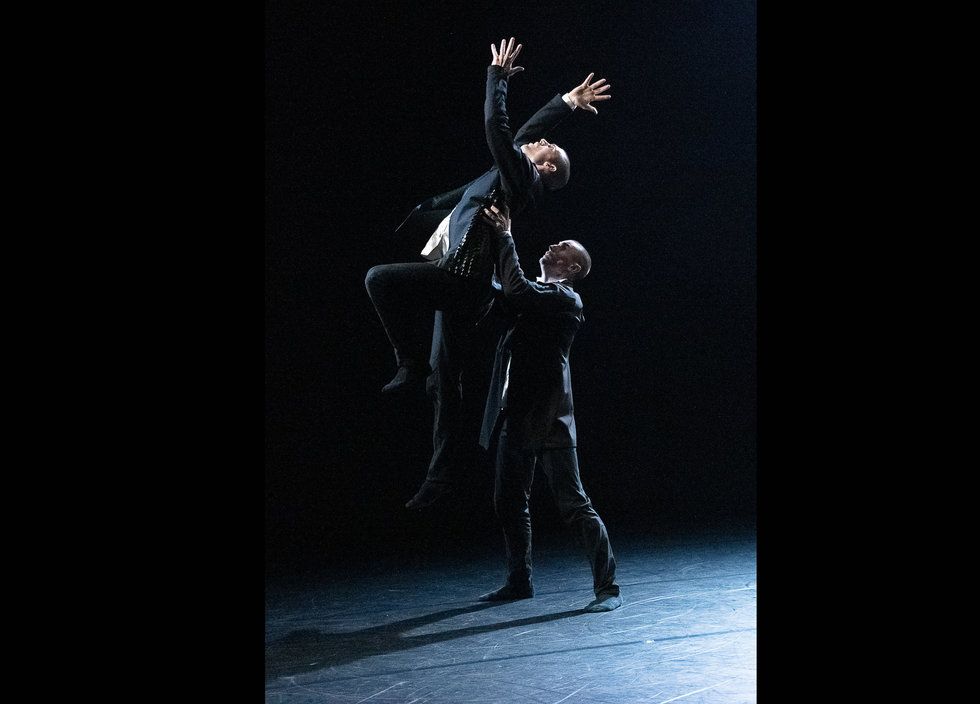 Hubbard Street's Andrew Murdock and Michael Gross performed an excerpt of Crystal Pite's The Other You. Photo by Christopher Duggan.
In accepting her award, Crystal Pite told a story that most of us had never heard before: In the late 1970s, her mother and a friend traveled five hours by bus and ferry to see the Ailey company perform in Vancouver. When they got back to their room at the Holiday Inn, they spent the night reenacting their own version of Revelations.
Her mom's description of Judith Jamison sparked Pite's desire to dance. Later, when she was 13 or 14, Pite made her first solo for herself, and her mom sewed the costume: A long-sleeved white leotard and a floor-length white skirt with ruffles at the bottom. "I spent hours alone in the studio trying to channel the spirit of Judith Jamison and Alvin Ailey." It was what made her want to be a choreographer.
Last night, since she was coming to the house of Ailey, Pite brought along a photo of herself in that solo to give to Jamison. After the party, she sat on the floor of the studio in a second position straddle, writing a personal note to go along with it. Watching this insanely talented icon of our field pen a handwritten note to her idol (and how giddily excited she was to do it) reminded me of just how much dance artists can move each other, even when they don't realize it.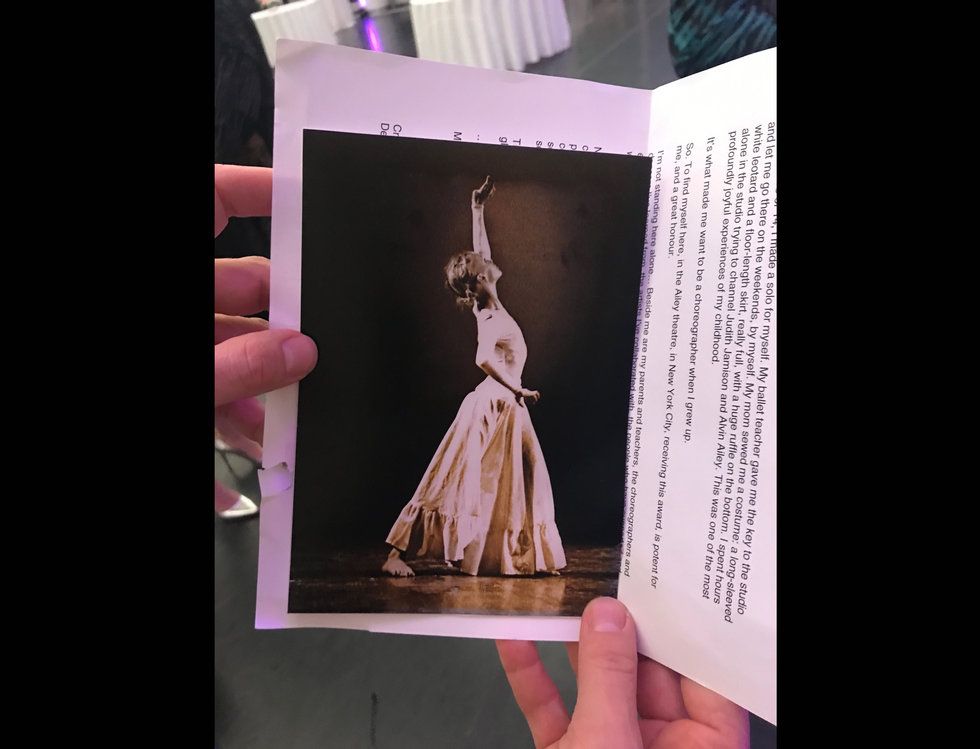 Crystal Pite holds up her photo of herself as a young teenager in the first solo she ever choreographed, in which she channelled the spirit of Judith Jamison. She brought it to give to Jamison herself, along with a personal note.
Raja Feather Kelly and Ephrat "Bounce" Asherie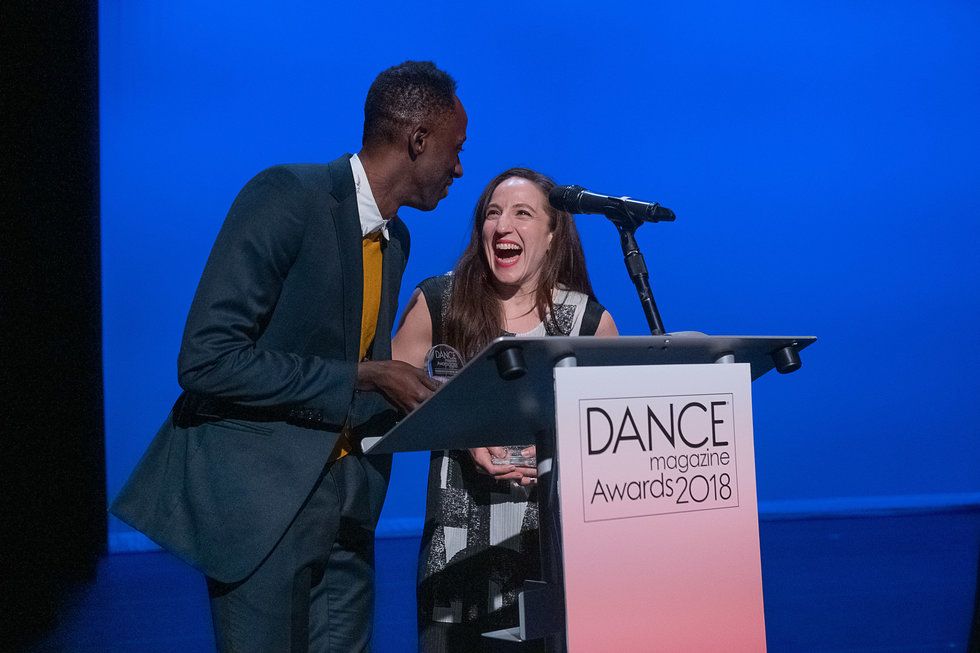 Raja Feather Kelly and Ephrat "Bounce" Asherie accept their Harkness Promise Awards. Photo by Christopher Duggan.
The two Harkness Promise Awardees, Raja Feather Kelly and Ephrat "Bounce" Asherie, brought a blast of enthusiastic energy to the stage to accept their awards, which grant them each $5,000 and 40 hours of studio space. They gave a short joint speech, promising "we won't let you down."
Lourdes Lopez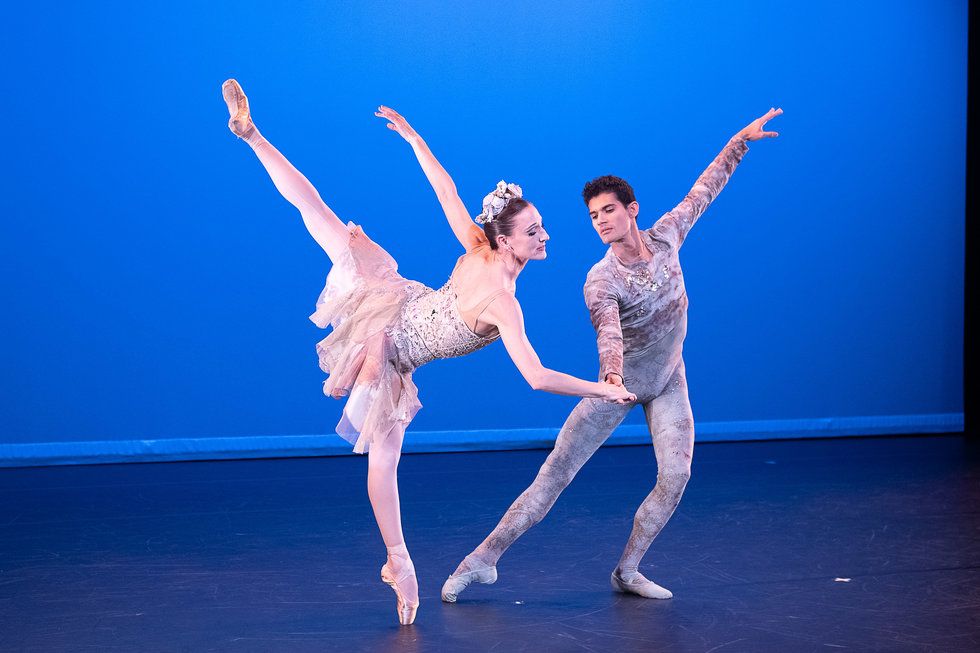 Miami City Ballet's Tricia Albertson and Renan Cerdeiro performed an excerpt from George Balanchine's A Midsummer Night's Dream in honor of Lourdes Lopez. Photo by Christopher Duggan.
Until she said it, I had never realized that Lourdes Lopez was the first Latina principal dancer at New York City Ballet and is the only Latina artistic director of a major American ballet company. With her incredible poise and eloquence, she reminded us of the power of dance: "It widens your world, it broadens your perspective. It teaches you about life and how to live it," she said. "Dance is everlasting and all-inclusive, and all we have to do is serve it."
Ronald K. Brown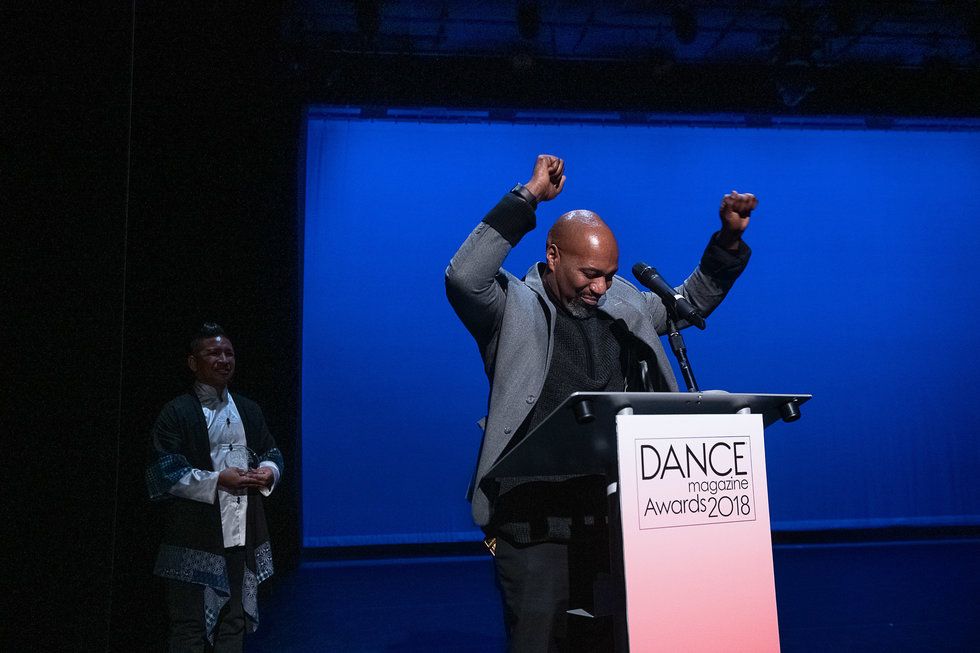 Ron Brown spoke about how dance has drawn him back to the studio over and over throughout his life. Photo by Christopher Duggan.
In presenting the award to Ronald K. Brown, his dancer and associate artistic director Arcell Cabuag spoke about how Brown's dances "take us away from technology and all the nonsense, and reminds us how human we are, and how much we all have in common." Having just watched Annique Roberts soulfully perform Brown's She Is Here, which seemed to heat up the theater with her incredible warmth, we knew exactly what he was talking about.
Nigel Redden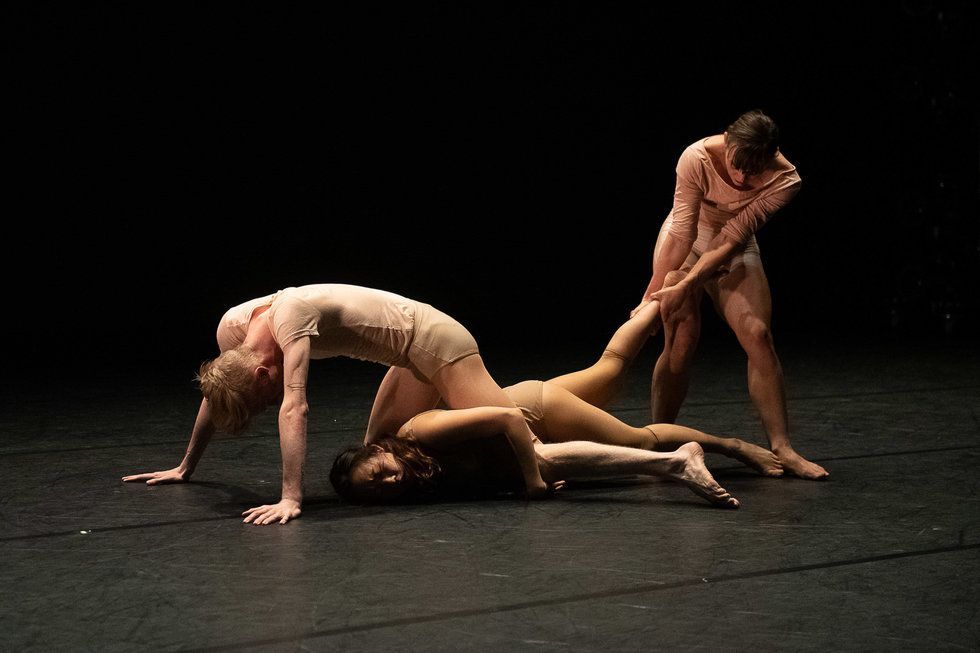 Members of Gallim, which has performed at Nigel Redden's Spoleto Festival USA multiple times, performed an excerpt from Andrea Miller's Stone Skipping in tribute to him. Photo by Christopher Duggan.
The last award of the night was a new Leadership Award, presented to festival director Nigel Redden. This addition is our way of recognizing "the people who make it possible for dancers to dance and choreographers to choreograph," as our CEO Frederic Seegal put it.
Redden ended the event by sharing a sentiment that seemed to sum up the whole ceremony: "Dance is what it means to be human, what it means to be truly alive."
From Your Site Articles
Related Articles Around the Web
A flyer showing Alberto Alonso, Fernando Alonso, Benjamin Steinberg and Alicia Alonso. Photo courtesy the author
Alicia has died. I walked around my apartment feeling her spirit, but knowing something had changed utterly.
My father, the late conductor Benjamin Steinberg, was the first music director of the Ballet de Cuba, as it was called then. I grew up in Vedado on la Calle 1ra y doce in a building called Vista al Mar. My family lived there from 1959 to 1963. My days were filled with watching Alicia teach class, rehearse and dance. She was everything: hilarious, serious, dramatic, passionate and elegiac. You lost yourself and found yourself when you loved her.
Keep reading...
Show less
Left: Hurricane Harvey damage in Houston Ballet's Dance Lab; Courtesy Harlequin. Right: The Dance Lab pre-Harvey; Nic Lehoux, Courtesy Houston Ballet.
"The show must go on" may be a platitude we use to get through everything from costume malfunctions to stormy moods. But when it came to overcoming a literal hurricane, Houston Ballet was buoyed by this mantra to go from devastated to dancing in a matter of weeks—with the help of Harlequin Floors, Houston Ballet's longstanding partner who sprang into action to build new floors in record time.
Keep reading...
Show less
Hansuke Yamamoto in Helgi Tomasson's Nutcracker at San Francisco Ballet, which features an exciting and respectful Chinese divertissement. Photo by Erik Tomasson, Courtesy SFB
It's Nutcracker time again: the season of sweet delights and a sparkling good time—if we're able to ignore the sour taste left behind by the outdated racial stereotypes so often portrayed in the second act.
In 2017, as a result of a growing list of letters from audience members, to New York City Ballet's ballet master in chief Peter Martins reached out to us asking for assistance on how to modify the elements of Chinese caricature in George Balanchine's The Nutcracker. Following that conversation, we founded the Final Bow for Yellowface pledge that states, "I love ballet as an art form, and acknowledge that to achieve a diversity amongst our artists, audiences, donors, students, volunteers, and staff, I am committed to eliminating outdated and offensive stereotypes of Asians (Yellowface) on our stages."
Keep reading...
Show less
Allegra Bautista in Nevertheless, by ka·nei·see | collective. Photo by Robbie Sweeny
An audience member once emailed Dallas choreographer Joshua L. Peugh, claiming his work was vulgar. It complained that he shouldn't be pushing his agenda. As the artistic director of Dark Circles Contemporary Dance, Peugh's recent choreography largely deals with LGBTQ issues.
"I got angry when I saw that email, wrote my angry response, deleted it, and then went back and explained to him that that's exactly why I should be making those works," says Peugh.
With the current political climate as polarized as it is, many artists today feel compelled to use their work to speak out on issues they care deeply about. But touring with a message is not for the faint of heart. From considerations about how to market the work to concerns about safety, touring to cities where, in general, that message may not be so welcome, requires companies to figure out how they'll respond to opposition.
Keep reading...
Show less