Misty Copeland at the Dance Magazine Awards: "Dance Unifies, So Let's Get to Work"
Misty Copeland opened the 2018 Dance Magazine Awards. Photo by Christopher Duggan.
What does it mean to be human? Well, many things. But if you were at the Dance Magazine Awards last night, you could argue that to be human is to dance. Speeches about the powerful humanity of our art form were backed up with performances by incredible dancers hailing from everywhere from Hubbard Street Dance Chicago to Miami City Ballet.
Misty Copeland started off the celebration. A self-professed "Dance Magazine connoisseur from the age of 13," she not only spoke about how excited she was to be in a room full of dancers, but also—having just come from Dance Theatre of Harlem's memorial for Arthur Mitchell—what she saw as their duty: "We all in this room hold a responsibility to use this art for good," she said. "Dance unifies, so let's get to work."
That sentiment was repeated throughout the night.
---
Dance Magazine Awards 2018 www.youtube.com
Michael Trusnovec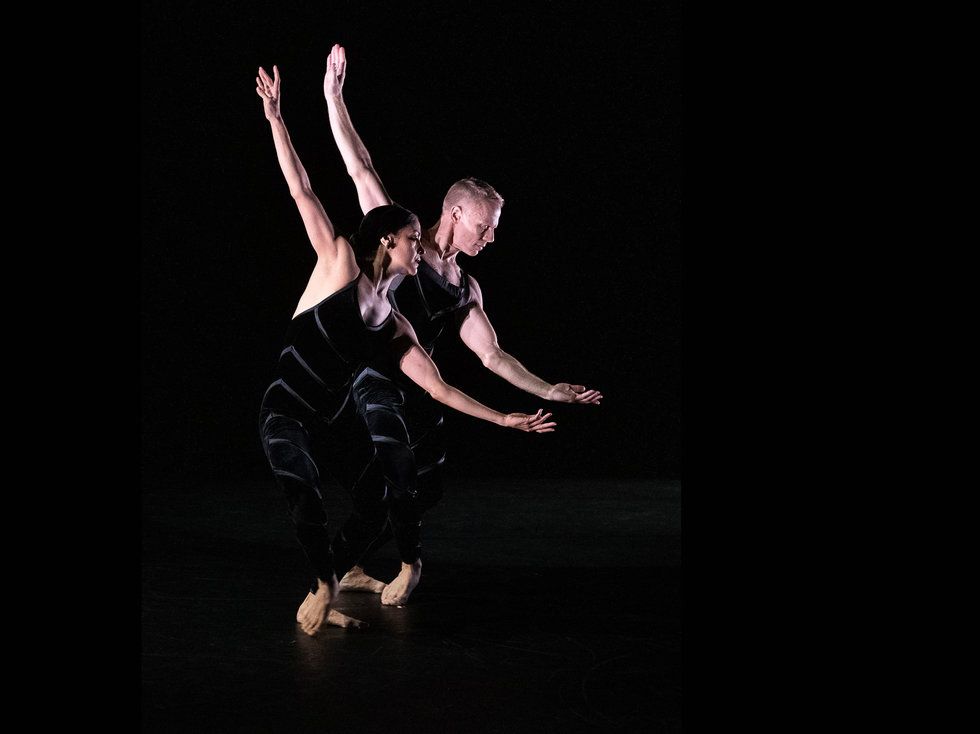 Michael Trusnovec and Parisa Khobdeh in an excerpt from Paul Taylor's Promethean Fire. Photo by Christopher Duggan.
After giving a luminous performance of Paul Taylor's Promethean Fire with Parisa Khobdeh, Michael Trusnovec admitted that it might have been a "crazy idea" for him to choose to dance right before accepting his award. (For the record, we asked him to. Or, more accurately, we gave him the option in the hopes that he'd perform.) But he explained that he'd agreed to perform because dancing is "why I'm here—standing here—but also why I'm here, in general."
Most moving was when Trusnovec, a paragon of cool, collected strength, choked up when talking about what it feels like to know that there will no longer be any more "Taylor-made dances," sharing—in the most heartfelt way—what it's meant to him to have taken part in Taylor's genius.
Crystal Pite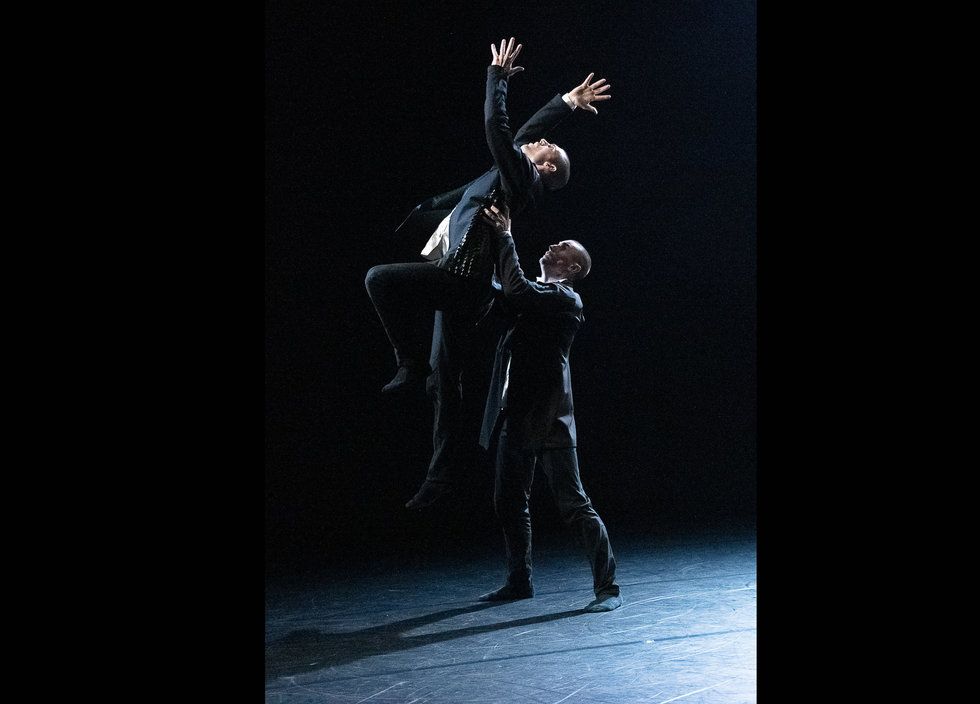 Hubbard Street's Andrew Murdock and Michael Gross performed an excerpt of Crystal Pite's The Other You. Photo by Christopher Duggan.
In accepting her award, Crystal Pite told a story that most of us had never heard before: In the late 1970s, her mother and a friend traveled five hours by bus and ferry to see the Ailey company perform in Vancouver. When they got back to their room at the Holiday Inn, they spent the night reenacting their own version of Revelations.
Her mom's description of Judith Jamison sparked Pite's desire to dance. Later, when she was 13 or 14, Pite made her first solo for herself, and her mom sewed the costume: A long-sleeved white leotard and a floor-length white skirt with ruffles at the bottom. "I spent hours alone in the studio trying to channel the spirit of Judith Jamison and Alvin Ailey." It was what made her want to be a choreographer.
Last night, since she was coming to the house of Ailey, Pite brought along a photo of herself in that solo to give to Jamison. After the party, she sat on the floor of the studio in a second position straddle, writing a personal note to go along with it. Watching this insanely talented icon of our field pen a handwritten note to her idol (and how giddily excited she was to do it) reminded me of just how much dance artists can move each other, even when they don't realize it.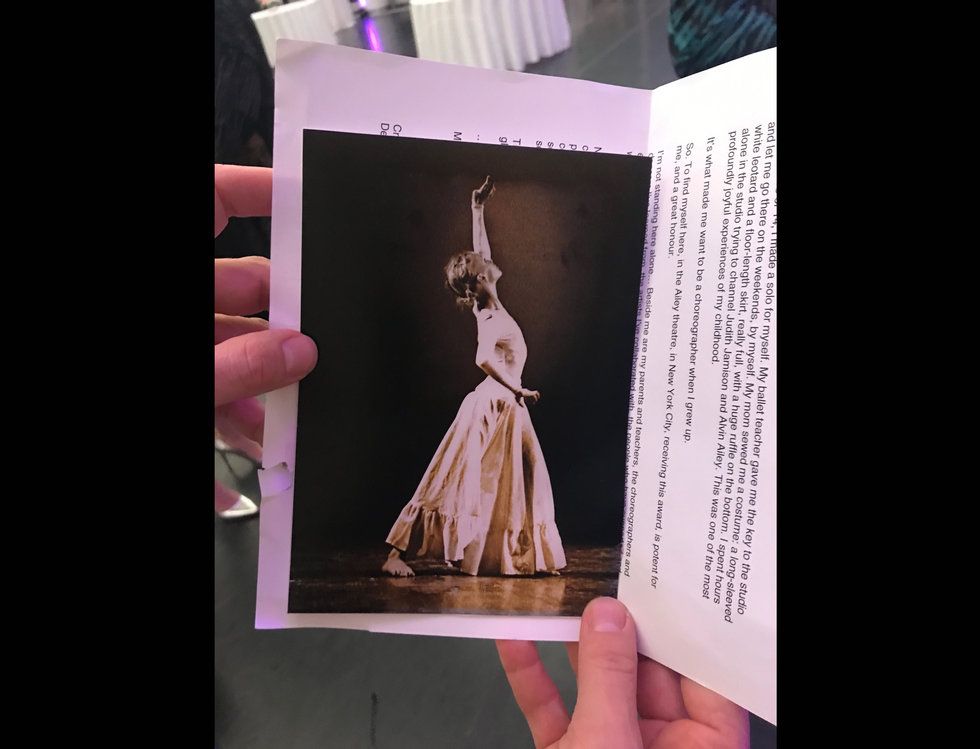 Crystal Pite holds up her photo of herself as a young teenager in the first solo she ever choreographed, in which she channelled the spirit of Judith Jamison. She brought it to give to Jamison herself, along with a personal note.
Raja Feather Kelly and Ephrat "Bounce" Asherie
Raja Feather Kelly and Ephrat "Bounce" Asherie accept their Harkness Promise Awards. Photo by Christopher Duggan.
The two Harkness Promise Awardees, Raja Feather Kelly and Ephrat "Bounce" Asherie, brought a blast of enthusiastic energy to the stage to accept their awards, which grant them each $5,000 and 40 hours of studio space. They gave a short joint speech, promising "we won't let you down."
Lourdes Lopez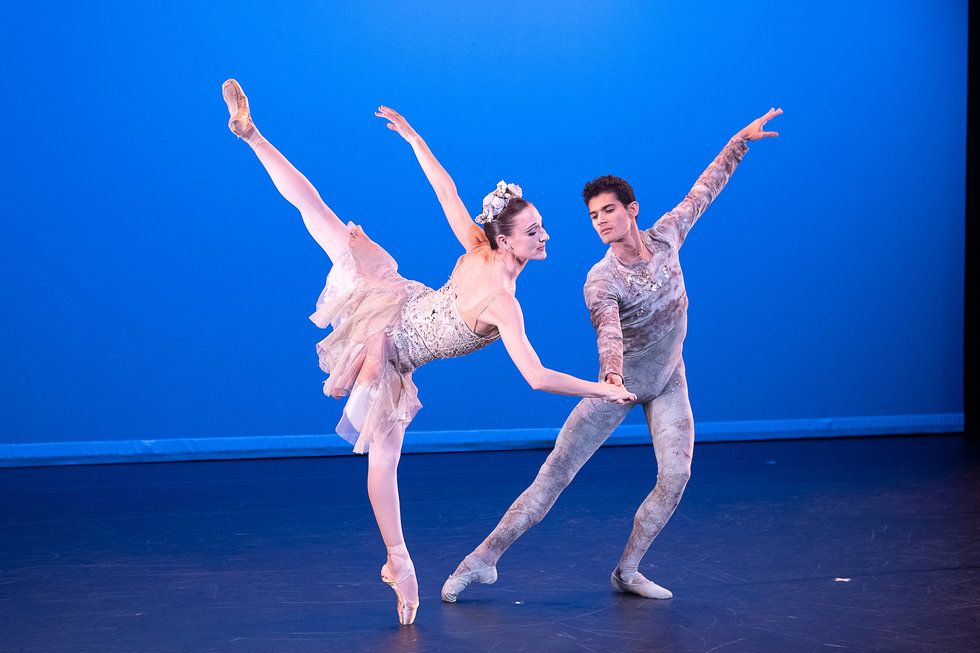 Miami City Ballet's Tricia Albertson and Renan Cerdeiro performed an excerpt from George Balanchine's A Midsummer Night's Dream in honor of Lourdes Lopez. Photo by Christopher Duggan.
Until she said it, I had never realized that Lourdes Lopez was the first Latina principal dancer at New York City Ballet and is the only Latina artistic director of a major American ballet company. With her incredible poise and eloquence, she reminded us of the power of dance: "It widens your world, it broadens your perspective. It teaches you about life and how to live it," she said. "Dance is everlasting and all-inclusive, and all we have to do is serve it."
Ronald K. Brown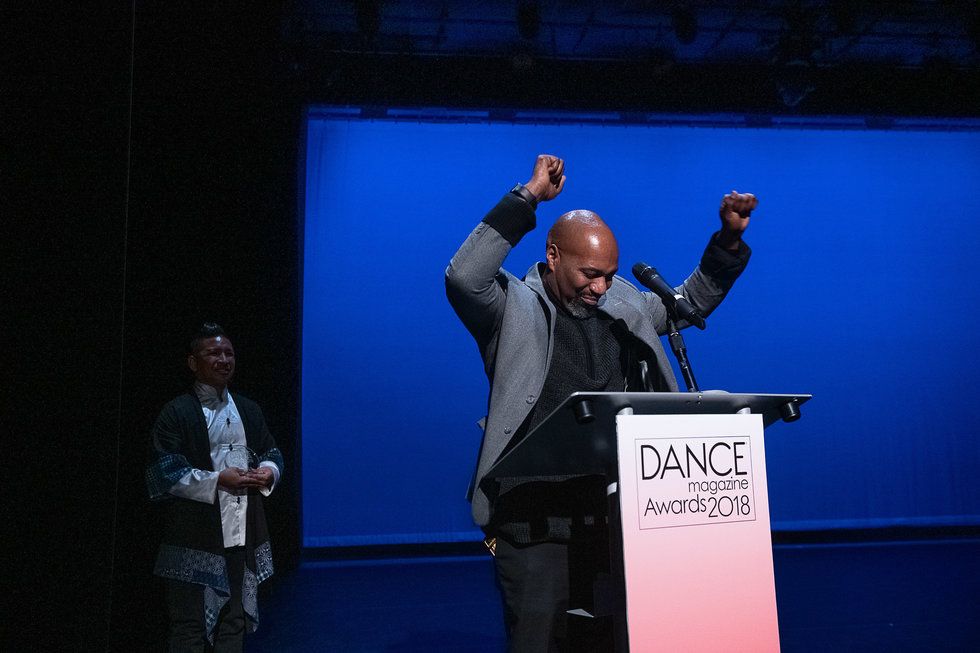 Ron Brown spoke about how dance has drawn him back to the studio over and over throughout his life. Photo by Christopher Duggan.
In presenting the award to Ronald K. Brown, his dancer and associate artistic director Arcell Cabuag spoke about how Brown's dances "take us away from technology and all the nonsense, and reminds us how human we are, and how much we all have in common." Having just watched Annique Roberts soulfully perform Brown's She Is Here, which seemed to heat up the theater with her incredible warmth, we knew exactly what he was talking about.
Nigel Redden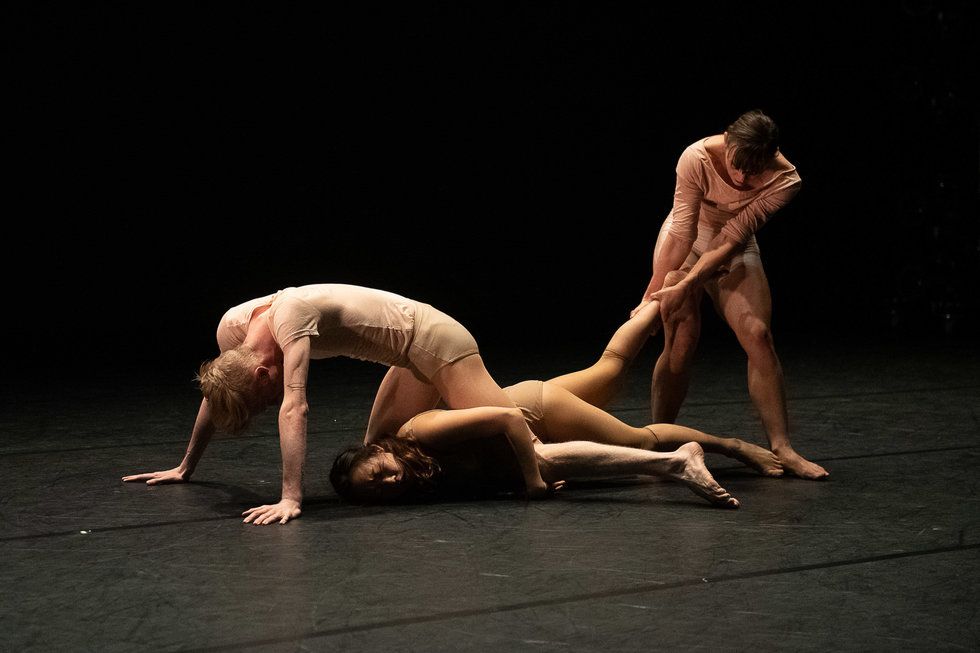 Members of Gallim, which has performed at Nigel Redden's Spoleto Festival USA multiple times, performed an excerpt from Andrea Miller's Stone Skipping in tribute to him. Photo by Christopher Duggan.
The last award of the night was a new Leadership Award, presented to festival director Nigel Redden. This addition is our way of recognizing "the people who make it possible for dancers to dance and choreographers to choreograph," as our CEO Frederic Seegal put it.
Redden ended the event by sharing a sentiment that seemed to sum up the whole ceremony: "Dance is what it means to be human, what it means to be truly alive."
Related Articles Around the Web
From Your Site Articles
News
Jul. 16, 2019 03:58PM EST
Including this extraordinary Travis Wall number for "So You Think You Can Dance" (Adam Rose/FOX)
The Primetime Emmy Award nominations are out! Congrats to the seven choreographers who earned nods for their exceptional TV work this year. Notably, that work was made for just two shows, "So You Think You Can Dance" and "World of Dance."
And there was a particularly remarkable snub: While the dance-filled hit "Fosse/Verdon" earned 17 nominations across many of the major categories, Andy Blankenbuehler's fabulous Fosse remixes weren't recognized in the Outstanding Choreography field.
Here are all the dance routines up for Emmys:
Keep reading...
Show less

abezikus/Getty Images
"Dancers can do everything these days," I announced to whoever was in earshot at the Jacob's Pillow Archives during a recent summer. I had just been dazzled by footage of a ballet dancer performing hip hop, remarkably well. But my very next thought was, What if that isn't always a good thing? What if what one can't do is the very thing that lends character?
Keep reading...
Show less
News
Jul. 15, 2019 12:30PM EST
Courtesy Ritzel
Capezio, Bloch, So Dança, Gaynor Minden.
At the top of the line, dancers have plenty of quality footwear options to choose from, and in most metropolitan areas, stores to go try them on. But for many of North America's most economically disadvantaged dance students, there has often been just one option for purchasing footwear in person: Payless ShoeSource.
Keep reading...
Show less
Jayme Thornton
When Sonya Tayeh saw Moulin Rouge! for the first time, on opening night at a movie theater in Detroit, she remembers not only being inspired by the story, but noticing the way it was filmed.
"What struck me the most was the pace, and the erratic feeling it had," she says. The camera's quick shifts and angles reminded her of bodies in motion. "I was like, 'What is this movie? This is so insane and marvelous and excessive,' " she says. "And excessive is I think how I approach dance. I enjoy the challenge of swiftness, and the pushing of the body. I love piling on a lot of vocabulary and seeing what comes out."
Keep reading...
Show less