A Mother's Mountain of Pointe Shoes Shows What It Takes to Become a Professional Dancer
New Miami City Ballet corps member Itzkan Barbosa and her mother Miriam Barbosa pose atop a mountain of Itzkan's pointe shoes. Alexander Iziliaev, courtesy Miriam Barbosa.
On the morning of May 1, Miriam Barbosa posted a photo of her daughter, Itzkan, on Facebook. The image itself is striking—Itzkan stands smiling on pointe in front of Miami City Ballet, where she has spent the last year as a pre-professional student, perched atop a mountain of old pointe shoes of all different sizes.
But it's the story behind the picture that's inspired so many people to comment their congratulations and appreciation.
The photo contains every single one of Itzkan's pointe shoes, from her very first pair up until the moment she got her first professional contract as a corps member with MCB last month. The image not only calls attention to the hard work and dedication necessary for young dancers to achieve their dreams, but to the sacrifices parents make to help them get there.
---
A professional dancer and teacher herself, Barbosa moved to the U.S. from Brazil to dance with Martha Graham Dance Company until her daughter was born, then took a teaching job at the University of South Carolina.
While her mom was at work, Itzkan took children's classes at the university's conservatory, and later began training at the Center for Dance Education. She put on her first pair of pointe shoes at age eight, the same year Barbosa was getting her own dance company, Miriam Barbosa Dance, off the ground (it was then called South Carolina Contemporary Dance Company).
As a single mom, Barbosa was already working multiple jobs to make ends meet—running her company, performing, teaching Gyrotonic and Gyrokinesis classes—and she knew the cost of pointe shoes would be a considerable addition to the bills.
When she asked Itzkan why she danced, the 8-year-old replied, "Mom, why do you breathe?"
"For her it was just part of her, there is no why," Barbosa says. "I know what it takes when that's what you really want. My parents were not as supportive of my dance career, so when I realized that she had the talent and the willingness, I was like okay, we'll do whatever it takes." Still, she wanted Itzkan to understand the amount of money, dedication and sacrifice that went into her dream career, and so she promised to save every pair of shoes until Itzkan earned her first contract.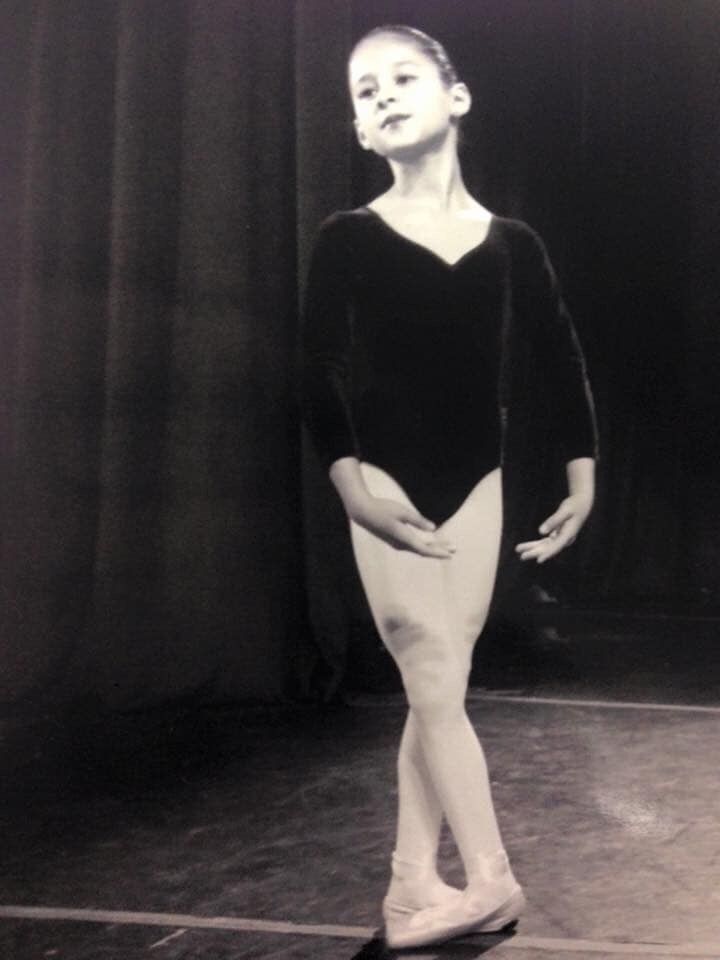 Itzkan Barbosa in her first pair of pointe shoes. Courtesy Miriam Barbosa.
Barbosa stored shoes in South Carolina, and then in their small New York apartment when Itzkan was accepted to study at Ballet Academy East. Barbosa transferred her work to New York, and sometimes took jobs overseas teaching intensives, because they paid more. She often wondered if saving the shoes was crazy, but she stuck with it.
When Itzkan got her contract from MCB last month, "I called her and I said, 'Guess what? It's time for the shoe mountain,' " says Barbosa.
She gathered all the shoes from New York, flew to South Carolina to collect the ones she'd left in storage there, and rented a truck to drive with all of them to Miami. The completed mountain had over 200 pairs of pointe shoes, representing more than $20,000.
After the photos were taken, all the shoes were recycled except for the first tiny pair, which Itzkan kept for good luck.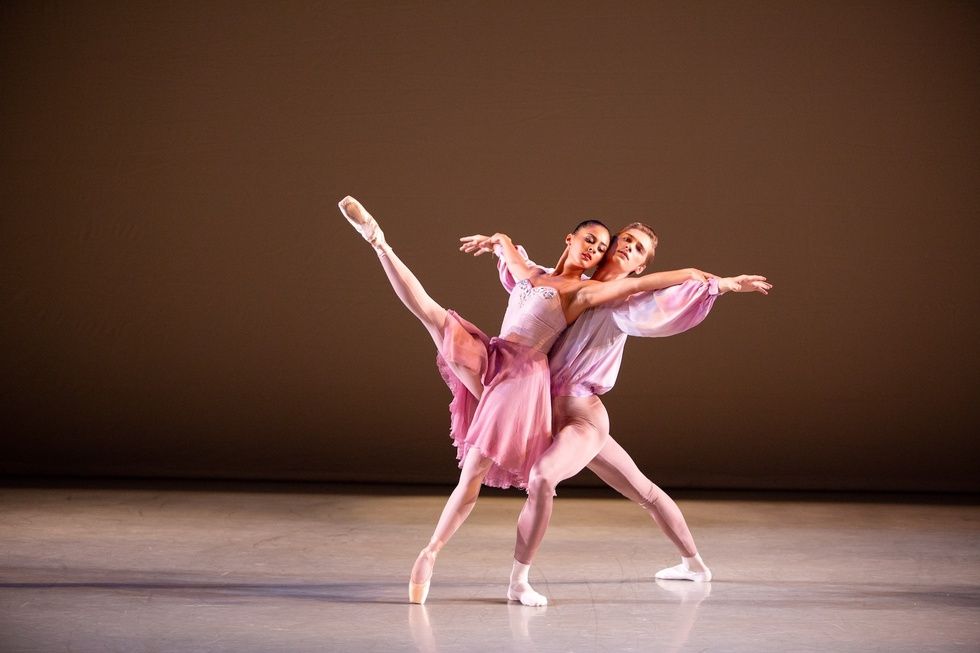 Itzkan Barbosa and Cameron Catazaro at a Miami City Ballet School performance. Alexander Iziliaev, courtesy Miriam Barbosa.
The response to her Facebook post has been "beautiful," Barbosa says. "I had a lot of mothers who reached out to me and people who cried when they read the story." Barbosa's mountain of "broken, sweaty" shoes is a visual tribute to the sheer amount of work, sacrifice and dollars it takes to build a professional dancer. It's also an act of love from mother to daughter, and a testament to Barbosa's love for the art of dance itself.
"Sometimes the audience has absolutely no idea of what it takes for those dancers to be on that stage, how many rehearsal hours they have to put into it, how hard it is financially both on the parents and themselves," she says. "I'd like for people to recognize dance as an art form and that it's not easy—it does take a lot of shoes, a lot of sweat, and lots and lots of hours of work."
Michelle Dorrance. Photo by Jayme Thornton
What do Percy Jackson, Princess Diana and Tina Turner have in common? They're all characters on Broadway this season. Throw in Michelle Dorrance's choreographic debut, Henry VIII's six diva-licious wives and the 1990s angst of Alanis Morissette, and the 2019–20 season is shaping up to be an exciting mix of past-meets-pop-culture-present.
Here's a look at the musicals hitting Broadway in the coming months. We're biding our time until opening night!

Keep reading...
Show less
UA Dance Ensemble members Candice Barth and Gregory Taylor in Jessica Lang's "Among the Stars." Photo by Ed Flores, courtesy University of Arizona
If you think becoming a trainee or apprentice is the only path to gaining experience in a dance company environment, think again.
The University of Arizona, located in the heart of Tucson, acclimates dancers to the pace and rigor of company life while offering all the academic opportunities of a globally-ranked university. If you're looking to get a head-start on your professional dance career—or to just have a college experience that balances company-level training and repertory with rigorous academics—the University of Arizona's undergraduate and graduate programs have myriad opportunites to offer:
Keep reading...
Show less
Alice Sheppard/Kinetic Light in DESCENT, which our readers chose as last year's "Most Moving Performance." Photo by Jay Newman, courtesy Kinetic Light
Yes, we realize it's only August. But we can't help but to already be musing about all the incredible dance happenings of 2019.
We're getting ready for our annual Readers' Choice feature, and we want to hear from you about the shows you can't stop thinking about, the dance videos that blew your mind and the artists you discovered this year who everyone should know about.
Keep reading...
Show less
Getty Images
Ah, stretching. It seems so simple, and is yet so complicated.
For example: You don't want to overstretch, but you're not going to see results if you don't stretch enough. You want to focus on areas where you're tight, but you also can't neglect other areas or else you'll be imbalanced. You were taught to hold static stretches growing up, but now everyone is telling you never to hold a stretch longer than a few seconds?
Considering how important stretching correctly is for dancers, it's easy to get confused or overwhelmed. So we came up with 10 common stretching scenarios, and gave you the expert low-down.
Keep reading...
Show less